There had been a great run of Nearctic shorebirds in Ireland in late July and August — this was incentive enough for me to drive the 80 miles from my home in Co Sligo to the south-west coast of Co Mayo on 16 August. Little did I know what a surprise was waiting for me.
The area I planned to check runs south from Clew Bay for about six and a half miles to Corragaun Lake. In the wider Carrowniskey–Killadoon area there are numerous storm beaches and several freshwater lakes just inside the coastal shingle bank. At the southern end of this area is Corragaun Lough and an extensive machair, sadly resembling a putting green as a result of overgrazing by sheep.
As the day wore on it was looking to be a wasted trip. I had checked all the storm beaches and all but one of the lakes, and had only seen a few Dunlin and a single Ruff. Roonagh Lough was to be my last site for the day. A scan around the edges didn't turn up anything, so a quick look through the gulls and terns and I would be done for the day.
Seeing an orange bill during my first scan with the bins was a shock, and my first thought was naturally Caspian Tern. I rushed back to the car to get my scope and camera. By this point it had become apparent that it was the far rarer Royal Tern! After a few distant record shots I set about contacting a few birders I knew to be nearby. This is Pat Lonergan's holiday patch, so on the off chance he was nearby, I texted him, then Dermot Breen, who is an National Parks and Wildlife Service Ranger in Connemara, not too far as the tern flies. Pat was Brazil-bound in an airport, while Dermot was an hour away, so I had an anxious wait until he arrived.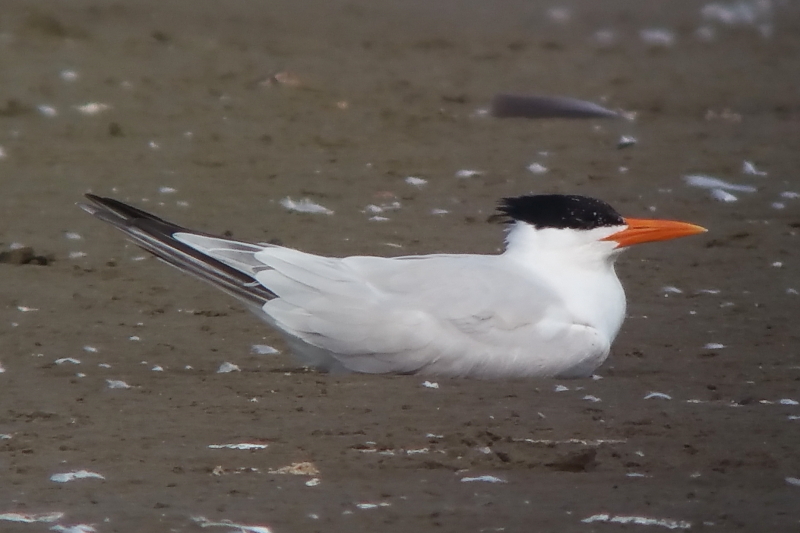 Royal Tern, Roonagh Lough, Co Mayo, 16 August 2016 (Photo: Dermot Breen)
Most of the time the bird spent sitting on the ground sleeping. Initially we put this down to tiredness, but later in flight we noticed it had injured its right leg and sometimes had both legs hanging down. When it landed, it sometimes held its wings high and beat them quickly (in a similar fashion to dip-feeding gulls) as if to keep its weight off both legs, and then sat down.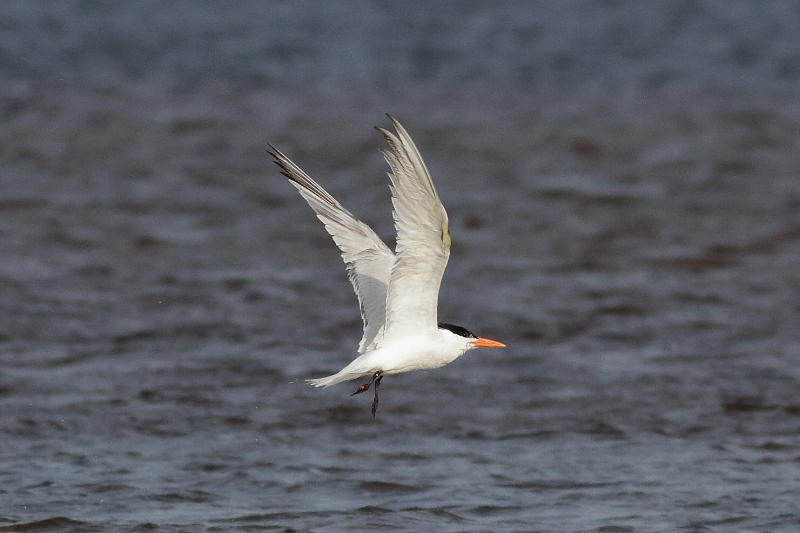 The bird had injured its right leg and often trailed both in flight (Photo: Dermot Breen)
During the period we were there the bird flew off a couple of times and we were worried that was to be the last of it, especially as a few birders were already on the road and driving long distances to see it. In the end six of us saw it on day one before it flew off to roost, and nine or 10 saw it during its 10-minute stay at first light on day two. This is the second Irish record for the species, excluding a tideline corpse in Dublin in 1954, the other being in Co Cork in 2009.
Referring to Klaus Malling Olsen and Hans Larsson's Terns of Europe and North America (Christopher Helm, 1995), the presence of some white-tipped feathers in the cap, darker outer primaries and a dark secondary bar age this bird as second summer.
Relocated in The Kingdom
Davey Farrar takes up the story...
When arriving at Beale Strand at 9.30am on 23 August I started to go through the small waders on the high tide. One Little Stint, one Curlew Sand... "is that it?" I thought to myself. I went through them again and yes, that was it!
So, on to the terns on the sand bar. Most were hidden as there is a shelf on the beach but as I started to scan the area the birds began to move a little more and I caught sight of a yellowish, orange bill, but huge!!! My heart was pumping and my first thoughts were "Royal Tern". I know a lot of stories start like this but it's true.
The first shots from my camera were very poor because I could not stop shaking. As I calmed myself, the birds flushed and moved to the eastern side of the beach, but thankfully settled. I moved to a position more suitable for a better view of the birds and was also now in a better frame of mind. I managed to locate the Royal Tern. As the bird stood I could see that its right foot or leg was damaged and therefore I knew it must be the same individual seen in Co Mayo the previous week. But, a first for Kerry and myself!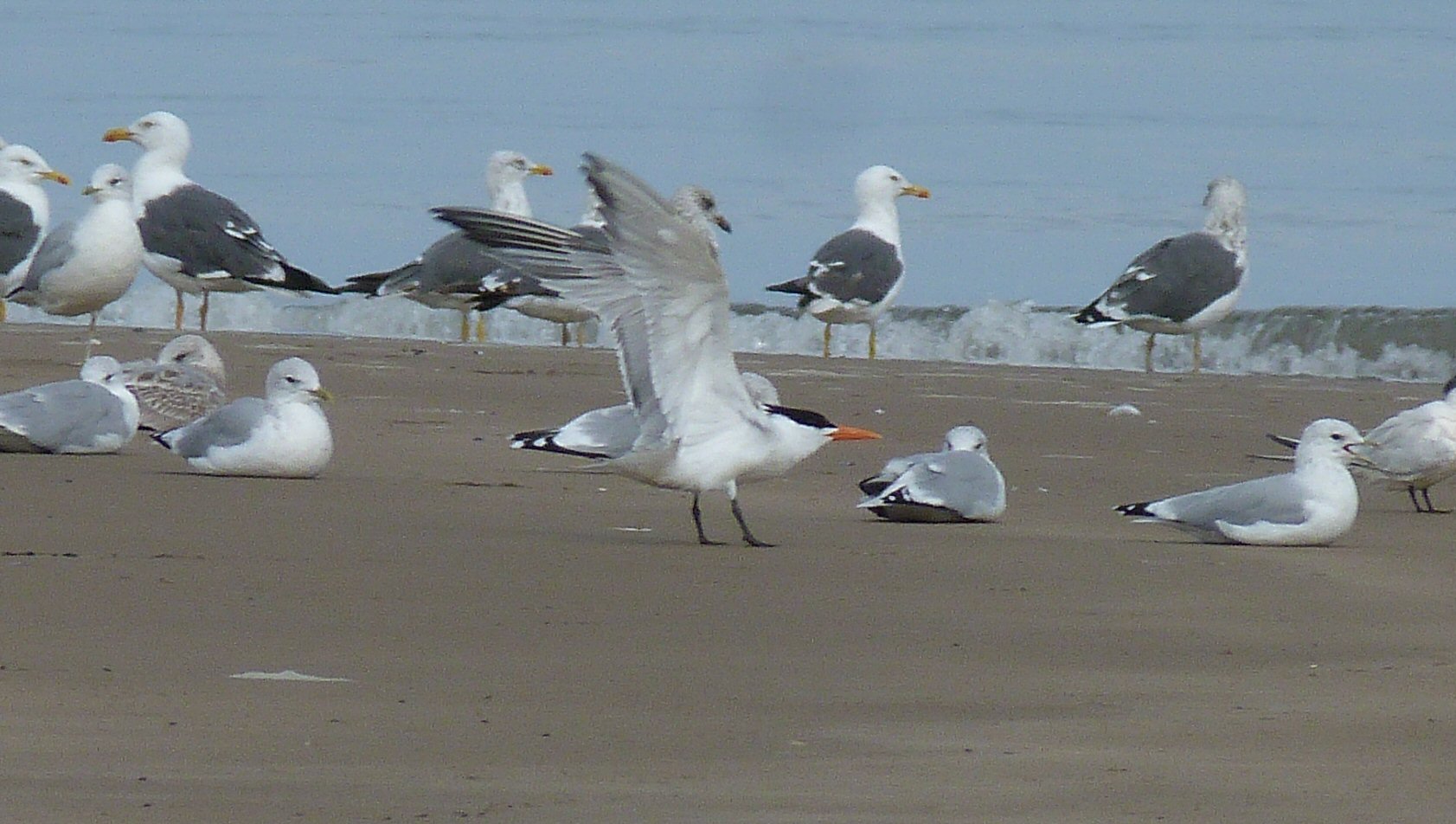 Davey Farrar was on hand to relocate the bird at Beale Strand, Co Kerry, on 23 August; this site also hosted an Elegant Tern in September 2013 (Photo: Davey Farrar)