I got to Salen Bay around 8am on the 22nd, pulling the car in to scan the water, as I'd seen a few birds from a distance. This is when I noticed the two grebes close to the shore together. Even before looking through binoculars, I noticed that one was slightly bigger than the other and had a longer neck. I quickly set my 'scope on both the birds, and realised straight away that it was a Pied-billed Grebe. I noticed more features different to the Little Grebe, like the eye-ring and the big, thick bill with a black line through the middle. Also, as it was swimming away, I noticed the bird had no markings on the back of the neck (this was the moment I got that strange shaky feeling!).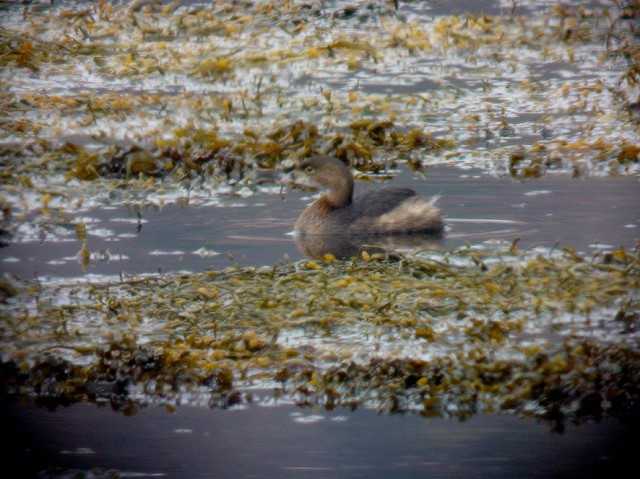 Pied-billed Grebe, Salen, Mull, Argyll (Photo: Jim Dickson)
After I'd watched and compared the birds for a while, they started to swim further away into the loch, which was when I ran back to my car to get my digital camera to digiscope the bird. I continued to watch the bird for a further 40 minutes before it disappeared. When I got back to the lodge I was staying in, I found Mull bird recorder Alan Spellman's phone number and called him to arrange to meet him the next morning to show him photographs and the location of the bird. On the morning of the 23rd, I had to drive past the bay to get to the meeting place and decided to scan the area, and found the bird straight away. I quickly jumped in the car to meet Alan and informed him the bird was still in the bay. We drove to the bay, but could not find the bird for about 30 minutes; however, eventually it showed in another part of the bay and I left Alan to get some photos of his own.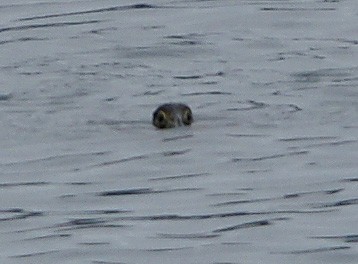 Pied-billed Grebe, Salen, Mull, Argyll (Photo: Jim Dickson)
This is the second record for Argyll, following one also on Mull in 1998. More information on birding on Mull can be found on www.mullbirds.com.