The isle of Tiree is the outermost of the Inner Hebrides, and has gained a reputation in recent years as a migrant hot-spot. With two firsts for Britain already to its credit — namely Ascension Frigatebird and Blue Rock Thrush  — and an annual smattering of American waders, an American passerine was long overdue on the island. Indeed a Red-eyed Vireo was found here by Bill Allan and Jim Dickson in October 2008, but with an ill-timed sabbatical to Tristan da Cunha, I had managed to miss that and after eight autumns on the island I was beginning to think that maybe I'd missed my chance.
Saturday 25th September found me painting the house, as the day was calm and dry after a run of strong northeasterly winds. With the wind still in the northeast, I was hoping for a Yellow-browed Warbler as I headed off at midday to check the scattered bushes on the lee side of Carnan Mor above our house. A group of redpolls in the field behind out house were new in and included a large dark Greenland Redpoll. This was encouraging, and so I approached the main bush clump with caution. A couple of Blackbirds flew out, followed by a Song Thrush, but there were no obvious smaller passerines. After a few minutes, I was about to head on when a movement in the hawthorn behind me caught my eye. A small bright warbler was moving rapidly through the back of the bush and I assumed it was going to be a Willow Warbler. However, it then emerged onto an open branch just 10 feet away and my eyes were filled with colour!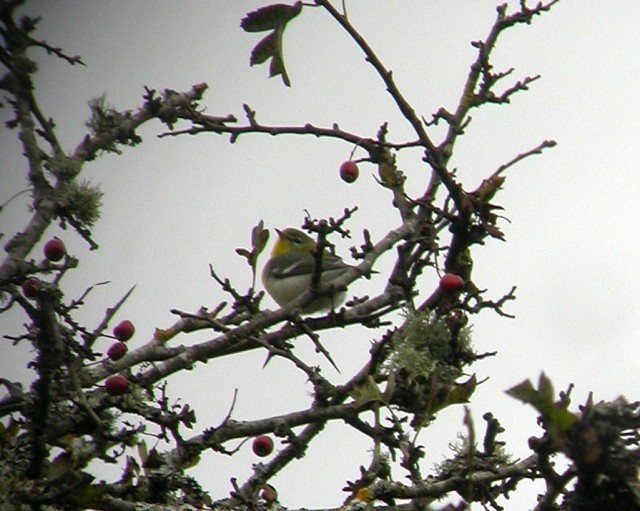 Northern Parula, Tiree, Argyll (Photo: John Bowler)
Content continues after advertisements
A bright-yellow throat and breast contrasted with a whiter belly and vent. The crown was green but the mantle had that golden 'Firecrest' glow to it, whilst the blue-grey wings contained two bold white wing-bars. I immediately knew it was a Northern Parula, having seen the species before on the Scillies back in the early 1990s and more recently in Mexico. The warbler paused briefly and I cautiously pulled out my Nikon Coolpix to digi-bin the bird, before it flew on to the next bush with a soft 'sip!' call. Knowing that no-one would be able to twitch the bird today, I carried on watching it and making notes for the next couple of hours as it worked its way through the bushes.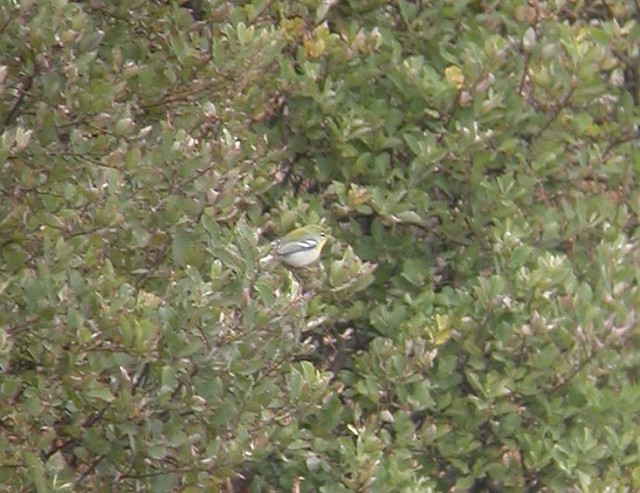 Northern Parula, Tiree, Argyll (Photo: John Bowler)
On the best views, just a hint of orange could be made out on the breast-sides, making this a female, whilst the green crown, slightly subdued tones (for a Parula!) and greenish fringes to the flight feathers all suggested that it was a first-winter bird. It frequently called a soft 'tsip' and hung out from time to time with a Goldcrest, although the local Wrens were less friendly and frequently chased it through the bushes. My wife Janet came up to see the bird and I put the news out. Carnan Mor has a poor track-record for holding onto good birds, both Western Bonelli's and Blyth's Reed Warblers were previous one-day wonders here, so with chartered planes on standby overnight, it was with bated breath that I checked Carnan Mor at first light on Sunday. But I needn't have worried, the Parula was busy feeding once more in its favoured bushes and showed well to all who came for it, and still does so as I write this.