Northern Harrier — or 'Marsh Hawk' as it was traditionally referred to — has featured heavily in the birding media in recent times.
This — the North American equivalent to Hen Harrier — has been recorded a number of times in the last 10 years now that its vagrancy potential to Britain has been realised and its identification features have become better known. So, when I saw a male harrier hunting the Laird's Park area on North Ronaldsay on 25 September with reddish-brown spotting on white based underwing coverts, breast and flanks, it wasn't overly difficult to realise this particular bird was from the other side of the Atlantic!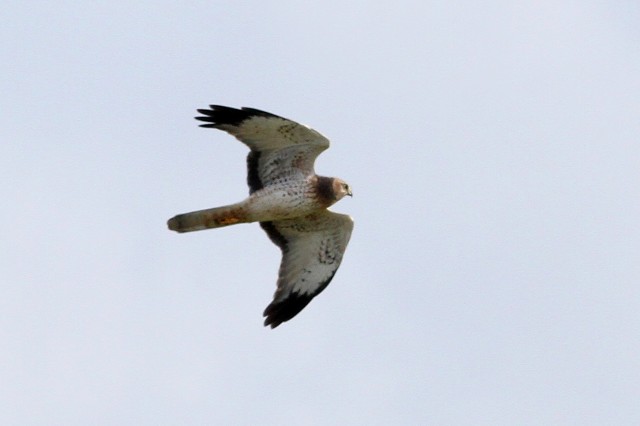 Male Northern Harrier, North Ronaldsay, September 2015 (Photo: George Gay)
Other features such as a dark, extensively hooded head, brown, smudgy markings through grey upperparts, larger than normal white rump patch and a striking underwing pattern with a broad, black trailing edge to the wing restricted to the secondaries, were also quickly checked off. After I'd taken a few hasty photos came frantic phone calls, and this was followed by some sprinting up a tussocky hill and then some speeding around the island in the 'obs' vehicles.
Luckily, the bird was fairly easy to keep up with and showed well for the rest of the day, allowing plenty of images to be secured. It was a truly fantastic-looking beast, and meant that North Ronaldsay can now boast both of the two Scottish occurrences of this distinctive form (the other a juvenile in September 2008) — it will become just the eighth British record overall if accepted.
Content continues after advertisements
In addition to some of the more distinctive features already listed, I and other observers of the North Ronaldsay Harrier could clearly see differences in its wing structure — this appearing broader and shorter-winged than a male Hen. We were even fortunate enough to see the bird alongside Hen Harriers during its lengthy stay, even an adult male on one occasion, and side-by-side the two appeared worlds apart.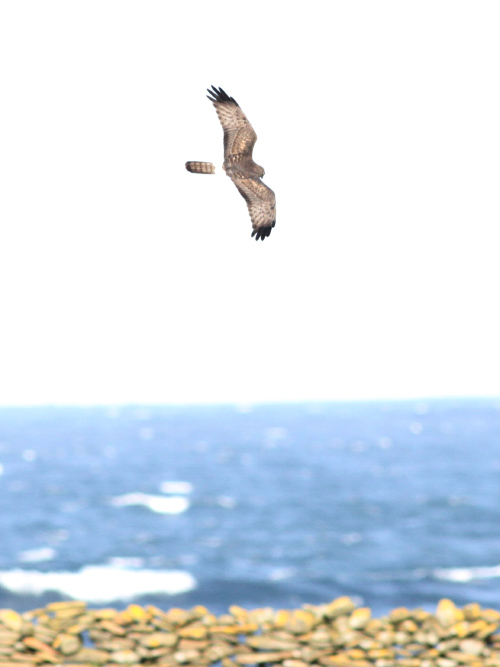 Male Northern Harrier, North Ronaldsay, September 2015 (Photo: George Gay)
All in all, whatever you want to call it, however you want to split it and whether you count it on your British list, the Northern Harrier on North Ronaldsay this autumn is one of the best-looking raptors I've seen on the island in the last five years. That's no mean feat when that list also includes Lesser Kestrel, Pallid Harrier, several White-tailed Eagles and a rather fantastic 'Arctic' calidus/tundrius Peregrine in 2012 — but that's not recognised as a full species, either!
The International Ornithological Congress — followed by Birdwatch — splits Northern Harrier from Hen Harrier, though the Records Committee has yet to follow suit.