A couple of friends (Martin Wright and Tony Perry) and I were visiting the area to look for Whinchats. Martin has visited the area for over 40 years and owns a small piece of land nearby, where he has nestboxes for Pied Flycatchers. We parked in the usual lay-by and on opening the car door I heard a song that was unfamiliar to me. When I heard it again a few minutes later from about 30 yards up the road, I mentioned it to the others, and within a few seconds we saw a warbler heading towards us through the vegetation on the side of the road. Our immediate instinct was Dartford Warbler, as we could see it was distinctly long-tailed, and flying in the distinctive way of a Sylvia warbler. It then perched up on a small gorse bush in typical Dartford style — tail cocked — and we quickly saw that it was all grey, with no hint of Dartford coloration. It also quickly dawned on us that it wasn't singing like a Dartford, either.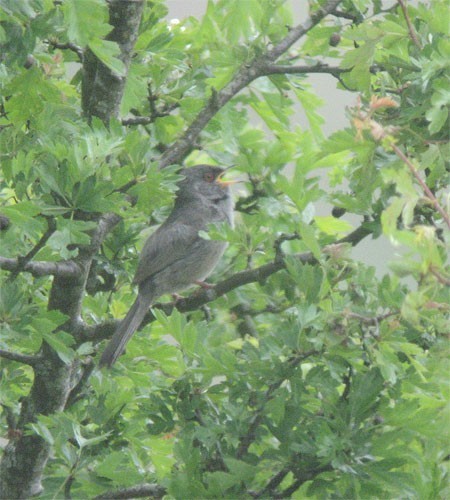 Marmora's Warbler, Blorenge, Gwent (Photo: Josh Jones)
There was almost a chorus of "it's a Marmora's", but with complete disbelief! We had a camera to hand and were able to get some adequate pictures to look at when the bird flew out of sight.
We had excellent views through binoculars, sometimes down to 15 feet. The bird perched quite openly on gorse and hawthorn bushes, singing regularly. On one occasion it did a towering song flight in the style of a Whitethroat — it also did several other short song flights.
The general impression was of dark slate-grey upperparts, fading to slightly darker on the head, with a slightly darker area around the cheeks. The eye was red, and stood out clearly. The bill was orange-yellow and the gape was a similar coloration. Underparts were also grey, although slightly paler than the back. Subsequently, through a telescope, I saw a hint of a grey-brown tinge to the wing coverts.
Content continues after advertisements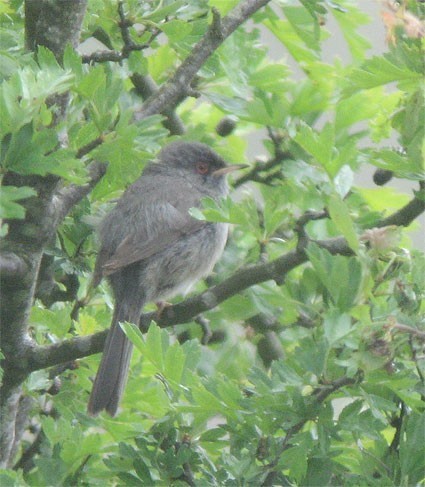 Marmora's Warbler, Blorenge, Gwent (Photo: Josh Jones)
The song was Sylvia warbler style — and rather on one note (recalling Dartford) — but after a few scratchy notes it developed into a strident, dry trill. It was very distinctive, and made location of the bird easy.
I put a message on BirdGuides, as I needed someone with expertise to pinch me. Fortunately, we found a National Park warden, who was monitoring Whinchat nests, and then someone who was doing a thesis on Dartford Warblers, who was able to confirm our thoughts from the photos.
About 20–30 people turned up in the following couple of hours, and some good shots were taken.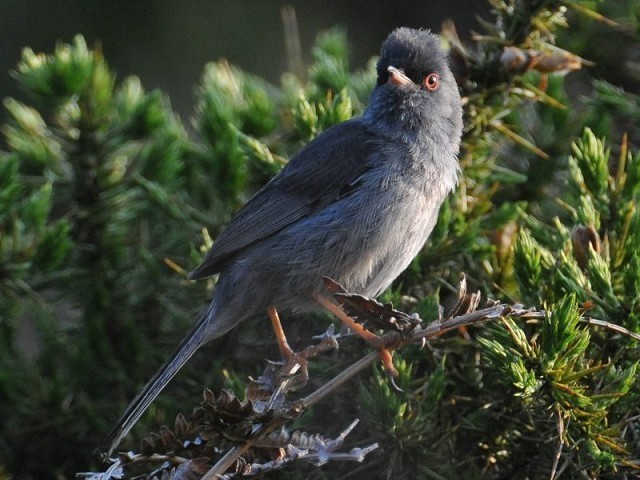 Marmora's Warbler, Blorenge, Gwent (Photo: Chris Thomas)
Editor's note:

Whilst Marmora's Warbler is primarily a sedentary species, there is a population wintering in northern Africa that migrates the short distance across the Mediterranean to breed. It is presumably birds from this population that occur as vagrants, though this is still a remarkably rare occurrence.

There are just four previous records in Britain, all of which turned up in May. The first, at Midhope Moor (South Yorkshire), held territory for over two months, with subsequent records at Spurn (East Yorkshire) on 8th–9th June 1992, St. Abb's Head (Borders) on 23rd–27th May 1993 and at Scolt Head (Norfolk) on 12th–18th May 2001. Presumably the same bird was then present for one late May day at Sizewell (Suffolk).