How many times have you heard it said that "work gets in the way of birding", or "a bad day's birding is better than a good day's work". All true, but if it was not for my job and my work, I would never have come upon this Lesser Kestrel on the west coast of Co Clare.
Since October, the company I am employed by has been contracted for eight days' fieldwork a month in and around the Kilkee area of west Clare. As I live in the county and have years of bird knowledge built up of this region, I was sent to cover these sites. Every day on my lunch break, I head to Kilkee to have my coffee and sandwich. This gives me the chance to do a small bit of birding. I have developed a routine, which I stick to rigidly, around the horseshoe bay in the middle of town and outlying coastal cliffs.
On Monday 9 November, as I was almost finishing my lunch routine, along a coastal loop drive just south of Kilkee, I noticed a Raven basking on a sunny embankment by the car park at Dunlickey Castle. This looked like a perfect photographic opportunity, so I drove down towards it – I was hoping to use my van as a hide to get shots. As I approached, I noticed it was it was giving some grief to a kestrel sitting on a pole nearby. Needless to say, the Raven flew off within seconds of my arrival, to my disgust, leaving the kestrel sitting on the pole.
I then concentrated my camera on the kestrel instead. The bird didn't seem to be bothered by my presence and was tame at times. As I snapped off a couple of shots the bird flew from the pole down to an exposed earth bank. Once on the ground the bird began to dig out worms and started chewing them on the grass close by. I kept shooting and when the bird was finished eating the worm, it flew across the car park to sit on a tourist display board.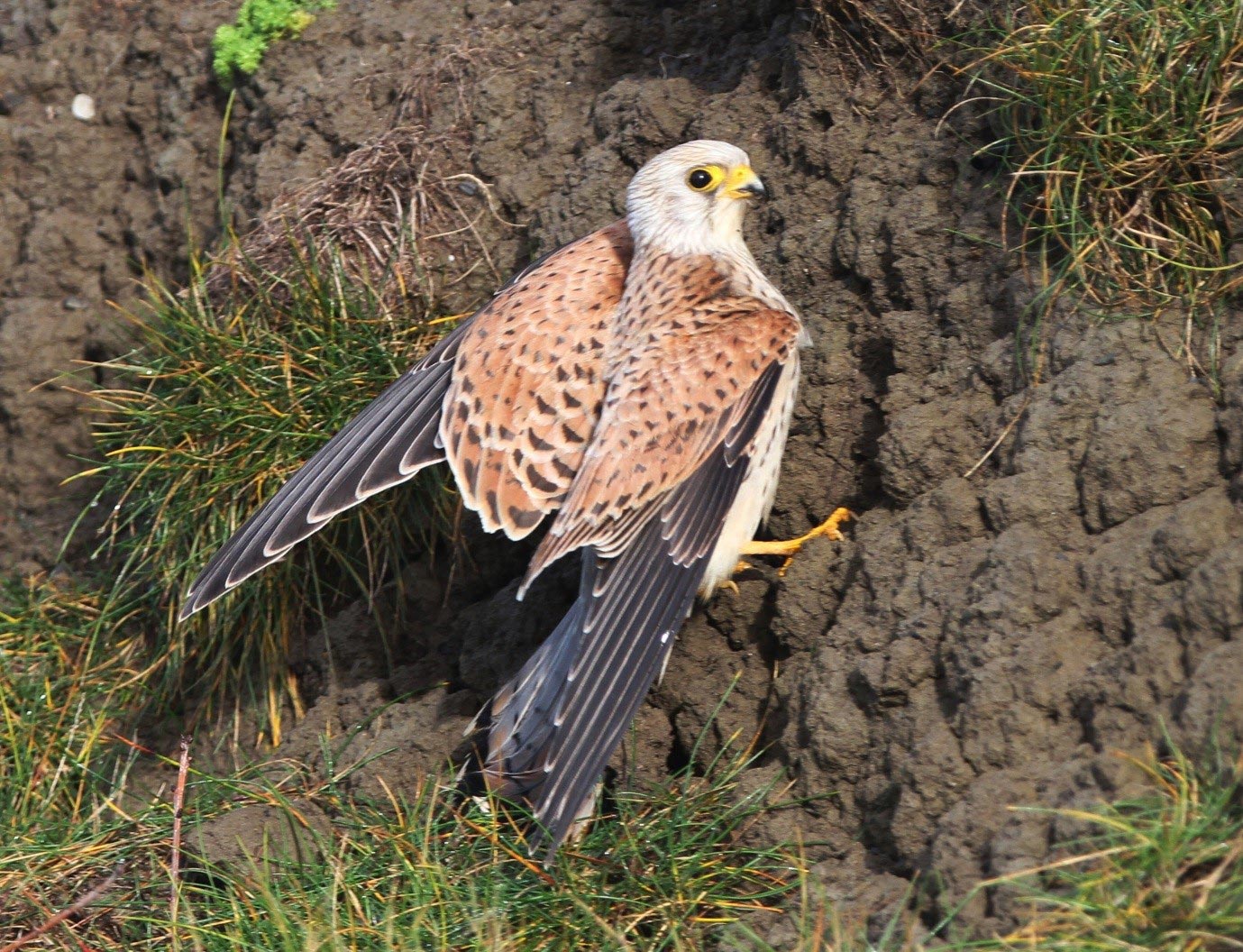 John watched the kestrel dropping down to an earth embankment and digging out worms, which it would consume while sat on the nearby grass (John N Murphy).
I moved the car to get into a better position to continue photographing the kestrel. It was only at this point, as it sat in the sunshine, that I noticed the colour of the toes – they stood out against the rusty edge of the frame of the sign and I could see they were not the normal black claws that are found on a Common Kestrel. The head of the bird and overall appearance was pale – I found this unusual as I had never seen a Common Kestrel this pale. The bird then started jumping from the sign to the ground catching more worms and eating them on the deck. It started to become a little livelier, chasing insects and worms on the tarmac of the car park, before flying back up to the pole again.
I spent more time shooting off lots of photos and even got some small bits of video footage. Now I could see that the wings were longer, the tail had grey colouration to the upperparts, and I put it down to be a young male. After about 15-20 minutes the bird flew off north along the nearby cliffs and out of sight. I left the area and headed back to work, wondering whether I had just encountered a pale Common Kestrel or something rarer.
Content continues after advertisements
Once back at work and between the rain showers, I got a chance to take a closer look at the bird in question on my camera. I knew that Lesser Kestrel had pale/yellow toes, as I have seen hundreds in the past in the Mediterranean. But I was also cautious that the bird I had just observed could be a leucistic Common Kestrel, especially given the paleness around the head with a small bit of warm fawn running through the feathers. Looking at spread winged photos of the bird I just encountered, and measuring the wing, p10 looked the same length as p7 which, as outlined in some ID forums, was perfect for Common KestreI. I was confused given other features, such as the toes and wing markings and length, were closer to Lesser Kestrel rather than that of Common Kestrel.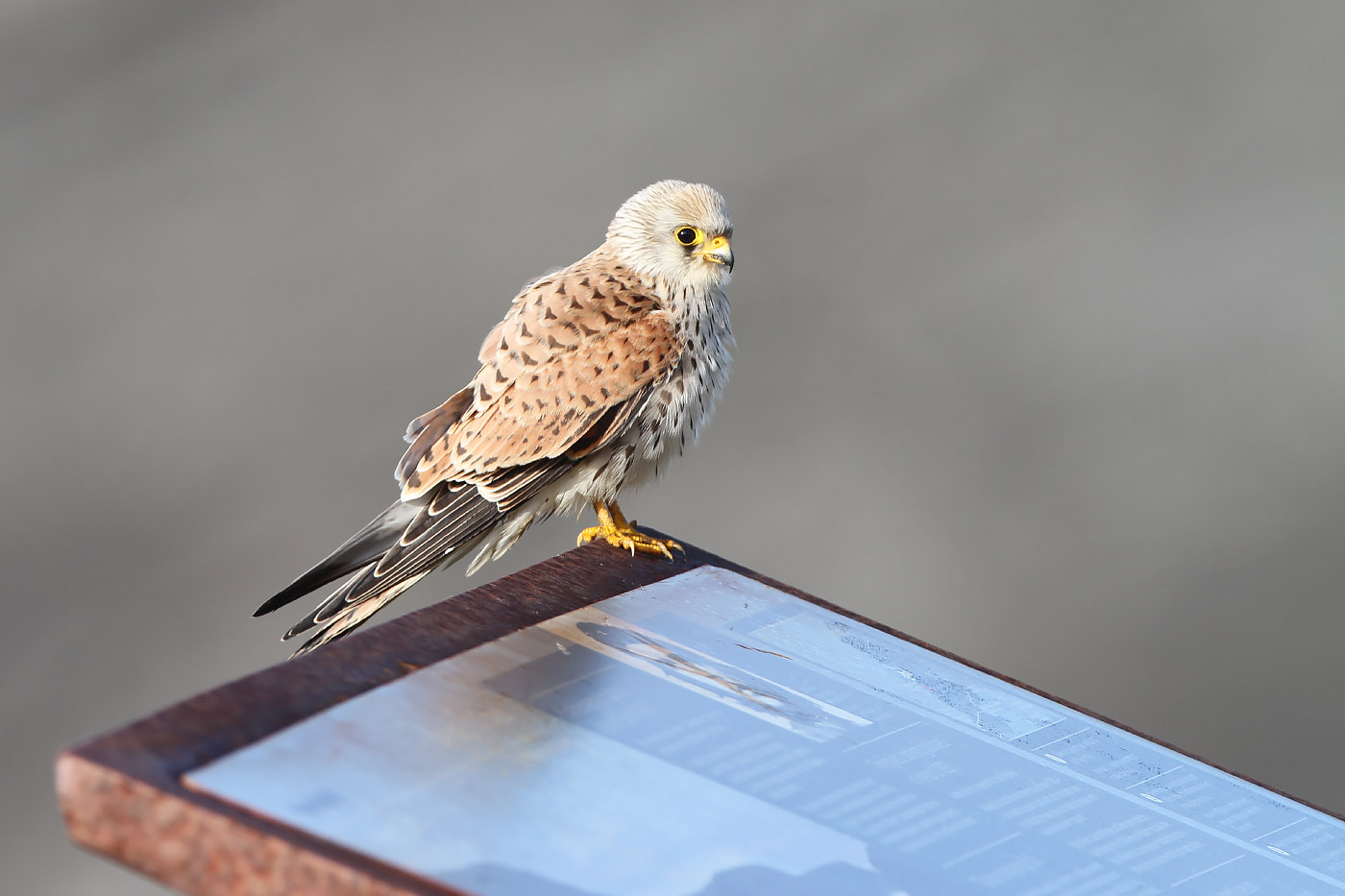 The bird's pale plumage and whitish claws were very apparent in the glorious late autumn sunshine, strongly suggesting to John that he was dealing with Ireland's first Lesser Kestrel since 1890 (John N Murphy).
I WhatsApped a few images to Killian Mullarney to get his expert opinion and advice. He replied saying, "the claws on that kestrel are remarkable! I have never seen this in Common Kestrel. Would love to see the real shots, when you download them, and I'm sure Dick Forsman would be interested too". I forwarded more images to Killian by WhatsApp after this text, but due to his workload and childminding that afternoon, he did not get a chance to look at them till later that night.
The rest of the afternoon I drove myself insane, toing and froing as to which kestrel species I had just been watching. Work consumed me for the rest of the late afternoon, and I didn't get home till approximately 6.30 pm that evening. At about 7.40 pm, before I even had a chance to download the photos from my camera to the laptop, I got a text and a phone call from Killian. He had just got the chance to look at the series of photos I had sent earlier on in the day and was extremely apologetic that he hadn't got the chance to scrutinise them properly. At this point he was very happy that the bird was indeed a Lesser Kestrel, but the decision was made at this time to forward the shots to Dick Forsman immediately for further confirmation. Dick replied quickly, stating without doubt that it was a Lesser Kestrel.
To my delight and disgust at the same time, I thought I had a first Irish record. But I was soon set straight! There had been one previous record of a male, some 130 years previously, within a day to the month of this bird near Kilkee. Seen at Glenamuck, south Dublin from 8 November 1890, it remained over the winter, feeding on ploughed fields before being shot on 17 February 1891. A sad end to such a fantastic bird.
Unfortunately, the Kilkee bird was not seen again after this date despite extensive searches by local birders over that week. I now look forward to going to work every day, no matter how hard it seems getting out of the bed in the morning!
I would like to thank Killian Mullarney and Dick Forsman for their help with this bird and also my employers, Malachy Walsh & Partners.