Like those before it, this particular Punkbirder stag-do was the perfect combo of birds and beer. Ireland has generally been our destination of choice, and this year was no exception as we headed out to County Galway to celebrate Alex Lees's nuptials.
There's nothing like combining a skinful of the 'black stuff', a 3.30 am end to the night and a prompt get up to maximise your birding time. It's a guaranteed recipe for fatigue, reduced concentration, a great craic and hopefully some good birding. However, after three days of this coupled with some fairly epic wet weather we were starting to feel the drag.
Galway City had done us proud, though the mainland had only yielded a Pectoral Sandpiper and a few commoner migrants. It was time to up the effort and head out to Inishmore in the mouth of Galway Bay. Our previous trips out had been of varying success — would Inishmore deal us yet another blank card?
After an initial pleasant hour or two on the island, it started raining and didn't stop for 36 hours. The lure of coffee, cake and the pub generally got the better of us, and despite trying as best we could the highlight of a soggy day and a half was a Spotted Flycatcher. Thankfully, our final day on the island, Tuesday, dawned calm and sunny with a 'rare' feel to the air.
As soon as breakfast was done we scattered, desperately trying to cover the as much ground as we could before the 5 pm ferry. Slowly news trickled in from various team members; a Ring Ouzel here, a couple of 'Spot Flys' there. Goldcrest numbers had massively increased and a smattering of warblers raised hopes.
By 11 am, it was time for a booster at the Kilmurvy café and Rob Martin, Si Mahood, Rich Moores and Dan Brown convened to discuss a plan of attack for the next few hours. Heading back east they hit the now massive flood at Kilmurvy and the sand dunes, from where Si clocked a wader on the flood edge at a distance. Rich and Dan both panned onto the spot as it lifted its head above the bank: a godwit, new in.
We'd only checked the flood an hour before. Moving 50 m closer along the road, Rich binned it again and fairly rapidly stated that it looked like a 'Hudwit'.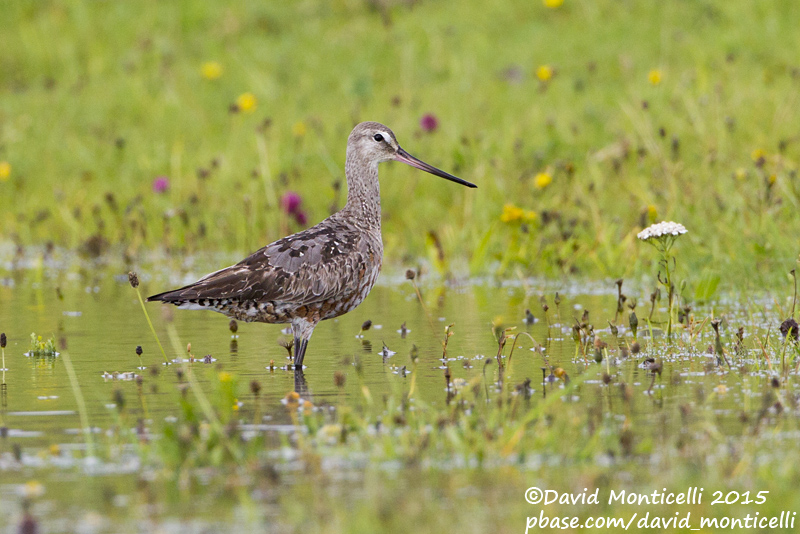 Hudsonian Godwit, Inishmore, Galway (Photo: David Monticelli)
Panic ensued! Rob and Si immediately joined us as we watched the bird in poor light along the flood edge. Scope-less, we called for back-up, not wanting to approach too closely and flush the bird. After what seemed like an eternity (that is, an hour!), the team had finally all assembled, scopes were set up and the ID confirmed as Ireland's second Hudsonian Godwit (or rather the second record of the same individual found by Dermot Breen earlier in the summer — see his finder's account).
With some caution we were able to approach a bit closer. However, the appearance of 150 over-eager County Galway lads on bikes proved too much for it, and it politely did a loop of the flood before coming back down on the far side, thus nicely revealing its oily black underwing coverts.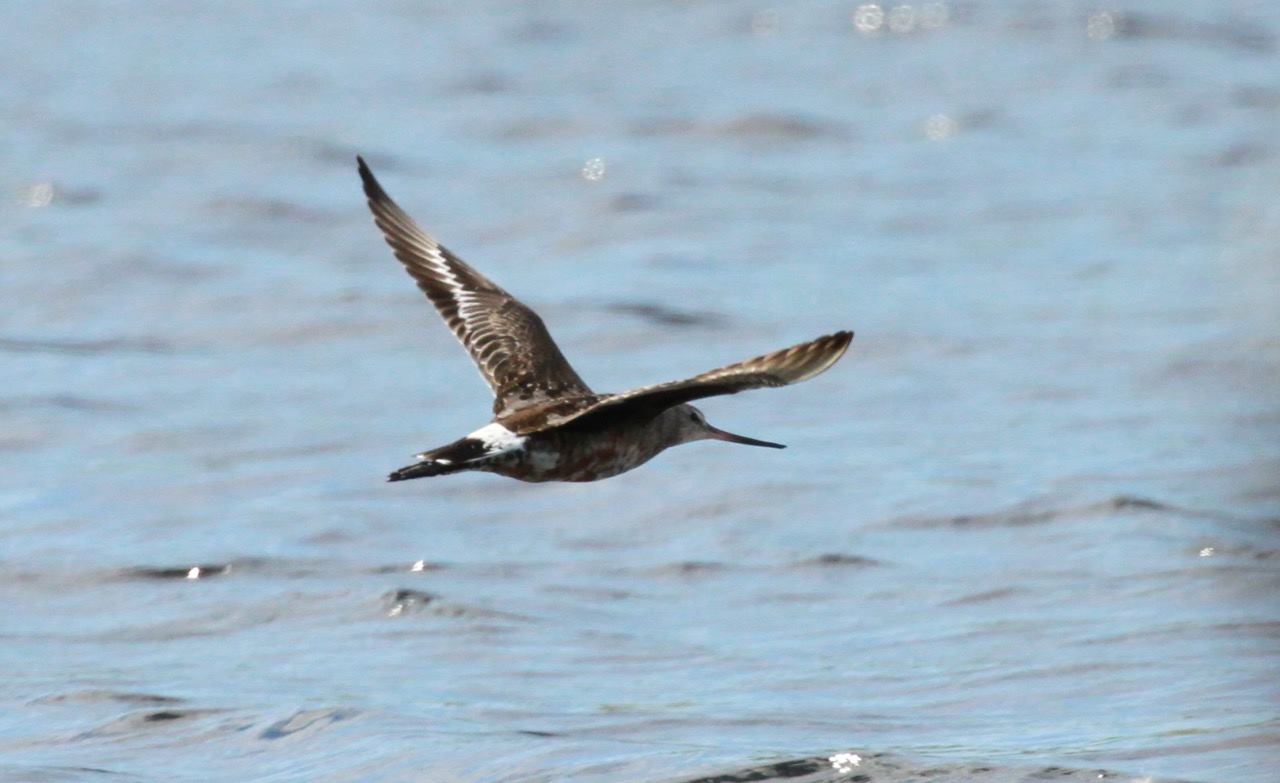 Hudsonian Godwit, Inishmore, Galway (Photo: Dan Brown)
Thankfully, the bird stuck around for a couple of days, allowing many Irish birders to catch up with this 'blocker'. Inishmore had done us proud. Until the next stag-do ...