Potentially one of the most exciting records of the year, the occurrence of a pair of Hooded Mergansers on Tory Island, Co Donegal, passed under many birders' radars last week. A combination of inaccessibility and the ever-present possible escape stigma was always likely to render the twitch for this handsome pair a fairly low-key affair, particularly given that there have been a couple of accepted records on the British mainland in recent years.


Drake and female Hooded Mergansers, Tory Island, Co Donegal (Photo: Derek Charles)
Given the location, date, prevailing weather conditions and the birds' condition, the case for this pair being wild appears a strong one. We spoke to Anton Meenan, the finder, over the weekend:
Content continues after advertisements
"Over the previous few days Tory Island had endured unusual spring weather with westerly gales, and the ferry was cancelled on Monday.
The island is just three miles long and I took a drive on Tuesday morning. I had no binoculars with me, though I did have an old Canon camera that Peter Phillips, a birder from Dublin, had given me. Peter visits the island regularly and I'd always try to describe birds that I'd seen to him. The best thing he'd said to me was that I hung on to his old camera as he'd bought a new one.
My interest in birding started with the Corncrake and I've done a bit of volunteer work for BirdWatch Ireland on the island. I'm nothing more than an amateur birdwatcher but know the Mallards and other regular ducks on the southern lake. On Tuesday morning I noticed a duck about 30 yards away from the road which appeared to have a white head.
I stopped the car and decided to take a picture but found my batteries were flat! I like to photograph anything unusual I see so I returned home for another set of batteries, finding a Great Northern Diver in the harbour on the way. I headed back to the lake and took a picture of the bird — it was clear it was nothing I'd seen on the island.
I opened up my Collins Bird Guide and found Hooded Merganser from North America, a match for my bird. I wanted a second opinion so phoned Chris Ingram, an English fellow who lives in Donegal. Chris struggled from my description so I sent a picture on to him and a text came back that it was certainly a pair of mergansers. Chris pointed out the possibility of an escape and that brought my excitement levels down somewhat — before that I had gotten very excited to be honest!
On Thursday several birders came over and confirmed the lack of rings. On Saturday big Irish listers such as Jim Dowdall came across but there was no big twitch — perhaps a dozen visitors on each day. The birds were last seen on Saturday, a day when there was some heavy rain and a southerly wind."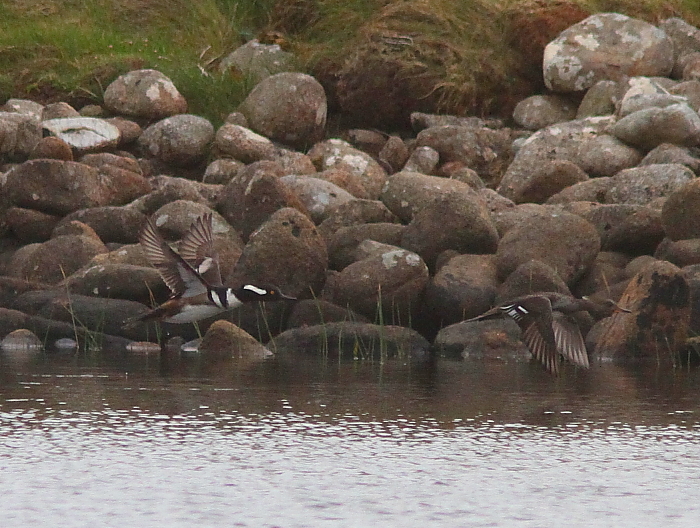 Drake and female Hooded Mergansers in flight, Tory Island, Co Donegal (Photo: Aidan G. Kelly)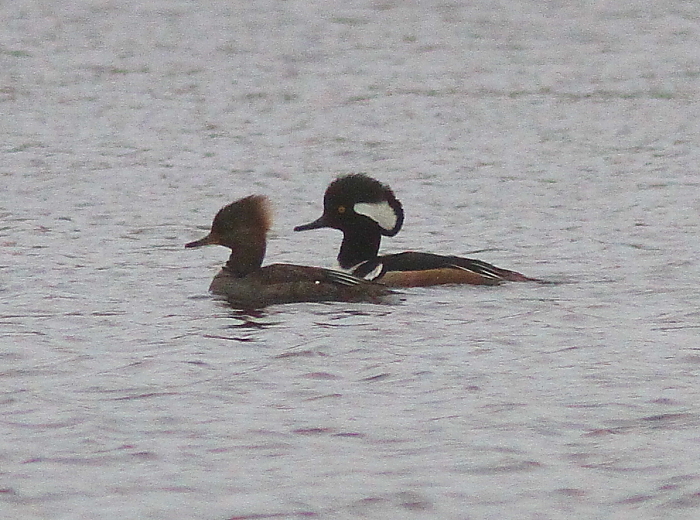 Drake and female Hooded Mergansers, Tory Island, Co Donegal (Photo: Aidan G. Kelly)
If accepted as wild birds, these represent the fifth and sixth Hooded Mergansers to be recorded in Ireland, and the first for almost 58 years. Previous Irish records are as follows:
1878 drake & female shot, East Ferry, Cobh harbour, Co Cork, December (first for Western Palearctic)
1881 female shot, Shannon Estuary off Ballylongford, Co Kerry, January
1957 female/immature, Acton Lake (Lough Shark), Co Armagh, 21 December