I have worked at Turton Golf Club, a few miles north of Bolton, for seven years now, though my tenure at the course comes to an end in a couple of weeks' time. Nevertheless, it was a typical June morning as I arrived for work at 05:50 on Thursday 13th and enjoyed a quick cup of tea with the rest of the groundsmen, listening to the singing Garden Warbler that has been here since the start of June — incidentally, the first I've had on the course since I started work here. I was informed that I was to cut the greens and, at around 06:30, I headed on my way.
One of the things I really enjoy about my job is appreciating the wildlife that lives on and around the course: a new family of Pied Wagtails was feeding on one of the first greens and a Great Spotted Woodpecker was busily collecting food for hungry mouths nearby. Stopping to check activity in one of the nestboxes near the third ladies' tee, I removed my ear defenders and could hear something different singing. Based on song and the habitat from which it came, my initial guess was Redstart: a species I'd not yet seen on the course. Needless to say, I was keen to see the bird but was limited to naked-eye views, before the pressing realisation that I had work to do kicked back in!
I usually carry my binoculars round my neck while at work, but today I'd left them in the car. Soon enough, I feigned a reason to head back to my vehicle to retrieve them, before returning to the mystery song. The bird was perched atop a dead branch emanating from the beech woods on my return, and it was immediately clear it was no Redstart — it was a Phylloscopus warbler! Clearly not a Wood, too high for a Willow, and Chiffchaff was instantly ruled out on song alone — it was beginning to become clear it was something special, though it remained distant. I could see its bright gape as it sang; it burst into song every few seconds, even during the rain and throughout a confrontation with a Goldfinch!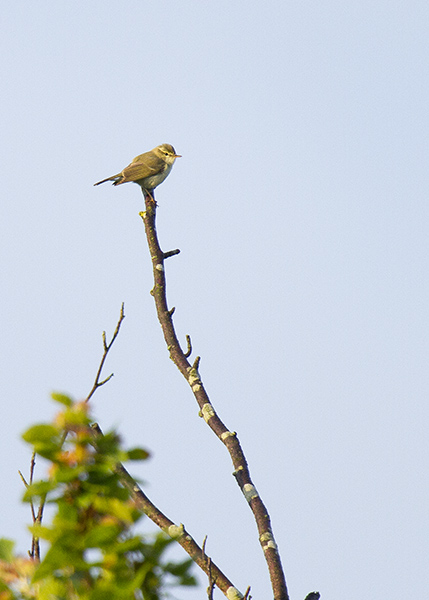 How Antony first saw the Greenish Warbler — at distance, atop a dead branch (Photo: John Barlow)
I opened up my phone and began to listen to warbler songs — Bonelli's? Nope, though its appearance did seem reasonably similar. Icterine or Melodious? Clearly not. Then eventually Greenish — a match, and a perfect one at that! 'Cheee, cheee, cheee, cheee' (always four) followed by a lovely flourish that was sometimes Wren-like and sometimes more reminiscent of Wood Warbler. The song seemed to draw its attention, for it flew right towards me and landed just a few yards (not metres, this is a golf course!) away. With point-blank, naked-eye views it looked exactly as a Greenish Warbler should (though, in my excitement, I had forgotten that my bins were round my neck — funny how that happens!)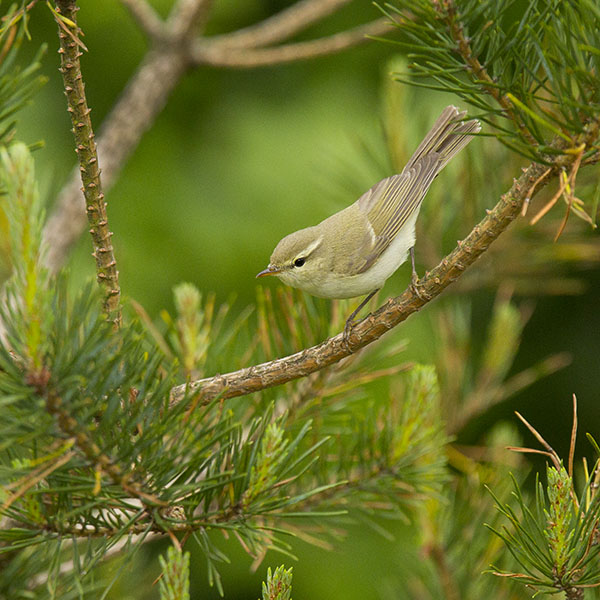 Good views were had by many! (Photo: John Barlow)
I gave Ian McKerchar, the Manchester bird recorder, a call and he advised me to record its song. The bird was still singing in full view no more than ten yards away and so I did so. Ian quickly confirmed the song as that of Greenish Warbler!

The initial sound recording made of the Greenish Warbler (Recording: Antony Wainwright).
A lifer for me and many others, the bird remained until at least the morning of Monday 17th, when it was still singing strongly despite strong wind and rain at times. It generally sang from atop dead beech branches, showing particularly well at sunrise on Friday 14th — the same time at which I saw my first Cuckoo for the site!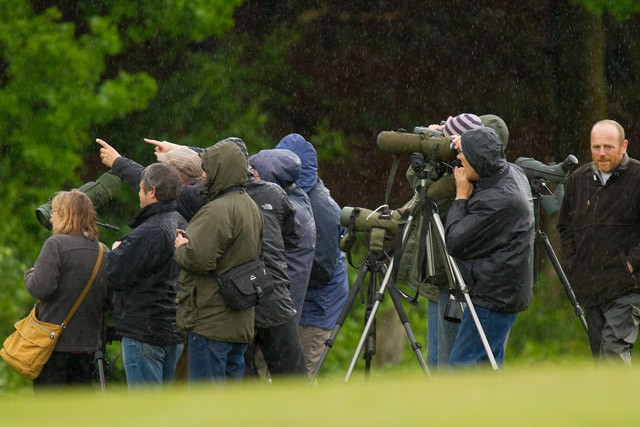 Twitching in the rain, with the finder on the right! (Photo: John Barlow).
I've always been conservation-minded — I was truly honoured to be awarded the Sports Turf Research Institute's 'Conservation Greenkeeper of the Year' award in 2011 — and enhancement of our out-of-play natural habitats has always been my main focus. My fascination with improving these habitats stems from thirty years of learning about nature, especially birds, and observing the gradual decline of some of our once common species. In fact, I once successfully campaigned against expansion of a local golf course, long before I came to work in the field — if only I had known then what I know now about what golf can offer to improve our countryside and, ultimately, the environment! Anyway, I'm due to leave my position at Turton Golf Course in a couple of weeks' time, and finding the Greenish Warbler has provided me with a better leaving present than I could ever have hoped for. In the coming days, I hope all visitors leave the course happy, having enjoyed both the bird and the surroundings in which they found themselves watching it!