The pandemic gave my wife (Caroline) and I opportunity to examine various aspects of our lives and perhaps the most significant for us was where we lived. Having resided in Motherwell for 10 years, I felt I had served my time! I desperately wanted to move somewhere with good year-round birding and closer to the coast. With Caroline's support we decided to move to a smallholding just outside Strichen in Aberdeenshire in June this year. Our place is 15 minutes from sites such as Loch of Strathbeg, Rattary, Kinnaird Head and Cairnbulg.
Over the years I've seen some good birds at Strathbeg, including the 2012 Greater Yellowlegs. Nowadays, the reserve is incorporated into a local patch which I am still refining. On 28 September I had been at an appointment in Peterhead and on the way back I had an internal conversation about whether to stop at a few places and have a look. As I approached the turn for Strathbeg, I decided to pop in and give it 15 minutes.
The sun lit up the lagoons making for excellent viewing conditions as I scanned through the birds, picking up Greenshank and Little Egret. While looking through the hide side window I picked up a wader which looked superficially like a Greenshank, but the legs looked very yellow. I 'scoped the bird and was keen to get a better look, but the windows at Strathbeg Centre are like viewing through magic mirrors! I opened the windowwith all the stealth and fieldcraft of a Water Buffalo, but thankfully the bird was unperturbed by the noise and movement.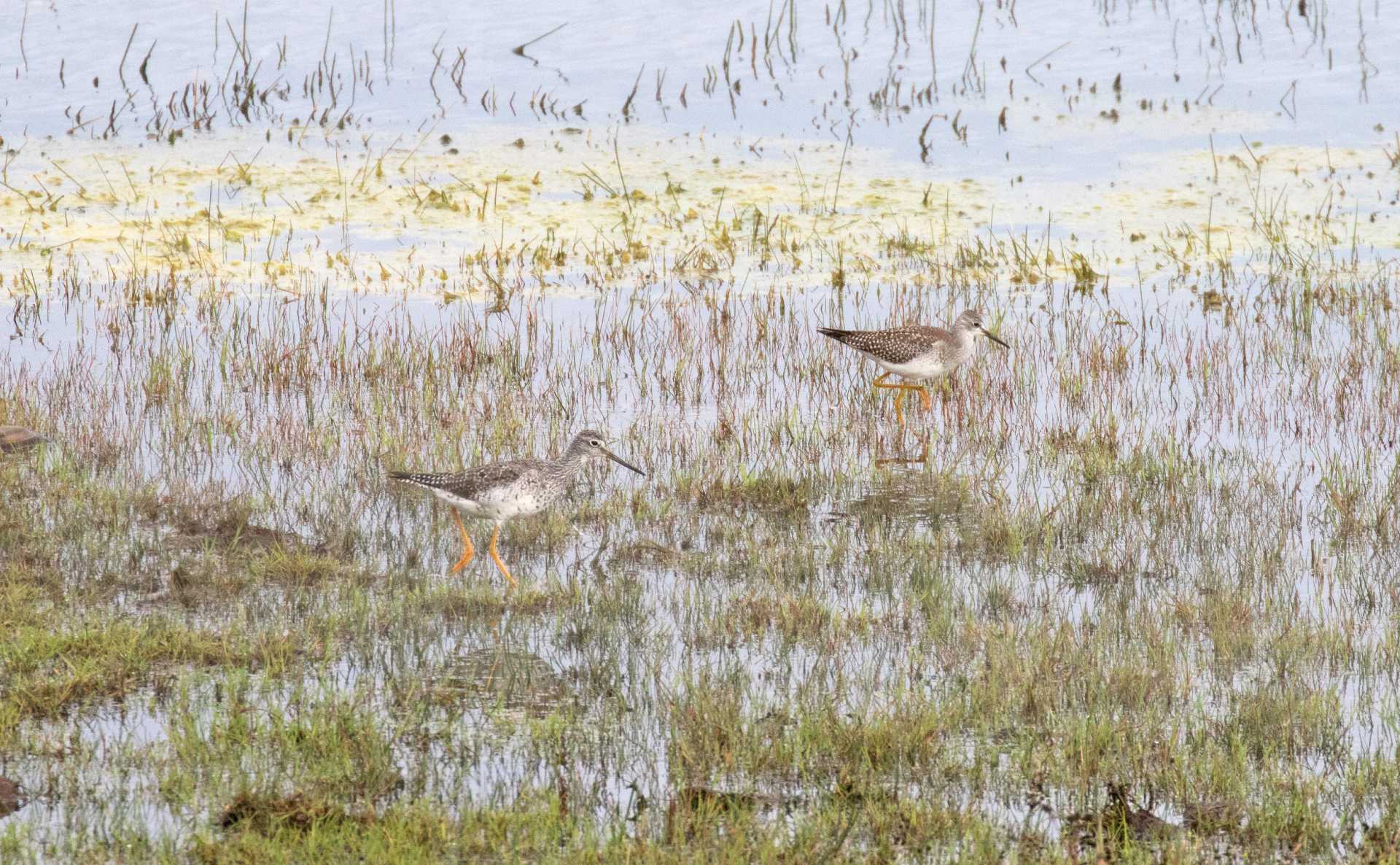 The Greater (left) and Lesser Yellowlegs together at Loch of Strathbeg (Tim Marshall).
It was long-legged and they were definitely yellow, but the size of the bird and the bill being slightly upturned initially put me off the idea of Lesser Yellowlegs. I paused and then thought "why is it not a Greater Yellowlegs?" Knowing how much rarer Greater is, I began to get a bit nervous and slightly frantic. It's a standing joke with lots of my mates that I am not a photographer and I don't really have a set up that provides decent results. I was in the centre by myself and I was nervous about calling such a big bird.
Content continues after advertisements
As I continued to watch the bird, I was 99% sure it was a Greater Yellowlegs. I tried to get something resembling a presentable photo through my 'scope using my phone but, with hands shaking, I began cursing myself for not having a way of taking better shots. I phoned two friends, Ken Shaw and Alan Lauder, for some moral support and to present my photos which were more fit for a guess the bird competition than the ID of a rarity. Both agreed that I should put it out as a strong probable given at this point I hadn't seen the rump. I glued my eye to the 'scope and waited, terrified it would fly off without nailing it.
Within a few minutes of news out the bird flew across the lagoon showing off its large square white rump and the lack of a white wedge. It landed next to a Greenshank and all doubt was removed. I put it out immediately and punched the air. I remained in the centre for what seemed an eternity before a few birders arrived and started rattling off considerably better photos than mine. I returned home in a rather buoyant mood. I had a few beers and read the account of Greater Yellowlegs in Birds of Scotland.
Amazingly, someone later found a Lesser Yellowlegs and so I have seen both species in the same 'scope – totally unprecedented in Britain. Safe to say, I think the move to the north-east is working out well at the moment.