Tuesday 11th March marked the first day of Cheltenham races, and my husband Paul decided not to come out with me for the afternoon dog walk. As a result, I thought I would head to Penally to walk up to Giltar Point, as I hadn't been there since the storms — access to the beach has been difficult. I reached the sentry box on top to the hill with Alfie (the dog!) and took a few landscape photos for the photography study group I am in. The sun was shining, the sky was blue and full of singing Skylarks, with plenty of Stonechats to be found around the gorse.
I turned to start walking back when a large bird with a long tail flew up from the gorse bush and landed in another small bush nearby. I looked through my binoculars at it and was surprised to see it was a Great Spotted Cuckoo, a bird I had only seen in books before. I noted the pale grey head with a slight crest, red eye and pale yellow neck and spotted back. I went hot and cold then remembered I had the camera and managed to take one picture. I threw a handful of dog treats behind me to keep Alfie quiet and tried to get a bit closer but the bird flew down the hill and behind some bushes into an area impossible to get to. I rushed home and reported my sighting to the Pembrokeshire Birds blog as I had not taken my phone with me.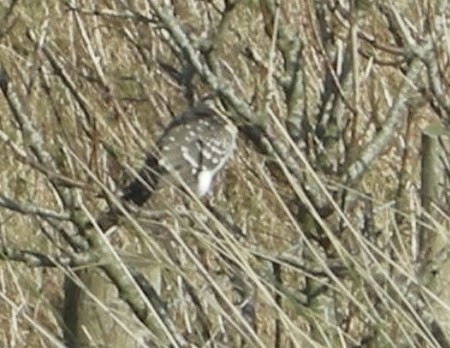 Christine's initial photo of the Great Spotted Cuckoo — a record shot, but the bird unmistakeable nevertheless!
Content continues after advertisements
This morning [12th March] I went back again — I arrived about 08.30 and a few other birders appeared just afterwards, and I was told that it had been seen again earlier by another birder. I was relieved that my sighting had been confirmed! While we were scanning around — the earlier sighting had been in the sheep field, a bit further away — I noticed a group of Magpies making a fuss, and the cuckoo flew out and did several circles around over our heads. It then flew down towards the beach and landed in a bush next to some blackthorn in the sand dunes between the golf course and the beach itself. There were a couple of other birders down on the beach and they picked it up and I managed some further pictures. Now able to get our 'scopes on it, there was great excitement among the assembled crew as we all enjoyed some good views.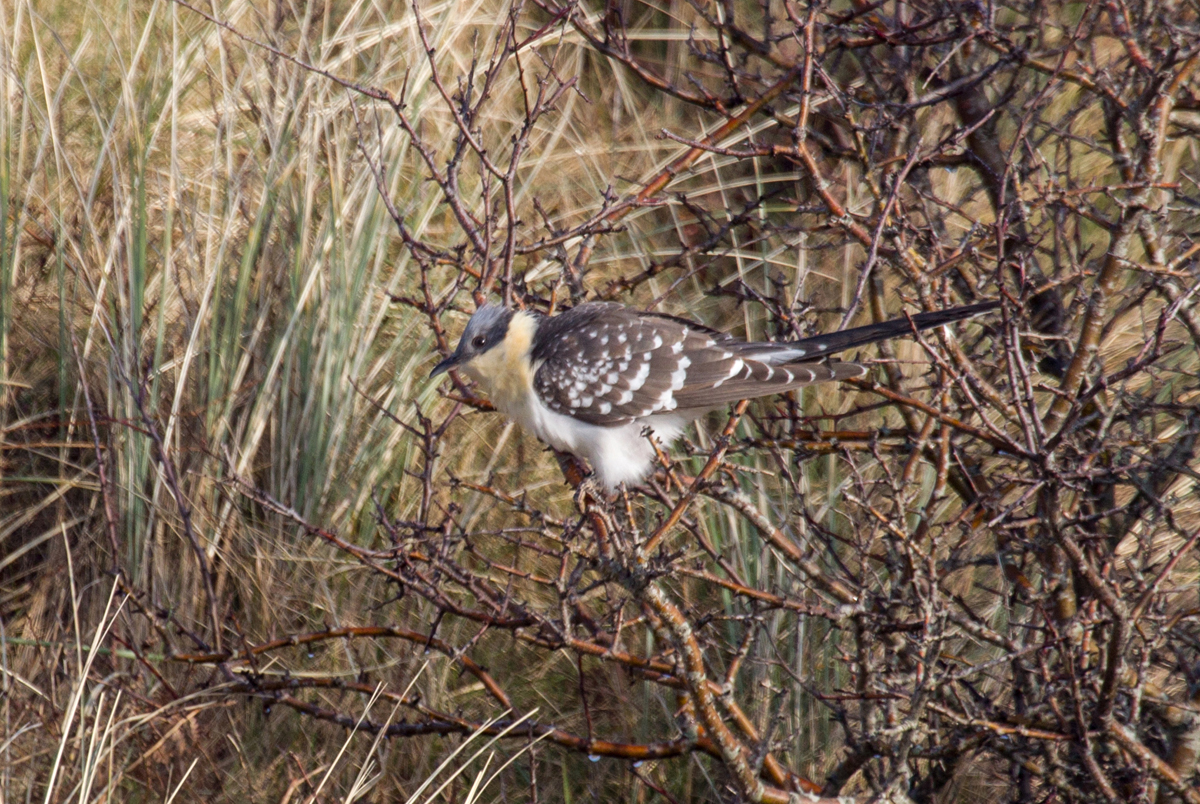 Great Spotted Cuckoo, Giltar Point, Pembrokeshire (Photo: Richard Crossen)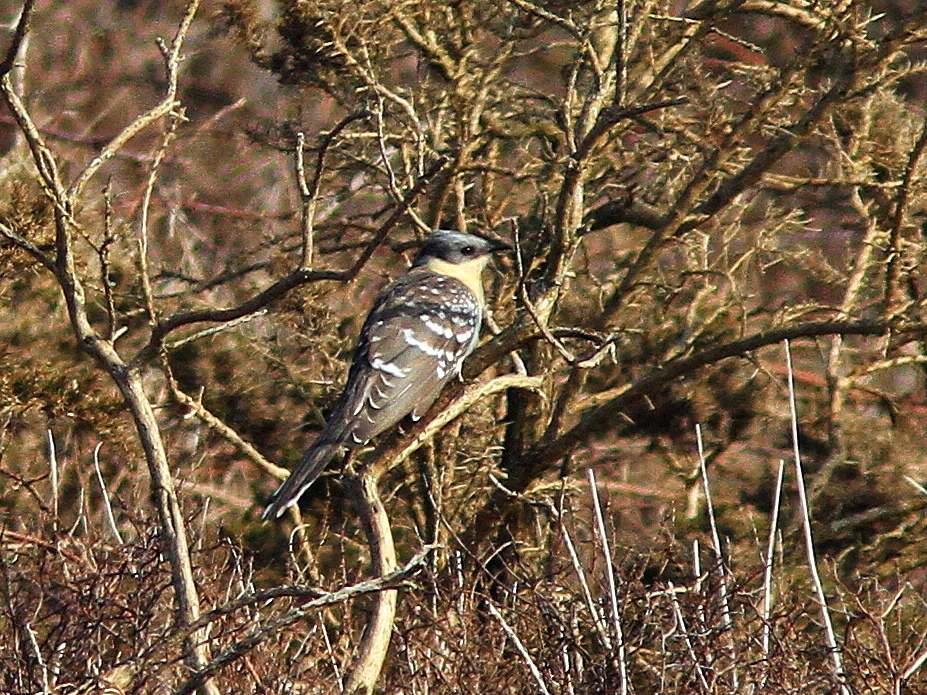 Great Spotted Cuckoo, Giltar Point, Pembrokeshire (Photo: Cliff Woodhead)
As the group of birders who were on top of the hill moved back down the footpath, the bird moved to another bush and we lost sight of it, but the birders at the beach were still watching it. Back at the car park, more birders were arriving and I realized I had started my first ever twitch! I have only lived in Pembrokeshire for a year since moving from Bristol, so a great start to spring 2014.