April had been very slow on the Calf with constant north-westerly winds and very few birds, so we were hoping for an improvement in May. The overnight weather on 4th had been near gale force south-westerlies and clear skies, with drizzle and low cloud moving in before dawn. Good numbers of swifts were on the move, but there was little else of note, so myself, Ian Lycett (Estate Warden) and Laurent Pouchoulin (volunteer) decided to head to Gibdale Bay to check one of the Shag colonies. On our way over, a Common Redstart and a few other birds had appeared, prompting Ian to joke that we might not make it to the colony before finding something good.
As we started to descend into the bay at 15:30, two Phylloscopus warblers flew up ahead of us. As I checked the nearest one, it turned to face me and I was shocked to see a white front, pale lores and a pale greyish head. I instantly recognised it as a Bonelli's and called it out to Ian (amazingly without any obscenities). The bird flicked up and gave a very distinctive 'chipping' call nothing like that of a Chiffchaff or Willow Warbler. Ian got onto the bird shortly after and confirmed it was indeed a Bonelli's Warbler. Unfortunately it soon vanished, something we were to learn over the next day it was very good at! I knew that the call was key, so a quick check of the calls on my phone resulted in me being left in no doubt which species it was — I played both calls to Ian who picked out Eastern. When he asked which it was I replied "you don't want to know!", since we were now faced with the realisation that we'd need both pictures and a sound recording of the call from a bird that had currently dived off down the cliffs and disappeared!
Luckily the bird hadn't gone far and was feeding around some patches of heather with a Willow Warbler. Having watched it feeding and calling frequently for around 10 minutes, and with Laurent getting some distant 'record' shots with his camera, I ran to the Observatory for my scope and camera. On my return it was clear the bird was very mobile and was heading in the direction of the Observatory.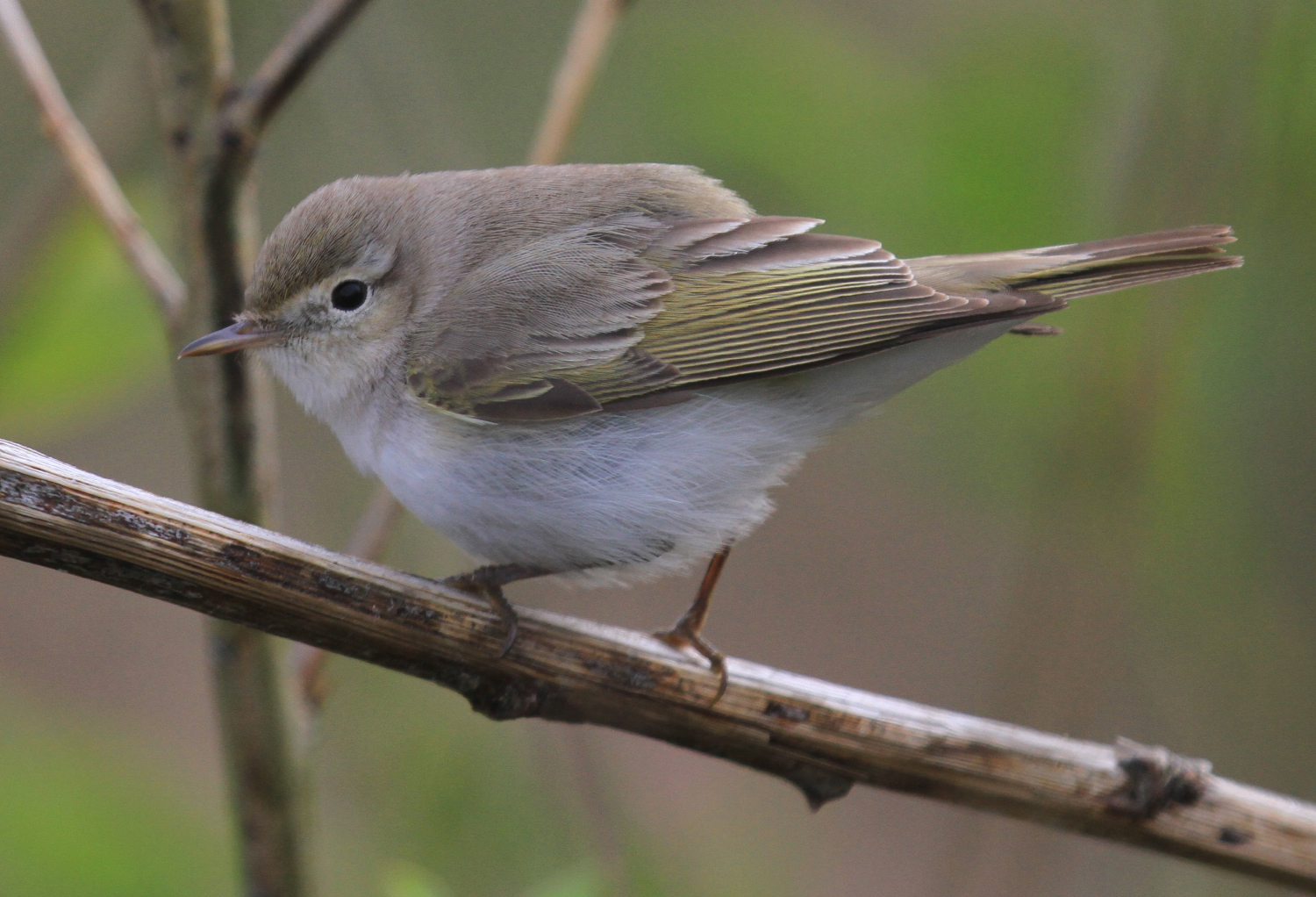 Eastern Bonelli's Warbler, Calf of Man, 5 May 2016 (Photo: Richard Cope)
The bird settled in an area of Sitka Spruce and spent the next 30 minutes feeding continuously, often fly-catching from the tops of the trees, in stark contrast to the Willow Warblers and Chiffchaffs that were feeding very low in the breeze. It was lost again, only to be relocated in a patch of willows down the Glen. It was showing well, sometimes approaching to within three feet, and at one point being too close for my Canon 100-400 mm lens. During this time I tried to video it on a couple of occasions and was fairly confident I'd got footage of it calling. The sound file included here is a composition of the three calls recorded.

Composition of calls uttered by the Calf of Man Eastern Bonelli's Warbler (Recording: Richard Cope)

Eastern Bonelli's Warbler, Calf of Man, 5 May 2016 (Video: Richard Cope)
It was feeding happily in an area of willow and bramble when again, for no apparent reason, it headed off back up the Glen, being seen outside the Observatory briefly in the evening. The following morning we were opening nets and heard the distinctive 'chipping' call reminiscent of a Common Crossbill coming from one of the spruce trees, presumably where the bird had roosted. It flew off down the Glen, so I was surprised to find it in a net a short while later.
The bird was carrying very little fat and it was a cool morning so it was processed quickly and released after a few 'in the hand' photos had been taken. Key features noted included wing length (at 64 mm, just within range of Eastern), the longer second primary, and emarginations on three primaries. It was released into the Sitkas, where it fed briefly before disappearing again.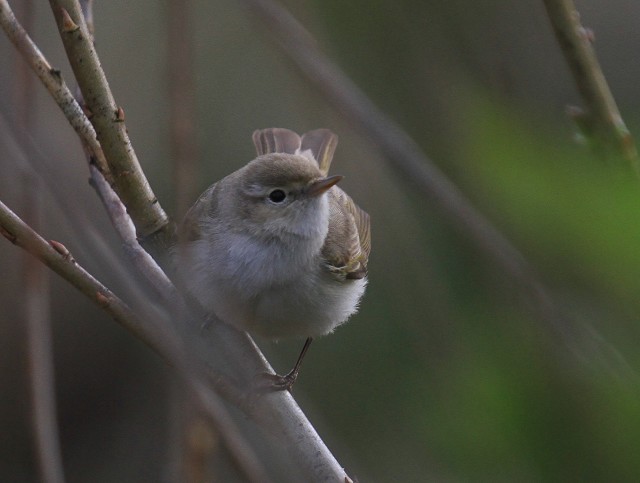 Eastern Bonelli's Warbler, Calf of Man, 5 May 2016 (Photo: Richard Cope)
Unfortunately, this coincided with the supply boat arriving with two birders from the 'main island'. Despite some frantic searching the bird wasn't relocated before one had to return to the boat. As fate would have it, the bird then popped up in an ash tree at the bottom of the Glen as we were driving back to the Observatory. Again it showed very well, feeding within 15ft and unconcerned by its appreciative audience. It was watched until late morning but wasn't seen subsequently. The following day, a Short-toed Lark appeared at the lighthouses — the second new species for the Isle of Man in three days, making this one of the best spells of birding on the Calf for many years.
Though Western Bonelli's Warbler is an annual vagrant to the British Isles in small numbers, Eastern remains an extreme rarity with just seven accepted British records up to and including 2014. Call remains the best way of separating the two in the field and Richard's documentation of this, as well as his excellent photos and biometrics taken when trapped, should ensure an easy path to acceptance for this first for the Isle of Man.

Registered users can access full details of all records of this and other species assessed by the Rarities Committee in our exclusive and fully updated Online Rare Birds database.