On the morning of Wednesday 26 October, I did something which thousands of birders have done on many thousands of previous occasions: I stopped at a five-bar gate on Scilly, lifted my binoculars and scanned through a field of thrushes. But this time was special — relatively close was a bird facing towards me and left in half profile. I registered that it didn't have the rufous flanks of a Redwing and looked like a Dusky Thrush. At which point it flew up to the Pittosporum in the far corner of the field, out of view.
Recalling a plate by Ian Lewington showing that Dusky and Black-throated can look very similar (Plate 47 in Lewington, Alstrom and Colston's A Field Guide to the Rare Birds of Britain and Europe, 1991), I quickly called my long-time birding mate Gareth Richards with the news that I had a Dusky or Black-throated — he started running over from The Garrison.
Back on watch with my superzoom camera primed, I was lucky to pick the bird up again as it flew across the field and landed in a tamarisk. After a glance through binoculars to confirm it was the bird, I took eight photos in two bursts of four. It seemed potentially a massive error to waste time taking terrible photos when I hadn't even seen enough to clinch the identification. It wasn't — the photos have been very valuable back-up.
Switching to my scope, I was lucky again as the bird had moved a little closer still and into the open on a brambly stone wall, where it was perched facing away and to the right, again in half profile. With voice recorder in hand, I described the golden-brown wing-panel in detail, then the dense, interlocking black chevrons on white flanks before moving to the head with a flaring white supercilium, blackish cheeks and long white submoustachial stripe. I was just looking at the bill when it flew to the field beyond. I called Gareth again to tell him "It's a Dusky" and then shook with the most extraordinary adrenaline rush.

The original, uncropped versions of Mark's photos seemingly leave a little to be desired ...
Content continues after advertisements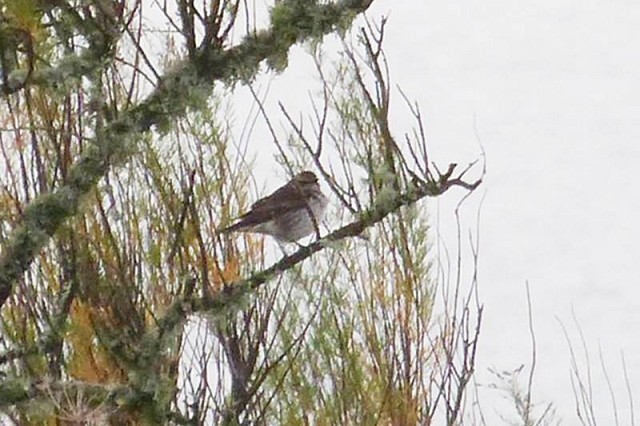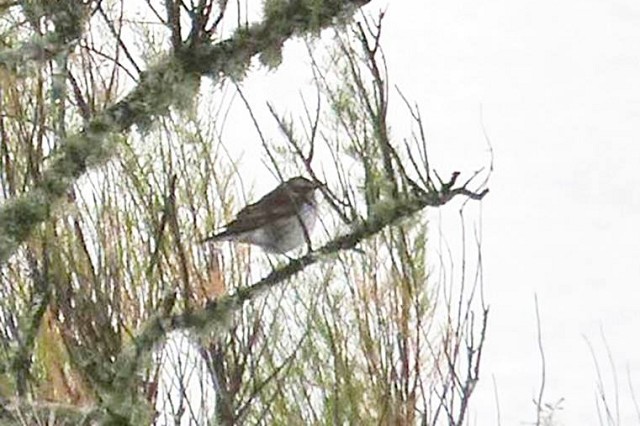 ... however when blown up they show enough to rule out Black-throated and back up the identification as a Dusky Thrush.
That moment of euphoria was soon replaced by doubt and dread. Had I seen enough? What about a Dusky × Naumann's hybrid? I saw only black markings on white underparts, with no suggestion of rufous colouration. The overall blackish-and-white plumage with strong golden-brown wing-panel points towards Dusky Thrush with nothing to suggest a hybrid influence.
My photos looked terrible and I was absolutely dreading another single-observer rarity after my single-observer Rustic Bunting a few fields away four days earlier. With Gareth joining the search, we'd soon established that it was not showing in any of the adjacent fields so it was time to be bold, put the news out and get everyone looking.
Though it had only seemed to fly into the next field, the Dusky Thrush was not seen again.

The Dusky Thrush's movements during Mark's brief period of observation.