It has to be said that Herefordshire doesn't spring to mind as the rarity capital of the world in many birder's minds. And they would be right — for much of the year, this landlocked county tends to remain very sleepy indeed. However, Sunday 20th May saw this change a little...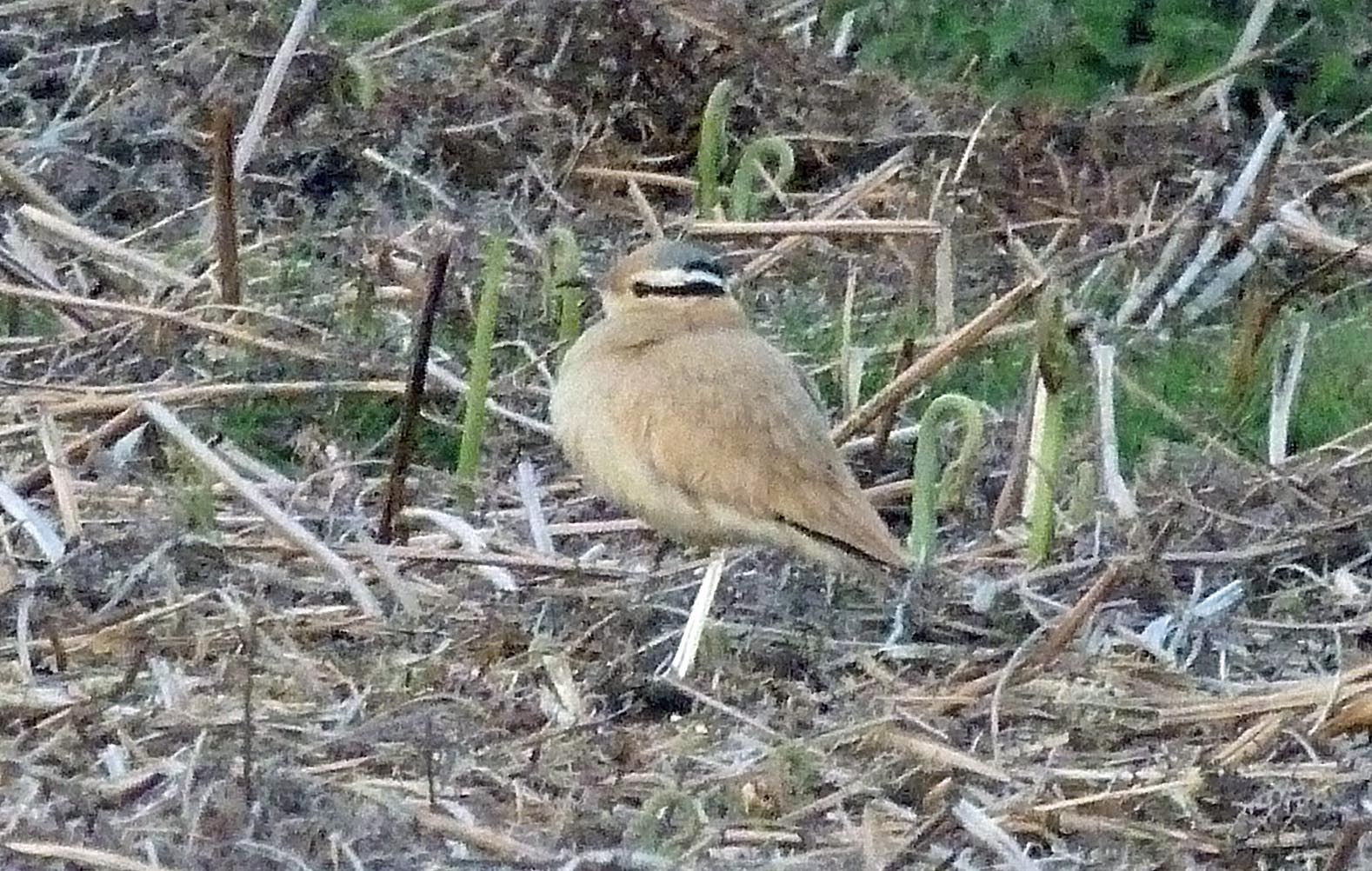 One of the first shots taken of the Cream-coloured Courser at Bradnor Hill (Photo: Paul Downes)
By the afternoon, I was already in my wife's and her sister's bad books for diverting them to see a bird near Hereford, rendering them late for their weekly dog training class — they missed out on the excitement of the agility section (running, jumping, leaping through fire, etc.!), only making it in time for the obedience (yawn!) section. I thought it was a good move at the time; my wife has only been birding two years and is rapidly building up her national and county lists.
Knowing my situation, I headed home and started on the household chores in an attempt to regain my brownie points. Christina arrived home around 18:30 — much later than I had anticipated, but there was no apparent problem. She explained that, as I'd made them miss the agility section of the course, they'd taken a walk up at Bradnor Hill to ensure that the dogs had had some proper exercise. It was at this point she said, "there was a strange bird up there though, it was yellow underneath, but had wings like a Lapwing. It flushed up from the bracken and landed a short distance away."
Off the top of my head, I had no firm idea of what it might be — my mind was running over a great range of possibilities. Christina explained it was roughly between a Blackbird and Woodpigeon in size and, given that the species regularly 'trips' here in May, my best guess was that it might be a male Dotterel, with a weak orange breast that might just be described as 'yellowish'. I decided we should go and have a look for the bird, although I didn't hold much hope of relocation.
We arrived at Bradnor Hill and parked by the stone wall. The walk towards the trig point was reduced to a slow waddle (Christina is a couple of weeks away from giving birth to our first child), and we saw nothing more than the usual Skylarks and Wheatears. However, on reaching the elevated mound that looks west along the 10th fairway towards the famous Hergest Ridge, everything changed. I began to scan the birds feeding on the short grass: Skylark...another Skylark...Cream-coloured Courser...!!!
Through several expletives, I managed to explain to Christina the sheer magnitude of the find. We watched on with genuine amazement as it simply trotted past, stopping and starting in typical fashion as it fed. I quietly cursed that we had brought no camera as the best bird I'd ever found (sorry, Christina found!) came to within a mere 20 feet, outrageously flashing its stunning black, white and blue-grey head pattern. Although I'd never seen one before, Cream-coloured Courser is one of those birds you see in literature and cannot help but admire: the neat buff-cream plumage, long, pale grey legs, slightly downcurved bill could all be noted on the Bradnor bird as it postured like an expensive vase on chopsticks. A short flight revealed the black primaries and underwing — now the Lapwing reference made sense!
Content continues after advertisements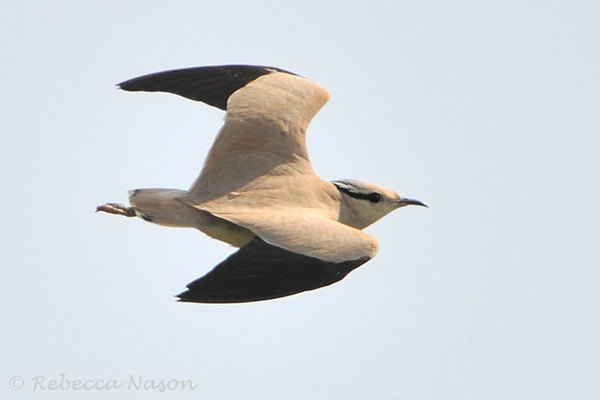 Cream-coloured Courser, Bradnor Hill, Herefordshire (Photo: Rebecca Nason)
Within the hour, a few locals had been contacted and began to arrive to share the moment. By late evening, it had moved to the bracken slope below the 8th fairway to roost. We managed to make contact with the greenkeeper to clear access for the impending mass twitch over the following days, and news was released to BirdGuides at around 22:30.
Thankfully, the bird was still present at first light the following morning, showing to just a dozen or so early risers. Throughout the day, the crowd built into the hundreds and, from what I've seen and heard, everyone behaved well and kept to a sensible distance. I visited with Christina again on Monday evening to find the little show-off seemingly performing laps of honour to the assembled photographers and birders! Querying where some had travelled from, replies included Suffolk, Hertfordshire, Cumbria and Newcastle — clearly some miles had been travelled. It also appears that golfers have also been very tolerant of the situation, with birders even applauding some of the better shots witnessed throughout the day!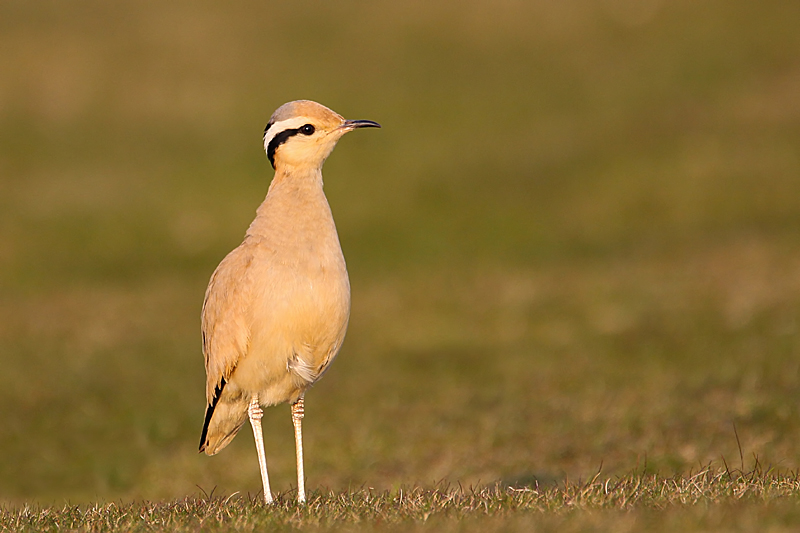 Cream-coloured Courser, Bradnor Hill, Herefordshire (Photo: Dave Barnes)
Once again, we must appreciate how luck can play such a great part in bird-finding. In making my wife late for her class, we finished the day with the finding of an adult Cream-coloured Courser. Thanks to all those who came, saw and went without causing any issue.