At 14:30 on 4 November 2016, at Minsmere RSPB, the first bird we noted when walking from the car park was a Barn Swallow. Eric (D'Weasel) Patrick and John Garbutt arrived soon after and, after checking in at RSPB reception, we made our way to the North Wall. As we were leaving the pond area, we noted several further swallows and made some effort to count how many were present.
While we counted up to eight Barn Swallows, D'Weasel called out "House Martin". I saw this bird very fleetingly but could clearly see that it had a dark throat. D'Weasel said that he saw a white rump and he light-heartedly claimed that it must have been an Asian House Martin.
We proceeded to the North Wall to search for the bird and eventually relocated it from the Stone-curlew viewing point. We were viewing the bird in very gloomy light and at a distance of around 500 metres. Basically, all we could see was a hirundine with a whitish rump flying to and fro along the woodland edge. It flew a bit closer on one occasion when we could see that the bird had a square tail, stubby paddle-like wings and dark underwings and we immediately suspected Cliff Swallow.
D'Weasel swiftly made his way back to reception and asked a non-birding member of staff for a radio so he could get on-site reserve staff to view the bird. D'Weasel said that he needed the radio as he had "an odd hirundine" but being unfamiliar with the word "hirundine", the sentence was transcribed as "an odd heron dying"!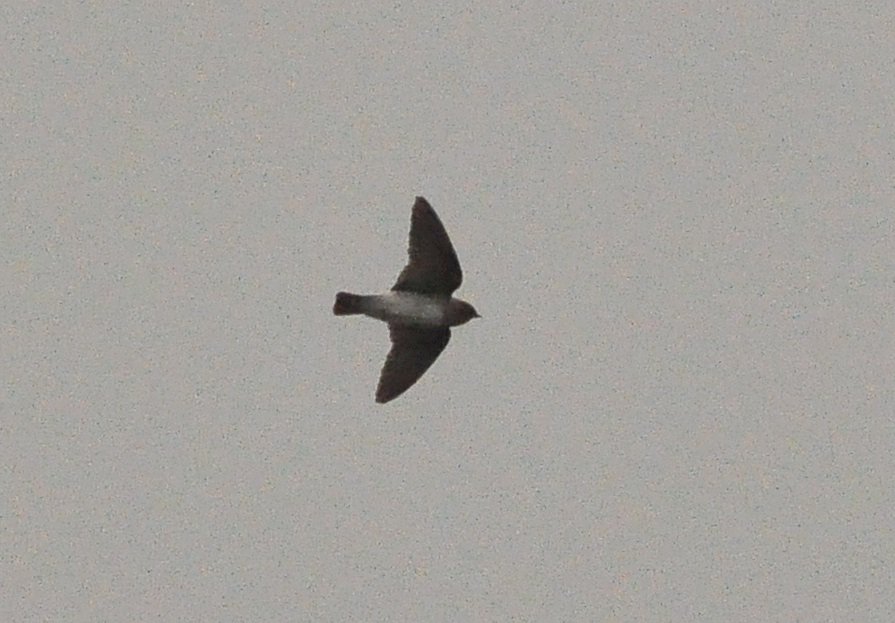 One of the first images of the Minsmere Cliff Swallow, taken in the gloom late on Friday afternoon (Photo: Matt Parrott)
Content continues after advertisements
RSPB wardens soon arrived at the area in which the bird was feeding and agreed that we should station ourselves on a higher area above the Visitor Centre. Dusk was approaching fast and the light was very poor, but from our new position we were able see more detail, including a pinkish tinge to the rump and a clear collar. About 25 birders who were on the reserve were able to see the bird before dark and we discussed the bird's identify at considerable length, ruling out the possibility of hybrids such as Barn Swallow × House Martin or even Barn × Red-rumped Swallow.
Try as we might, we were unable to make out the whitish feathering over the bill or under the chin, but all agreed that it was a Cliff Swallow. RSPB officer Matt Parrott took a number of photographs on which pale areas around the bill could be seen.
The bird was seen in the Minsmere and Dunwich area throughout the next day, being enjoyed by several hundred observers, and was last seen shortly after dawn on 6 November.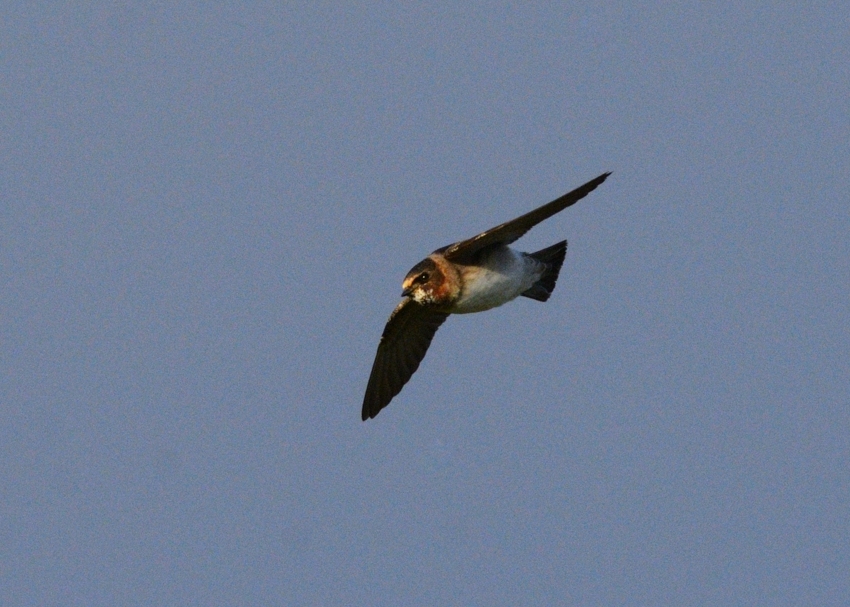 (Photo: Tom Hines)