Premonition is a strange thing. When something remarkable happens, it is all too easy to justify to ourselves afterwards that we predicted it would happen. However, it is a matter of record that the last thing I said to my friend (and keen twitcher) Stu Butchart as I left the BirdLife offices in Cambridge for a two-week holiday to the Outer Hebrides was "I'm going to find you a Bimaculated Lark on North Uist next week."
What is not a matter of record, though, is that, when I said it, I also thought to myself that it would probably 'only' be a Calandra Lark. Without wishing to plug a book that has not yet been published (too late!), I had just been working on the Melanocorypha texts for a Helm Guide to the world's larks that I'm writing with Per Alström, so these big, bulky birds were clearly on my mind.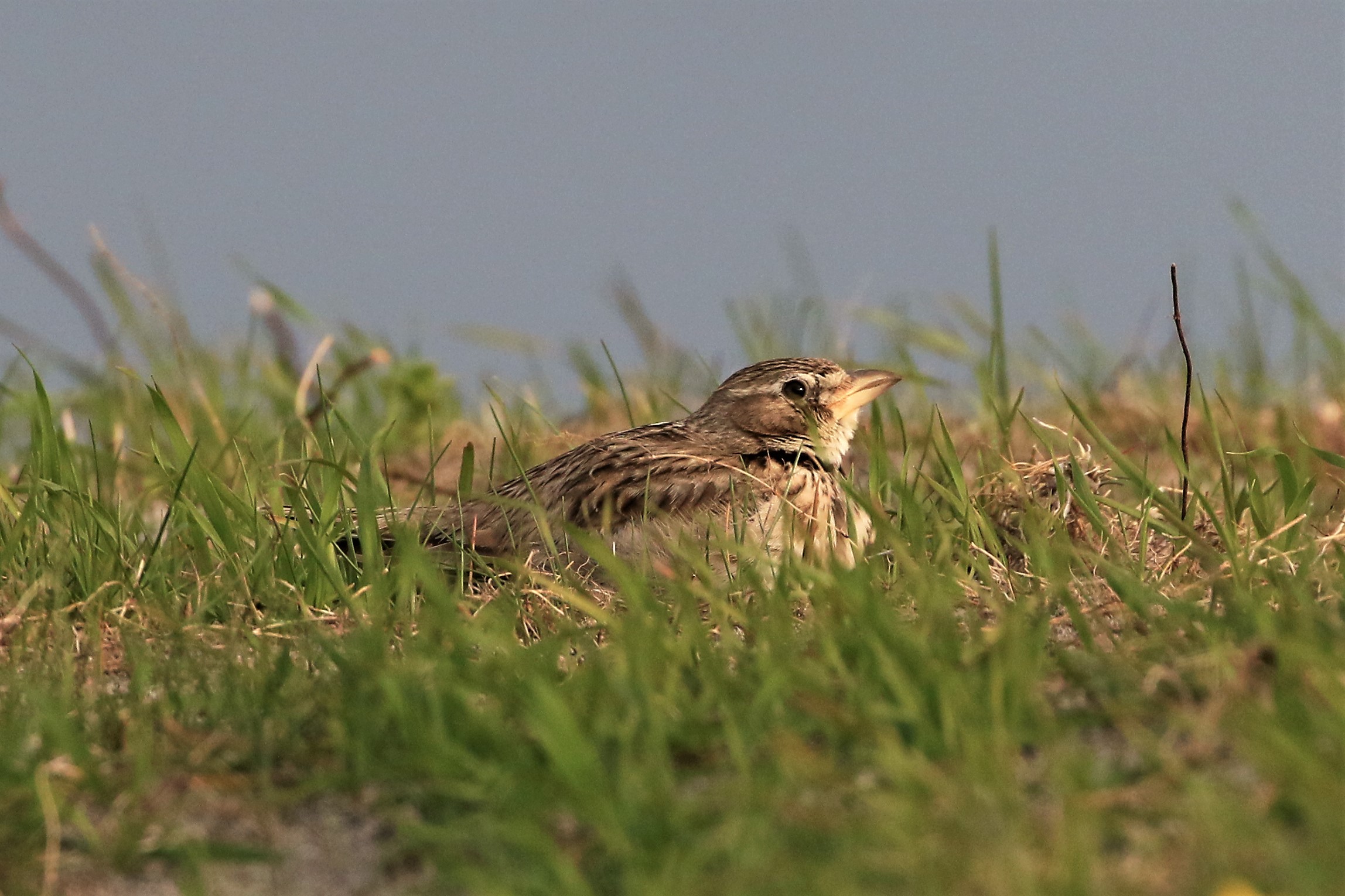 Only 19 Calandra Larks have been recorded in Britain previously, with only one in the Outer Hebrides (Paul Donald).
Fast forward to four days later, and the evening of 3 June. After dinner, my wife Fiona Roberts and I decided to go for a short drive to the beach from our cottage in Knockintorran, Paible, on North Uist. We drove very slowly down a track onto the machair, photographing an obliging Corn Bunting that was moving from fence post to fence post alongside the car. When the fence ended, the bunting flew a short distance into the machair and landed.
A few moments later, at around 8.15 pm, my wife pointed out a bird sitting on the ground close to the car, announcing it as the Corn Bunting, before she said something about it looked weird. I raised my binoculars to look, and couldn't believe my eyes – there, sitting hunched down on the ground (as larks do when they are alarmed), was a Calandra Lark.
The heavy bill, lack of crest and clear black breast-patches clearly pointed to one of Calandra or Bimaculated Larks, but the head and bill pattern were, 'unfortunately', clearly Calandra. After a few moments, and some 200 photographs, the bird flew off, showing the characteristic black underwing and giving a dry, rolling rattle, quite different from the calls of the local Eurasian Skylarks, which seemed upset by its presence and mobbed it in flight.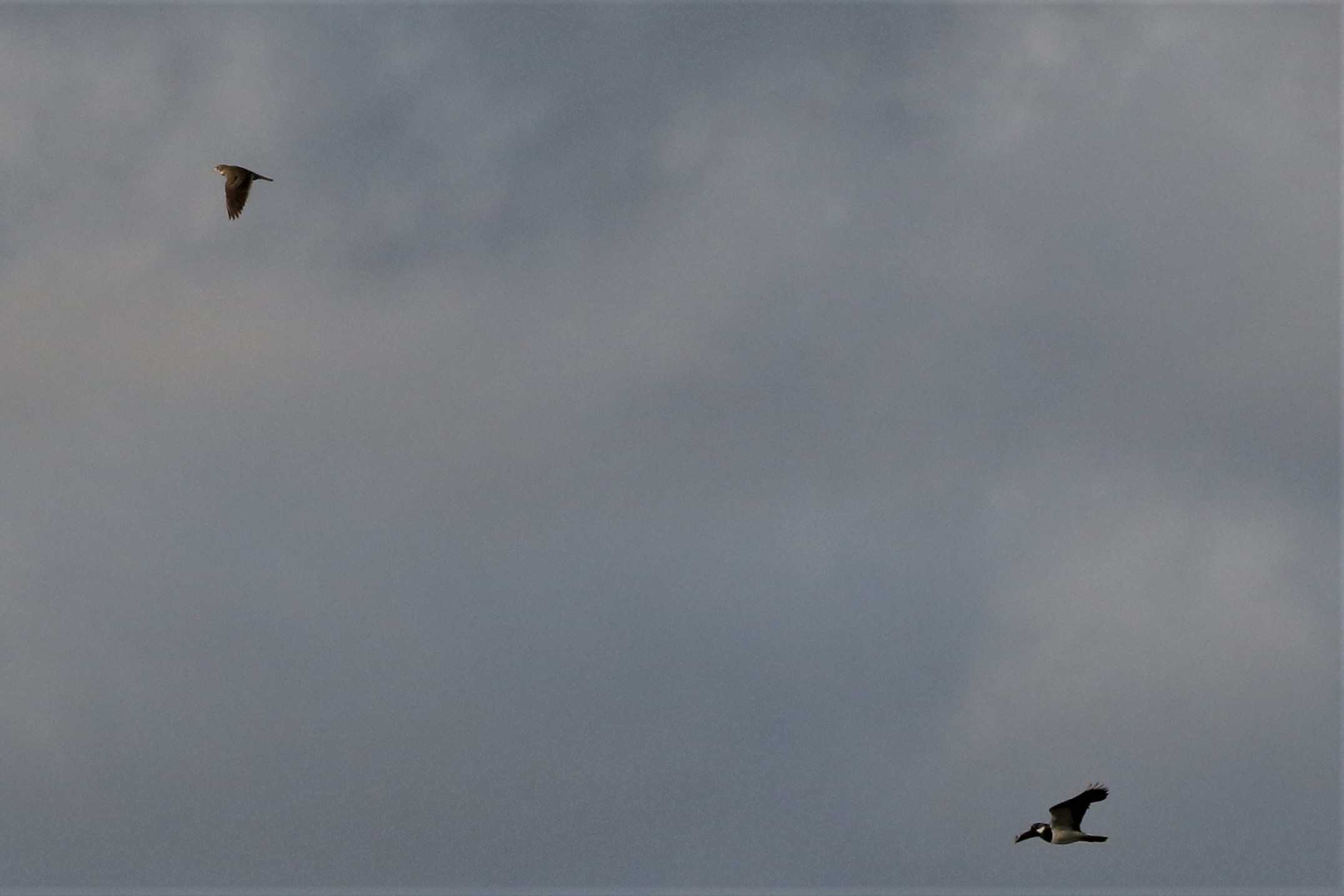 There was no sign of the lark the following morning despite a crowd of hopeful twitchers carrying out an extensive search (Paul Donald).
It landed in a hay meadow and flushed again as we backed up the car, but we saw where it came down. The only local birder's phone number we had on us was that of Steve Duffield, so we called him and, 20 minutes later, he appeared, having broken the Outer Hebrides land speed record on his way. Thankfully, we were able to relocate the bird for Steve and it eventually landed out in the open on the track, where we watched it for about 15 minutes in fading light, while Steve digiscoped it. It then flew into another long grass field and was lost to sight.
As so often is the case with this species, the small assembled crowd the next morning were destined to be disappointed, as the bird was not seen again. Pending acceptance, this will be the 20th record for the UK, the 10th for Scotland and the second for the Outer Hebrides. It is the latest spring record, too, and the first to occur in June.