I live in the town of Greystones on the Co Wicklow coast, some 20 km south of Dublin and just a short distance from BirdWatch Ireland's head office. On Monday 13 July, while working from home due to the COVID-19 situation, I headed towards the town centre to post a letter. The weather was quite good, so rather than walk along the main street to the post office, as I generally would, I decided instead to go via the South Beach, which that day was quite busy with swimmers and families having picnics. It was around 3.45 pm.
Several beachgoers mentioned that there was a strange bird on the beach that they assumed to be sick or injured. Initially expecting perhaps to find an incapacitated Guillemot or Northern Gannet, I was astonished to discover that the bird was in fact a Brown Booby – a species I had experience with from the West Indies, Central America and Japan.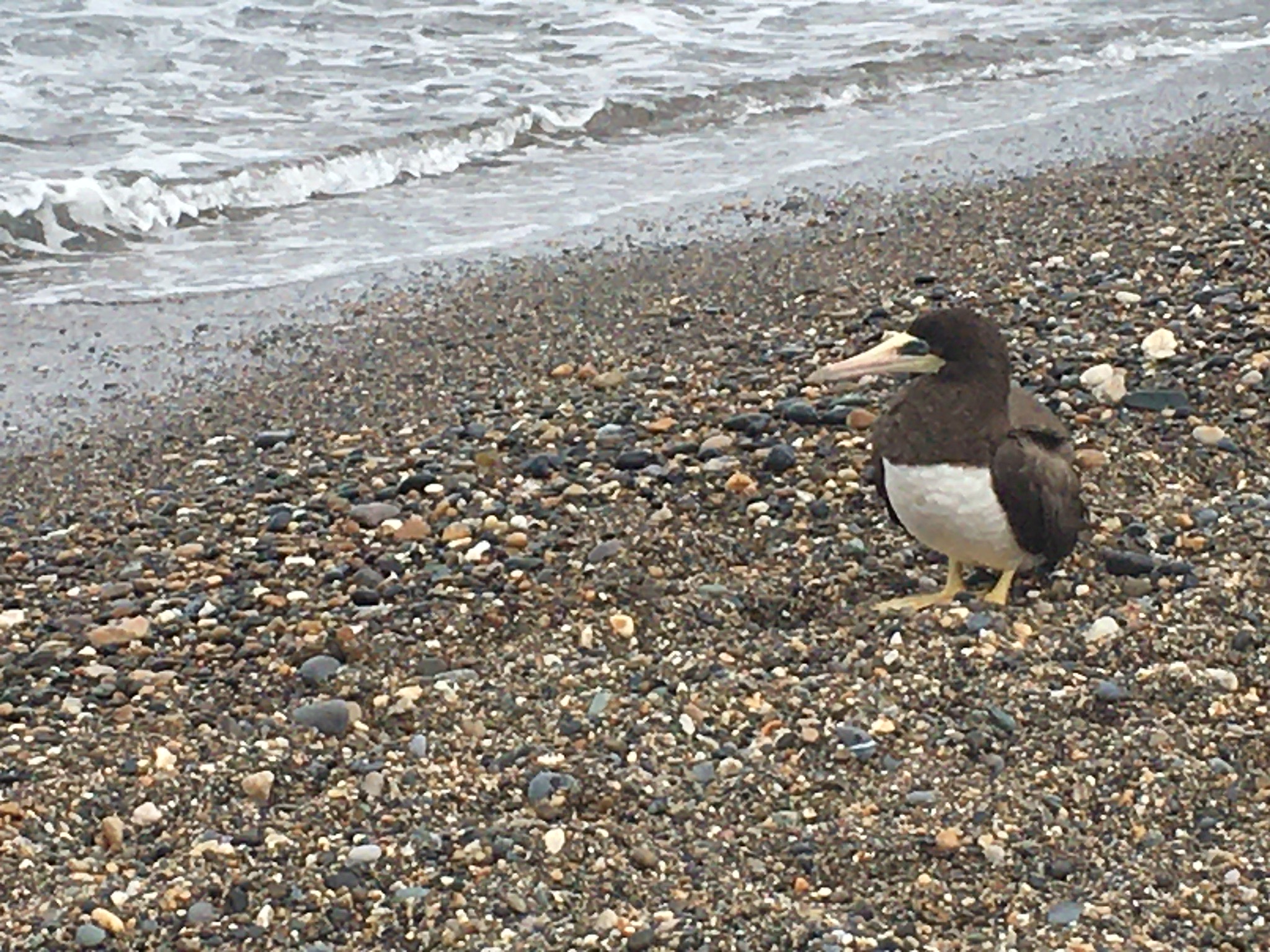 When Niall first encountered the Greystones booby, it was sitting incongrously on the shore at South Beach (Niall Hatch).
The bird was incredibly tame and appeared to have almost no fear of people. Somewhat worryingly, it also seemed totally unafraid of dogs – at one point a spaniel trotted over and started sniffing around it, and the bird barely even reacted.
I snapped a couple of quick photos of the booby with my phone, then my first call was to my BirdWatch Ireland colleague Dick Coombes, who lives close by. I then proceeded to get the word out to the birding community, knowing that Ireland's first twitchable Brown Booby would be a draw for many.
All of a sudden, the booby took off and flew out over the sea. I feared that it was going to depart before any other birders arrived, but instead it began making shallow, angled dives into the water and on one occasion I saw it catch and swallow a small fish. It flew 200 m or so north along the shore, landing right beside a group of bathers. After a minute or so, it flew back down the beach towards me, almost skimming the heads of two bemused swimmers in the water and landed back on the strand just in time for Dick's arrival.
The bird's behaviour drew quite a bit of attention from beachgoers and many took shots and videos of it with their phones as it waddled up to them, asking me what it was and where it had come from. Its massive bright yellow webbed feet were a particular talking point for many. At one point it even walked onto someone's picnic blanket and, rather than being afraid of humans, seemed to actively seek out their company.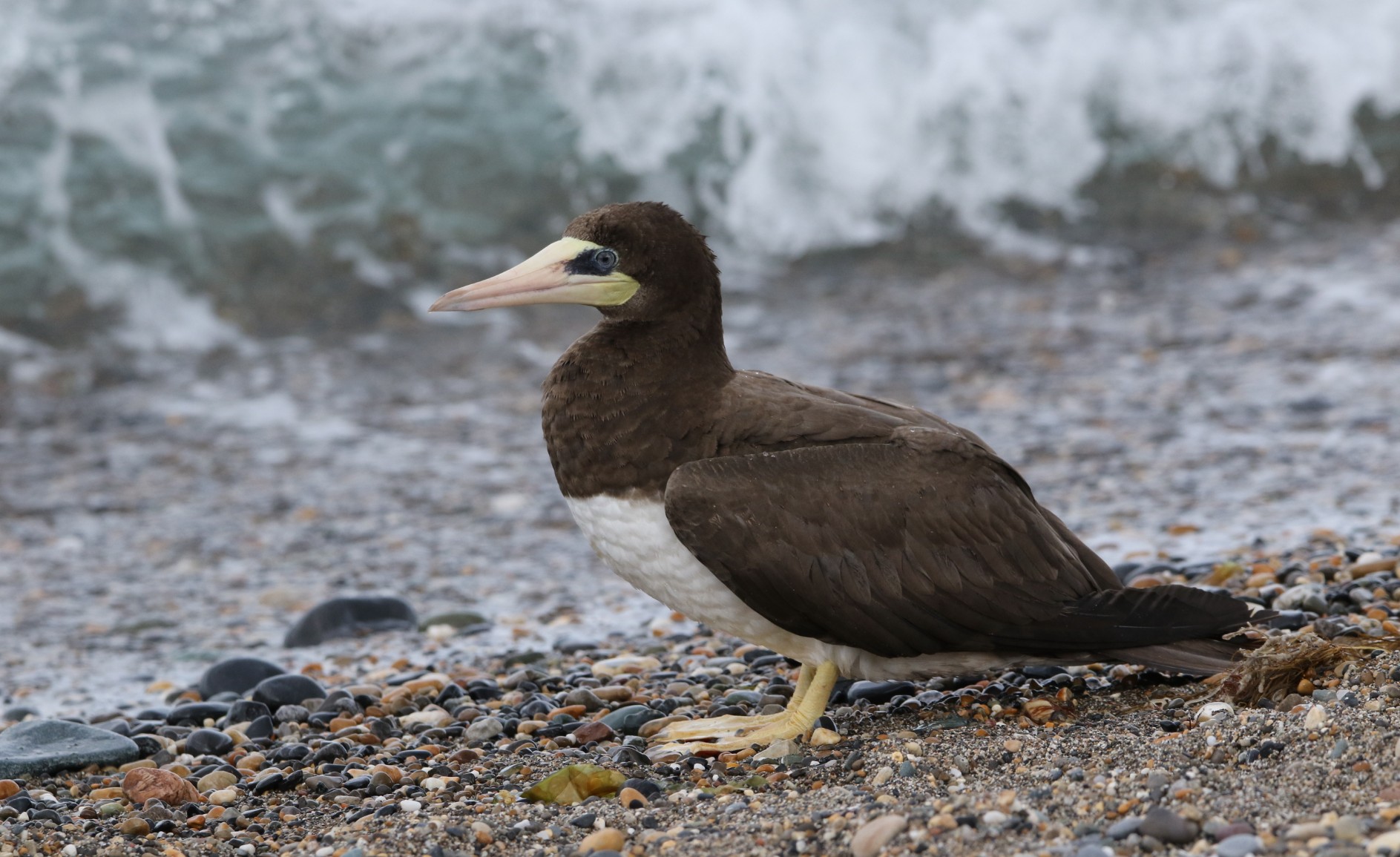 The bird proved very tame initially, even approaching people and appearing to be nonplussed by the growing crowd (Dick Coombes).
More birders began to arrive, and many were treated to fantastic views of the booby flying over the sea, diving to catch fish and swimming just offshore. After a while, it relocated to a group of coastal rocks further north along the beach, helpfully accommodating the mass of birders and curious locals who descended onto the scene.
After a couple of hours' rest, the booby suddenly flew off northwards and was quickly lost from view. Happily, it was later relocated on the rock armour just off Greystones Harbour – its eventual roosting site for the night.
The bird was still present just outside the harbour wall at 5 am the following morning. By 9.30 am, it was back at its original location at South Beach. It alternated between resting on the shoreline and making those characteristic angled fishing dives, at least some of which were successful.
Content continues after advertisements
The booby had become something of a celebrity by this stage, having been widely reported on social media both by birders and delighted beachgoers. A crew from RTÉ television news even came to film it and to interview me and Sofia-Lily Guilfoyle, a wonderfully enthusiastic seven-year-old girl whose video of the bird approaching her and her mother on the beach, posted on Twitter at around 6 pm on Monday evening, had gone viral.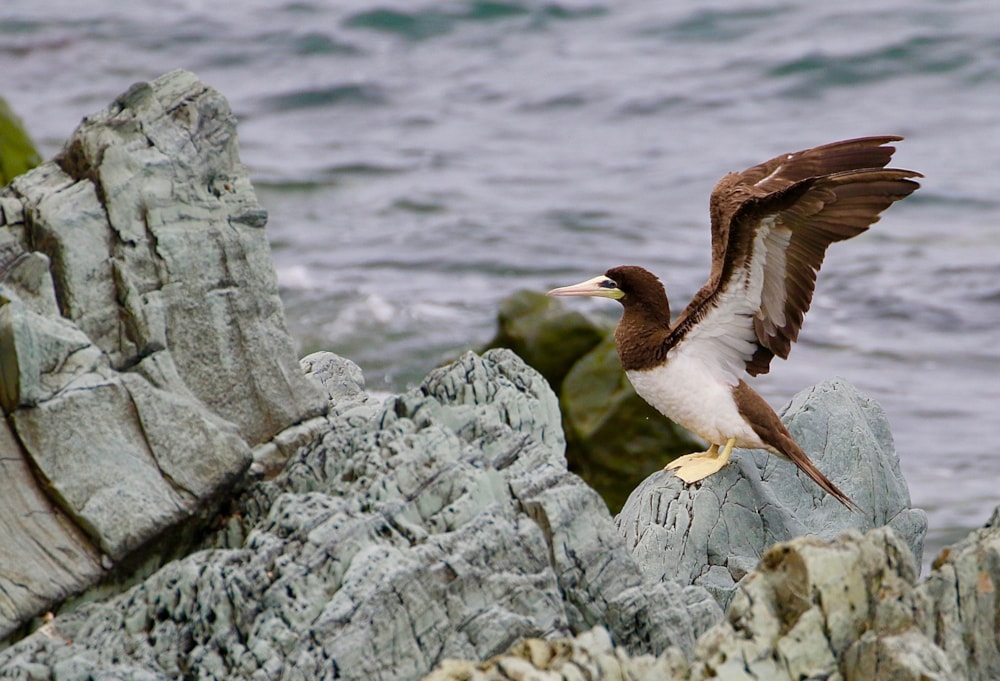 Having livened up, the booby proceeded to feed in the harbour and rest, and eventually roost, on rocks (Victor Caschera).
Unfortunately, by the evening it became clear that the booby was not doing well. It was seen floundering in the sea, so the National Parks and Wildlife Service made the decision to take it into care. It subsequently transpired that it was suffering from malnutrition and exhaustion and was 500 g underweight – it had obviously been struggling to find enough food.
Despite receiving expert treatment at the Kildare Animal Foundation's rehabilitation facility, news came to light on Saturday 18th that the booby had unfortunately passed away in care on the night of 16-17th.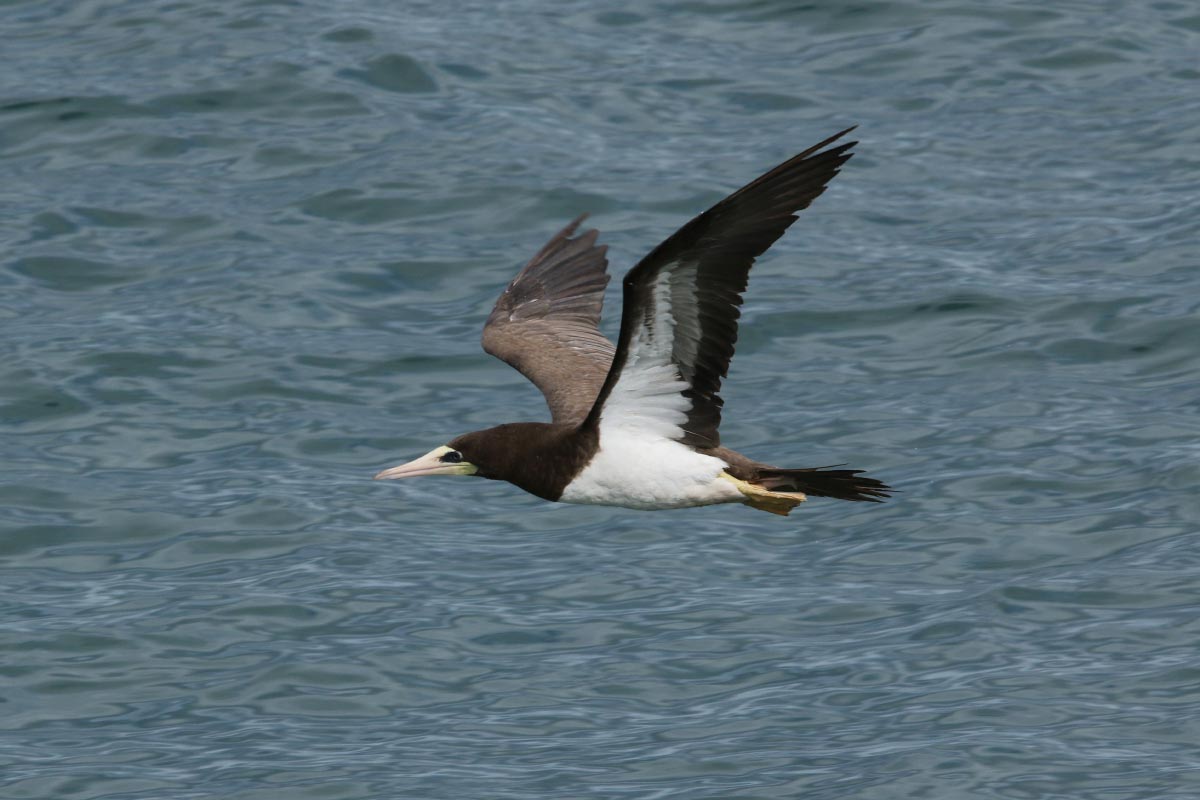 Although having sadly passed away, the booby generated plenty of interest in birds and birding among the Irish public (Dick Coombes).
The interest that this Brown Booby has generated in birds and nature across Ireland, and especially in Co Wicklow, has been astonishing. Many people who had never considered watching birds before or who might even have been dismissive of the pastime have been won over, and it has been touching to see the level of concern for this bird, with so many people expressing their hope that it made a full recovery. It has been a wonderful ambassador for birds, birding and conservation.
There have been two previous records of Brown Booby in Ireland: a long-dead tideline corpse found on Owenahincha Beach, Co Cork, on 2 January 2016 and a live bird that rested aboard a fishing vessel south-west of the Skellig Islands, Co Kerry on 13-14 August of the same year. The former was admitted to Category D of the Irish List, while the latter was admitted to Category A. The Greystones bird, therefore, represented the first twitchable record for Ireland and the first live sighting from land. It appears to be a sub-adult male of the nominate Atlantic race leucogaster.
Amazingly, news subsequently broke that, on the day before the Brown Booby was found in Greystones, one alighted on a Spanish fishing vessel some 73 nautical miles south-west of Cape Clear Island, Co Cork, remaining on board until roughly 12 pm the following day. Given that the distance between the locations of the two sightings is roughly 400 km, and that locals in Greystones subsequently reported having seen a "weird large brown and white bird" flying close inshore north of Greystones Harbour on the morning of 13 July, it seems that two different individuals were involved.
Niall Hatch is Public Relations, Branches and Development Officer with BirdWatch Ireland, Ireland's largest conservation charity and the country's BirdLife International Partner. Many thanks to Niall Keogh and Killian Mullarney for their assistance with the historical data and the subspecific, ageing and gender analysis of the bird.