Being very much an Orkney faithful (five years living on North Ronaldsay does that to you!), I hadn't visited Shetland for the best part of a decade until a return in spring 2017 in my new role as a guide for Heatherlea. In May 2018 I was back again, leading our 'Shetland in Spring' holiday and, despite missing Orcas by minutes on our arrival, the next full day on Unst had seen us unearth a nice variety of migrants, including an impressive five Wood Sandpipers.
After east winds for a few days, much heralded overnight rain on 13-14th saw me up early in the sunshine for a pre-breakfast wander, and it wasn't long before I found a corking male Red-backed Shrike just a few hundred metres from our accommodation. Fortunately, it showed well for my group, even singing once we'd gobbled down our breakfast and sprinted over there; the perfect start to any day.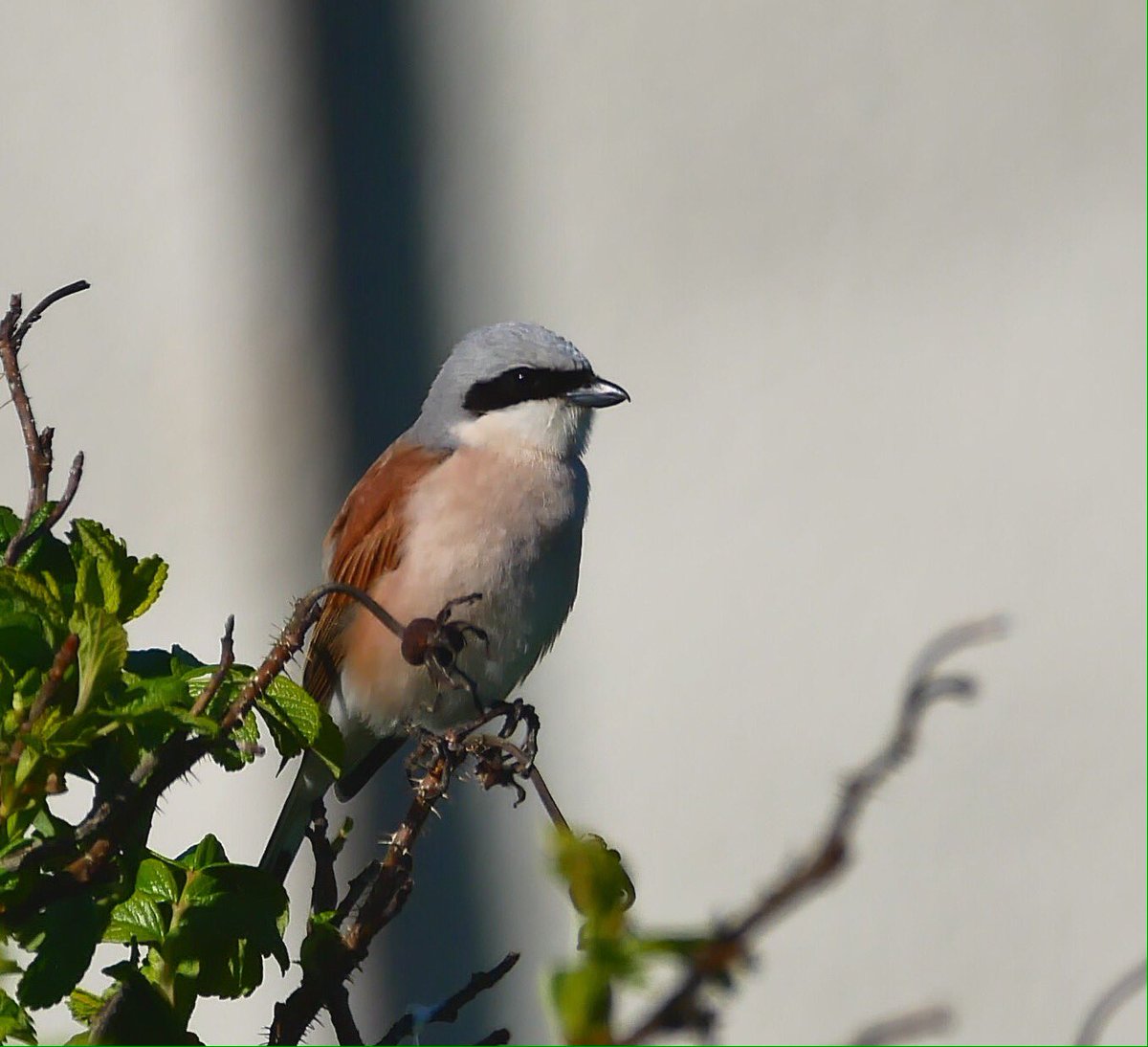 Red-backed Shrike, Unst, Shetland, 14 May 2018 (Allan Conlin).
The weather was stunning and, despite there clearly being new birds about, I was keen to stick to plan A and head up to Hermaness to see the fantastic seabird spectacle in glorious sunshine. Those four hours were some of the best of the week, but after lunch thoughts turned back to migrants. We checked various hot-spots during the afternoon. A few common warblers kick-started things, followed by a female Pied Flycatcher at Halligarth as we twitched a European Turtle Dove. A distant Otter at Haroldswick was nice, but few could argue that an ice cream in the sun at Baltasound wasn't better!
It was here that we got a lucky break: thanks to poor signal, the WhatsApp service had failed me all day, so the first I knew of a singing male Bluethroat at Vaylie, near Norwick beach, was when another birder pulled up and told me. With an hour to spare, we dashed over to look for this much sought-after bird for our group. And did we find it? No, but we ended with something altogether much more rare!
Walking from the parking area by the beach, I noticed a chunky, largely brown bird with a lot of white in the outer tail feathers flick up from the road in front of us and fly into a small bush. A bunting, surely? We hadn't seen Reed Bunting yet on the trip, but on that first glimpse there seemed to have been a lot of white in the outer tail, covering virtually all of T6 and T5 and perhaps a fair amount of T4 – surely too much for a female of that species? Urging my group to focus on the bush, it soon flew a short distance towards a garden, landing on a wall in the open under a thick fuchsia. Through bins, I found myself looking at a bird with a grey head, streaky brown back and whitish underparts. A Dunnock? Or what? The cogs in my brain were struggling – it had white outer-tail feathers! You can insert your own expletives at around about this point as a species sprang to mind, but that species had only been recorded a handful of times in Britain and never in spring.
Instantly I dropped commando-style to my knees with the scope, not wasting time extending the legs on the tripod. I got on it for perhaps a second before it flew again, seeing two more features: a black patch at the front of the face and a pale bunting-type bill. Then I came out with it, the stress detectable in my voice, no doubt: "This has to be a Black-faced Bunting, but I've never seen one before!"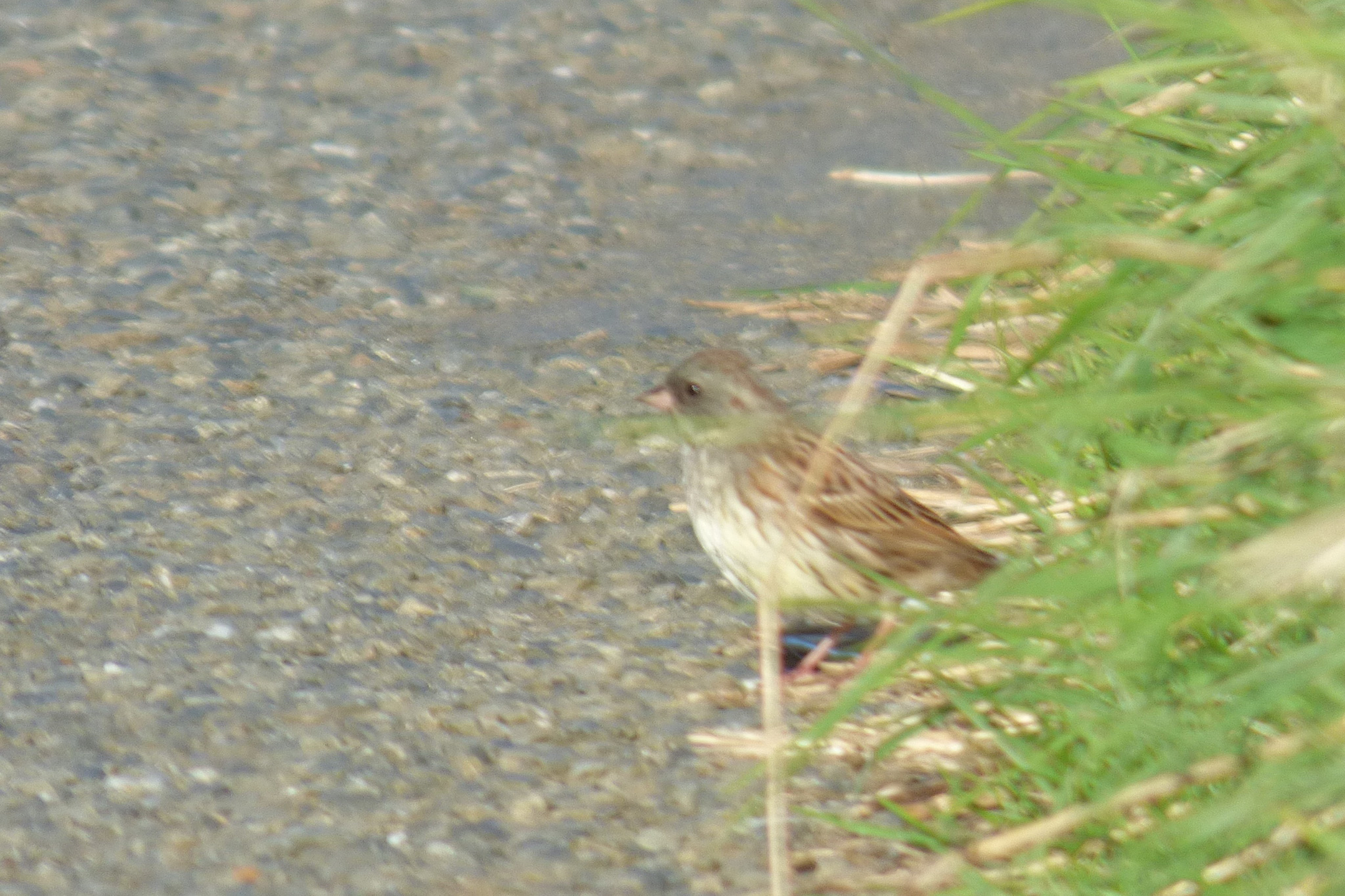 Black-faced Bunting, Valyie, Unst, Shetland, 14 May 2018 (Mark Warren).
It only went a short distance, perching atop a bare tree in the next garden and I switched rapidly to guide mode, urging my clients to take a look as soon as I had the scope on it. One of the group, Mark, picked it up in his own 'scope, but unfortunately most of my group had to be content with a flight view as it moved again into a garden and out of view. The next 45 minutes were agonising as we simply couldn't find it anywhere in any of the gardens and fields about the area. Other migrants kept us entertained – a Spotted Flycatcher, Lesser and Common Whitethroats and Tree Sparrows – but as time went on it was seriously looking like the circling Western Osprey we'd had overhead during the search would be the consolation prize. There was no phone signal at Valyie, and with doubts creeping in, I knew I couldn't make such a massive claim with such a brief view and no photo.
By some miracle, the bunting appeared again on the road right in front of us as we despondently trudged back to the bus. This time we managed good views and it was a Black-faced Bunting, no doubt about it. The cameras were out and, with a bit of perseverance, all the group had scope views of this great rarity. The bird was very restless, presumably having not long made landfall; giving it some space paid off, as we acquired further views of it feeding along the roadside verge. With everyone satisfied, we had 20 minutes before dinner, so I dropped the group back and, still with no phone signal, hurried over to Dave and Brenda Cooper's house to ask them to release the news. As it turned out, they were busy finding a Marmora's Warbler at Baliasta!
I was soon back on site at Valyie and this time re-found the Black-faced Bunting quickly. After gaining some marginally better photos, I took a better mental description of the bird. It was also great to even hear it call a couple of times: though vocally it bore similarities to other ticking buntings, I'd have said it was a bit fuller, being a more drawn out tsslip than a Little Bunting, with which I'm most experienced.
Most of the time I focused on the head and face. Though essentially grey, there was a distinct blackish loral patch between the eye and bill. Other typical bunting facial features were also detectable, if subtle – a narrow, paler grey sub-moustachial and a very thin, blackish stripe between this and the paler throat. A brownish spot was at the rear of the grey ear coverts and it had a finely streaked grey and brown crown, the supercilium being unmarked and solid grey. This overall greyish coloration extended part of the way down the nape and also at the front and onto the bird's breast, which was finely streaked but finished abruptly, with a rather sharp demarcation onto a white-based belly. The flanks and undertail were also white, but I could see some fine streaking in the former. The mantle was brown with bold, black streaks and the wings matched with brown feather edges to blackish based individual flight feathers. Two paler, whitish wing-bars were formed by tips to the greater and median coverts. Though I didn't really see the base colour of the tail, I definitely didn't realise Black-faced Buntings had so much white in the outer tail. The legs were a bright, bubblegum pink. The small bill was very like that of a Little Bunting, but was pink with a dark smudge to the top edge of the upper mandible.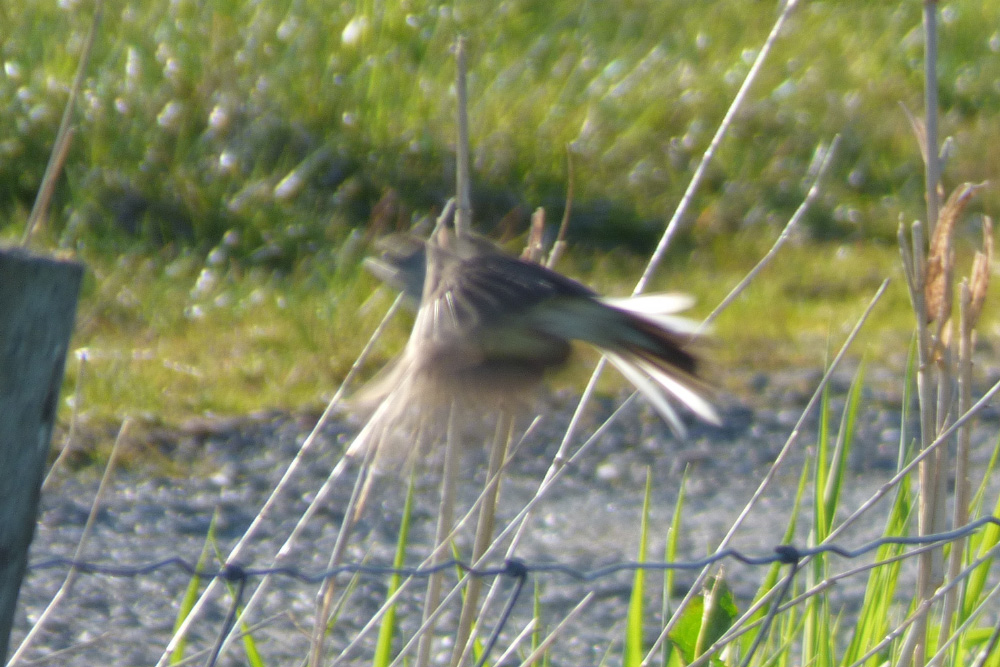 The extensive white in the Black-faced Bunting's tail is visible in this image (Mark Warren).
I last saw the bird disappearing into one of the gardens and with no other birders having turned up at all (understandably they were all at the Marmora's), I went back for dinner. Some clients and I returned after, but it was late and there was no sign of the bird with whole area now in deep shade and bird activity greatly reduced.
It was looked for by locals early the next morning, but there was no sign. Meanwhile, our attempt for the Marmora's Warbler yielded the same result, though a bonus Hawfinch was a nice consolation. In fact, it really was a top week for our group, enjoying great views of Terek Sandpiper at Virkie the next day, as well as Shetland's special breeding birds such as Red-necked Phalaropes, Red-throated Divers and seabirds all in beautiful, sunny weather. On a personal note, after seeing many a rarity over the years, it's always nice to be able to chip in with a cheeky find while out guiding. A Morayshire Baird's Sandpiper in September 2017 had led the way up until now, but a spring Black-faced Bunting will take some beating. I'm one very happy leader with even happier clients!