My family and I made a rather last-minute decision to spend last weekend camping in the New Forest and packed the car on Friday evening, ready for a reasonably early start. I'd said to my wife that we'd start at Acres Down and see how we got on.
When we arrived at Acres Down just after 9 am it was overcast and cool, but at least dry. We strolled up onto the viewpoint in no particular hurry, enjoying views of Tree Pipit and Stonechat along the way. We arrived to find a couple of birders, James Burge and Dave Knight, just settling down to start watching over the forest and we set ourselves up a few metres away. Around 10 am another guy, Rob Clements, emerged from the forest on the south side and stood nearby.
At about 10.30 I heard James say something like "is that a shrike?" Looking to my right I could see a black and white bird sat on the top of a pine about 100 metres away, almost at eye level. I trained my scope on the bird and replied that it was a Northern Wheatear. Almost as soon as I'd spoken the bird dropped off the tree and I exclaimed: "It's not a [Northern] Wheatear, it's a Black-eared!"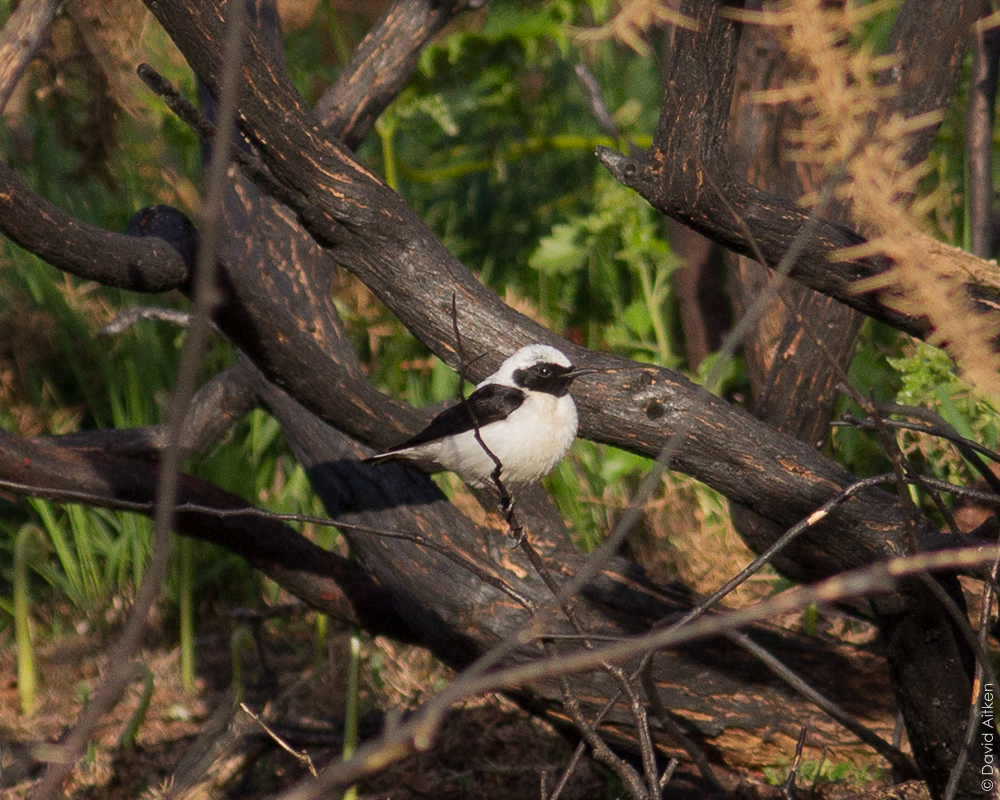 Eastern Black-eared Wheatear, Acres Down, Hampshire, 13 May 2015 (Photo: David Aitken)
I rushed to the edge of the hill but couldn't see anything, so ran further down to the base of the pines. Still I could see nothing. My wife and the other three birders appeared on the edge of the hill and I ran back up to discuss what had just happened. I pulled out my mobile phone and showed them the Black-eared Wheatear plate on the Collins Bird Guide app. Straight away that caused confusion; the other guys felt it didn't look right but I was the only one who'd had scope views and I was utterly convinced of what it was, having seen Black-eared Wheatear many times before across Europe and in the Middle East. In a bit of a panic I said I was off to relocate it and I dashed off down the slope. I knew I'd found a mega but it was slipping out of my grip and without even a record shot I feared it would be just another one of those that got away ...
Content continues after advertisements
I worked my way slowly and methodically around the base of the hill and after what seemed like an eternity (it was actually 20 minutes), I saw the bird again. As I reached for my camera it flew away towards a large group of pines at the foot of the hill and out of sight. A few minutes later I picked it up on open ground among the bog cotton and I finally managed some shots. All too quickly, though, it flicked away and out of sight once again. What a bird: I could scarcely believe it! I was elated, and now a little more relaxed too.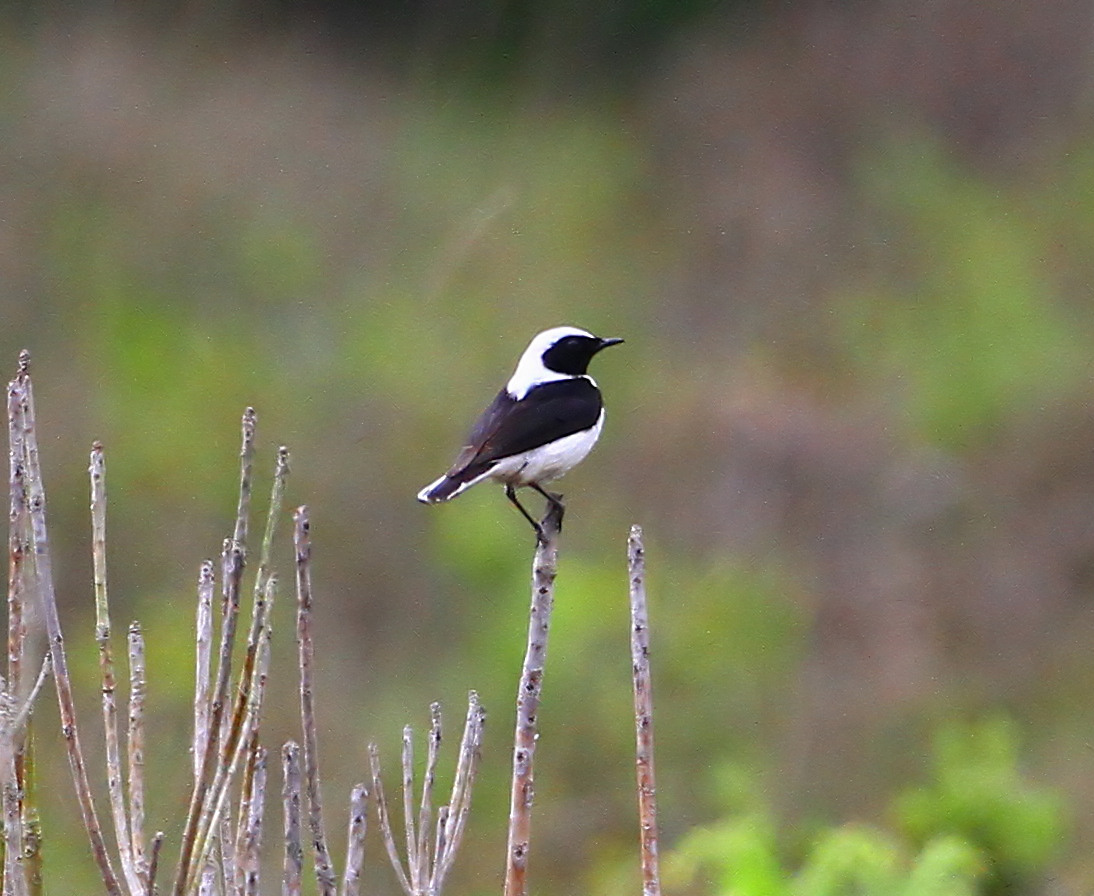 Eastern Black-eared Wheatear, Acres Down, Hampshire, 13 May 2015 (Photo: Lee Fuller)
I was anxious to get the news out so took a back-of-camera image, only to find I had no phone signal when I tried to tweet the image. The bird reappeared and we all obtained prolonged views before it again flew out of sight. Rob remained a little cautious and questioned the ID, but I was happy it was a Black-eared Wheatear and thought it looked like the eastern subspecies melanoleuca. I dashed off up the slope, eventually got a signal and tweeted out the news and phoned the news services to ensure the widest possible audience.
I set off to search for it but after 30 minutes without a glimpse, I was getting a bit desperate. The first twitchers were arriving on the scene and luckily I found it again on an area of gently undulating ground immediately west of the hill. By this time it was bright and sunny and the bird showed well, if not at times a bit distantly, feeding on the ground but also frequently flying up into trees. With the crowd building and my family now hoping for some lunch, we wandered slowly back to the car. An amazing morning's birding — nothing like what I was expecting in the summer in the middle of the New Forest.