Most Saturdays I go out birding with my grandad and this Saturday was no different. At 9.30 am my grandad and grandma, Robert and Val, came to pick me up and said that we were off to Sutton Bank and maybe also a bit further to Bempton Cliffs, to which I replied "YES!". On the way over we decided not to stop at Sutton Bank and just go straight to Bempton, discussing what we might see.
We arrived at Bempton at about 11.30 am, checked the recent sightings board in the visitor centre and saw that a Corn Bunting had been reported, so the plan was to try and find that.
We didn't have success with the bunting so on the way back, at about 1.30 pm, we stopped for a rest and a packet of crisps, not expecting what was coming. My grandad said: "What's this coming towards the cliffs? It has black wings."
I picked my binoculars up and rushed to the fence. As it drifted past in my field of view I immediately knew it wasn't anything I had seen before, so quickly swapped my binoculars for my camera to take a picture. As I looked at the picture I said "That's an albatross!" and showed my grandparents. "We need to get this confirmed. I need to go and report it!"

An uncropped version of Joe's albatross image (Photo: Joe Fryer)
Content continues after advertisements
After watching it for a couple of minutes I speed-walked to the visitor centre, where I found a member of staff and said: "Excuse me, I think I've seen an albatross." At that moment he looked at me, a 12-year-old, in disbelief and I showed him the picture. He looked at the picture and saw the wings and thought it was a Lesser Black-backed Gull at first until he saw the eyestripe and bill. He asked a colleague to come and look, too, and it was then confirmed as a Black-browed Albatross. Then the people behind the counter said "What a find!" and it went crazy. The atmosphere changed from calm to electric, someone went to look for it and the radios went mad. I was taken to the office to put my picture on social media and the Bempton Cliffs Twitter page.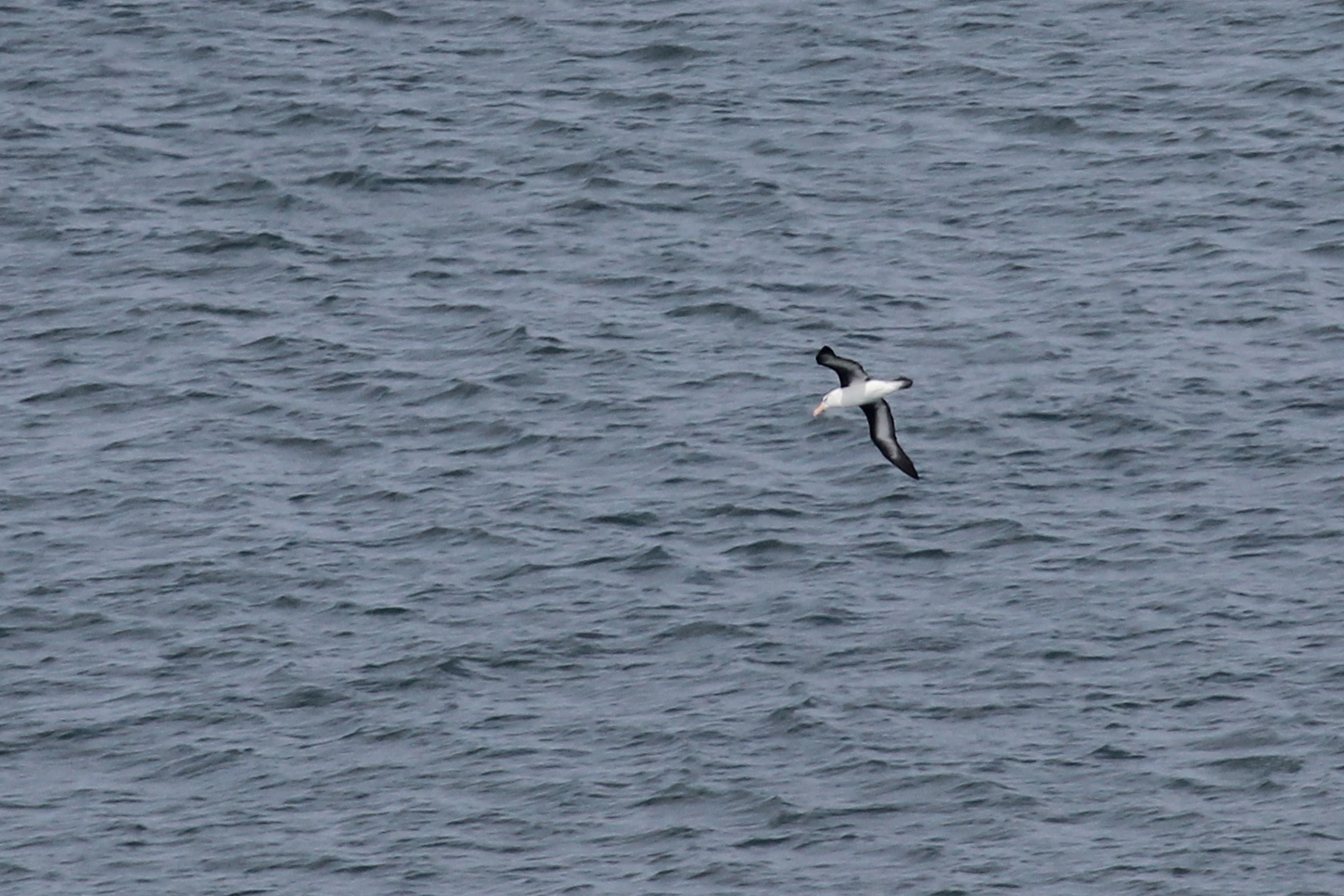 Adult Black-browed Albatross, Bempton Cliffs RSPB, East Yorkshire, 13 May 2017 (Photos: Joe Fryer)
After all the joy and excitement it was back to birding. I went back to my grandparents and looked to see if the albatross was still about but it had moved on southwards. Instead we took a few pictures of Gannets, Guillemots, Razorbills and Kittiwakes before checking in at Filey Brigg, where we saw a Whimbrel. Coming home we had a quick stop at Sutton Bank, where we saw two Turtle Doves and a Jay.
Some said to us "That'll be a hard day to beat!", to which grandad replied "We'll see!"
I would like to say a big thank you to my grandparents for taking me out birding most weekends.