Tracey Viney and I had been on the Outer Hebrides for two days at the beginning of a week-long birding holiday and were due to pick up two friends from Benbecula airport at 4 pm on Sunday 22 May. We left Hougharry en route for the airport at 2.15 pm, allowing extra time for the journey just in case we might see something interesting. It was just as well we did.
At 2.25 pm, as we passed the north end of the Paible circular road, I glimpsed the head of a bird peering out from behind a clump of Pampas Grass in a roadside garden. The bird was sitting on a mesh fence about a foot off the ground. I said to Tracey, who was driving: "I've just seen an American cuckoo! Don't stop. We need to turn around so we're facing the right way. It can't be. It's the wrong time of year, but I'm certain that's what it was."
As we approached the garden again, the bird had moved and was perched in full view higher up on the fence. It was undoubtedly a cuckoo, slim and long-tailed with a decurved bill. We parked up on the Paible road and set about formally identifying the species. The bird immediately hid in shrubbery for several minutes before eventually emerging and moving gradually along the fence line, frequently dropping to the roadside verge to feed on caterpillars and occasionally being mobbed by local Meadow Pipits. It was completely oblivious to passing traffic and cyclists but, frustratingly, any attempts to approach more closely on foot were fruitless, as the bird would fly straight into cover.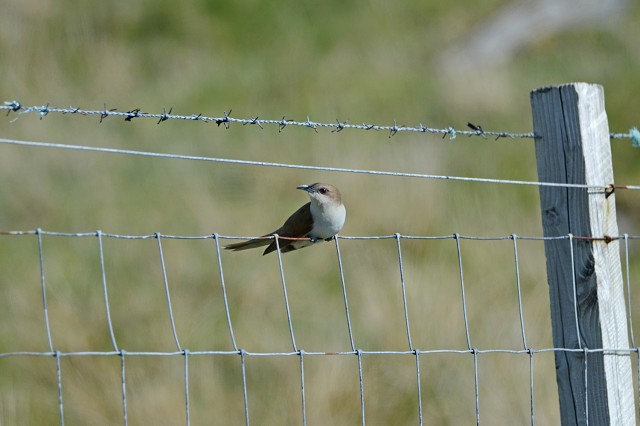 The Black-billed Cuckoo was initially located on a roadside fence on the afternoon of Sunday 22 May (Photo: Richard Levett)
The bill was all dark, steel-grey but becoming blacker towards the tip. The eye was dark brown with a distinctive crimson orbital ring. The upperparts were largely olive-brown, but slightly greyer on the forehead and around the eye. The underparts were white with a slight buff tinge on the throat and undertail coverts, while the tail was grey below with diffuse white tips and edges to the feathers. In flight the bird showed buff underwings and a slightly graduated tail. Checking in a field guide let no doubt that this was a Black-billed Cuckoo. In true TV quiz show tradition, I then phoned a friend, John Faithfull, who was birding on the Isle of Skye and who knew a local contact, to let him know about the cuckoo.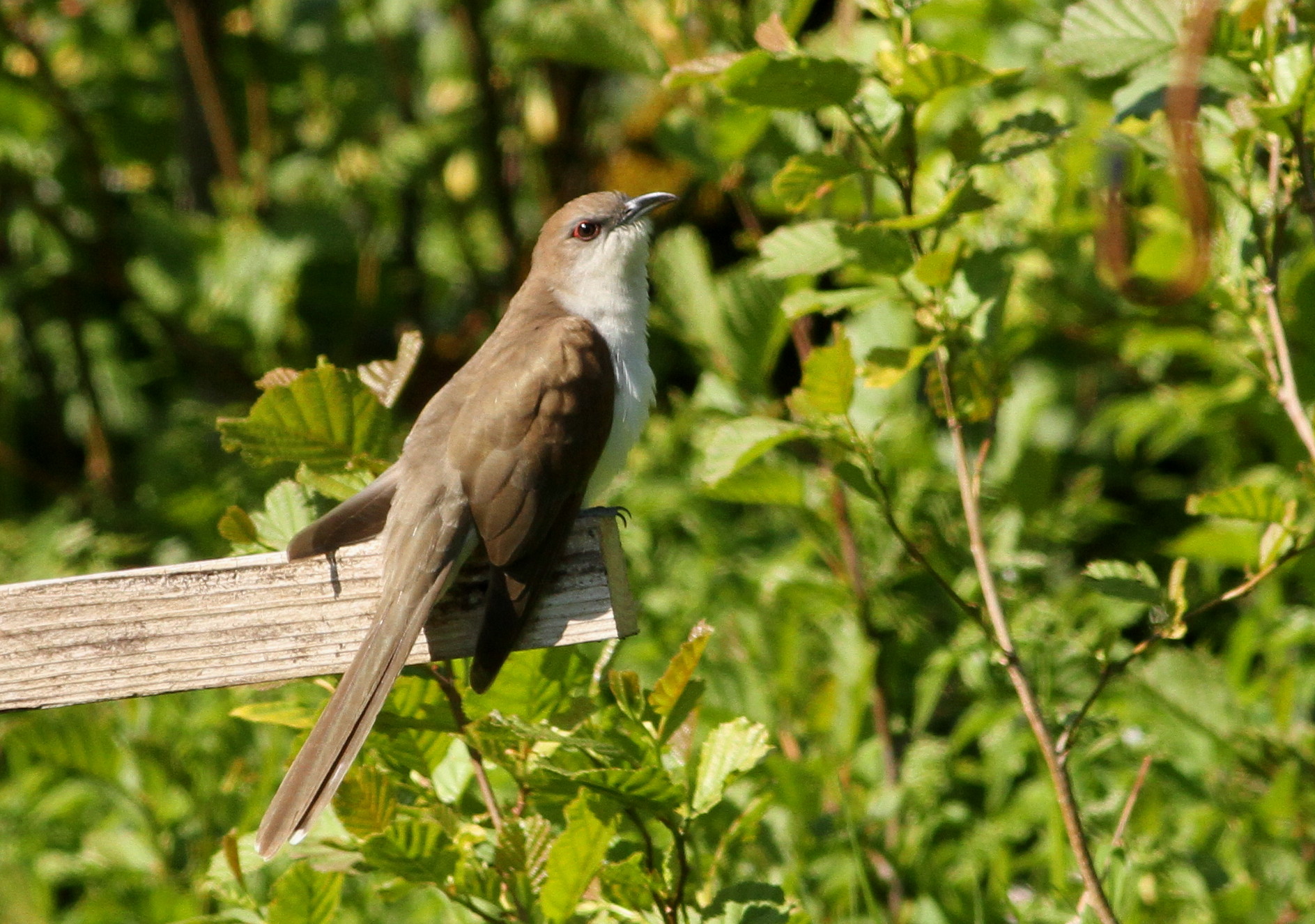 Black-billed Cuckoo, North Uist, 24 May 2016 (Photo: Rob Stonehouse)
By this time we needed to collect our friends from the airport, so Tracey left and I stayed at the site to keep an eye on the bird and attempted to get a photograph in case it wasn't seen again. Although it was a distinctive bird I felt that the spring timing meant the record was going to be met with a certain amount of disbelief.
Tracey returned from the airport with our friends, Richard Carpenter and Heather Chivers, and they also had good views of the cuckoo. What an introduction to the islands for them! At 5 pm we left the site. No other birders had passed (or at least stopped) in that entire time.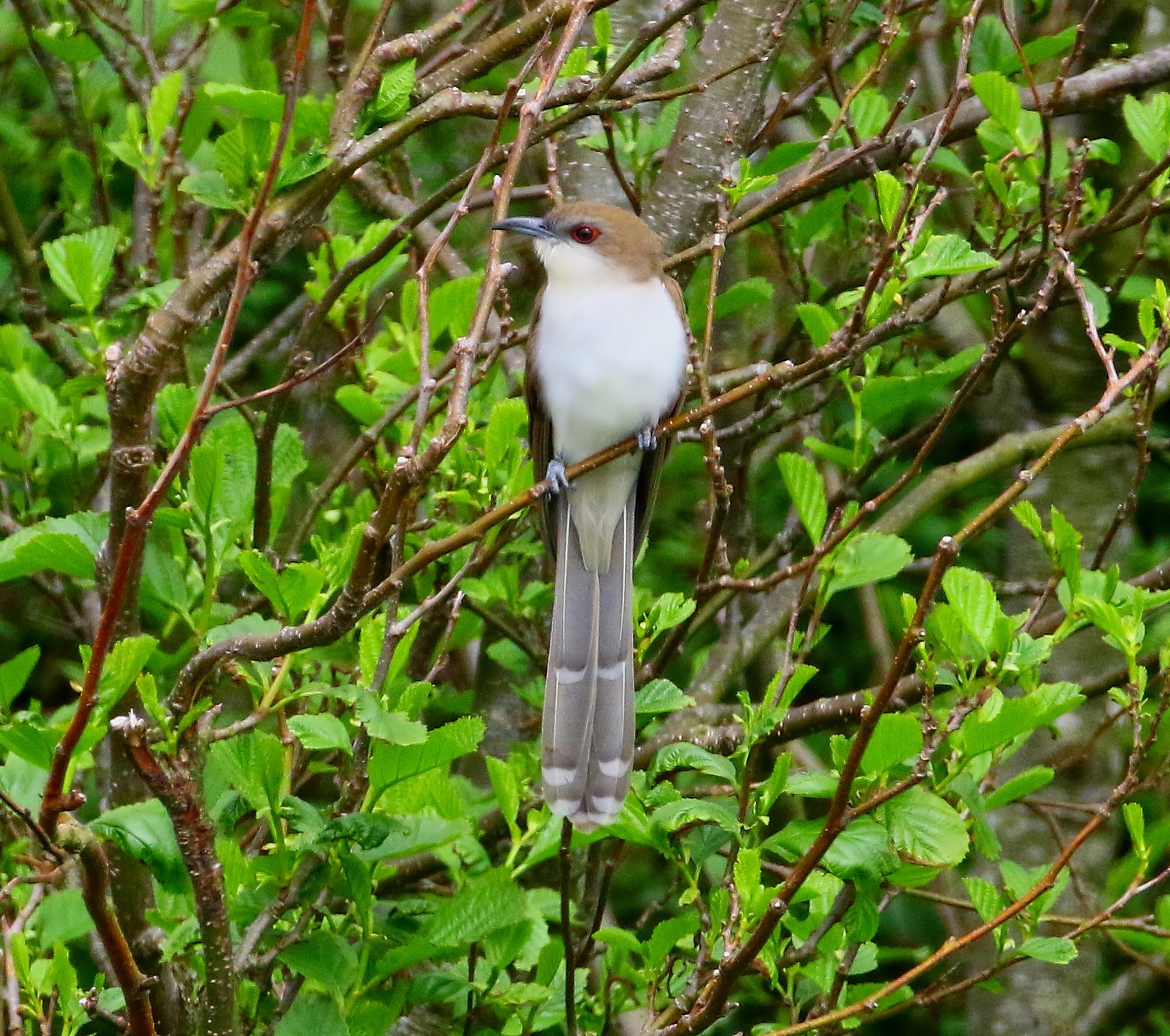 Black-billed Cuckoo, North Uist, 23 May 2016 (Photo: Lee Fuller)
Once back at the cottage I found the contact details for Steve Duffield of Western Isles Wildlife so that he too could put the word out about this unseasonable arrival to the news services.
Black-billed Cuckoo (15 previous British & Irish records) is much the rarer of the two Coccyzus cuckoos to have been recorded in the British Isles, the more regular Yellow-billed having appeared on 74 occasions. It is also a species that has been notoriously hard to twitch over the years: so often found moribund, Black-billed has rarely lingered into a second day. Therefore the North Uist bird is not only exceptional for its spring occurrence but for its health and longevity of stay, too — as of 31 May, it had been present for 10 days and presently shows few signs of wanting to move on.

Registered users can access full details of all records of this and other species assessed by the Rarities Committee in our exclusive and fully updated Online Rare Birds database.