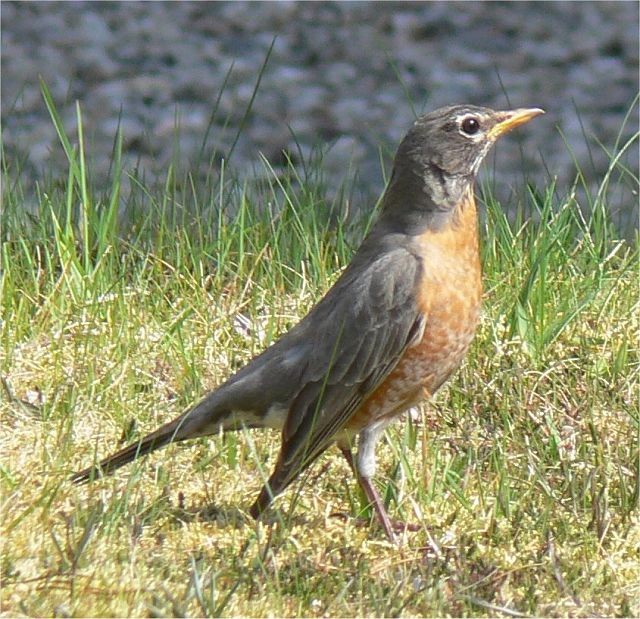 American Robin: Boat of Garten, Highland (photo: Martin Butters).
People have asked. 'How did you get the picture of the American Robin?' The answer follows:
Marry a good woman.
After 12 years of marriage go on holiday and celebrate your anniversary.
Stay in a wonderful hotel that provides a great breakfast.
Visit a garden, taking advantage of a 2 for 1 entry courtesy of Gardeners' World.
Keep your eyes open.
Always carry a camera.
You see, it's simple, if we had not been married those twelve years ago we wouldn't have been in Scotland staying at the Fairwinds Hotel, Carrbridge. We wouldn't have visited the Ospreys at Loch Garten (we saw a head!) and then Auchgourish Garden and seen many plants, Red Squirrels, highland cattle and an American Robin!
Content continues after advertisements
On the 6th May we wandered around Auchgourish Garden admiring the plants for an hour or so. The great breakfast meant that we didn't need any lunch, so when the garden owner left to get his, we sat on one of the benches near the newly created Zen garden. As we sat there the American Robin appeared on the grass in front of us. It behaved a little like a Blackbird, few steps, cock head on one side, look intently at a patch of grass and then pick something off the grass and eat. It stayed with us for 40 minutes. It didn't seem worried by our presence and we were able to get quite close to it. At the time we had no idea what it was. When we returned to Fairwinds that night a quick look in a bird book revealed all. Fortunately another guest staying there knew the significance of the bird and the rest is history. We returned to the garden the following day to tell the owner about the bird, he said he'd seen two of them! But unfortunately neither were there that day.
So there you have it, just be in the right place at the right time with a camera. For the techie ones the camera is a Panasonic DMC-FZ30 digital camera with a 35-410 (35mm equiv.) zoom set at Auto with picture size = 5 M.

American Robin: Boat of Garten, Highland (photo: Martin Butters).
It seems amazing that the bird photographed by Gary Lewis at Glenmore Forest on 4th May (and sent through to us on 7th) was then relocated, independently, at nearby Auchgourish Gardens in Boat of Garten on 6th by Martin. Then again, birding can never be labelled predictable!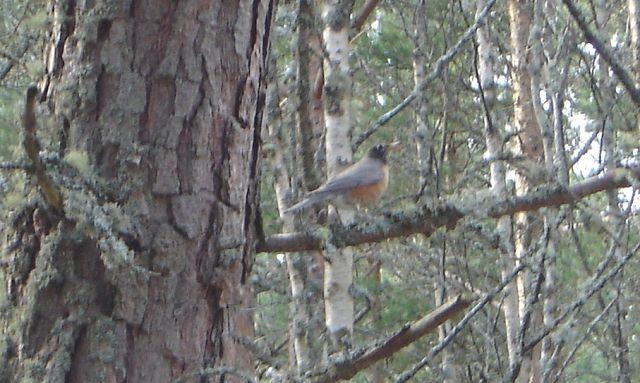 American Robin: Glenmore Forest Park, Highland (photo: Gary Lewis).
Although still a major rarity to our shores (see accepted records), several American Robins have been well-watched in recent years, including recent records on Bardey Island (Gwynedd) in early November 2003 and birds in Lincolnshire and Cornwall during winter 2003/2004. A wintering bird in London earlier this year was not so obliging, promptly departing shortly after news broke of its presence.