Another stormy wet weekend passes and it is now Monday morning (3rd February 2014); I'm sitting in the office staring at my computer screen trying to muster up some inspiration — I start to contemplate coffee, it's 10.37, and then my mobile rings. Everything changes. On the other end was Ruth-Ann Leak from the BirdWatch Ireland Mayo Branch. She had just taken a phone call from the Belmullet Met Office reporting an American Purple Gallinule! Bizarre.
Living on the Mullet and working for BirdWatch Ireland I regularly get phone calls from members of public about odd or sick birds and invariably they turn out to be something 'common'. However, the trouble with these phone calls is that you ignore them at your peril...so I made a quick phone call to Kevin Donnelly at the Met Office and sure enough he was adamant that the bird was indeed an American Purple Gallinule: time for a quick dash up the peninsula!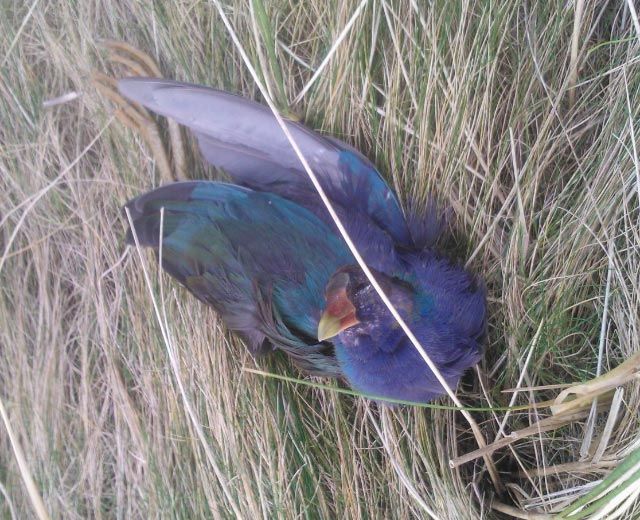 The American Purple Gallinule, as found on Carne Golf Links (Photo: Kevin Donnelly).
It transpires that on the previous afternoon, KD and Eddie Killeen had been playing golf at the local Carne Golf Links and following a wayward shot off the 16th tee they went in search of their ball and found an azure blue bird lying dead 'in the rough'. Curious as to what it was, they took a photograph of the bird and then continued with their game. That evening KD emailed the photograph to a colleague who they knew had an interest in birds. A return email informed them as to its identity and that it should be reported; hence KD reporting the bird and being confident with its identification.
Having not seen the photograph, and while I was driving up the peninsula I started to wonder what the bird could be, if not a gallinule, but before I had given it much thought I was pulling into the Met Office yard. By this time the bird had been placed in a small box as KD had returned to the golf course to retrieve the bird — thankfully the local foxes hadn't taken it overnight! The box was handed to me and, to my astonishment staring back at me was a fresh, but unfortunately dead, American Purple Gallinule! A quick examination soon revealed that the pectoral muscles were completely wasted and the sternum could be felt protruding knife-like beneath the breast feathering; the eyes were still clear-looking and the feather condition was fresh, indicating that it hadn't been dead for too long. After being photographed, the specimen has been frozen and it will be donated to the National Museum in due course.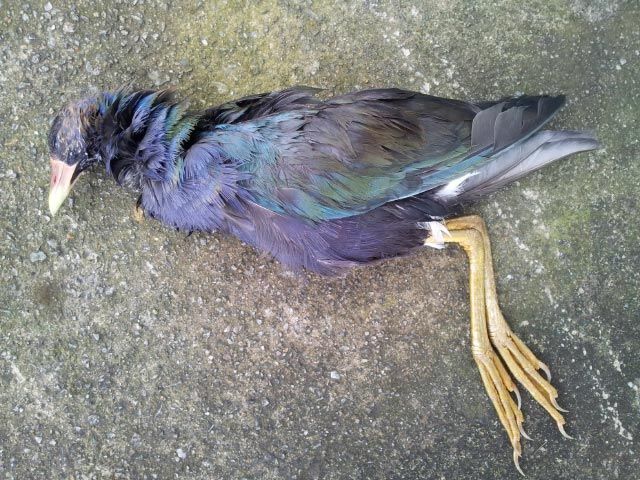 Content continues after advertisements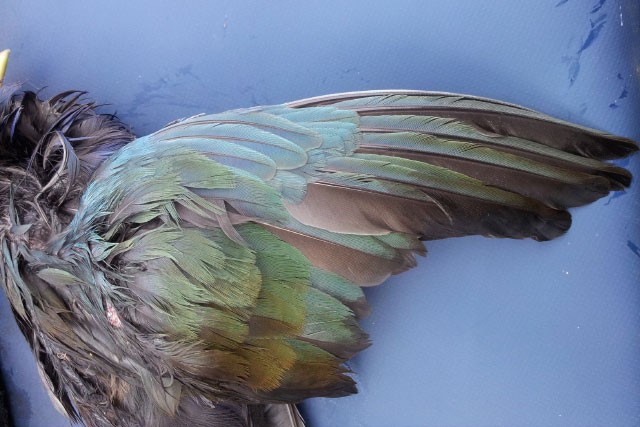 American Purple Gallinule (Photos: Dave Suddaby).
Although the body and wing feathers are a mix of purple, azure blues and greens, the presence of brown tips to the feathers, especially to the head and nape, seems to indicate that the bird is in its second calendar year (first summer). And its wing length of 186mm and bill length of 30.7mm would indicate that it is a male (BWP). This may explain the bright upperwings for its age. A possible confusion species is the smaller Allen's Gallinule, but the bi-coloured bill and yellow legs soon eliminate that species.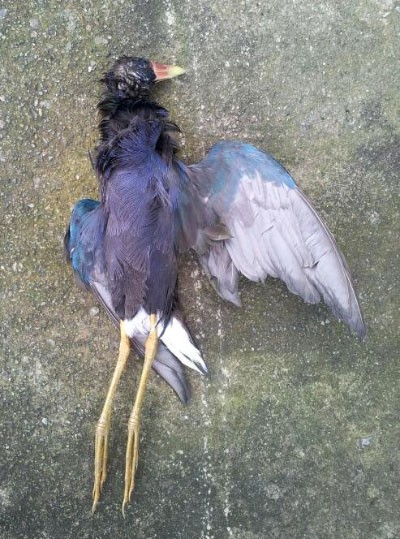 American Purple Gallinule (Photo: Dave Suddaby).
This is the first Irish record; the first European record concerned an immature, picked up exhausted, on the Isles of Scilly on 7th November 1958 which died on 9th November (British Birds 53: 145–146). Two others have occurred in Britain: a first-winter, again found dead, on 24th January 2011 in Devon and another found dead in 2008 in Bedfordshire. The most recent European record came only last week, when a first-winter was found dead in southern Iceland on 30th January (the third Icelandic record), and follows a first-winter present in Lisbon on 8th–11th November 2013. The Lisbon bird was taken into care on the latter date, but unfortunately died on 13th — it represented the first record for mainland Portugal, though there have been eight records from the Azores (most recently January 2011) as well as records from Madeira (2), Cape Verde and the Canary Islands.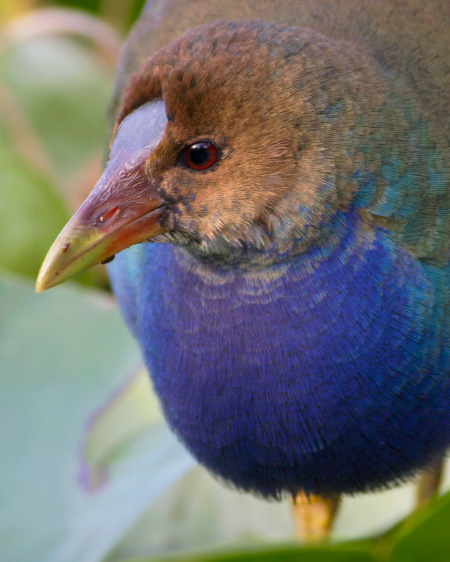 American Purple Gallinule, Lisbon (Portugal), 10th November 2013 (Photo: Josh Jones).