I visited Brownwich Cliff, on the Solent coast, Hampshire, on 13 April 2016. It is a site I've regularly visited for many years for its populations of bees (for one mining bee this is its sole Hampshire site, while the other is only known to nest at two sites in Britain — Brownwich and Dungeness). Brownwich Cliff extends from the end of the Hill Head promenade to the stream close to Sea House, a private property. Chilling Cliff is virtually contiguous with it, beginning on the other side of the stream and extending as far west as the vicinity of Solent Breezes.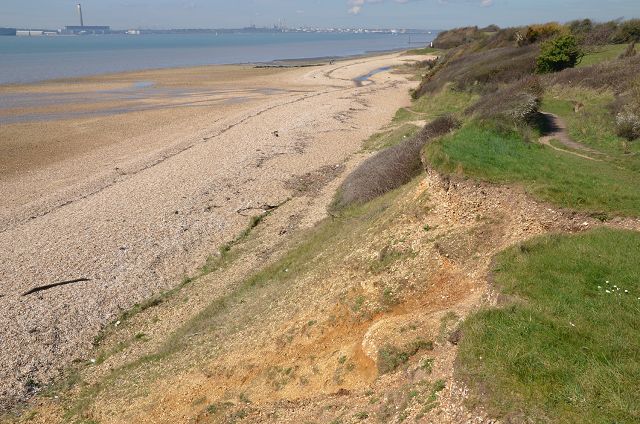 Brownwich & Chilling (Photo: George Else)
On the day in question I was walking alone along the pebble beach towards Hill Head. It was warm and sunny with only scattered clouds and a gentle easterly breeze. Visibility was excellent. I was near the westward extension of the cliff (SU521034) when I noticed a bird at the top of the beach at about 10.50 am. It was about three or four metres away from me and immediately attracted attention. While I struggled to extract the camera from my haversack it flew, but fortunately landed at the base of the cliff about 10 metres away. No other birds were close. For a full five minutes I studied it through the lens of my camera and took 48 images. It gradually ascended the cliff, hopping about from ledge to ledge and apparently feeding as it did so. On reaching the summit, it soon disappeared from view and I resumed my bee recording.
It was the size of a Meadow Pipit. The head and breast were an unmarked blue/grey. The plumage on the flanks was an obvious reddish colour. The closed wings were blackish-brown with some conspicuous white spotting. The bill was in part bright yellow. I had no idea what it was, though Alpine Accentor and Rock Thrush were both in the back of my mind. I immediately dismissed both possibilities as being too fanciful, and I could think of no pipit that remotely resembled it.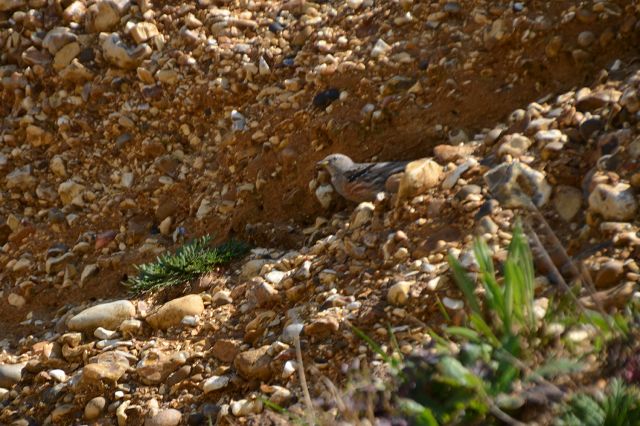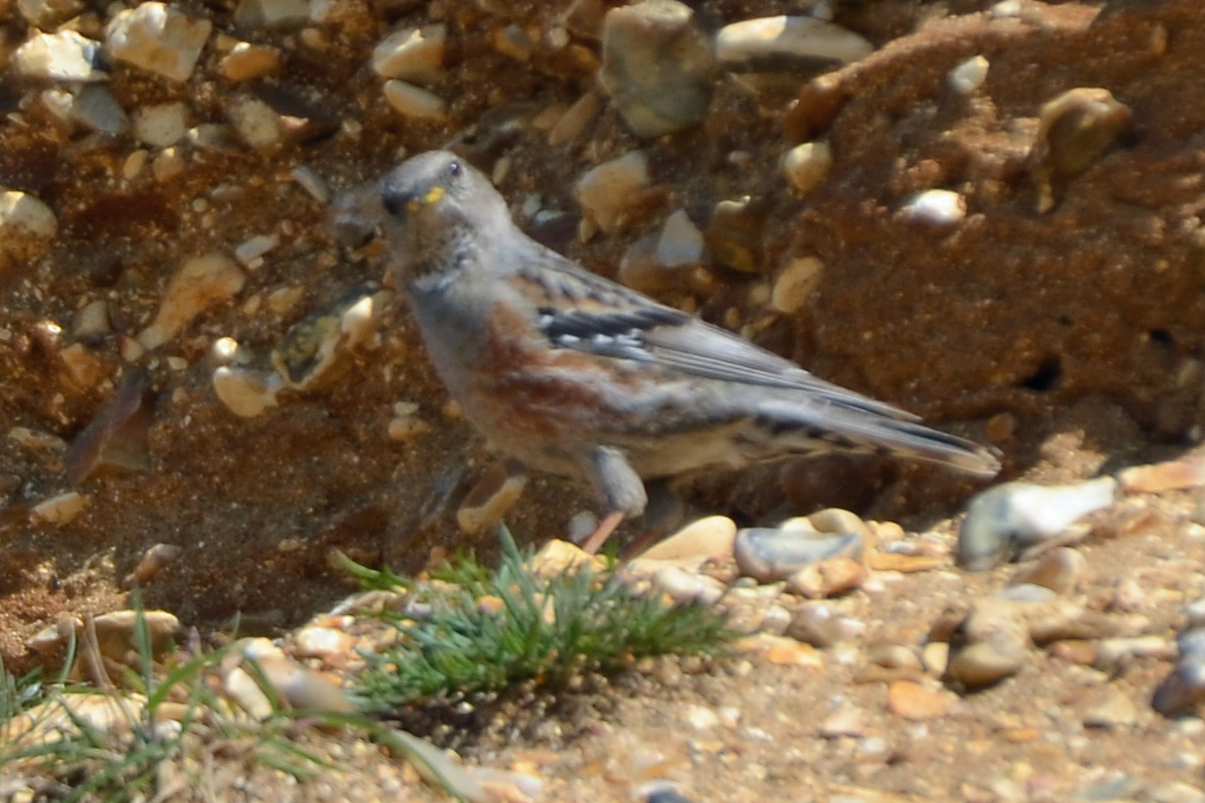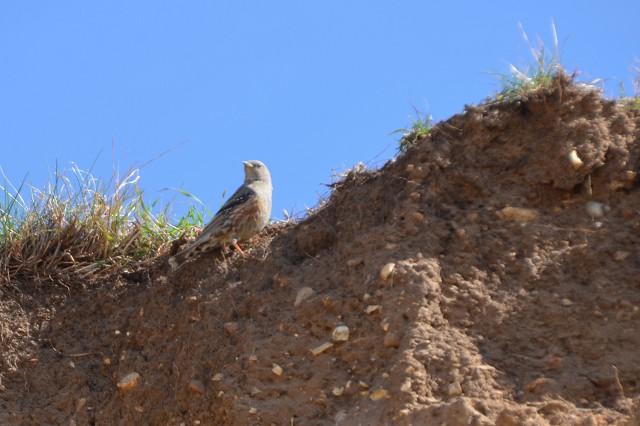 Alpine Accentor, Brownwich and Chilling, Hampshire (Photos: G. Else)
Later that day, at home, I sent some images to a few friends for their opinion. In the meantime I studied my field guides and it became obvious by comparing illustrations in these with my photos that the bird was indeed an Alpine Accentor. This identification was later confirmed by those to whom I had sent the images.
The photos I took are alas of poor quality. The bird was moving about, at times quite actively. The distance between me and it was also further than I would have preferred for photography. However, the images certainly show an Alpine Accentor, thus the identification is irrefutable.
So far as I am aware, no one has seen it since.
George R Else
Monday 18th April 2016
A widespread influx in Europe
George's sighting comes amid what has been described as an 'unprecedented' and 'exceptional' northward push of Alpine Accentors, with many birds being seen well out of range. A bird on the Dutch coast on 5 April didn't give much away but the first signs that something unusual was happening came on 6th, when a flock of 13 was discovered on the Grosser Feldberg, the highest of the Taunus Mountains situated not far from Frankfurt, Germany. Another was near Stuttgart that day. On 7th another two were discovered in northern Hessen, with the Grosser Feldberg flock having increased to around 20 individuals; two were also found at Cuxhaven, on the North Sea coast, that evening.
The revised total now stands at well over 30 birds found far north of their typical range in Germany. A second bird appeared in northern Holland on 14th. On 17th no fewer than 15 Alpine Accentors were noted atop Le Hohneck, Lorraine, France; again, this is considerably further north than the species typically occurs and also in far greater numbers than normal.
Even more outlandish has been the associated displacement of multiple White-winged Snowfinches. More than 20 had been recorded out of range in Germany by 9th, including a bird on the North Sea island of Heligoland that day. Poland's first snowfinch since 1912 then appeared in Radomsko on 11–12th and on 17th at least five were atop Le Hohneck, France, a location also exceptional for this species.
The driver of such an extraordinary influx of both species is a mystery. However, one of the Alpine Accentors on the Grosser Feldberg was found to be wearing colour rings (see here); it is now known that this individual was ringed at Cabeçó d'Or near Alicante, Spain. Whether or not all of the birds involved in this influx have originated in Spain is of course unknown, but one thing is for sure: this seems to be a once-in-a-generation displacement of normally short-distance, altitudinal migrants. Given the numbers turning up elsewhere, it seems a fair bet that Britain will enjoy further Alpine Accentor sightings before the spring is out — and perhaps even a snowfinch will make an appearance here?
Alpine Accentor is a widespread species across Eurasia, typically occurring above 2000 m asl. It is largely resident, wintering at lower altitude. It has occurred as a vagrant in Britain on 36 previous occasions (and once in the Channel Islands), most recently in Norfolk on 20 April 2004 and 26 April 2014. Most records occur in spring with an obvious peak in April and May. Registered users can access full details of all records of this and other species assessed by the Rarities Committee in our exclusive and fully updated Online Rare Birds database.