Ever since the first record of Sudan Golden Sparrow in Morocco, a flock of seven birds found just north-west of Aousserd by a Belgian team in April 2009, Western Palearctic (WP) birders have been optimistic that these stunning birds would eventually give themselves up to those exploring the region. However they had, until recently, been surprisingly evasive. Despite regular searches. a second record did not come until 2013, when two birds were seen 17 km south-west of Aousserd on 12 January. In 2014, sporadic reports of a few birds in the Aousserd area came between 1 February and 13 April.
Traditionally the only WP country in which Sudan Golden Sparrows have been seen regularly is Mauritania, although with the ongoing threat of terrorism and kidnappings the UK Foreign Office continues to advise against all travel to the majority of the country. Therefore this series of records from Western Sahara is of particular interest to WP birders as this region of Morocco is, despite its turbulent history, easily accessible and relatively safe.
Having visited Western Sahara in 2010 without seeing Sudan Golden Sparrow, it was the thought of having a second shot at this amazing bird that encouraged me to book flights to Agadir in late January, along with Jonnie Fisk, Tim Jones and Stephen Menzie, for whom it was all their first visit to the region. Our itinerary was to complete the long overnight drive down to Dakhla on the first evening, and from then on maximise our time in the 'deep south' of the country in order to see the regional specialities and to try to find rarities, before taking a more leisurely approach to the drive back north.
The drive down produced some good birds, with Cream-coloured Courser, Lanner Falcon, theresae Scrub Warbler and Hoopoe as well as Thick-billed, Temminck's and Bar-tailed Larks under our belts by the end of our first full day's birding. Arriving in Dakhla, we found a hotel and prepared for the Aousserd road the next morning.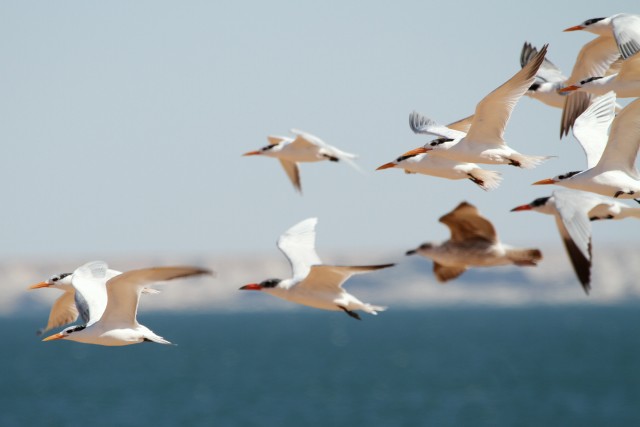 Royal and Caspian Terns in Dakhla Bay (Photo: Oliver Metcalf)
Our plans took an unexpected turn over dinner when Taoufik El Balla, from the local conservation charity Association Nature Initiative (ANI), which we had contacted for information before leaving the UK, kindly agreed to let us stay in Aousserd. He organised for Mohammed Lemine to meet us at Oued Jenna the following day and show us around before taking us to our accommodation.
The next day proved a struggle to find good birds: no sandgrouse drinking at Gleb Djiane, no Cricket Longtail or Dunn's Lark at Oued Jenna and an overall lack of activity, a flock of 30 Black-crowned Sparrow Lark and a handful of Desert Sparrows at Oued Jenna being the highlights. Bang on time Mohammed arrived to meet us and whisked us away in his 4×4 to show us Pharaoh Eagle Owl nests and our accommodation for the night, before serving us up a delicious camel tagine and taking us on a night drive looking for mammals (quiet, but we all ticked Desert Hedgehog). The next morning we were away early and had managed to find Cricket Longtail, multiple Dunn's Lark and a big flock of Desert Sparrow within an hour of dawn and just 25 km from Aousserd — a distinct improvement! We got back to our hotel that evening very happy, although still with the impression that bird-wise, the Aousserd road was relatively quiet compared to previous years.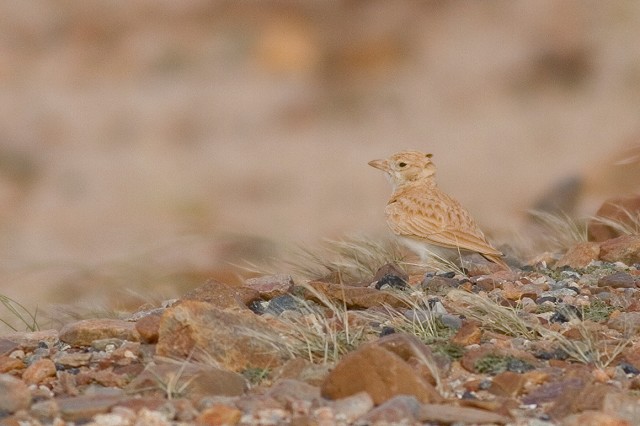 African Dunn's Lark (Photo: Tim Jones)
However, on checking the ANI Facebook page, we discovered that a single Sudan Golden Sparrow had been seen by a Moroccan ornithological professor at Bir Anzarane the previous day, representing the northernmost ever recorded in Western Sahara. We were immediately back on the phone to Taoufik and within a couple of hours he had organised a 4×4 for us to go the next morning, Mohammed kindly agreeing to act as our driver again. The twitch was well and truly on!
The next morning, 2 February, we left bright and early and the 150 km drive out was uneventful on tarred road, except for Mohammed casually pointing out ridges filled with personnel mines. On arrival at the site, a patch of desert being planted for a date farm, it was apparent Desert Sparrows were drinking from a small watering hole behind two trucks, and at several taps around the building. It didn't take long at the watering hole to see a bird that was smaller and streakier than the Desert Sparrows — a Sudan Golden Sparrow! It was clear this wasn't the male that had been reported, but a dull female-type — what was going on?
Before we had the chance to do much else, Mohammed came across with news that the farmer had seen a Fennec fox nearby that morning. After an hour or so looking, we had all seen the Fennec and headed back to the watering hole. Tim lifted his binoculars first, and immediately exclaimed: "there's tonnes of them!"
Content continues after advertisements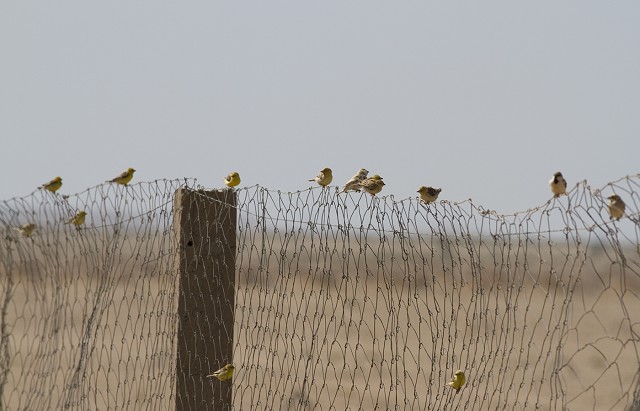 Sudan Golden and Desert Sparrows, Bir Anzarane, 2 February 2015 (Photo: Tim Jones)
An initial scan confirmed at least 18 Sudan Golden Sparrows and further attempts to count revealed an absolute minimum of 28. With small flocks coming and going continuously, and larger flocks buried deep in bushes on the other side of the buildings, a better estimate would be of 40–50 individuals. The resident farmer explained to us that the birds had been present for years, and that his cat normally ate one or two for breakfast! From our sightings and speaking to Mohammed it appears the birds come in to drink early afternoon; our initial sighting of a single bird was a little after 11 am and, when we left just before 2 pm, many birds were still present and numbers may even have still been increasing.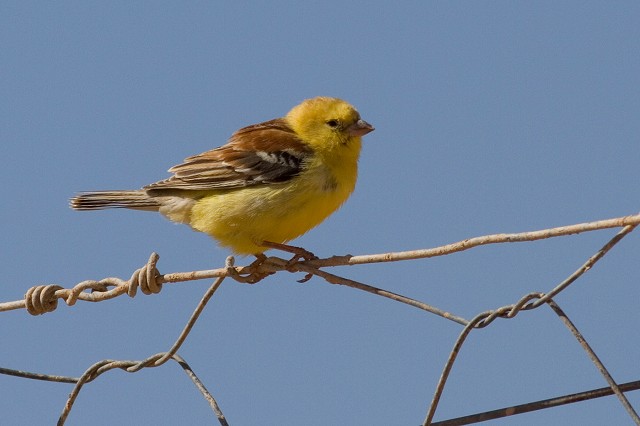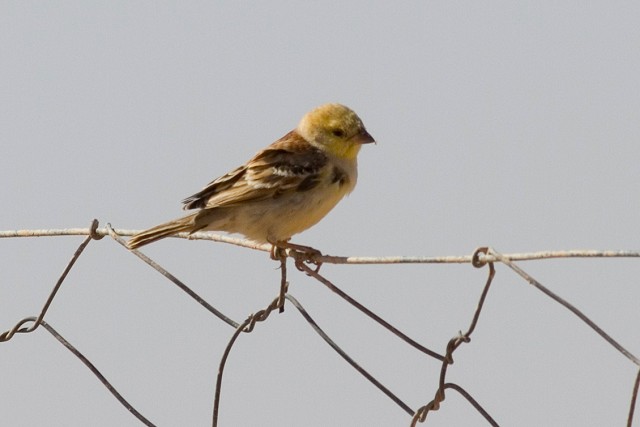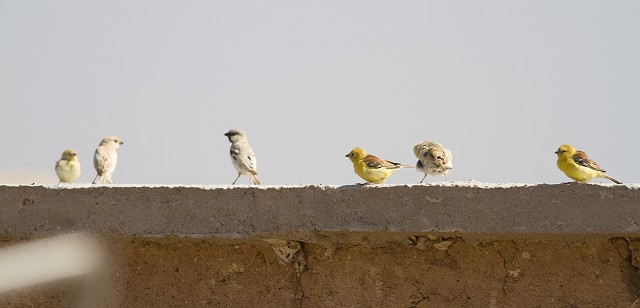 Sudan Golden and Desert Sparrows at Bir Anzarane, Western Sahara, 2 February 2015 (Photos: Tim Jones)
It was a fantastic end to our time in Western Sahara, and the next morning we drove back north in to Morocco, leaving enough time for a day's birding at Oued Massa. Given the paucity of species in the desert this doubled our species count, rounding off an extremely satisfying trip with some excellent birds on the list.
A team of Belgian birders, along with Mohammed Lemine of ANI, subsequently recorded 31 Sudan Golden Sparrows at the same location on 6 February. The dramatic increase in numbers from previous reports, the mix of plumages present and the extensive area of acacia trees in the vicinity give hope that these birds will finally represent a reliable and consistent site for seeing Sudan Golden Sparrow in Western Sahara.
Seeing Sudan Golden Sparrow
We would highly recommend getting in touch with Association Nature Initiative via Facebook for any trip to Western Sahara. They were incredibly helpful and friendly towards us while we were there, and are more than happy to help with anything from car or 4×4 hire in Dakhla, drivers, guides and accommodation in the desert right through to full-blown wildlife tours.
With specific regard to the sparrows, it is possible to reach Bir Anzarane and the date farm independently, largely travelling on tarmac before taking a rough sandy track for about 8 km. On arrival, the birds drink around an obvious watering hole inside a private compound, although viewing should be possible without needing entry. With Mohammed from ANI, we were invited inside and enjoyed brilliant, close views, which may be possible if you travel independently, but it certainly helped to have him with us. Furthermore, Mohammed warned us that there were both personnel and vehicle mines in the surrounding desert, and that Bir Anzarane was a military station where we could be arrested for taking photos or using binoculars. The track is not particularly well marked and could become difficult to negotiate with a standard road vehicle. Given these hazards, the low costs involved and the charitable nature of ANI's work, we strongly urge any visitors to visit the area with ANI. If you wish to try independently, please feel free to contact myself via Facebook or Twitter for grid references and further details.
More on ANI's charitable work can be found on their Facebook page. They are an organisation working towards the reintroduction of Addax, Dama Gazelle and Ostrich, and are very keen to encourage eco-tourism to improve attitudes to wildlife within the region. Please remember when discussing prices that they are a non-profit organisation and are just covering their own costs and supporting their charitable work.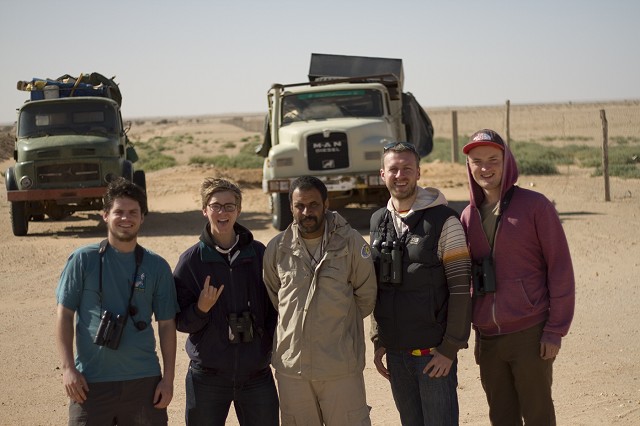 Left to right: Oliver Metcalf, Jonnie Fisk, Mohammed Lemine, Stephen Menzie and Tim Jones at Bir Anzarane (Photo: Tim Jones)