Back in mid-October news emerged of a drake Lesser Scaup at Llangorse Lake, Powys. Arrivals of Nearctic species at this time of year are far from unusual as wildfowl numbers begin to build nationwide, but there was something immediately striking about the report: the bird in question possessed a red nasal saddle! The big question was: where was it from? Here Mark Waldron explains the events surrounding what turned out to be a quite exceptional re-sighting.
"On 17th October, scanning through a flock of 100 or so Tufted Duck that were feeding just off Llangasty car park, I came across a duck which had a bright orange or red nasal saddle. At first I was so concerned with reading the saddle that I hadn't taken much notice of what the duck actually was. It suddenly dawned on me that I was not watching a Tufted Duck but a Scaup. This made it even more exciting as I desperately struggled with the code. I digi-scoped a number of photos, hoping that I may be able to read the code from the photos later if needs be. The Scaup came much closer to the reed bed, perhaps only 2–3 metres away from the edge and with a brief break in the cloud giving better light I clearly saw the code read 'YH'.

However, the better light also clearly showed light grey vermiculations along its flanks. Alarm bells started ringing in my head; could this actually be a Lesser Scaup? It was similar in size to the surrounding Tufted Ducks and I checked the head carefully and there was the bump at the back. I now started taking photos trying to get a decent profile shot. It continued to feed and occasionally preen so I made a film of the bird during which it gave a brief wing flap. I knew I needed the wing pattern and I hadn't managed to clearly see it. I now set my camera up on a repeat shot mode to try and capture the wing pattern. Another wing flap eventually came and I got some shots, but the wing bar looked too pale in the primary feathers. I had to leave the lake as I had to attend an open afternoon at my daughter's school, but all afternoon my mind was going over the ID features and I was still leaning toward Lesser Scaup.

A search of the colour-ring website did not turn up any clues as to the source of the ringing project: this actually increased my hopes. Following further feedback the next day and comments from Andrew King, the county recorder, following his own observations of the bird I was convinced we had identified a Lesser Scaup. The real clincher came on Sunday when Andrew found a blog post that showed what looked like a first-winter Lesser Scaup that had been ringed in Portugal at São Jacinto Dunes Nature Reserve (over 1,500 km from Llangorse Lake). More than that, the photos appeared to actually show 'our bird'. Later that night, confirmation was received from David Rodrigues that our Lesser Scaup had been marked at São Jacinto as a juvenile male Lesser Scaup on 20 December 2013. It was also confirmed that the nasal saddle code actually read 'VH' and not 'YH' as previously reported. The bird had remained at São Jacinto until 3 February 2014."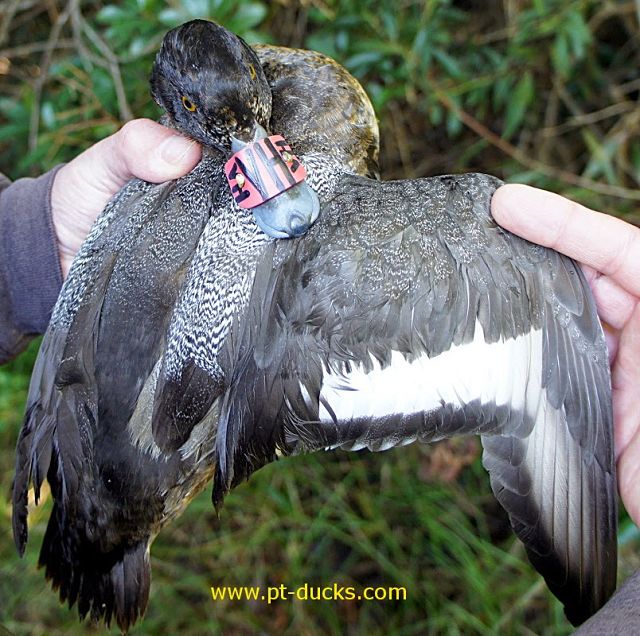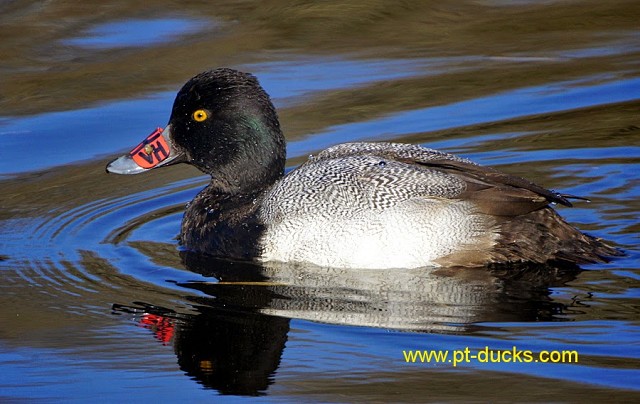 Drake Lesser Scaup with red nasal saddle 'VH' at São Jacinto Dunes NR, Portugal in winter 2013/14 (Photos: David Rodrigues).
This is, unsurprisingly, the BTO's first recovery of a Lesser Scaup, and as far as we can tell the first-ever European recovery. Such records of transatlantic vagrants aren't exceptional, and there is even a record of a bird 'going back': a Ring-necked Duck ringed in Gloucestershire in March 1977 was shot in Greenland in May later that same year. Rather coincidentally, the only other Ring-necked Duck recovery involving the UK also involved Llangorse Lake, with a bird ringed in Canada in September 1967 shot there in December that year.
Content continues after advertisements
Whether this latest individual returned to North America during the summer months is open to debate, but its association with Tufted Ducks likely suggests that it spent the summer in Northern Europe rather than the across the Atlantic; a pattern that many other examples of transatlantic vagrants have performed in the past. It'll be interesting to see whether it spends the winter at Llangorse Lake or moves on further south. And, given that wildfowl can be particularly long-lived, it's well worth watching out for this bird in the coming years. Sightings of this bird (or other nasal saddled ducks from the Portuguese scheme) can be emailed to David Rodrigues.
For more information on the Portuguese nasal saddle scheme and code reading, please visit www.pt-ducks.com.
For news and information on BTO ringing, visit the BTO's Demog Blog.
Original article at btoringing.blogspot.co.uk/2014/11/portuguese-ringed-lesser-scaup-in-wales.html.