There are few words to describe just how special it is to hear the wind whistling through the wings of a diving White-tailed Eagle. Actually to capture the moment on camera is a dream for many photographers and birders. When this stunning Eagle is encountered at close quarters the true size of the bird is mind blowing. However, it is the piercing yellow eye that always captures my imagination. It is easy to understand the source of the Gaelic name Iolaire suile na grein: 'the eagle with the sunlit eye'. Whenever I have been to watch these birds I am amazed how bright the eyes are, and how this makes well-lit shots particularly attractive.
Fortunately there are now opportunities to witness and photograph one of the best wildlife experiences in the world on UK shores. The White-tailed Eagle became extinct in the 19th century, but following reintroduction programs from 1975 onwards there are now over 100 of these apex predators in the British Isles, with the main strongholds on the Scottish west coast. With the continued growth in White-tailed Eagle numbers ('numbers soaring' is the standard paper pun!), ecotourism has become a valuable source of income to the Scottish Highlands and Islands, and a range of options is available to witness these majestic raptors.
Know the law
White-tailed Eagle is a Schedule 1 species, and it is therefore an offence to disturb them intentionally or recklessly at, on, or near an 'active' nest. There is a sorry track record of disturbance by photographers on Mull, including prosecution against two photographers who disturbed a nesting pair. Please also note there are clear indicators in several places where it is not permitted to stop. The law applies to everyone (not just photographers). Please also refer to the webzine article on photographing Schedule 1 birds.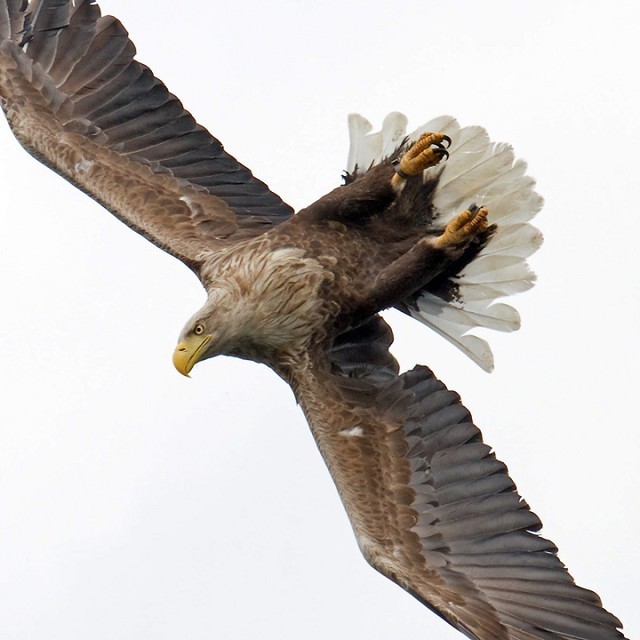 White-tailed Eagle, Mull, Argyll (Photo: Marcus Conway — ebirder)
Seeing White-tailed Eagles in action
While it is possible to encounter White-tailed Eagles along the Scottish west coast (and now more easily on the east coast following the Fife reintroduction), there are several locations that are more reliable. These prime locations (though not Mull) are referred to in Gordon Hamnett's excellent guide listed below. We have witnessed a range of behaviours by watching from viewpoints, but nothing beats the experience of being up close and personal to the two-metre wingspan of a wild Sea Eagle. There are a few recommended boat operators to use to watch White-tailed Eagles as they hunt for fish.
Mull Charters, Mull: Operating from Ulva Ferry, Mull Charters run two White-tailed Eagle trips per day in the Ulva Ferry/Loch Na Keal area. Lady Jayne is a Lochin 33 fully insured and coded by the MCA for category 2 (day or night) and carries equipment above the MCA requirement. The trips accommodate up to 12 passengers plus crew. In our experience the eagles witnessed from Mull Charters are more reliable and strike closer, more consistently than any other wild eagles — but these are wild birds after all, so nothing is guaranteed. What makes the experience even more personal is the enthusiastic approach of the boat's operators Martin and Judith Keivers. When the eagle approaches the boat and dives for the fish the feverish anticipation on the boat is matched by the excitement of the skipper and his crew, as if it is their first time too. Mull Charters operate to a strict code of conduct, which has been endorsed by the RSPB and Scottish Natural Heritage. A toilet is fitted for convenience and tea and coffee is served between the action. In addition to the operators' enthusiasm and genuine passion for White-tailed Eagle welfare, the main reason to choose Mull Charters is that if the eagle comes it is likely he will visit and dive for fish up to three times and all within 30 feet of the boat! Not only that, but the skipper also has an excellent record of spotting birds and mammals from the shore and boat, including Great Northern Diver, Red-throated Diver, Golden Eagle, Hen Harrier, Peregrine Falcon, Great Skua, Sabine's Gull, Common and Bottle-nosed Dolphin, Minke Whale, Basking Shark, Otter, and Grey and Common Seal.
The trip costs £35 in 2012 and lasts for approximately 3 hours.
Brigadoon, Skye: Brigadoon and her crew have been operating out of Portree since 1996, being the first to bring sea eagle feeding to the public. For the dedicated photographer, Brigadoon offer the opportunity to "shoot" the eagles, and any other wildlife, on a special early-morning charter to capture the rising sun and its effect on the colours. They also organise evening trips. The eagles can come close (down to 20 feet) and frequently visit the boat. There are several boat operators on Skye and it's great that locals can benefit from the eagles' success. However, the downside is that there are more boats competing for the eagles' attention and hence the eagle is less likely to visit any one in particular, and rarely more than once per trip.
The price for a private charter is £120. The photography boat trip lasts for two and a half hours and can be scheduled on request.
MV Stardust, Skye: One of the longest-established operators, the MV Stardust operates from Portree, Skye. We have used the services of MV Stardust several times and have good experiences watching and photographing up to two White-tailed Eagles. If you are on Skye or on the west coast of Scotland — and on a budget — I would highly recommend a visit. From the MV Stardust there is also a chance of good views of several auk species and we have seen Golden Eagle on most visits.
The trip cost £12 in 2011 and lasts for approximately 1.5 hours.
The perfect shot
Prepare for action For most observers, the highlight of watching any apex predator is 'the strike'; the moment at which the eagle switches from gently gliding into a diving bullet of feathers culminating in a splash and the snatch of the prey item from the surface of the water. Capturing the whole sequence as images from start to finish can take several trips or can be achieved by a lucky few in just one trip — with perfect photographic technique or just lots of luck! While no two dives are identical (and that's the exciting part!) there is a sequence that the eagle completes and the ability to anticipate the next move can be critical in getting the desired image or witnessing the key moment.


White-tailed Eagle, Loch na Keal, Mull, Argyll (Photo: Marcus Conway — ebirder)
1. Preparation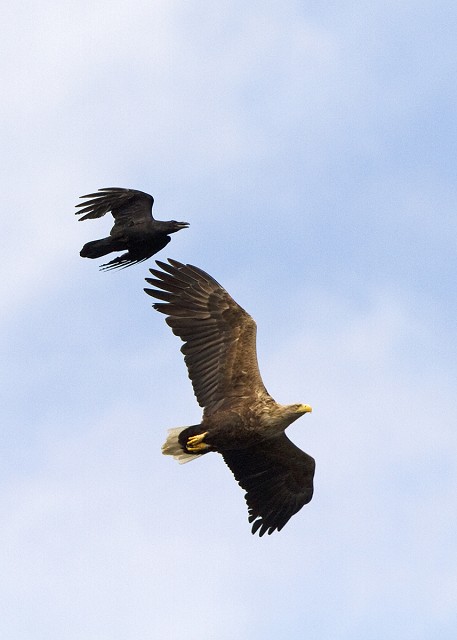 White-tailed Eagle, Loch na Keal, Mull, Argyll (Photo: Marcus Conway — ebirder)
2. Angling the dive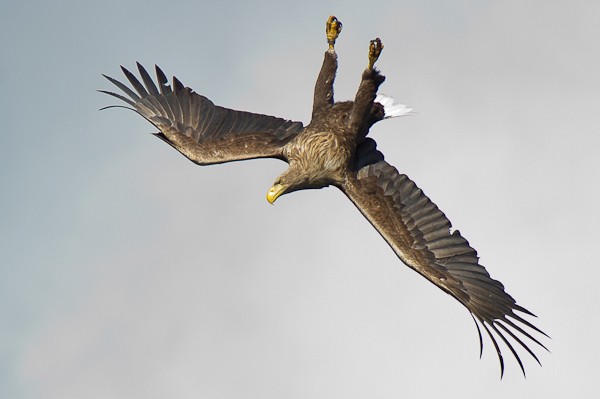 White-tailed Eagle, Loch na Keal, Mull, Argyll (Photo: Artur Stankiewicz)
3. Stoop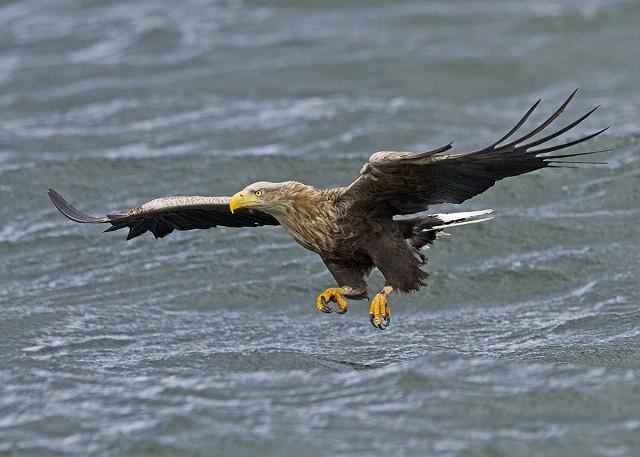 White-tailed Eagle, Loch na Keal, Mull, Argyll (Photo: Marcus Conway — ebirder)
4. Final adjustment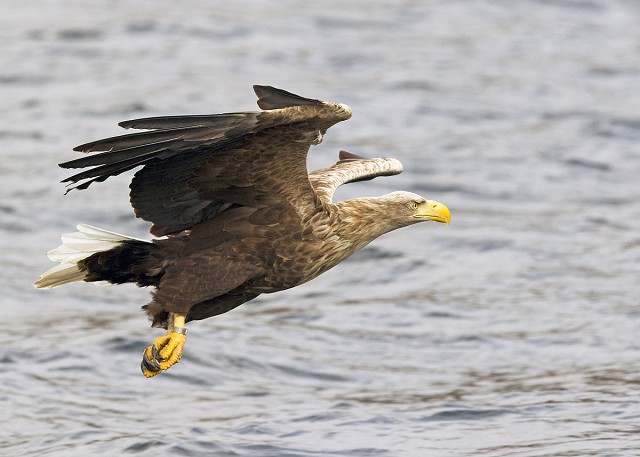 White-tailed Eagle, Loch na Keal, Mull, Argyll (Photo: Marcus Conway — ebirder)
5. The Snatch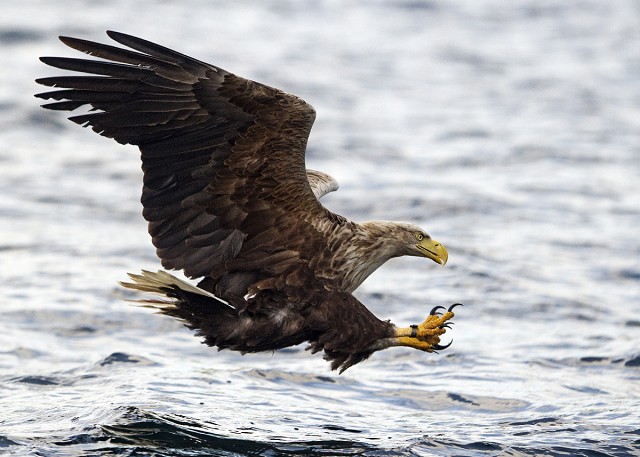 White-tailed Eagle, Loch na Keal, Mull, Argyll (Photo: Marcus Conway — ebirder)
6. Lift Off

White-tailed Eagle, Loch na Keal, Mull, Argyll (Photo: Marcus Conway — ebirder)
7. Up and away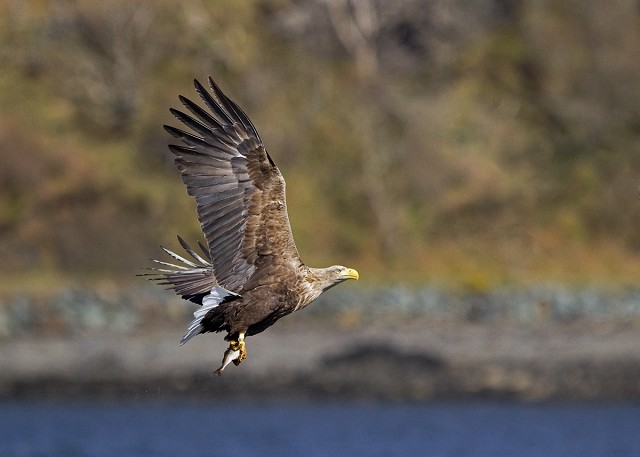 White-tailed Eagle, Loch na Keal, Mull, Argyll (Photo: Marcus Conway — ebirder)
Get the setup right
One of the most common (and perhaps surprising) comments we hear on the boat is the exclamation "it's just too close!" — you do not need a large, arm-breaking prime lens to photograph these birds. Due to the speed of the action, proximity of the eagles and movement of the boat, it is normally a hindrance to use a lens that cannot be handheld — so what is the perfect setup?
Every eagle interaction is different and exciting, with no two dives being the same. However, in our experience the following setups are the most effective.
With a 1.6× or 1.5× crop sensor body:
200–300mm lens
300mm f2.8 or f4
70–200mm or similar
100–400mm or similar
With a 1.3× crop sensor body:
250–350mm lens
300mm f2.8 or f4 or 70–200mm with a 1.4× converter
100–400mm or similar
With a 1× crop sensor body:
300–400mm lens
300mm f2.8 or f4
200 — 400 f4
Photography charters with ebirder
To capture high-octane eagle action is at the top of most photographers' lists. It is possible to get some fantastic shots with the operators mentioned above. For over three years and in excess of 50 eagle dives, ebirder has been scheduling private charters with Mull Charters. These private charters are designed to give photographers an unrivalled opportunity to get fantastic shots. The key differences for the photographer's charter are:
Better Light The boat is scheduled to be at the prime eagle feeding locations in the 'golden hour'. This means that the light is as perfect as can be for the eagles diving, enabling high shutter speeds to capture the moment with a super sharp image. Equally, it reduces the amount of shadow on the underwings and undercarriage of the bird as it completed the 'grab' and take off from the water.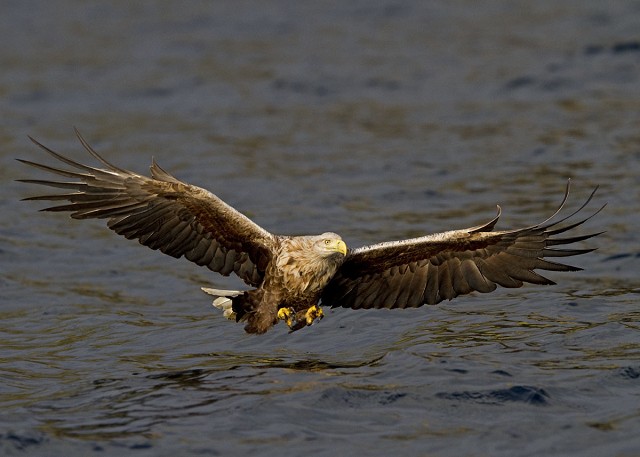 White-tailed Eagle, Loch na Keal, Mull, Argyll (Photo: Marcus Conway — ebirder)
More space to manoeuvre Mull Charters has enough space for twelve passengers. In our experience four is the maximum number of photographers that can be accommodated so as to ensure no obstacles or obstructions. With just four photographers, plus guide and crew, there is space to move and ensure that everyone has the maximum opportunity to capture a photograph.
Specific guidance at the key moment The dive can last less than one second. Knowledge and experience of exactly what may happen and when is made possible by offering guidance to a smaller group. This is also important for other critical factors such as setting up for the correct exposure as the Eagle moves across several types of habitat to complete the dive.
Depending on time of year we have also combined our time on the boat running with other specialities that are passing through that are normally difficult to photograph, for example, Great Northern Diver.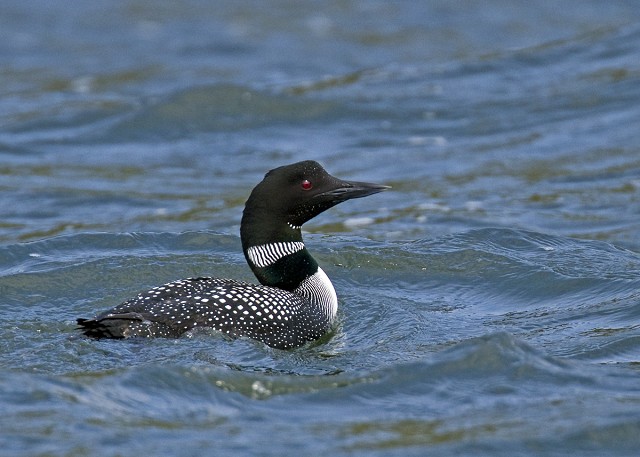 Great Northern Diver, Loch na Keal, Mull, Argyll (Photo: Marcus Conway — ebirder)
Further information including dates and prices are on the ebirder website. Please note that places are limited and are offered on a first-come-first-served basis.
Further reading
If you only get one book then I highly recommend Best Birdwatching Sites: Scottish Highlands by Gordon Hamnett. Other good books I have used for reference include: The Birds of Scotland edited by Ron Forrester, Ian Andrews et al.; Where to Watch Birds in Scotland by Mike Madders; Birds in Scotland by Valerie M Thom.
For more information online:
Ebirder (www.ebirder.net)
Skye Birds (www.skye-birds.com)
The Mull bird report and Mull birds online () are great resources for anyone visiting Mull.