[Always refer to the Black Grouse Code of Conduct before venturing out in search of these birds — Eds.]
It's four o 'clock in the morning. It's still dark and ice is forming on the roof inside my hide, but the cold is just not registering as I am witnessing one of nature's most spectacular events. I've spent the night on a frosty, frozen bog, hidden away on the Glenlivet Estate, and I am wearing nearly every item of clothing I own; even my sleeping bag is tucked inside a survival sack. Why? To watch and photograph a Black Grouse lek in the Highlands — and at unbelievably close quarters.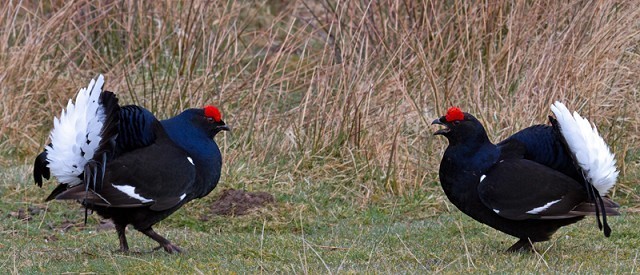 Black Grouse, undisclosed site, Highland (Photo: Marcus Conway - ebirder)
How did I end up here? Rewind to the night before, an early spring evening when I met up with David Newland from Glenlivet Wildlife. We transfer my photography gear into David's Land Rover and head out onto the Glenlivet Estate. On the way David tells me about the wildlife he's witnessed in the years he's been running tours in the region. He points to a section of undergrowth — "We've had Wildcat there" — and then a small plateau — "Tens of Mountain Hare up there; we run Land Rover Safaris in winter and get within a few metres". I've already got goose-bumps. I am so excited about being in an area where wildlife is so abundant and the landowners are supporting small eco-companies through access and local agreements. David continues to tell me about Golden Eagles, Dotterel and a range of waders that breed in this stunningly beautiful area.
We leave the main track and head across boggy terrain and the conversation moves on to Black Grouse, our main target for the following morning. There are over 10 established leks on the Glenlivet Estate, totalling in excess of 70 cock birds, and several of the leks constitute more than 10 lekking males. I can already tell David has a bit of a thing for Black Grouse. His enthusiasm for them is infectious as we discuss a range of topics and the importance of conservation and following the Black Grouse Code of Conduct. All the time, David is mixing a variety of biodiversity and land-management topics with behavioural information that may help me get some great shots. For me, this is where wildlife photography can make a real impact: mixing the importance of conservation with the enjoyment gained from getting close to and photographing nature's best events.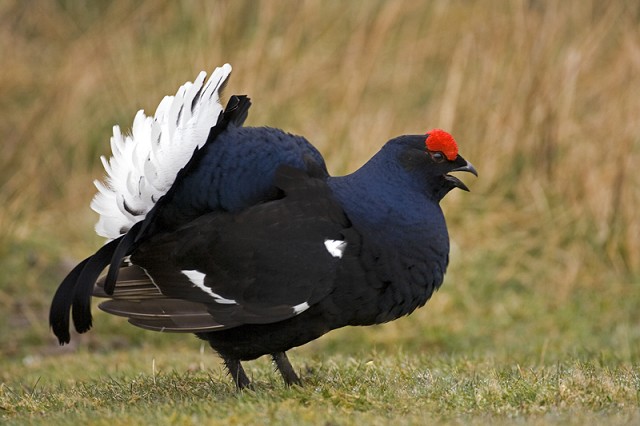 Black Grouse, undisclosed site, Highland (Photo: Marcus Conway - ebirder)
Photographing a lek on the Glenlivet Estate
After about 30 minutes of off-road Land Rover action we're getting close to the lek site. A couple of Black Grouse are looking on as we approach a boggy hillside and David explains where the lek occurs and the main action sites. We then measure out how far away the hide needs to be placed to ensure we are not too close to the action. David puts his hand about the same distance from the ground as a grouse and I check on the various bodies that I can fit the whole bird in frame — being too close is an unusual problem! Satisfied we have worked everything out, we set about putting up the hide, which will also be where I spend the night. David won't see me until the morning and has explained at great lengths the importance of ensuring there is no disturbance to the lek, and staying inside the hide at all costs once the lek has started. He will meet me the following morning having watched the lek disperse from a distance; when he is confident the birds have gone, he will come and collect me from the hide. David leaves me and not much later the light fades and I climb into my sleeping bag to get some sleep.
My alarm clock for the next morning turns out to be a drumming male Snipe making courtship flights from the top of the hide! Soon enough male Black Grouse start arriving, cooing and hissing all around the hide. I tentatively sneak a peek and in the twilight can see at least five Black Grouse within feet of the hide. This is special. In fact it is unreal: I feel like I have become part of the lek. Then a pang of frustration flows as it's still too dark for photography. How long will the grouse stay? When will the light get better? I decide not to worry and spend the first hour immersed in the experience of a Black Grouse lek at incredibly close quarters. As the light improves I start taking images, and then a real commotion breaks out and the grouse are in a frenzy. I take my eye away from the camera and look around. Three females or 'Grey Hens' have arrived, hidden in the grass. This is a treat and I get as many images as possible of the rarely seen female.

Black Grouse, undisclosed site, Highland (Photo: Marcus Conway - ebirder)
Time flies by and at 06:00 light floods into the glen. Suddenly, the birds disperse and everything falls silent. David tells me this can happen and I can't believe the show is already over. I pour myself some coffee and look through the hide flap to see what's going on. Suddenly the pulse races, and it's not the caffeine kicking in. There's a female Goshawk sitting outside the hide less than 20 feet away. I move my lens slowly to get in to position, but I can't get a clear image of the shot. I lift up my other camera, but the Goshawk becomes suspicious and disappears as suddenly as she arrived. Momentarily I'm gutted. Then the Black Grouse start to reappear and I am engrossed again in watching these fantastic birds leap and jump and squabble with each other. Males square off against each other and put on the most amazing show. I remind myself to stop taking pictures and just enjoy the moment.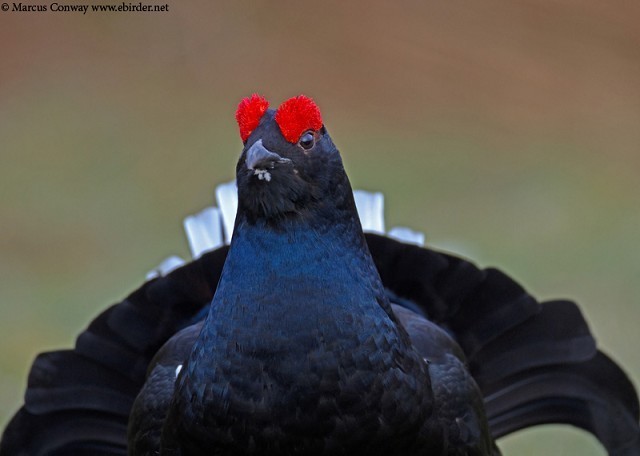 Black Grouse, undisclosed site, Highland (Photo: Marcus Conway - ebirder)
The light is getting better all the time, but the grouse are starting to thin out and when there is just one left I can hear the distant hum of the Land Rover, and I know that the shoot is coming to an end. It's hard to draw myself away, but as the last grouse flies away I signal to David that the coast is clear and we pack our items back into the Land Rover. The grouse will be back the next day to perform the whole ritual again and I have several memory cards full of images to process — and best of all it's only just turned time for breakfast.
Content continues after advertisements
ebirder and Glenlivet Wildlife Black Grouse Photography Workshop
Starting in spring 2011, a selection of dates are available to photograph the Black Grouse from the hide on the Glenlivet estate. Further details are available on the Black Grouse Lek Photography page of the ebirder website.
The best places to watch a lek
I've witnessed Black Grouse leks on numerous occasions; typically at a safe distance from the car with a flask in one hand and the bins in another, or from behind a viewing screen, always adhering to the Code of Conduct. Leks are vulnerable to disturbance and it is imperative that birders and photographers don't add to the decline of this Red-listed species by inadvertently causing disturbance. To witness a lek in the Highlands and watch Black Grouse can be completed easily at several sites.
Glenlivet wildlife run a specialist Black Grouse viewing experience from the comfort of a hide. Black Grouse still inhabit the upland moors of Glenlivet in good numbers. Leaving shortly before sunrise, you are taken to a hide which has been specially built so that you can view the lek. At the Black Grouse Watch you will usually also see Roe Deer, Curlew, Lapwing and Oystercatcher as well as Black Grouse. You may also see Mountain Hare, Brown Hare, Raven and Red Deer as well as several other more common species.
The best way to see Black Grouse at Corrimony is to go on one of the guided minibus 'safaris' in April and May. A full list of Black Grouse safaris is available on the RSPB website.
Tulloch Moor
In most years, the RSPB put up a screen at Tulloch Moor to watch Black Grouse. Unfortunately in recent years a number of birders have arrived rather noisily, chatting and slamming car doors, which has made this site less reliable due to disturbance. The best place to get information is from the RSPB Loch Garten Osprey centre.