Gannets by Robbie Brookes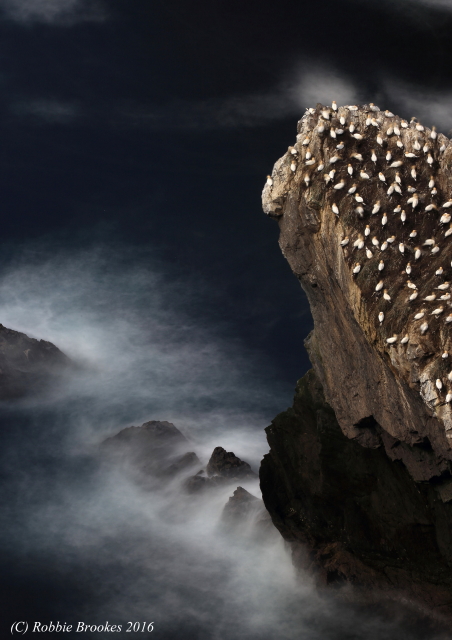 Images like this one from Robbie Brookes are rarely taken by most bird photographers. When at a bustling Gannet colony, many focus on flight shots, close-ups and portraits.
Living nearby means Robbie has probably already taken almost every photograph possible of this species, allowing him time for a spot of experimentation away from the norm. This image has been taken at the unusual setting of 25 seconds at f22, ISO 100, using a 100–400 mm lens at the 188 mm setting to capture a very different type of bird photograph.
Content continues after advertisements
Placing the Gannet colony on the right of the frame and allowing the eye to wander to the seascape setting makes for lovely composition; the very slow shutter speed has totally blurred the waves, giving the scene a slight surrealism.
Congratulations to Robbie on his winning image, already the 14th of the year.
You can read more on bird photography from Steve Young, including product reviews and a regular Photo Challenge for readers, every month in Birdwatch magazine.
Other notable images

Skylark, undisclosed site, Cheshire (Photo: David Cookson)

Brambling, Calke Park NT, Derbyshire (Photo: Clive daelman)

Great Crested Grebe, undisclosed site, Glamorgan (Photo: Chris Hawes)

Goldeneye, Seaforth LWT (Permit only), Lancashire (Photo: John Donnelly)

Yellowhammer, undisclosed site, Somerset & Bristol (Photo: Michael Sherwin)

African Crimson-winged Finch, Morocco (Photo: Ron Marshall)

Razorbill, Bempton Cliffs RSPB, East Yorkshire (Photo: Mike Robinson)

Long-tailed Tit, Hurcott Wood, Worcestershire (Photo: Robert Hart)

Knot, Ribble Estuary, Lancashire (Photo: John Tymon)

White Stork, undisclosed site, Leicestershire and Rutland (Photo: Paul Riddle)

Ptarmigan, Iceland (Photo: Ian Dickey)