Little Auks by John Anderson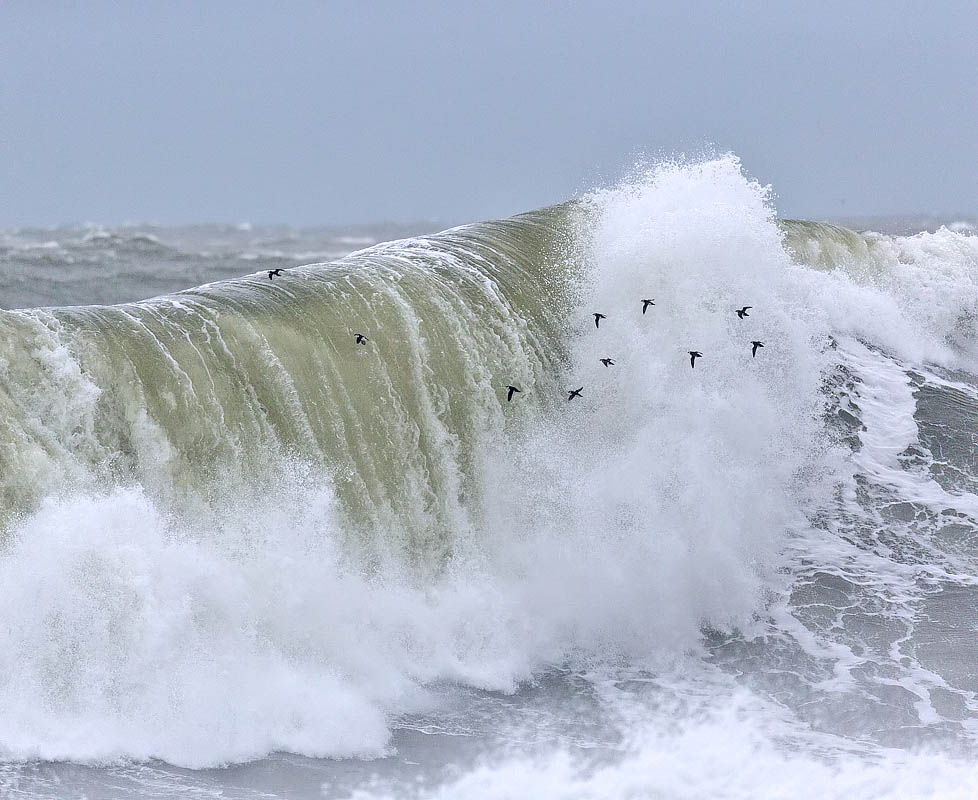 This week's winner is such an atmospheric photo that there may be criticism about the birds being too small in the frame, but it perfectly captures both the dramatic conditions these tiny auks face during winter and also the atrocious weather that swathes of the country have been experiencing in recent weeks.
This shot of a group of Little Auks battling over horrendous seas is a wonderful image by John Anderson; I presume, or hope, that John was more sheltered than the birds when he captured the moment using a 500 mm lens, shooting at 1/3200th second at f5 and ISO 800. To see this image at its best I should imagine a 24×16 canvas print would do the trick, and hopefully one will be hanging somewhere in John's house!
Congratulations to John on what is his third POTW of the year; testimony not only to the quality of his images, but also to his local knowledge of birds.
Thanks to everyone for submitting images throughout the year; I've really enjoyed looking at every single upload. Please keep all your images coming in 2016; I look forward to seeing them, but in the meantime it's back to work on Photo of the Year.
You can read more on bird photography from Steve Young, including product reviews and a regular Photo Challenge for readers, every month in Birdwatch magazine.
Other notable images

Crested Tit, undisclosed site, Highland (Photo: Mike McKenzie)

Kingfisher, Forest Farm, Glamorgan (Photo: John Freeman)

Hoopoe, Hinksford, Staffordshire (Photo: Robert Hart)

Sparrowhawk, Poland (Photo: Artur Stankiewicz)

Barn Owl, Wells-next-the-Sea, Norfolk (Photo: Jake Gearty)

Purple Sandpiper, Penzance, Cornwall (Photo: John Rowe)

Short-eared Owl, undisclosed site, Clyde (Photo: Steven Mcgrath)

Grey Phalarope, Sker Point, Glamorgan (Photo: Jeff Lack)

Redshank, West Kirby Marine Lake, Cheshire (Photo: Mike Orritt)

Green Woodpecker, Bognor Regis, West Sussex (Photo: Graham Whitehead)

Peregrine, Bristol, Somerset & Bristol (Photo: Pete Blanchard)

Little Auk, Musselburgh, Lothian (Photo: Dennis Morrison)