Woodcock by Col Scott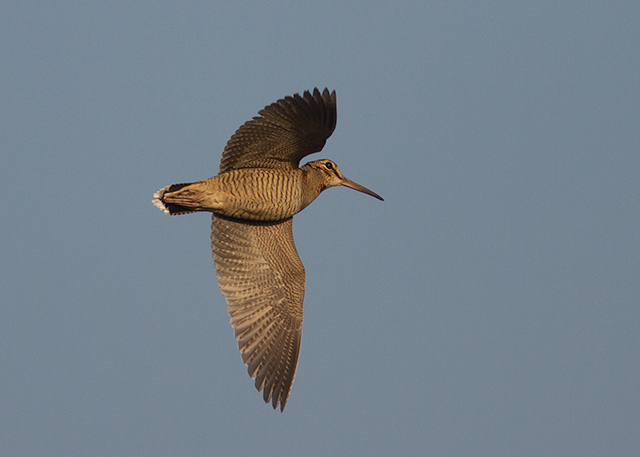 Flight shots of Woodcock tend to be few and far between, and this stunning image by Col Scott has to be one of the best I've seen of this species.
Col's partner disturbed a fox in a wood, which in turn flushed the Woodcock, and the photographer has made the most of a snapshot moment with this top capture. A 400 mm lens was used, with a shutter speed of 1/4000th second freezing the action against a perfectly plain background.
Content continues after advertisements
Congratulations to Col on the final Photo of the Week for 2016. It's now time to turn our attention to the annual BirdGuides Photo of the Year competition — and this year the winning image will be decided by you! More information will follow in next week's newsletter.
Thanks to all our contributors for taking the time to post your images throughout the year. I've thoroughly enjoyed browsing through them all once again, and I'm already looking forward to seeing plenty more superb images throughout 2017.
You can read more on bird photography from Steve Young, including product reviews and a regular Photo Challenge for readers, every month in Birdwatch magazine.
Other notable images

Bearded Tit, Rye Harbour NR, East Sussex (Photo: Toby Houlton)

Red-throated Diver, Porthmadog, Gwynedd (Photo: Elfyn Lewis)

Waxwing, Starbeck, North Yorkshire (Photo: John Foster)

Surf Scoter, Rutland Water, Leicestershire and Rutland (Photo: Marian)

Stejneger's Stonechat, Dungeness NNR, Kent (Photo: Mark Tomlins)

Middle Spotted Woodpecker, Belgium (Photo: Marc FASOL)

Alpine Chough, Italy (Photo: Jack Hill)

Finsch's Wheatear, Cyprus (Photo: Paul Woolams)

Grey Heron, Teifi Estuary, Pembrokeshire (Photo: Richard Stonier)

Snow Bunting, Salthouse, Norfolk (Photo: Andy Thompson)

Little Pied Flycatcher, Malaysia (Photo: R G Harris)

Chough, undisclosed site, Anglesey (Photo: Bob Garrett)

Sociable Lapwing, Spain (Photo: Rafael Armada)

Oriental Honey Buzzard, Kuwait (Photo: Joachim Bertrands)

Dartford Warbler, undisclosed site, Hampshire (Photo: Jake Gearty)

Desert Wheatear, Thurlestone, Devon (Photo: Charlie Fleming)