Northern Gannets by Gordon Speirs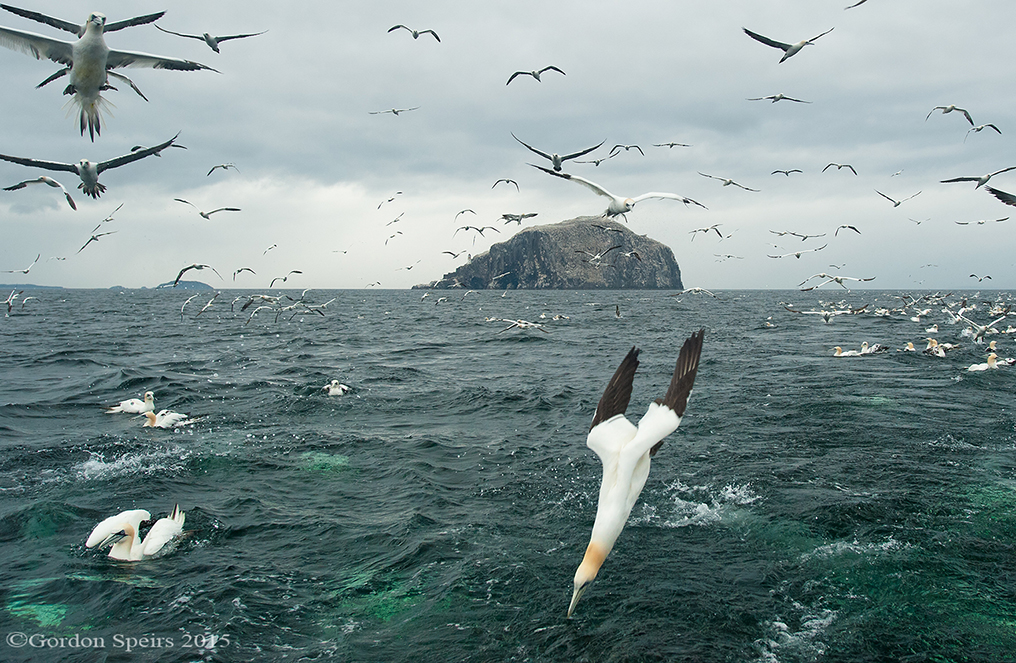 Gannet, Bass Rock, Lothian (Photo: Gordon Speirs)
The seabird season has been in full swing for some time now. With Razorbill and Common Guillemot already winners this summer, perhaps it was only a matter of time before another popular seabird subject took centre stage.
This winning shot of feeding Northern Gannets by Gordon Speirs is a different type of image to the usual portraits and flight shots. Taken from a boat trip to the Bass Rock, Gordon has used a wide-angle zoom lens set at 32mm to include both birds and their setting, with the Bass Rock itself looming large in the image.
Due to poor weather conditions Gordon had to use ISO 2500, but I think the dull light has added to the mood of the overall photo. He still managed a shutter speed of 1/640th second which was fast enough to freeze the action, and the f8 aperture on this length of lens gave enough depth of field to keep virtually all of the frame in focus. Naturally, the diving gannet forms a focal point for the image; without that bird it would lose a lot of impact.
Congratulations to Gordon on his Photo of the Week.
You can read more on bird photography from Steve Young, including product reviews and a regular Photo Challenge for readers, every month in Birdwatch magazine.
Other notable images

Gull-billed Tern, Kingsteignton, Devon (Photo: Steve Hopper)

Puffin, Farne Islands, Northumberland (Photo: Bob Jones)

Short-eared Owl, North Uist, Outer Hebrides (Photo: Antony Ward)

Green Woodpecker, Longshaw Estate, Derbyshire (Photo: Steve Whiteley)

Nuthatch, undisclosed site, Powys (Photo: Jeff Lack)

Common Tern, Brownsea Island NT, Dorset (Photo: Tom Hines)

Sandwich Tern, Scolt Head Island, Norfolk (Photo: Baz Scampion)

Northern Wheatear, North Uist, Outer Hebrides (Photo: Antony Ward)

Spoonbill, Gibraltar Point NNR, Lincolnshire (Photo: Paul Neale)

Goldfinch, Hardley Street, Norfolk (Photo: Nick Appleton)

Starling, Wigan, Greater Manchester (Photo: Roy Rimmer)

Knot, Fife Ness, Fife (Photo: John Anderson)