After a great year in 2013, which saw my Balephuil patch in the south-west of Tiree break the 300-point barrier for the first time, including the first Water Pipit for Argyll and my ever first Great Crested Grebe on the island, 2014 got off to a steady start. A long-staying Green-winged Teal at Loch a' Phuill, which had arrived in November 2013, was the first scarcity of the year and as Tiree is a Scottish coastal site, January brought a batch of two-point birds such as Glaucous Gull, Black Guillemot, Common Scoter and Long-tailed Duck. None of these was unexpected and February was slow, with just three new gull species to add to the tally: Black-headed Gull and Lesser Black-backed Gull (which are both summer migrants in these parts) plus the only Iceland Gull of the year. In fact, I spent much of February in the Canaries instead!
March saw a fly-by Kumlien's Gull along the beach at Traigh Bhi and a few new late winter migrants such as Jack Snipe and Fieldfare, as well as the first migrant passerines in the form of Goldcrest, Chiffchaff and Linnet. Far more unexpected however, was a Chough, which flew calling over our garden on 30 March. This was the first Tiree record since 1987 but was sadly found dead nearby in early April, having been ringed on Islay in 2012.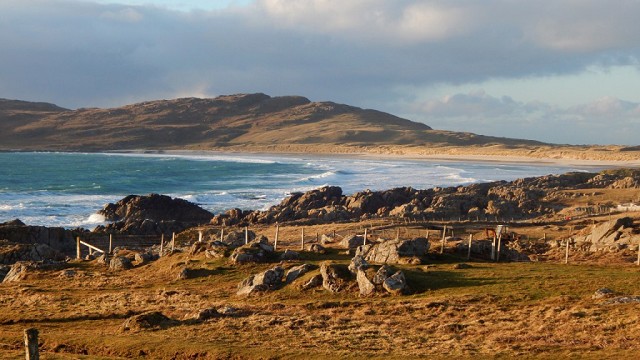 Traigh Bhi, Tiree (Photo: John Bowler)
April brought the expected rush of new summer migrants including Corncrake, Grasshopper Warbler, White-tailed Eagle and Great Skua but, with westerlies predominating, it also brought a clutch of Nearctic scarcities in among them in the form of a drake American Wigeon, a first-winter Ring-billed Gull and an intermediate-morph Snow Goose.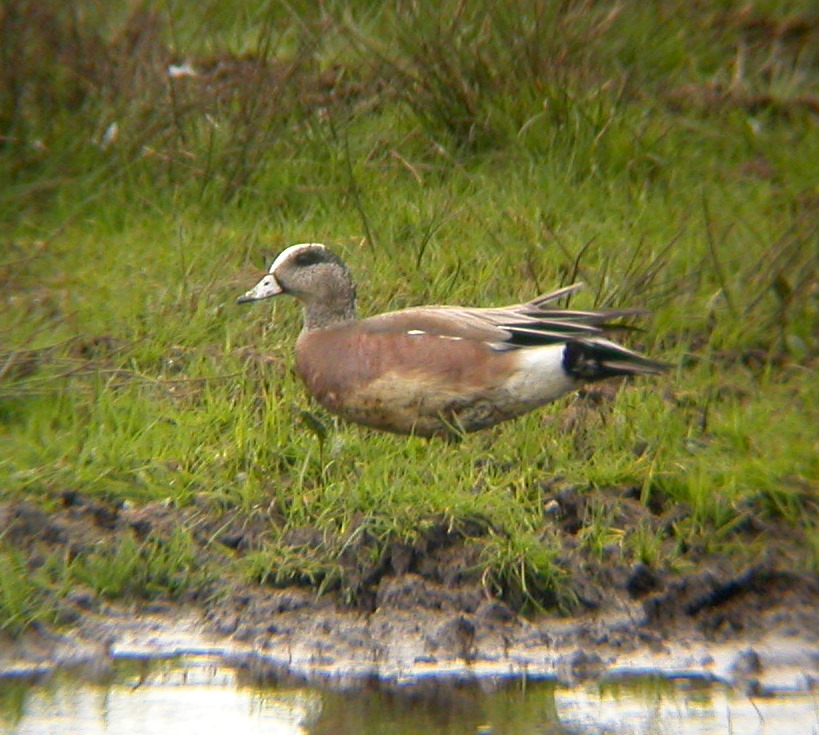 Drake American Wigeon (Photo: John Bowler)
May is a critical month for the Balephuil patch list. Poor ones with mostly northerly winds bring just the odd scarcity but good ones in which southerly or easterly winds predominate can bring unexpected drift migrants over to the west coast. May 2014 was to prove the best ever on Tiree. With light easterly winds and frequent misty spells for much of the month, migrants were regularly grounded and there was an exciting daily turn-over of new birds. Species such as Little Egret, Turtle Dove, Wood Warbler and Lesser Whitethroat, which are less than annual here, all appeared among the more expected (but still scarce) Redstarts, Whinchats, Garden Warblers and Spotted Flycatchers. However, much rarer was a Red-rumped Swallow in a migrant hirundine flock on 20 May. This was the first record for Tiree and was followed the next day by an immature male Rustic Bunting in our garden, which I blundered into while feeding our garden birds in the drizzle.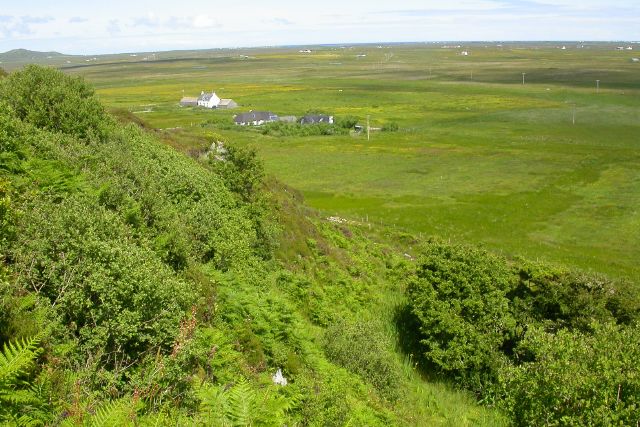 John's house at Balephuil, overlooked from Carnan Mor (Photo: John Bowler)
A splendid male Red-backed Shrike on the hillside of Carnan Mor above our house on 26th was the first-ever spring record for Tiree and was followed in quick succession by a Common Rosefinch in our garden and a Marsh Warbler at Mannal — outrageous stuff for the Inner Hebrides! Bird of the month, and indeed year, however, was a dapper male Collared Flycatcher in the bushes at Carnan Mor on the evening of 27 May. I bumped into it, the first record for South-west Scotland, while trying to relocate the Red-backed Shrike after work and, spellbound, I watched it all evening, but it was gone the following morning.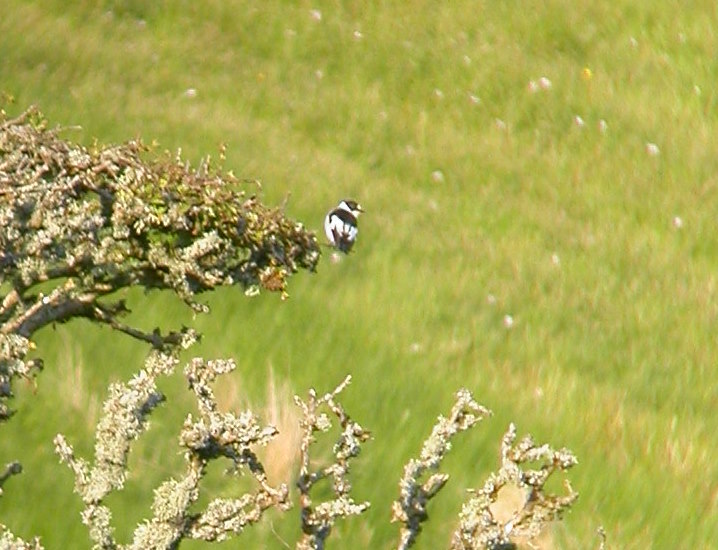 The Collared Flycatcher on 27 May — John's highlight of 2014 (Photo: John Bowler)
Content continues after advertisements
June carried on where May left off. An unfamiliar song emanating from a skulking bird in our willows on 2nd eventually proved to be a resplendent adult male Rustic Bunting, while the "Collared Fly bushes" at Carnan Mor produced a female Red-breasted Flycatcher together with a Pied on 6th, creating a total of four flycatcher species in the same bushes in just ten days! Loch a' Phuill produced the only Little Gull and Curlew Sandpipers of the year, while an elusive but smart male Red-breasted Flycatcher in our garden on 19th rounded things off nicely.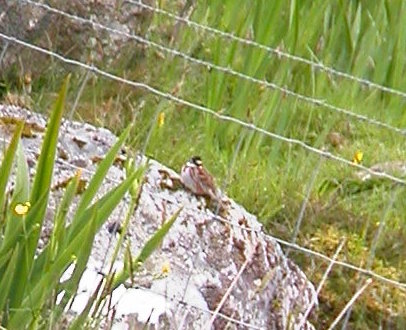 The second of two spring Rustic Buntings, this a fine singing male (Photo: John Bowler)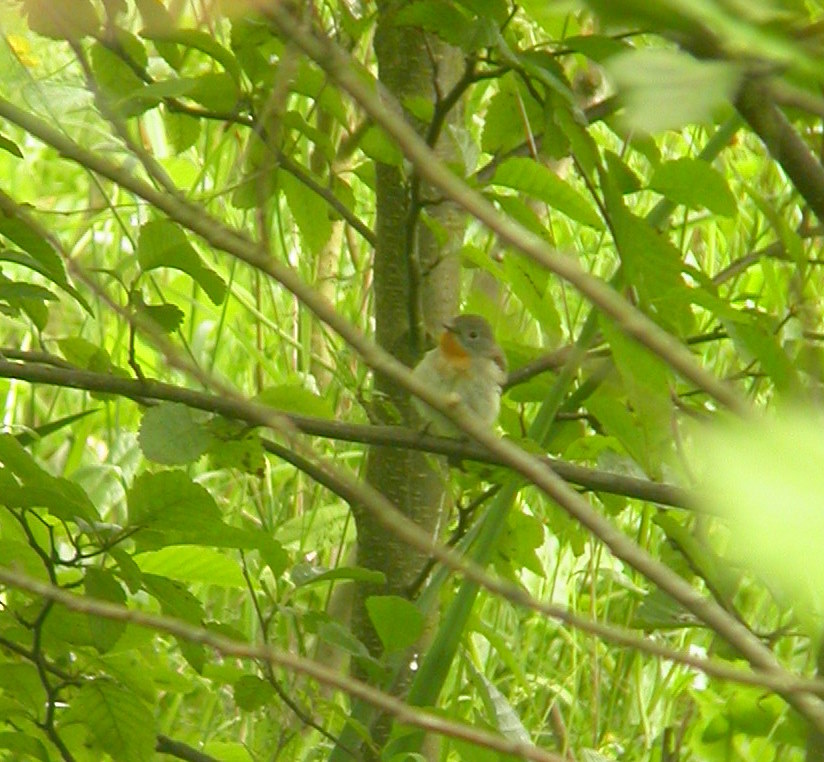 This male Red-breasted Flycatcher was at Carnan Mor on 19 June (Photo: John Bowler)
Return passage kicked off in July with a 2nd-calendar-year Mediterranean Gull and a Green Sandpiper at Loch a' Phuill, while sea-watching off West Hynish produced the first Puffins and Storm-petrels, followed by both Sooty and Balearic Shearwaters in August among thousands of Manx Shearwaters from nearby colonies on Rum and the Treshnish Isles.
After a blistering spring, I needed a good autumn to maintain the pace. Westerlies in early September are vital for bringing Nearctic shorebirds across the Atlantic, and a brief spell at the start of the month produced a 2nd-calendar-year American Golden Plover, 2 Buff-breasted Sandpipers and up to 3 Pectoral Sandpipers in the Loch a' Phuill area. The westerly window quickly closed, however, so thoughts of past glories such as Northern Parula and Cedar Waxwing, or even of Baird's and Semipalmated Sandpipers, remained just that and the only White-rumped Sandpiper of the autumn was found off-patch by Keith Gillon at Gott Bay. Rubbing salt into the wound, the best bird of the autumn, Tiree's first Melodious Warbler, was found off-patch at Scarinish by Jim Dickson, where it remained for a month. Clear skies for much of September meant that grounded migrants were few and far between, although a record total of four Barred Warblers, including three on the patch, were some consolation, as was another non-point-scoring Common Rosefinch in our garden. More modest patch points came from passage raptors in the form of Marsh Harrier and Osprey, an unexpected Long-eared Owl attempting to hide in our lone Sycamore sapling and more expected Snow Buntings, Lapland Buntings and Crossbills.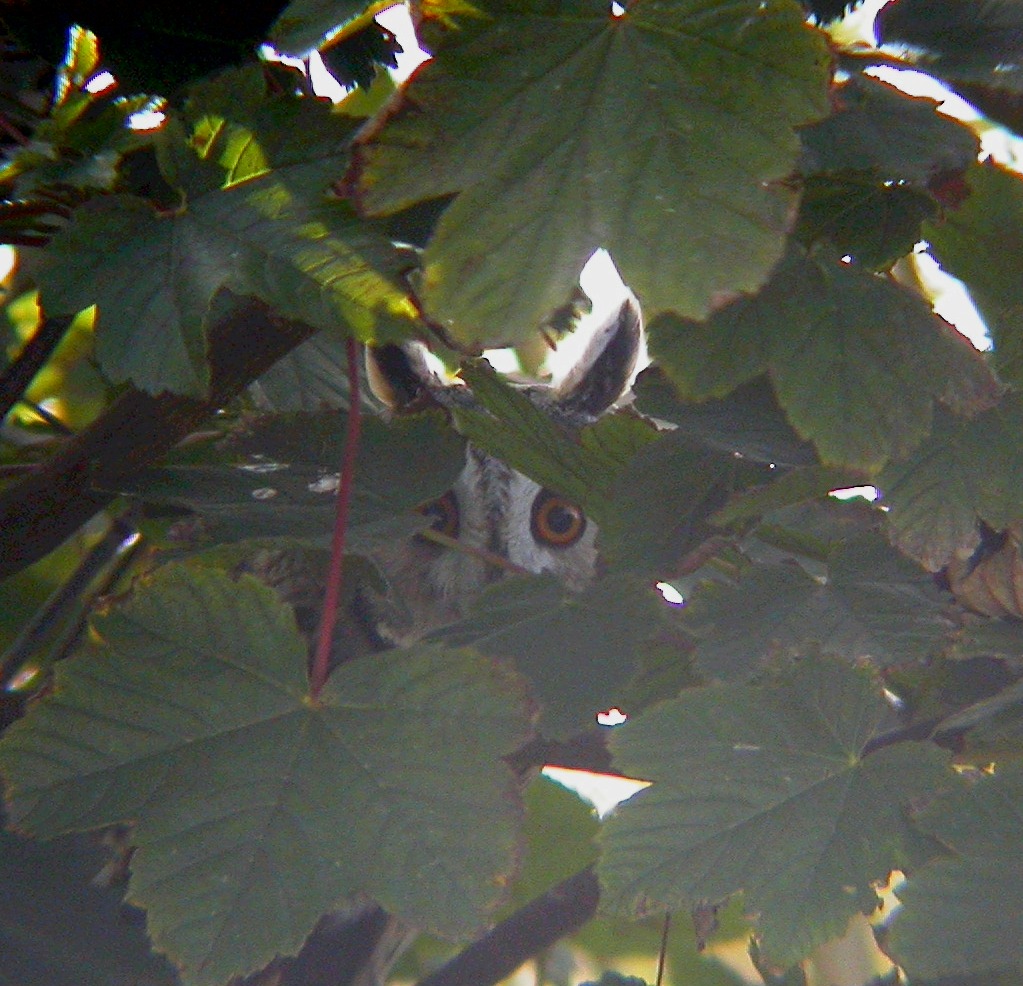 A Long-eared Owl tries to hide in John's garden (Photo: John Bowler)
With the 2013 total already surpassed, it was all to play for in October. Sea-watching produced Leach's Storm-petrel and Pomarine Skua but the continuing lack of westerlies until late in the month meant that neither Sabine's Gull nor Grey Phalarope appeared on the patch this year. Easterlies brought a couple of Yellow-browed Warblers and the first Siberian Chiffchaff of the autumn to our garden, plus further, now sadly point-less, Red-breasted Flycatchers and Common Rosefinches (totals of four of each in 2014!).
New single points came instead from Bullfinch, Grey and Yellow Wagtails, and Great Tit — the latter being my first on the island in 13 years! There was also a record influx of Bramblings, with some 80 birds roosting in our garden and a surprise juvenile Rose-coloured Starling hanging around cattle feeders at Meningie at the end of the month. Relentless checking of the diving ducks by Jim Dickson and myself on Loch a' Phuill paid dividends in the shape of a first-winter Lesser Scaup and two first-winter female Ring-necked Ducks, along with 2 Scaup, a drake Pochard and 3 Coot — the latter all grilled unsuccessfully for their American cousins! A sinensis Cormorant at Loch a' Phuill on 13th was potentially the first of this form for Argyll, while other non-scoring races included a blythi Lesser Whitethroat and a monster rostrata Greenland Redpoll, which dwarfed an attendant North-western Redpoll.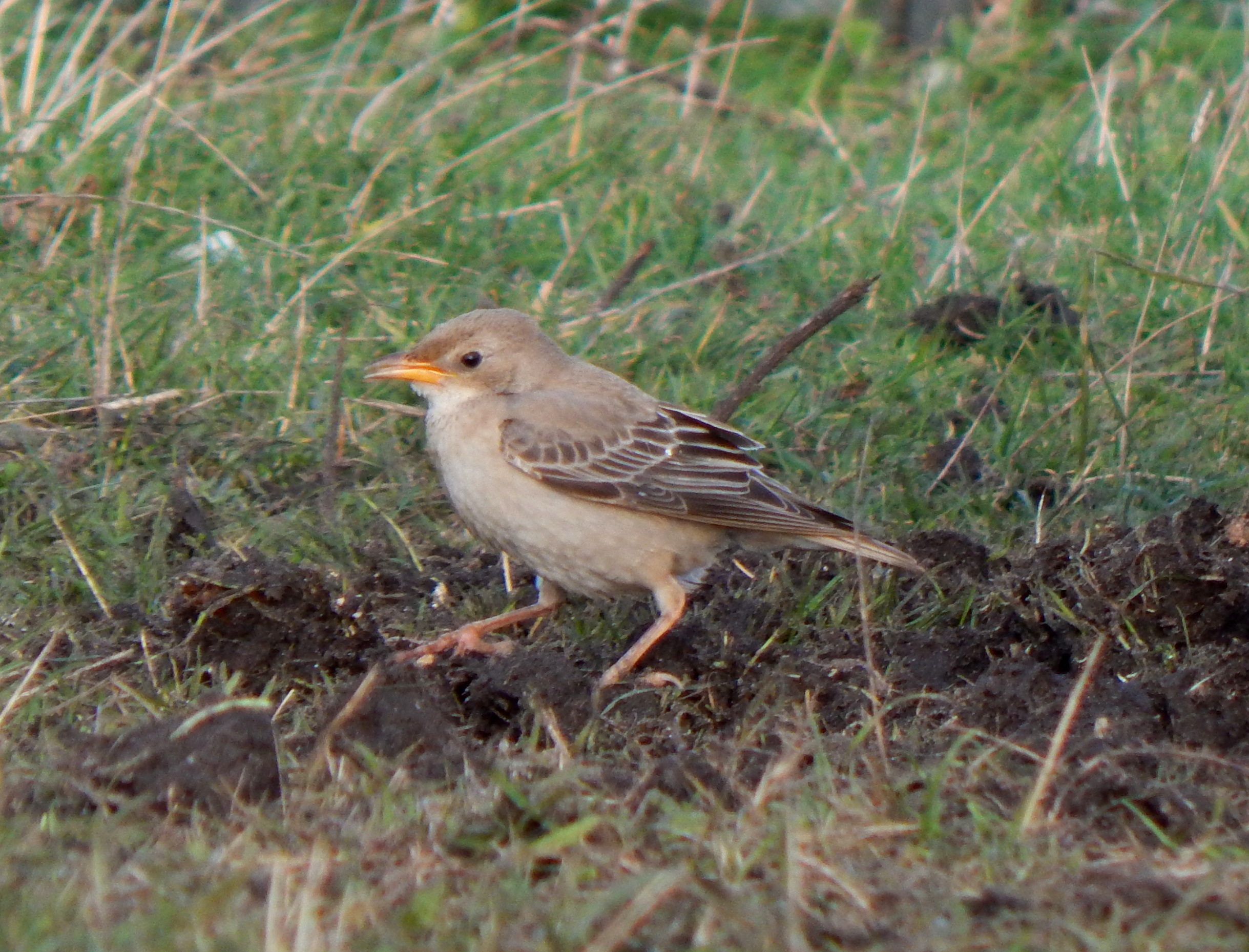 Juvenile Rose-coloured Starling (Photo: John Bowler)
The early winter period can often bring the odd late surprise and this year it included a Slavonian Grebe, which took up residence at Loch a' Phuill, a brief Little Grebe there and an influx of Jackdaws, which brought with them the year's only Rooks. A first-winter drake Ring-necked Duck was new (although point-less) at Loch a' Phuill in November and a late Sabine's Gull was off-patch in Gunna Sound. The only other points gained were from the addition of species seen earlier in the year, which, in my haste, I had forgotten to include on the PC spreadsheet. In total, the patch scored a record 377 points from 186 species with a very pleasing "points per bird" score of 2.027! 2014 saw a bumper number of firsts on the patch and a record-breaking spring passage, so it may perhaps be hard to beat in future years — only time and some subtle patch boundary changes in 2015 will tell....