September is eagerly awaited among the PWC community and 2015 was no exception. When writing this article I compiled my usual list of noteworthy bits and pieces and, once I had collated all 112 worthy sightings, realised that collectively we have had a very good month. The headlines are the rarities but barely a patch failed to note a Black Tern or Little Stint and plenty of others managed some real 'patch gold' — such as Henry Cook's Marsh Tit at Little Orme or David Gomer's Lesser Spotted Woodpecker at Terling.
The birds that are troubling the Forest Optics best find competition include a rare passerine, seabird, raptor and wader. First up is Toby Collett's Wilson's Phalarope, which he found at Frampton Marsh on 8 September. After espying this most delicate of waders on South Scrape there was much confusion as it promptly disappeared, to be replaced by a juvenile Red-necked Phalarope! The Wilson's later turned up at a couple of other sites in the South-East but escaped the other PWCers from Frampton and Freiston, much to their chagrin (and presumably Toby's delight). Up at Girdle Ness, Mark Lewis managed to uncover a juvenile Red-footed Falcon on 10th, which showed delightfully to all and sundry, affording some excellent photo opportunities and more importantly giving Mark half-a-dozen points and that warm fuzzy feeling associated with a good find.

Red-footed Falcon, Girdle Ness, Aberdeenshire (Photo: Barry Farquharson)
A Fea's-type Petrel tracking up the east coast sounds like a rehash of last year's epic bird, which graced a number of viewpoints between Flamborough and the Farne Islands; Nick Addey managed to connect at Long Nab during the evening of 8th, the bird having earlier passed Flamborough Head. Darkness prevented a repeat of 2014 but a further sighting from Spurn the next morning frustratingly evaded Mick Turton, who is taking part in PWC 2015 on the northern part of the peninsula. Mick did manage to make this month's 'Best Find' contenders when he found a Blyth's Reed Warbler, which was a patch and find tick for him. While no longer a 'BB rare', this subtle species is always a super find for mainland patchers and should be firmly on the radar now. Make sure you double-check that short-winged, banana-shaped Acro!
As alluded to earlier, it was all killer no filler this month, with scarcities abounding. The first American Wigeon of the autumn was discovered at Grindon Lough by Paul Massey early in the month. Stephen Welch managed to winkle out a Surf Scoter at Gosford Bay, Lothian, on 20th — allied with a Black-throated Diver on the same day, it made for a productive visit.
Herons and allies are a staple of the PWC bonus point system. The highlight was a Cattle Egret found by Tom Raven at Shapwick Heath. Tom also managed to connect with the Glossy Ibis that has been on site recently as the 'Somerset Camargue' continues to produce the goods. Further Cattle Egrets for Amy Robjohns and David Carrington at Titchfield Haven and Kenfig NR respectively failed to generate any bonus points, but were welcomed as this species has been rare in recent years after its dalliance as a breeding bird. Great White Egrets were found at two new patches, with birds discovered by Andy Sims at Boultham Mere and Paul Sullivan at Tab's Head on the Lincolnshire Wash reserves. There was a Spoonbill at Topsham for Martin Elcoate and a Bittern at Willington for Mark Gash. A trio of Common Cranes were tracked flying past Frampton by Toby Collett and Dave Craven also gained bonus points for finding a Crane at Hale and Pickering Pastures.
Seabird interest this month away from the headline Fea's-type Petrel was limited, but three patches recorded Balearic Shearwaters: John Bowler on Tiree, Jason Moss on Skomer and James Brown at Lowestoft. Paul Bowerman had a Leach's Storm-petrel on the high tide at Severn Beach, which was the only one noted this month after long periods of relatively light winds. Long-tailed Skuas were recorded on three patches, with a brace for Nige Lound at Gibraltar Point and singles for Craig Fulcher and Jason Moss, while James Spencer managed a Pomarine Skua at Barmston.
There were White-winged Black Terns at Heysham for Pete Marsh and at Gibraltar Point for Nige Lound, although neither rendered bonus points. Amy Robjohns connected with a trio of Roseate Terns at Titchfield Haven and Ian Ballam added Little Tern at Lytchett Bay. Eight patches recorded Black Terns including the first at Rudry Common since 1966 for Trevor Fletcher. Larid interest was kept up with the returning Bonaparte's Gull at Dawlish Warren for Kev Rylands and Sabine's Gulls passing Long Nab and Girdle Ness for Nick Addey and Mark Lewis respectively. A mighty 72 Mediterranean Gulls at Kilbogget for Niall Keogh must have been quite a sight. A Caspian Gull for Chris Bradshaw at Wykeham Lakes was a patch tick, although this species is being found increasingly in Yorkshire and the North-East at this time of year.
Jason Moss continued his fine form for September with a self-found Spotted Crake on Skomer for yet more bonus points. The only American Golden Plover of September was found at St John's Point by Tim Murphy. John Bowler kept up his record with scarce yank waders after discovering a Buff-breasted Sandpiper at Balephuil, Tiree, although he missed out on points for the Baird's Sandpiper on the island as it refused to enter his patch boundaries. There were Pectoral Sandpipers found by Paul Higson at Quoyangry and Neil Burt at Conningbrook Lakes as well as birds seen at Adwick Wetlands and Dawlish Warren by John Law and Kev Rylands respectively. Three Grey Phalaropes were noted whizzing past coastal watchpoints: birds seen by Sean Foote at North Portland, Kev Rylands at Dawlish Warren and Stuart Taylor at Balivanich, Benbecula. Lastly there was some patch gold for Andy Mackay at Eyebrook Reservoir with an inland Knot.
On the raptor front the influx of Red-footed Falcons was noted on a trio of patches, with five patchers connecting at Girdle Ness, Druridge Pools and Gibraltar Point — though only Mark Lewis managed to claim the bonus points. Post-breeding dispersal of Goshawks was noted on a duo of Welsh patches, with birds for Jason Moss on Skomer and Barry Stewart at Burry Inlet. A migrant Honey Buzzard over Sutton Bingham Reservoir must have been a surprise for Tim Farr as his Somerset patch continues to produce after the Night Heron earlier in the year.
Classic September drift migrants were noted on many patches, with Barred Warblers recorded on six patches. Unusually there were fewer Wrynecks: just a trio, birds noted at Blacksod by Dave Suddaby, Fairhaven Lake by Ash Baines and Dawlish Warren by Kev Rylands. The only Red-backed Shrike of the month was found by Tommy Corcoran at Great Yarmouth. Sixteen patches recorded early Yellow-browed Warblers, with birds arriving in numbers from mid-month. High counts included four found by Nige Lound at Gibraltar Point and five by John Bowler on Tiree. Mark Lawlor found the only Rose-coloured Starling of the month on Guernsey and Sean Foote added a Lapland Bunting to his 2015 list at North Portland. There was also a Ring Ouzel for Peter Howlett in Cardiff Bay.

Barred Warbler, Staines Moor, Surrey (Photo: Jack Barnes)
September is a great time of year for patch gold — those birds that aren't really rare but they give you a real buzz when you find them on your patch as geographical quirks render them vagrants. Probably the highest quality of these was a flock of 10 Chough at Kenfig for David Carrington. A Black Redstart at Marston sewage works was a great inland find for Steve Lyon. Dartford Warblers are a bit harder to find in East Anglia after the run of cold winters a few years ago, so Craig Fulcher will have been delighted to turn one up at Southwold. On Skomer a trio of tits (Blue, Great and Coal!) were island megas for Jason Moss. Ian Ballam scored a Lesser Spotted Woodpecker at Lytchett Fields, a Turtle Dove was a surprise for Ian T at Askernish and (more worryingly!) there was a Ring-necked Parakeet for Alison Allen at Thorpe-next-Haddiscoe.
Content continues after advertisements
Away from the highlights and into the league tables and the Top 20 points. Mick Turton increases his lead to 77 points and seemingly has the overall points competition in the bag. His main target now has to be Tim Jones' 2014 total of 415 points just down the peninsula at Spurn, and a good finish to the autumn could see that total in jeopardy. Martin Garner adds fifteen points to keep hold of second place, although the pack has now caught up and John Bowler in third manages to prevent a trio of tykes in the top three, keeping Nick Addey in fourth position.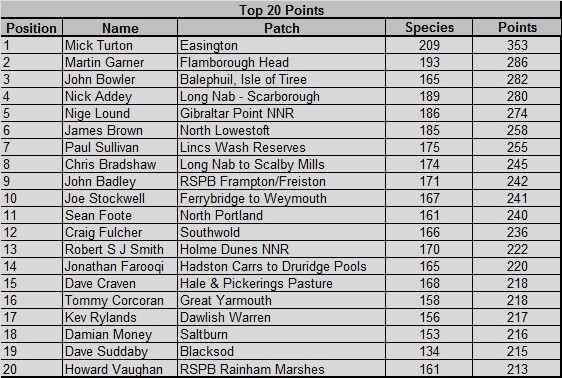 Alison C has her lead cut to under 5 per cent in the Top 20 Comparative league table as both Ben Moyes and Tom Raven cross the 120% barrier after exceptional years on their patches. Paul Freestone and Eamonn O'Donnell are also breathing down their necks so this league, the most prestigious in the competition, could go to the wire. There are now thirteen competitors over 110% in the challenge, which is up from seven in August, and with most of the autumn still to report this number could grow considerably.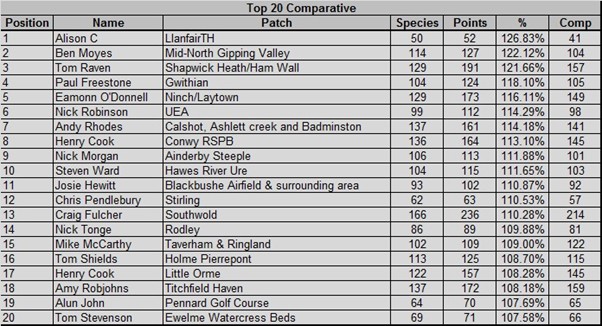 We know that there can be too much focus on coastal shenanigans in Patchwork Challenge and we endeavour to highlight those inland patches who go the extra mile. The Top 20 Inland League has some of the finest birding sites in these isles included. Darren Starkey continues to head this up at Fairburn Ings and, despite no additions this month, his lead is static, with Ian Cowgill also failing to gain ground at Lound. Tom Raven has added 15 points in September to provide a genuine third choice in what previously looked a two-horse race. Jamie Wells also made good ground this month keeping the pressure on the podium places.
After being briefly toppled in August, John Bowler is back on the pinnacle of the points-per-bird Top 20. This shows the quality of the birds being found by the contestants and rewards those that find bonus-point species on a regular basis. John has gone back over the 1.7 PPB mark, which keeps him ahead of Mick Turton, although he is way behind his 2.06 mark from 2014 — perhaps a late autumn mega might change that. Mick is 0.2 PPB behind Tim Jones' final score from 2014 so has some finding to do in October and November to see him past it. Dave Suddaby remains in third place after going over 1.6 PPB, while Jason Moss moves above Ilya Maclean into fourth up from twelfth in August.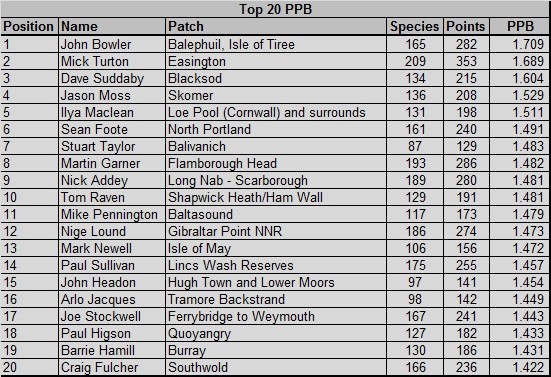 Joe Stockwell hasn't updated for September, giving his challengers for the Cameron Bespolka prize a chance to catch up. Jonathan Farooqi has done this most effectively thanks to a plethora of drift migrants including the Druridge Pools Red-footed Falcon and a self-found Yellow-browed Warbler. Anthony Bentley also hasn't updated but holds onto third place. Laurie Allnatt has finished his time at Llanelli WWT and his target is there to be caught by Amy Robjohns and possibly by Ash Baines and Lee Fuller, the former having had an excellent September with a brace of west-coast Barred Warblers.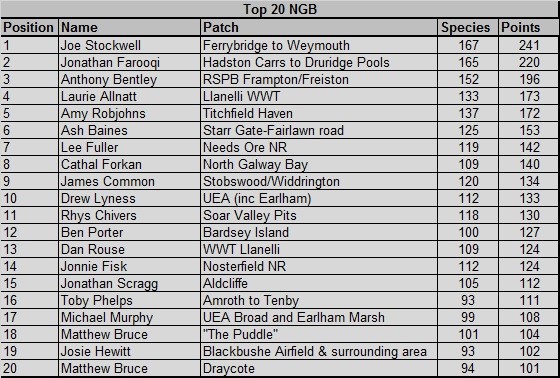 Nige Lound adds 25 points during an excellent September at Gibraltar Point, seemingly sewing up the Green League — although rumour has it Ryan Irvine, who moves up a place into second, may have something to say about that. Jason Moss also makes big gains this month and jumps from fifth to third as Mark Lewis becomes the fourth green patcher to clear 200 points thanks to his Sabine's Gull/Red-footed Falcon combo.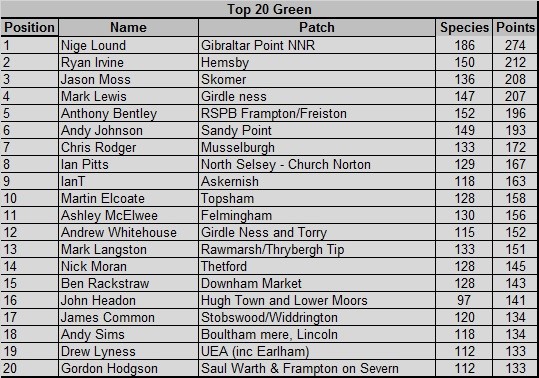 To round off a truly exceptional month we have the Top 20 Birdtrack complete lists league, which shows off those who are dedicated to their patch and look to make a positive contribution to the birding community and add conservation value to their efforts. There are some mind-boggling numbers accrued here and all included should be proud of their efforts. At the top is Alastair Flannigan with 389 complete lists recorded in 2015 — and that is in 273 days! Also over the triple hundred are Roger Hicks and Ian Ballam on 329 and 326 complete lists respectively.