Having spent July concentrating on the first returning waders and then seawatching through August, September sees favoured gardens and hedges revisited and eyes glued to online weather charts. Will strong Atlantic lows blow Nearctic vagrants in from the west or will high pressure entice drift migrants from the east? Many see it as simply a practice run for October but a canny patchworker knows that September can be one of the most productive times of the year. Whether it be a dispersing Jay, a flyover Lapland Bunting or a surprise Pectoral Sandpiper, September is a month for getting out there and getting stuck in!
The migration spectacle of the month was undoubtedly the arrival of 45,800 Pink-footed Geese to Andy Bunting's patch at WWT Martin Mere. What a fantastic sight that must have been! Great White Egrets continue to consolidate their foothold across Britain with five new sites adding them to their respective year lists. Some very fine migrant birds of prey featured on the scoresheets with Honey Buzzards clocked at three locations and a juvenile Pallid Harrier at Spurn.
In a month dominated by a high pressure system it seemed that the continuation of prime seawatching was doomed to falter, that was until the amazing tracking of a Fea's-type Petrel across five east coast counties on 21 September. The first PWC patch it graced with its presence was Flamborough from where news was sent out of its trajectory. This allowed Iain Robson to make a calculated decision, striking while the iron was hot and connecting with this fantastic species from his patch at Druridge as it moved north with an additional Sabine's Gull for his efforts. Steve Swinney scored well with an inland Sabine's Gull at Linford, a self-found lifer no less. Both Cory's and Great Shearwaters were seen by Paul Walsh at Brownstown Head while Long-tailed Skuas were picked up from two patch locations during the month. A juvenile White-winged Black Tern put in a brief seven-minute visit at Frampton Marsh where Tony Collett did well to connect with it.

White-winged Black Tern, Frampton Marsh RSPB (Photo: Michael Powell)
Pectoral Sandpipers were recorded at eight sites including three juveniles at Grindon Lough, a good showing in a month where Nearctic waders were at a premium. The only other vagrant waders from across the Atlantic featuring on this month's score submissions form were Lesser Yellowlegs at Titchfield Haven and Skomer and a double of American Golden Plover plus 1-2 Buff-breasted Sandpipers at Balephuil, Tiree for John Bowler. Furthermore, juvenile Dotterel were seen at three sites, another classic September wader.
Conducive conditions for drift migrants ensured a good spread of continental and eastern scarcities, keeping many a patch birder happy with the number of sites reporting each of the expected species as follows: Yellow-browed Warbler (14), Barred Warbler (12), Wryneck (11), Red-breasted Flycatcher (10), Richard's Pipit (4) and Hawfinch (3). Stepping it up a gear, a Nightingale on Bardsey was no doubt a good record there, Icterine Warblers were seen at Portland Bill and Skomer, the latter site also hosting a couple of Melodious Warblers, a Rose-coloured Starling was at Durness, single Ortolan Buntings were found at Spurn and Bardsey with a further two on Skomer and single Little Buntings were present at Spurn and Baltasound. Grey-headed Wagtail and Siberian Lesser Whitethroat provided plenty of interest for Martin Garner at Flamborough and the third county record of Marsh Warbler for Cheshire found by Jane Turner at Red Rocks was well worthy of six points there for all effort it takes to sort out an autumn Acrocephalus.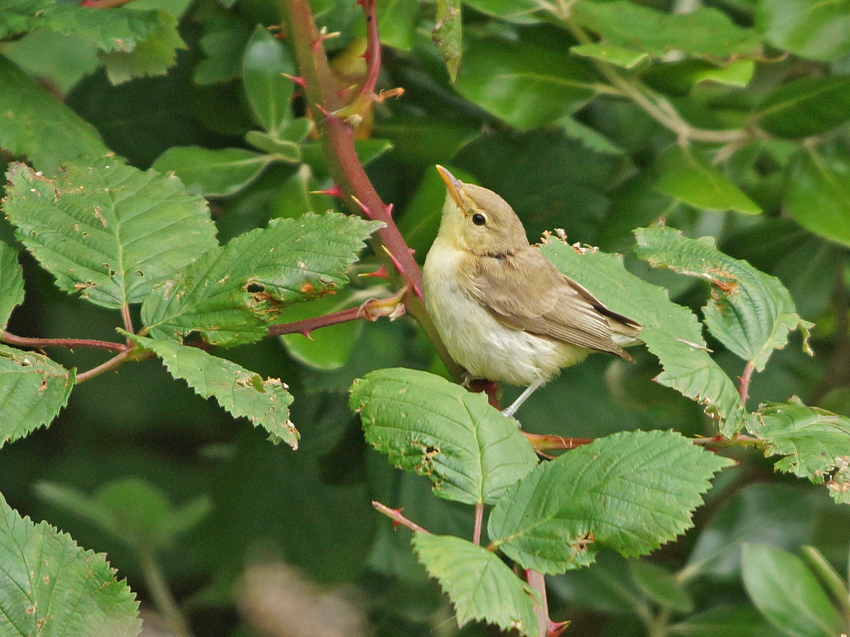 Melodious Warbler, Tiree (Photo: Jim Dickson)
Shrikes were well represented with the star of the show being Britain's third record of Masked Shrike, a first-winter bird at Spurn which was obliging enough to stick around and make it on to both Tim Jones's patch year list (along with Great Grey Shrike) and also the overall PWC species list adding an extra pound to the BTO House Martin Project kindly sponsored by Bresser & Forest Optic. A Red-backed Shrike at Blacksod represented Dave Suddaby's 200th patch tick there whilst another four were recorded at across three locations, including two juveniles together at Southwold for Craig Fulcher. A single Woodchat Shrike seen by Kev Rylands at Dawlish Warren brought the species list of Lanius for the month to four.
With a fine support cast of scarcities in the bag, PWC contestants continued to connect with an impressive run of passerines goodies during September including an Olive-backed Pipit at Spurn plus a flyover at Wanstead by Nick Croft, Greenish Warblers at Horsey and Bardsey, Western Bonelli's Warbler at Kelling, Pechora Pipit and Eastern Subalpine Warbler at Baltasound, the amazing record of a Pallas's Grasshopper Warbler caught and ringed at Titchfield Haven, Hampshire (successfully added to the list by NGB patchbirder, Amy Robjohns) and a fine double whammy at Sumburgh of Red-flanked Bluetail and Myrtle Warbler bringing Gary Bell's overall patch list there above a mighty 300 species. Great to see a Nearctic passerine among the tallies of eastern rares!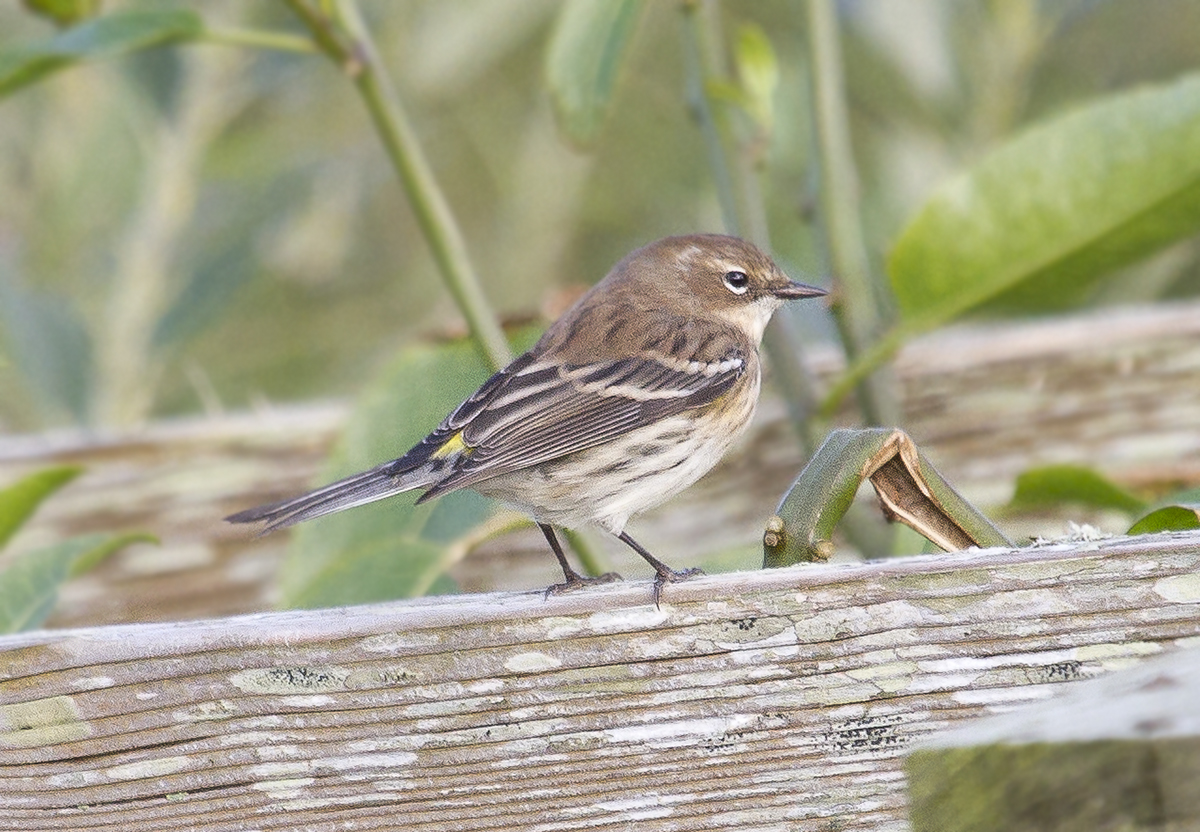 Yellow-rumped Warbler, Shetland (Photo: Chris Griffin)
A great start to the autumn in addition to a batch of recently updated scores saw a shake-up in the Points Top 20 table with many new names making it into the ranks from the previous month. In particular, both Ben Porter and Steve Stansfield on Bardsey climbed from 19th and 17th place to 6th and 7th place respectively. The now familiar names in the top five remain, all well into the 300 plus points bracket. John Bowler at Balephuil stays steady in fifth place but it's Tim Jones at Spurn who takes a mighty leap from fourth to first, knocking Joe Stockwell at Portland Bill into second, Martin Garner at Flamborough into third and Tim Hodge at Horsey into fourth. With an eleven point gap separating first and second place, will this be enough to secure a comfortable lead with October still to play for?
Not content with taking first place in the points table, Tim Jones also becomes the first patchworker of the year to break the 200 species mark with an impressive addition of 19 species on his patch at Spurn since the last update, now claiming first place in the Species Top 20 table ahead of Tim Hodge who despite adding 11 species at Horsey himself, now slips to second place here.
The Inland Top 20 table, some will argue, home of the hardest working PWC contestants. All of the top five are now over 200 points and four of the five above 160 species. Worthy scores on the board indeed. The only movement in the top five coming from Jamie Wells at Paxton Pits claiming third place ahead of Darren Starkey at St Aidan's RSPB.
Content continues after advertisements
Who better to compete against than yourself? Stalwart patchworkers have been hard at work trying to outdo their own previous best with no less than 19 of the Comparative Scores Top 20 now rocking 100% or more. Adam Faiers at Sandwich Bay leads with a massive 134.59% whilst both Steve Swinney at Linford and Mark Nowers at Stutton are new names in the top five from last month.
Those same high scoring names cropping up again in the Non-comparative Top 20 leader positions, Tim Jones at Spurn now jumping to first place yet again. The benchmark is being set at lofty heights for these contestants taking up the challenge again next year, all of the top 20 now with 200 points or more.
It's no surprise that the location names making up the Points per Bird Top 20 are the same that have been keeping bird news services and social media outlets busy this year. Finding quality rarities on your patch is the name of the game here and just reward for top effort. John Bowler's Balephuil patch on Tiree leads the way with 1.84ppb, Ben Porter on Bardsey taking second place from Joe Stockwell at Portland Bill, now in third. New faces in the top five, Gary Bell at Sumburgh and Steve Minton at Scatness, ensure Shetland is well represented. Will we see ppb scores reaching 2.0 or higher come the end of October?
Patchwork contestants have not only been out there working hard, finding new birds and getting their scores in, they've also been busy submitting their records and daily lists to BirdTrack, putting some real conservation power into the challenge. Zac Hinchcliffe still leads the charge with his impressive tallies while Tim Hodge also now breaks into the five figure tally for his records submitted at Horsey with Andy Bunting at WWT Martin Mere not far behind.
Keep 'em green and keep 'em keen. Patchworkers on foot and bike flying the low impact birding flag with the Green Top 20 seeing much the same names but with some change from last month. Ben Porter on Bardsey still ploughing ahead in first while PWC's Mark Lewis at Girdle ness falls from second to fifth and our own Ryan Irvine at Hemsby staying ahead of him in second (I'm sure there'll be words had there!). Steve Minton at Scatness takes second whilst Andy Johnston at Sandy Point stays in fourth.
The top three positions in the NGB Points Top 20 table yet again being made up by the trifecta of observatory based, rarity magnets with Tim Jones taking first in his fourth and final league table of the month. Good to see Amy Robjohns causing as stir in the rankings, moving up from 14th place to 5th.