With easterly winds flowing over Northern Europe for most of October, nearly every patch birder from Shetland to Skibbereen must have felt they were in with a chance of something big.
The end of month reports from Patchwork Challenge contestants were abound with notes on rare and scarce migrants, including well over 120 submissions of bonus point scoring species. Straight in at the top is Damian Money's Siberian Accentor at Saltburn. If there was ever an autumn for finding one on the patch, this was evidently it. No doubt it will be a firm favourite in the running for the prestigious title of 2016 PWC Best Find.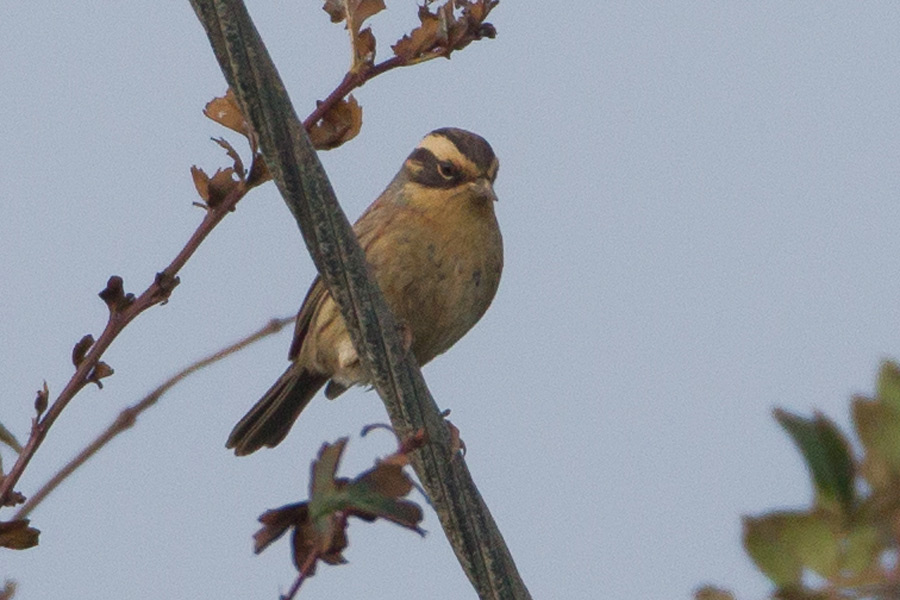 Siberian Accentor, Saltburn, Cleveland (Photo: Martyn Sidwell)
Other rare passerines making the patch headlines included another Siberian Accentor at Easington, Stejneger's Stonechats at Spurn and Landguard, Eastern Black Redstart at Saltburn, three Isabelline Wheatears, Eastern Yellow Wagtail at Balivanich, Pied Wheatear at Scatness and Brown Shrike along with Pine Bunting at Spurn. Add to this, eight Pallas's Warblers, multiples of Siberian Stonechat, Red-flanked Bluetail, Radde's Warbler, Blyth's Reed Warbler, Dusky Warbler, Olive-backed Pipit and Little Bunting, single records of Paddyfield, Hume's Leaf and Greenish Warblers and a Daurian Shrike thrown in for good measure. Yellow-browed Warblers arrived in their droves, being reported as new from no less than forty-five patches right across Britain and Ireland.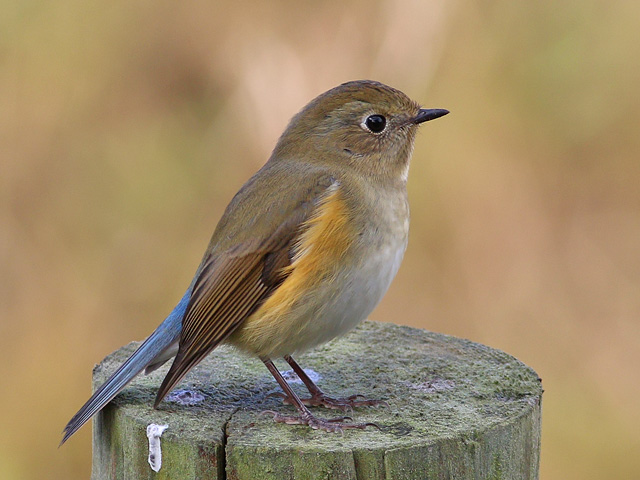 Red-flanked Bluetail (Photo: Russell Hayes)
Waders, wildfowl and seabirds managed to get a look in with the highlights being a Black Brant at Spurn, a duo of Ferruginous Duck and Ring-necked Duck at Tring Reservoirs, a viz-mig flock of nine Great White Egrets over Starr Gate-Fairlawn, a Long-billed Dowitcher at RSPB Frampton, Sabine's Gull at three sites and a Leach's Storm-petrel at Birkenhead Docks. Finally, a White-tailed Eagle over Blagdon Lake must have made for quite the sight there!
With such a productive month it is no surprise that we see some radical changes to the Top 20 Comparative mini-league rankings where both Mike Cram and Steve Minton added over 20 per cent to their scores, jumping from fifth and sixth place to take first and second respectively! Being positioned on Shetland meant that Steve had the pleasure of adding the likes of Pied Wheatear and Olive-backed Pipit to his year list while Mike's Welsh patch produced no megas but some equally welcome patch ticks such as Hobby, Black Redstart and Water Rail leaving him in the lead on over 142 per cent. You couldn't ask for a more perfect comparison to sum up the joys of patch birding.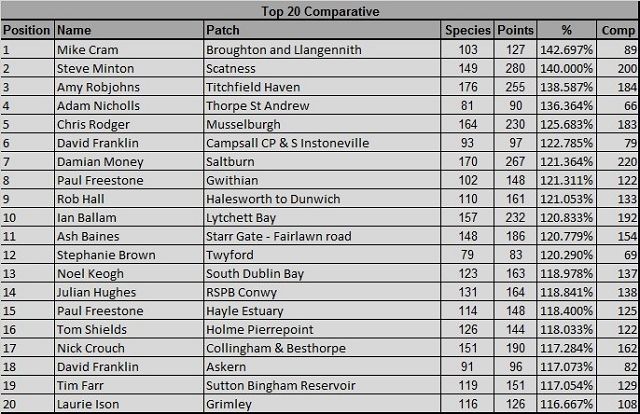 The Top 20 Points mini-league has been well and truly taken over by a trio of lucky patch birders at Easington and Spurn which enjoyed one of its finest autumns ever (featuring most of the rare passerines listed previously). Tim Jones claims first place with a superb 406 points followed by Mick Turton in second and Paul French in third who are both in the high 300s. Mick is perhaps just a couple of bonus point species away from taking a run at the title, which is possible given the way things have been going on his patch!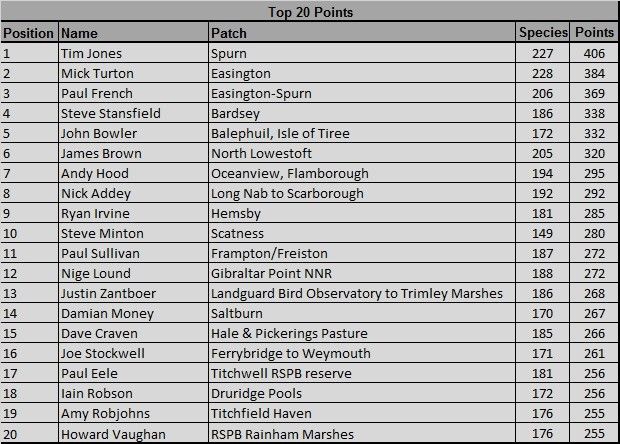 The Top 20 Points Per Bird mini-league shines a light on those patch birders who do well finding their own rarities and while the Spurn lads are climbing the rankings here we see the same three names as last month at the top where John Bowler moves into first place during October as he edges closer to the magic 2.0 PPB. A Blyth's Reed Warbler provided a welcome glut of bonus points while #patchgold was represented by a Blue Tit!
Content continues after advertisements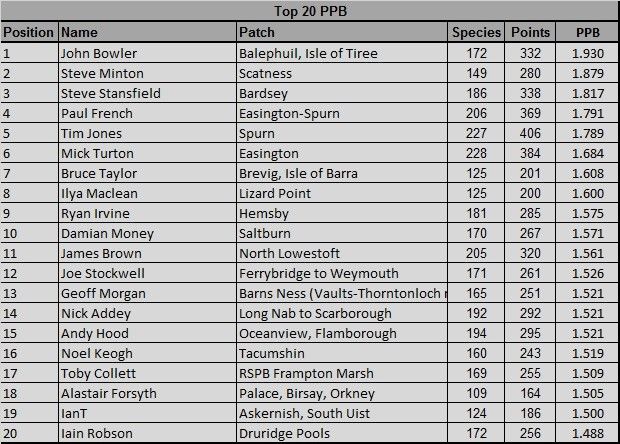 Rutland Water and Belvide Reservoir continue to dominate in the Top 20 Inland mini-league with scores of 200 points or more making up the top three. Erik Ansell adds Little Gull and Rock Pipit at Rutland to keep him in first place while Steve Nuttall moves up to second at Belvide after adding five new species during October including an excellent inland record of Purple Sandpiper.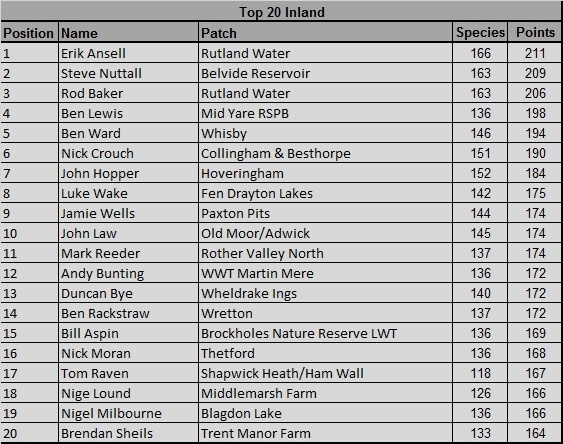 Tim's updated score from Spurn ensures his lead in the Top 20 Under 25s mini-league is secured while Joe Stockwell and Amy Robjohns both vie for second and third place with 261 and 255 points respectively. Joe's efforts at Ferrybridge to Weymouth produced a total of seven Yellow-browed Warblers while Amy connected with Yellow-browed Warbler, Brambling and Goosander for her Titchfield Haven year list.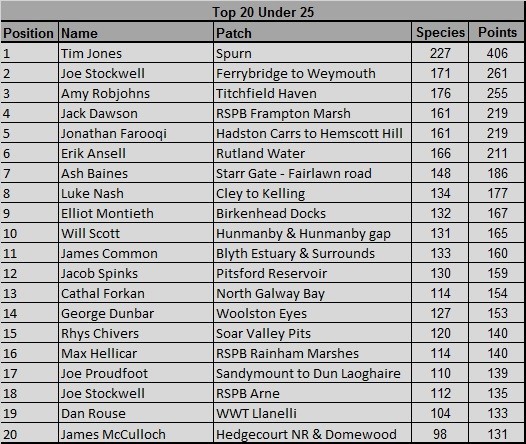 In the Top 20 Green mini-league, Ryan Irvine and Steve Minton move ahead of Nige Lound from their home patches at Hemsby and Scatness into third and fourth place respectively while Gibratlar Point NNR slips down to fifth. Steve Stansfield's lead from Bardsey was bolstered by a Black-browed Albatross (the ultimate Green league rarity?) while a Paddyfield Warbler and a Hume's Leaf Warbler awaited Andy Hood at Flamborough.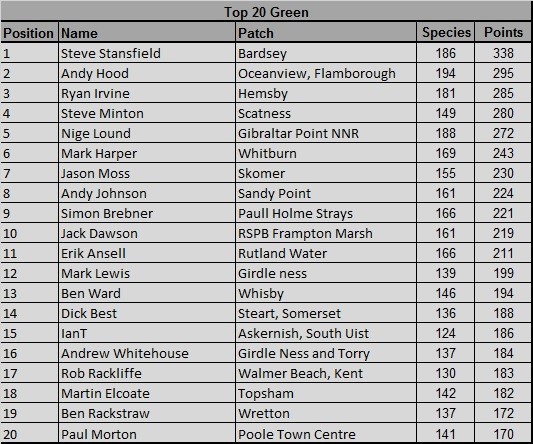 Wales continues to lead the way in the Top 20 BirdTrack Lists mini-league where Ceri Jones and Alastair Flannagan are leading the charge in first and second place with a total of 2,220 lists and 38,250 records added between them.