October brims with promise. The potential for a dramatic peak in the last full month of autumn before winter truly makes itself known is hard to resist. Favourable weather systems can reward patch birders with a sudden burst of new species, sometimes all at once. Will a mass fall of migrants come from the east? Will dramatic Atlantic low-pressure systems drive in the last few southbound seabirds or a lone Nearctic passerine? What wader or duck will drop in for a day en route to its favoured wintering location? For the vis-mig enthusiasts, will it be finches, thrushes or geese on the clickers?
The weather in October 2015 provided enough variety for most PWC contestants to add some of those elements to the mix in a Goldcrest-filled month not to forget.
Wintering wildfowl got a move on with several patch birders reporting additions of migrating Whooper Swan, Pink-footed Goose and Barnacle Goose to their lists as well as scarcer Bewick's Swan and Greenland White-fronted Goose. Rarer still were single Black Brants at North Portland and Frampton/Freiston Shore, a Lesser Scaup at Blagdon Lake, a drake Ring-necked Duck at Tring Reservoirs, a drake American Wigeon at Loch a' Phuill, Tiree and a Surf Scoter at Aberlady Bay, while an unexpected patch tick for Mark Lewis came in the form of a Smew at Girdleness. Several contestants reported Pochard as a highlight for the month, including Damian Money who had his first in 20 years of birding at Skelton.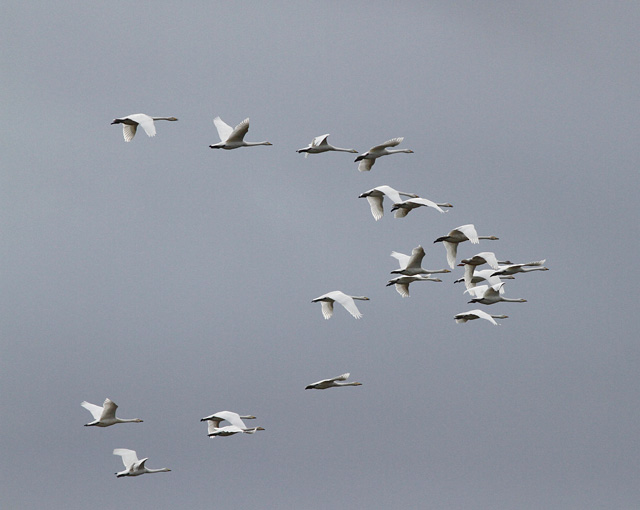 Whooper Swan, Scalby Lodge Pond, North Yorkshire (Photo: Terry Hobson)
Black-necked Grebes were noted at Ham Wall and Severn Beach, while a Red-necked Grebe was a good bird for Ed Keeble at Brantham. Some top waterbird #patchgold action came from Askernish, where Coot and Little Egret were star birds for IanT and YvonneB.
The march of Great White Egrets across the region seems unabated, with six patches reporting them as new for the year during October. This was a long-awaited patch tick for Andy Johnson at Sandy Point, while Dave Craven reports a high count of five for his patch at Hale & Pickerings Pastures. A Glossy Ibis was a welcome find for Howard Vaughan at RSPB Rainham Marshes and a Cattle Egret was on show at WWT Llanelli.
Wintering birds of prey arrived in and onto several lists including Rough-legged Buzzards at Gibraltar Point NNR, Holme Dunes NNR, Horsey (three present there) and Stubber's Green plus many reports of Merlin, Hen Harrier and what was one of the star birds of the month for many, Short-eared Owl. No fewer than sixteen patches year ticked Short-eared Owl in a fantastic month for the species, including a total of eleven at Hemsby in Norfolk, while this species completed the list of all five regular species of owl for Steve Swinney at his Linford patch. In addition to his Rough-leg, Nige Lound was thrilled with his find of a juvenile Pallid Harrier at Gibraltar Point NNR. This species also graced the nearby Frampton/Freiston Shore area for a couple of patch birders there.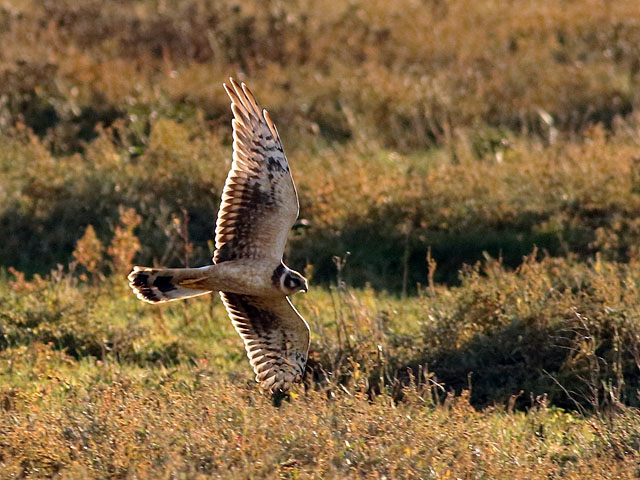 Pallid Harrier, Gibraltar Point NNR, Lincolnshire (Photo: Russell Hayes)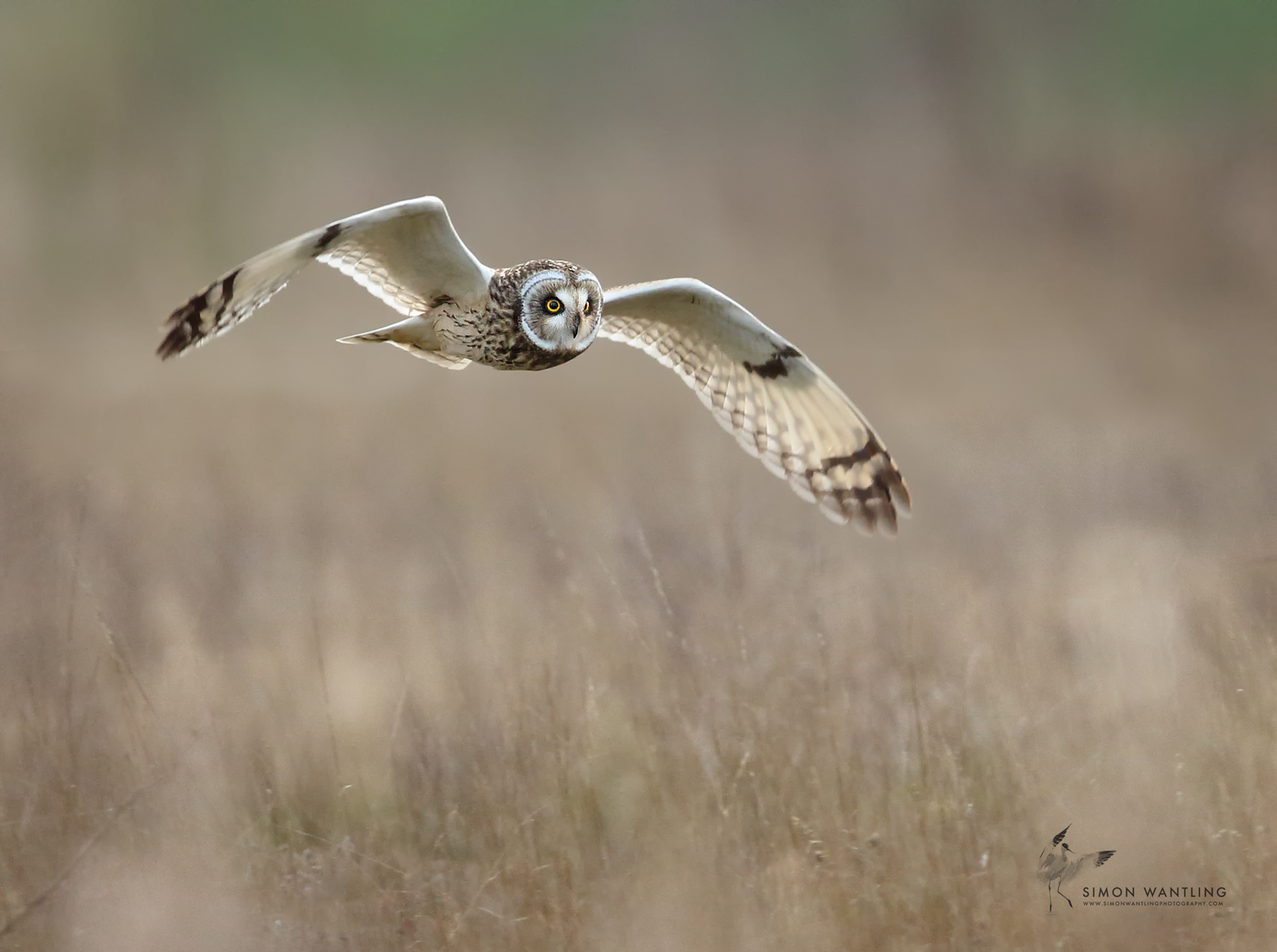 Short-eared Owl, undisclosed site, Northamptonshire (Photo: Simon Wantling)
There was a decent run of Nearctic waders in October including three Pectoral Sandpipers, four American Golden Plovers, two Lesser Yellowlegs and a single Baird's Sandpiper (on Tiree). Pecs were top finds for Tom Raven at Shapwick Heath/Ham Wall (no stopping that man!) and for Paul Massey at Grindon Lough while the Lesser Yellowlegs on Tiree found by John Bowler was just the second island record. Jack Snipe appeared in numbers through the month and found itself added to many patch year lists as a result.
Sabine's Gull and Leach's Storm-petrel are both prime species to occur during October gales and with that, records of Sab's came from Long Nab as well as Freiston Shore while Leach's were noted from opposite points of the compass at Tiree, Southwold and North Lowestoft. An Azorean Gull at Marston STW was an excellent Midlands find by Dave Roberts and one to look out for as it may tour several PWC sites in the course of its wanderings. On the campus patches, Mediterranean Gulls were new for Jonathan Scragg at Lancaster University and for Drew Lyness at UEA.
Popular passerines in October included Firecrest, Black Redstart, Ring Ouzel, Brambling, Lapland Bunting and Snow Bunting. Up to twenty-five new patches added Yellow-browed Warbler in what has been a recorded year for this superb Sibe, with half a dozen or so birds present at some sites. Patch birders also racked up some decent scarce and rares in the form of four Richard's Pipits, two Red-throated Pipits, several Siberian Chiffchaffs, a Red-backed Shrike, a Marsh Warbler, five Pallas's Warblers and a Serin. A Dusky Warbler at Gibraltar Point found by Nige Lound was backed up nicely by a Little Bunting (with another of those at Hugh Town/Lower Moors), a Radde's Warbler was a great find by Tommy Corcoran at Great Yarmouth and Red-flanked Bluetails were present both on Bardsey for Steve Stansfield and at Hembsy for Ryan Irvine (in the midst of a mega purple patch for Ryan which also included an Olive-backed Pipit there).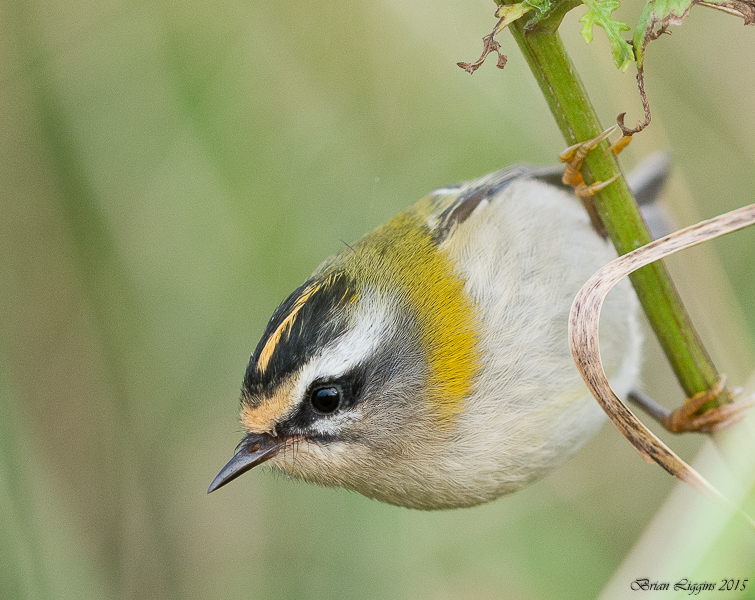 Firecrest, Fort Island, Isle of Man (Photo: Brian Liggins)
Great Grey Shrike was well represented, seen on at least twelve different patches in the east including no less than three at Horsey as well as one at Titchfield Haven, a most excellent Hampshire record. An Alpine Swift found by Henry Cook at Little Orme was a top county bird for Conwy, while a trio of Bullfinches in Mick Turton's garden at Easington were perhaps the most welcome patch birds for him in October, ahead of the many rares he saw that month.

Great Grey Shrike, Reculver, Kent (Photo: Steve Ashton)
A Hawfinch seen by Matt Griffiths at Earlswood was the first there since the 1940s. A total of six patches reported Dartford Warblers as new for the years, plus several cases of Woodlark and Cetti's Warbler providing some highlights, all species responding well to a mild winter last year it seems?
A very fine male Two-barred Crossbill that dropped into the conifers behind Dave Suddaby's garden at Blacksod was a monumental find for Ireland and the first for Co. Mayo. A worthy contender in the Forest Optics best find competition for sure.
Content continues after advertisements
A final shout out goes to Martin Garner. Despite being hospitalised for much of the month, Martin powered on in true patch birding fashion and made sure he got Hume's Warbler, Siberian Stonechat, Great Grey Shrike and Pallid Swift onto his list at Flamborough!
Not only has October brought with it a suite of fantastic birds, we also see a shake up in the Top 20 Comparative table, where Alison C loses her long-held first place position at Llanfair Talhaiarn to Ben Moyes at Mid-North Gipping Valley. Ben added Firecrest, Brambling, Rock Pipit and Woodlark, which puts him forward, but only just with less than 1% separating first and second. Furthermore, both Tom Raven and Craig Fulcher are making serious headway, just a point or two away from causing upset in the current rankings. This is down to great finds in October including a Pec Sand and a Black-necked Grebe for Tom at Ham Wall and a suite of ticks including Yellow-browed Warbler, Leach's Storm-petrel, Great Grey Shrike and Serin for Craig at Southwold, which sees him jump from thirteenth to fourth place. Several other new faces have made it into the Top 20 after a productive month, and with two months left in it the race for first place in the PWC 2015 Comparative Top 20 is far from over. This is what it is all about! Stay tuned folks.
In the Top 20 Points table we see Mick Turton holding on tight to first place with American Golden Plover, Pallas's Warbler and Great Grey Shrike boosting his score to 372 points. Good to see Nige Lound break the 300 points barrier and make it into second place, a well-earned title with Pallid Harrier, Dusky Warbler and Little Bunting some of his rewards at Gibraltar Point NNR. Also in the 300-points club are John Bowler on Tiree and Martin Garner at Flamborough. PWC's own Ryan Irvine saunters onto the table boasting impressive gains thanks to a mighty 12 year ticks (including 4 #fullfatpatchticks) in just eleven days at Hemsby.
Matching the points table closely is the Top 20 Species table. Only Mick Turton is past 200 species so far but with the rest of the top five not far behind in the mid- to high 190s. There is a rather even spread thereafter of those in the 180s, 170s and 160s, with a strong bias towards east- and south-coast sites here. It's good to see so many well clear of 150 species, and with plenty of time for a few more additions yet. Amazing the diversity you can squeeze into 3km2!
American Wigeon, Lesser Yellowlegs, Baird's Sandpiper and Leach's Storm-petrel were the pick of the bunch for John Bowler on Tiree in October and with that a points-per-bird score of over 1.8 was achieved and another month in first place on the Top 20 PPB table. A couple of extra goodies for him and he'll be well clear of the enviable 2.0 PPB score. Mick Turton and Dave Suddaby remain in their allotted second and third place positions while Steve Stansfield heads straight into fourth with his update from Bardsey. Nige Lound bumps up from twelfth to fifth, Ryan Irvine makes a fine entrance and into sixth, while Paul Sullivan gains finds points for Yellow-browed Warbler, Sabine's Gull and Black Brant at the Lincs Wash reserves moving him from fourteenth to seventh. Twelve contestants now have PPB scores of 1.5 or more.
There were no additions for Darren Starkey, who sits on top of the Top 20 Inland table with 201 points at Fairburn Ings RSPB. Tom Raven is closing in just two points behind although he seems to be running out of rare waterbirds to find! And let's not forget Ian Cowgill at Lound, well in striking distance in third. Ben Lewis at Mid Yare RSPB swaps fourteenth place for fourth (a Great Grey Shrike for him) and Andy Mackay at Eyebrook Reservoir moves from ninth to sixth with American Golden Plover, Spoonbill, Great White Egret and Bewick's Swan. So there's plenty of enthusiasm left among the hard-working inland patchers.
In the Top 20 NGB table we see no changes made to the top three, except consolidations to the scores with Joe Stockwell at Ferrybridge to Weymouth clear ahead with a 50-point lead. Amy Robjohns has been working hard at Titchfield Haven with just rewards bringing her to fourth place. Dan Rouse rises to eight from thirteenth with a couple of great birds for WWT Llanelli, Cattle Egret and Pectoral Sandpiper.
Living on or near your patch can be a tremendous advantage and for many of the contestants in the Top 20 Green table this is the case. Nige Lound's impressive 328 points and 198 species at Gibraltar Point NNR keeps him firmly in first place here while, Steve Stansfield updates his scores from Bardsey, putting him in second and knocking Ryan Irvine at Hemsby down to third. Jason Moss drops from third to sixth allowing Mark Lewis to remain firmly in fourth at Girdleness while Andy Johnson moves into fifth. All of the top six are past 200 points at this stage. Top effort by foot and bike!
For the hardcore bird recorders, keeping BirdTrack lists is where it is at. Alastair Flannagan is leading the charge here, adding another 70 lists to his tally at Swansea Vale to Fendrod Lake and putting him on 459 lists in first place. Lee Evans enters his total with a strong 340 lists and a fourth-place position from Tring Reservoirs although David Franklin at Norton Common is not far behind.
While October has been a fantastic month for some, autumn is by no means over yet. November still holds the potential for something mega while at the same time it can be a great month for catching up with winter species on migration. Plenty more is left to happen in the final two months of PWC 2015!