October — the highlight of the patch birding year in many areas. The month that offers best opportunity to find that mind-bendingly rare bird on your own patch and the final chance to add reams of new species. The pressure is on to catch the big fall, the passage of Pomarine Skuas or Leach's Storm-petrels, or the arrival of 'Sibes'. Anticipation is rife.
Expectations were met in many places with some superb finds, great rarities and hordes of scarce birds. This year's leaders smashed through the records from 2013 and Tim Jones at Spurn broke the 400 points barrier. Contenders for the Bresser and Forest Optic Best Find competition came from all corners. The best find this month was Martin Garner's Brünnich's Guillemot at Flamborough while Peter Donnelly on North Ronaldsay went pipit crazy with a Pechora and three Olive-backed Pipits. Tim Jones managed to co-find a Pallid Swift while a Pallid Harrier was a patch find for Roger Musgrove and Dick Best. Mark Hipkin's Kentish Plover at Crymlyn Burrows was a first for the competition and a Penduline Tit was a great inland find for Ben Lewis in the Yare Valley. A Red-flanked Bluetail at Blacksod was well received in the Emerald Isle. Sneaking under the radar was a Shore Lark at Askernish, which might well have been of Nearctic origin.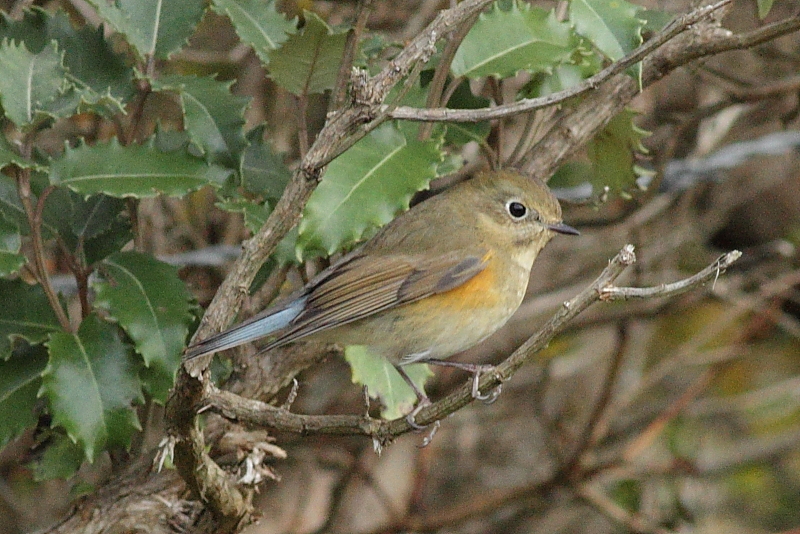 Red-flanked Bluetail, Blacksod, Mayo (Photo: Dermot Breen)
Away from the headlines there was plenty of quality and quantity with many scarce and rare birds recorded. The first dribs and drabs of scarce wildfowl turned up with two Black Brants, an American Wigeon on North Ronaldsay and singles of Lesser Scaup and Ring-necked Duck both on Tiree. Four patches recorded Leach's Storm-petrel with an equal east/west split. October isn't a typical 'heron' month but two patches in the south-west managed to add Great White Egret this time around.
A good vole year and some easterly winds led to one of the best Rough-legged Buzzard influxes of recent times with five patches recording birds, all on the east coast. Scarce waders were at a premium and the Welsh Kentish Plover aside, only a Pectoral Sandpiper and a brace of Grey Phalaropes were noted. Continuing the chilly theme and very much in the Brünnich's shadow were the first Little Auks of the winter recorded at a couple of sites on the Yorkshire coast.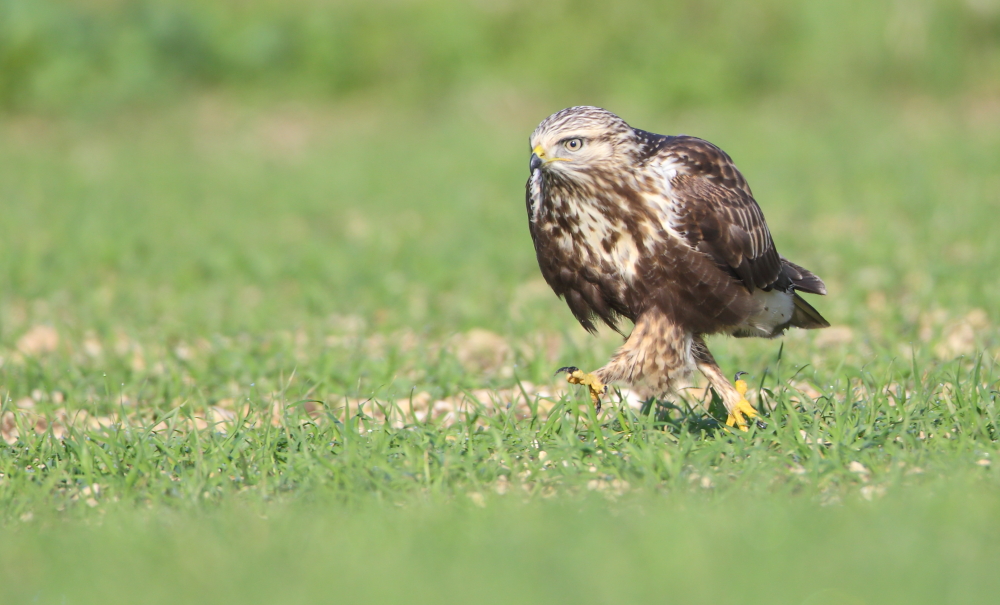 Rough-legged Buzzard, Grindale, East Yorkshire (Photo: Mike McKenzie)
Some of the seabirds more associated with September made a call on the west coast with Sabine's Gulls and Long-tailed Skuas recorded from both Bardsey and Red Rocks. Further larid interest was kept up by Kev Rylands finally managing a personal re-find in the form of the returning Bonaparte's Gull at Dawlish Warren. A single patch recorded Caspian Gull — a figure that is sure to jump in November and December with this winter staple.
A late Wryneck was a bonus at Dawlish and it rained Richard's Pipits with four patches recording them. Two patches in the east saw Shore Larks making an appearance with Ian T's aforementioned bird on South Uist being the only west coast representative. A sprinkling of scarce chats included a brace of Bluethroats including a find for our leader, Tim Jones at Spurn. A Siberian Stonechat was a fine addition to Amy Robjohns' Titchfield Haven list, sitting nicely alongside last month's Pallas's Grasshopper Warbler.
Scarce warblers were, well, scarce. All except Yellow-browed Warbler which was recorded at 14 patches including the second for Warwickshire at Earlswood which was found by Matt Griffiths. Four Siberian Chiffchaffs underlined the slightly less scarce than in the past status of this taxon while Pallas's Warblers failed to conform to the upturn in recent years by only being seen at Hemsby, Holme and Flamborough — perhaps November will prove more productive. A few late individuals of the 'super-Sylvia' were noted with three Barred Warblers found by Ben Porter on Bardsey and Steve Stansfield claiming a fourth at the same location. A Radde's Warbler at Spurn was seen by Tim Jones.

Pallas's Warbler, Holme NOA, Norfolk (Photo: Stuart Elsom)
Red-breasted Flycatchers were recorded on three patches with a further three patches recording Great Grey Shrike. Tim Jones added his fourth Lanius of the year at Spurn with a smart Isabelline Shrike. Three patchers added Rose-coloured Starling but two of those were on Portland in what proved to be the best of a trying month in Dorset. An appropriately wintry feel for the final scarcity of October with portents of what may be to follow was a Lapland Bunting in Lowestoft for James Brown.
And so to the Top 20s, and the scores make last year pale into the background. Tim Jones is leading the points table by an enormous margin of 46 points. His score is all the more remarkable when you consider that Martin Garner and Peter Donnelly who are in joint second have already beaten Moss Taylor's winning score from 2013. Not far away is John Bowler on Tiree and he will be seeking a podium finish after a remarkable year in the Hebrides.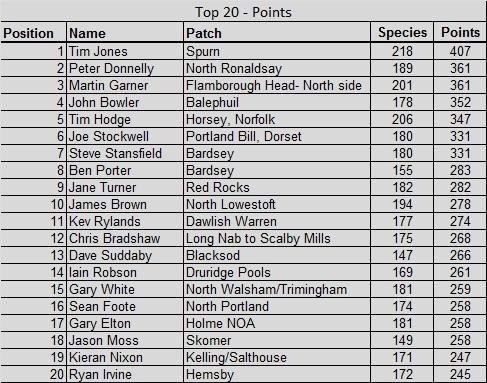 Adam Faiers and Steve Swinney of Sandwich Bay and Linford duke it out for the highest competitive score of 2014 with just over 2% between them; one decent find and it could all switch round. The whole of the Top 20 are spread over 105% and it bears testimony to the competitors with such high scoring. We are hoping that next year this will be the main element to the competition.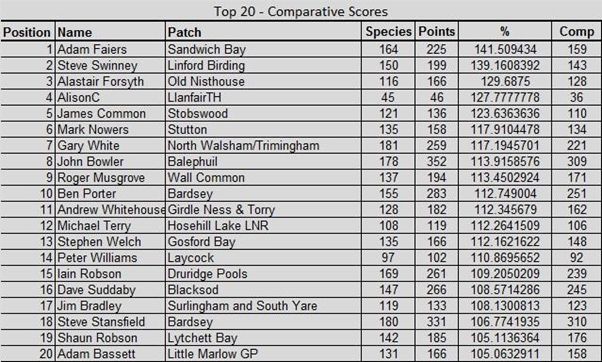 With the Cameron Bespolka bird race coming up this weekend, Tim Jones leads the Next Generation Birders league for the Cameron Bespolka prize by a whopping 76 points. Joe's poor October on Portland and Ben Porter's leave of absence on Bardsey meant that there was no meaningful competition from his rivals. The top three are practically untouchable but Jack Bucknall seems to have made fourth his own at St Mary's Island.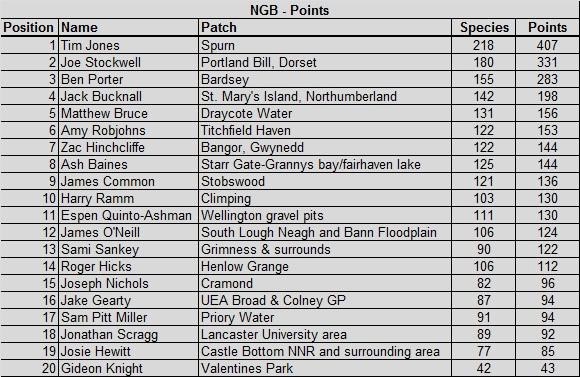 Tim is unsurprisingly top of the species mini-league as well with the huge diversity at Spurn really helping his effort of 218 species. Tim Hodge at Horsey is clear in second on 206 with Martin Garner at Flamborough the final competitor to break the double ton.
For those guys making their bow this year (and for plenty of big scorers it was their debut PWC season), the non-comparative Top 20 shows how they are faring. Tim Jones tops his fourth minileague as five of the '300 club' line up at the top here. 200 points is the benchmark for making this table and Ian Cowgill at Lound scrapes in under heavy pressure.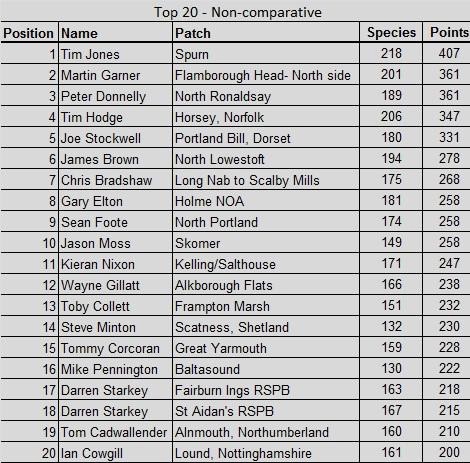 Wayne Gillatt tops the Inland Top 20 with Jamie Wells, Darren Starkey (twice) and Ben Lewis all bunched within 5 points of each other. Further down and the war of the roses is being won by the Lancastrians at present with some heavy Twitter artillery trumpeting Bill Aspin and Andy Bunting's lead over Jonny Holliday and others. A few dodgy floaters in November and December could see a turnaround in this mini-league with 12 points on offer for a self-found Lesser Scaup.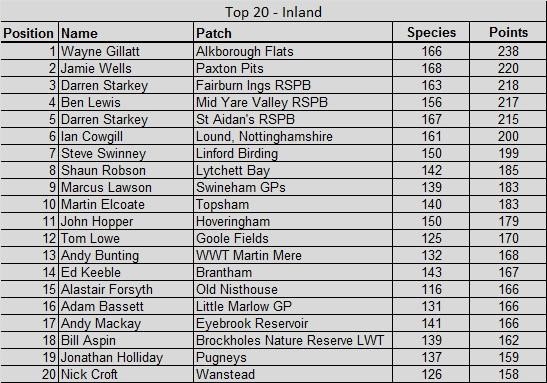 The points-per-bird table is an indicator of quality over quantity and as such is usually a preserve of the islands. John Bowler approaches the 1.98 mark set last year by Rob Fray. Is the elusive 2-point barrier coming down in the next couple of months? Not far back is Peter Donnelly on 1.91 but it seems a huge margin over the course of 180 species. Tim Jones and Joe Stockwell have remarkable mainland scores in the mid 1.8s with the Bardsey boys and Dave Suddaby tucked in behind.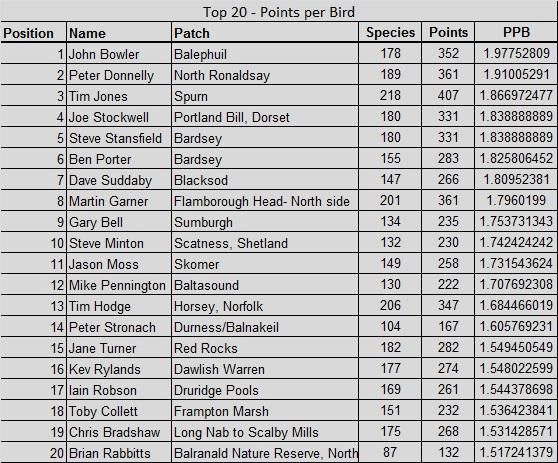 Steve Stansfield, Ben Porter and our own Ryan Irvine head up the green league with comfortable gaps all round. Can Steve Minton bridge the gap over the last two months?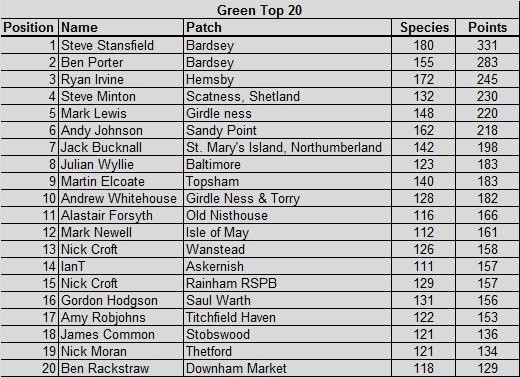 Zac Hinchcliffe at Bangor has the BirdTrack lists competition wrapped up with 714, more than double his nearest rival, Andy Bunting. He appears slightly less invincible in the records minileague with a lead of just over 100 records from Tim Hodge and we know Zac is 'off patch' for the remainder so perhaps the biggest competition will come from Andy Bunting or Nick Moran?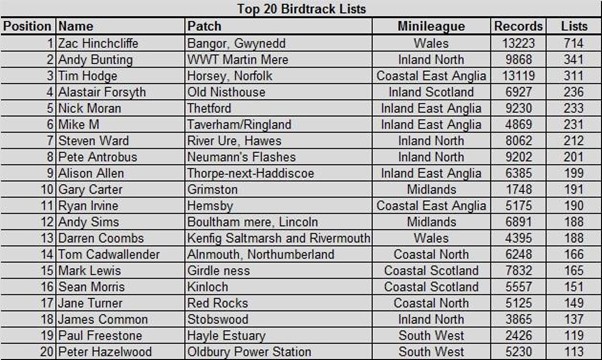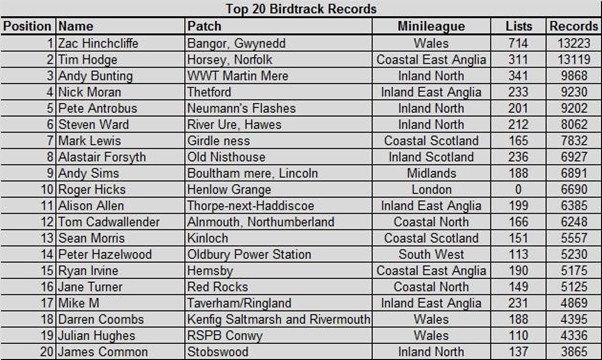 Finally we want to say a big thanks and goodbye to one of the founding duo, Mark Lewis. Mark is leaving the Patchwork Challenge fold and we salute him for his effort and input over the past two years.