Migrants both incoming and outgoing were the story of the month for Patchwork Challenge contestants in March. Newly arrived Black Redstarts, Firecrests and Garganey stirred plenty of patchers into thinking spring was on its way, while others were reminded of winter with Jack Snipe, scarce gulls and wildfowl on the move as well. There were plenty of bonus-point-scoring birds this month, the headlines claimed by Arlo Jacques and John Bowler who both found Bonaparte's Gulls, at Tramore Backstrand and Balephuil respectively. Also collecting bonus points was Tim Hodge, with a White-tailed Eagle over his Horsey patch. With wandering birds from the Eastern Scotland population and the burgeoning numbers on the near continent perhaps this will become a regular sight soon. It seems unlikely that any of March's birds will be in contention for the Forest Optics best find for 2015, but there was plenty of decent fare in what can be a quiet month.
Two patchers recorded Ross's Goose — James Common at Stobswood and Graeme Garner at Cambus — both records refer to the same individual travelling with Pink-footed Geese, which can't seem to shake the presumed escape tag, and as a result neither has claimed the points. Several patches recorded Common Scoter as they crossed the country on migration. The Blue-winged Teal was still lingering on Alastair Forsyth's Old Nisthouse patch on Orkney, and there were Surf Scoters at Little Orme and Ninch for Henry Cook and Eamonn O'Donnell respectively.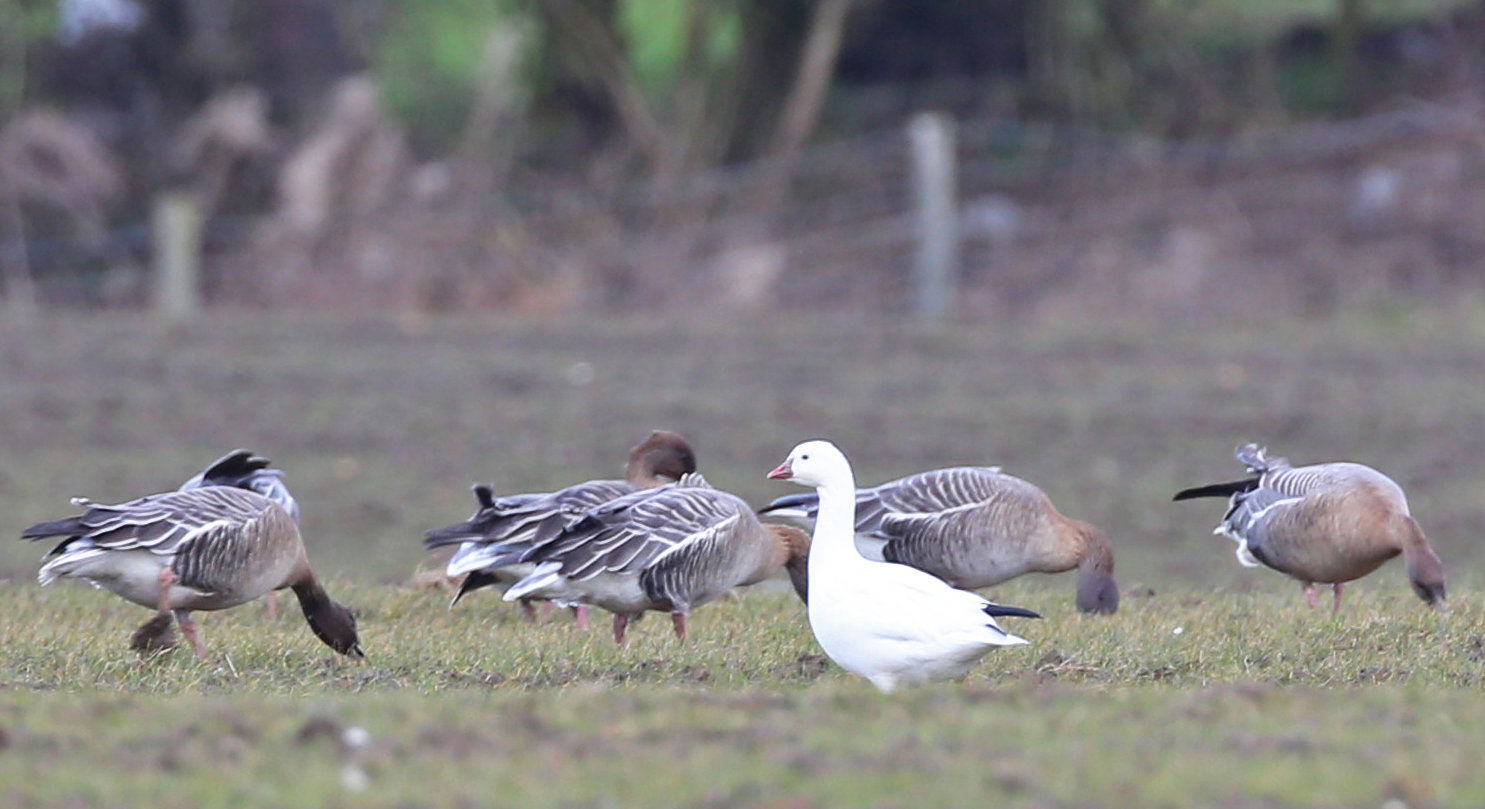 Ross's Goose, Northumberland (Photo: Joe Jobling)
A sprinkling of Great White Egrets included finds for David Ripley at Ogmore and Adam Bassett at Little Marlow, while Jake Gearty and Michael Murphy both saw the long-stayer at UEA. Up to eight Spoonbills were a regular feature for Shaun Robson at Lytchett Bay as Poole Harbour's ever-growing winter population wanders the local area. Alison Allen managed to finally add Common Crane to her patch list at Haddiscoe Marshes when five touched down.
March was the month for Ring-billed Gulls, with six patchers recording them — Ilya Maclean, Dave Suddaby, John Headon and Bryan Rains — the last-mentioned in his own garden! Both Sean Foote and Joe Stockwell managed to twitch a patch Bonaparte's Gull at Ferrybridge, although Joe needed assistance in getting there courtesy of his girlfriend after a particularly heavy night out. Numerous patches recorded Glaucous and Iceland Gulls — Tim Murphy at Killough deserves a special mention for a glut of white-wingers including both of the aforementioned plus Kumlien's and 'Viking' gulls.
Aside from the larids there was a Pomarine Skua for Damian Money at Saltburn, and a Red-necked Grebe for Lee Fuller at Needs Ore. Things were quiet on the passerine front aside from plenty of Chiffchaffs. A Common Redpoll was at Thetford for Nick Moran, and Ilya Maclean found a singing Siberian Chiffchaff at Loe Pool. Stewart Sexton at Howick managed both Twite and Waxwing.
One of the central facets of Patchwork Challenge is the ability to compare patches and performance year on year and this is where the comparative scores come in. Still heading it up, after working out that his Adel Dam patch really isn't so bad, is Keith Dickinson on 92.7%. Keith's local rival from across Leeds, in another suburban patch, is Nick Tonge, who sits in second on 90.1% at Rodley NR. Third place goes to Nick Robinson who is showing the upstarts how to patch UEA, with an 89.8% score already. Incredibly considering that migration is barely underway the top eight patches are all over the 80% barrier. Will 100% fall in April?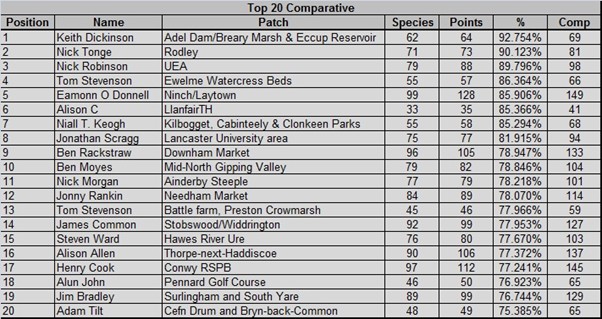 John Bowler, back from Madeira, splits the leading two of the Frampton/Freiston patchers. John Badley holds on to first place with a three-point lead in a great debut to the competition, while Anthony Bentley completes the top three. There are plenty of familiar names in the Top 20 now, as established sites start to accumulate points.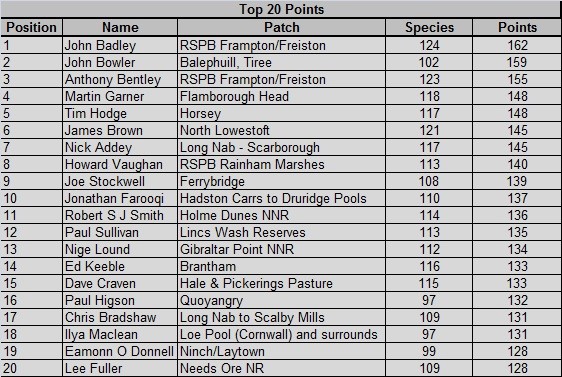 Darren Starkey continues to lead the Inland Top 20 with 124 points.
Content continues after advertisements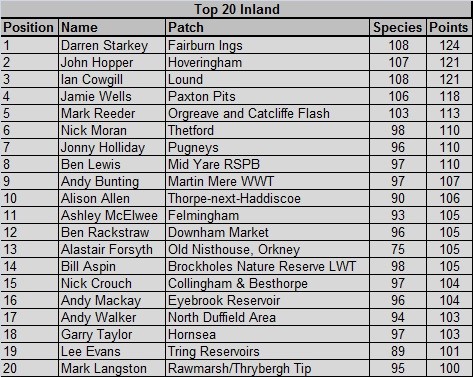 James Common is the most prolific BirdTracker thus far with 166 complete lists from visits to Stobswood and Widdrington Moor. In second place on 152 lists is Alastair Flannagan at Swansea Vale. The top two are way ahead of the pack but on 114 lists — still a phenomenal effort — is David Franklin at Norton Common who is keeping BirdTrack's own Nick Moran out of the top three.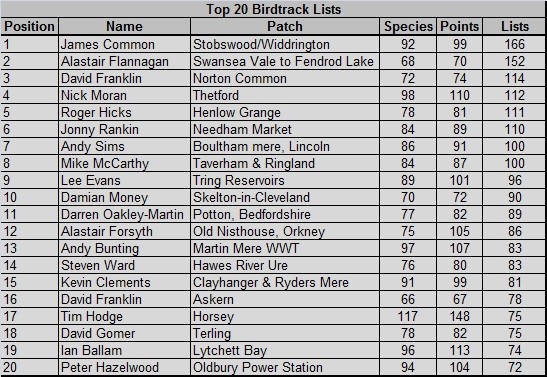 The Points-per-bird Top 20 shows who is finding the quality, and John Bowler is clocking 1.56 points per species found. Not far behind on 1.5 is Arlo Jacques at Tramore Backstrand, both benefitting from their self-found Bonaparte's Gulls this month. Rob Hall is in third place clocking up 1.43 PPB, which for a mainland site in March is impressive going.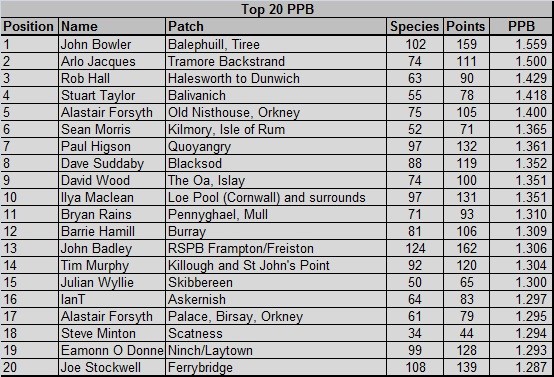 As opposed to the PPB table, which shows where the quality is, the Top 20 species shows where the quantity is — and it's no surprise to see East Anglia dominating, with 124 species for John Badley and Anthony Bentley just one behind. In third place is James Brown in North Lowestoft, who has already notched 121 species.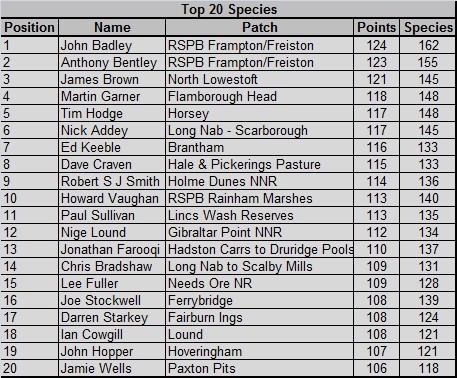 It's rumoured that to qualify for the Top 20 Green league Anthony Bentley is sleeping in the hides at Frampton. If this is the case then it's certainly working, as he tops the Green mini-league by 21 points from Nige Lound at Gibraltar Point. Andy Johnson is in third and is bouncing back from a slow 2014 after his astounding 2013.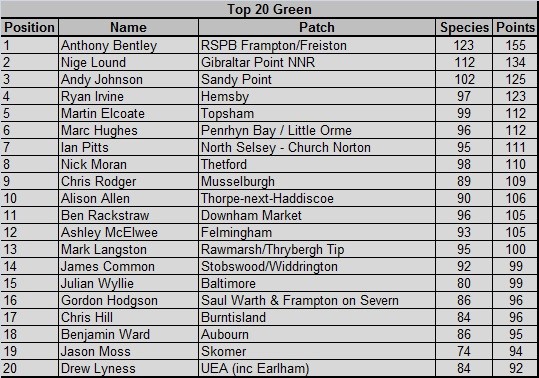 Anthony leads the NGB table as well, but with two patches at the north end of Portland and various other hotspots he will have to fight hard to hold on. Joe Stockwell has taken the shift in patch well and is in second at Ferrybridge, while Jonathan Farooqi is accruing lots of points in Druridge Bay.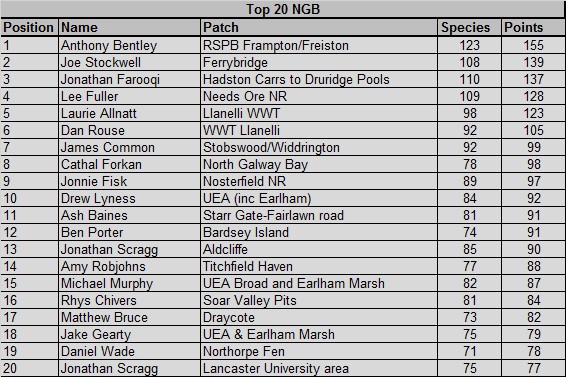 So that's it for March. As we go to press we think one of the biggest birds in Patchwork Challenge history has just been found and with plenty of migrants now returned we look forward to hearing about what April has brought to the patches.