June can be a confusing month for the patch-worker. The first week offers the opportunity of real quality for those on the coast, with Marsh Warblers and Golden Orioles among the much sought-after drift migrants, and it always feels like the real mega is about to land on someone's patch. By the close of the month return wader passage is under way and the 'autumn' begins. This has been perhaps the most successful June ever in PWC terms, as a host of good birds graced patches the length and breadth of Britain and Ireland. The headline find this month was Alex Jones' Broad-billed Sandpiper at Rhyl. Annual but rare anywhere, it's a great patch bird and one for Alex to savour as he throws his hat into the ring for the Forest Optics best find competition. Also scoring highly were a brace of Caspian Terns (or perhaps the same one going for a wander) as Tommy Corcoran and Nige Lound found these carrot-nosed giants at Breydon Water and Middlemarsh Farm respectively.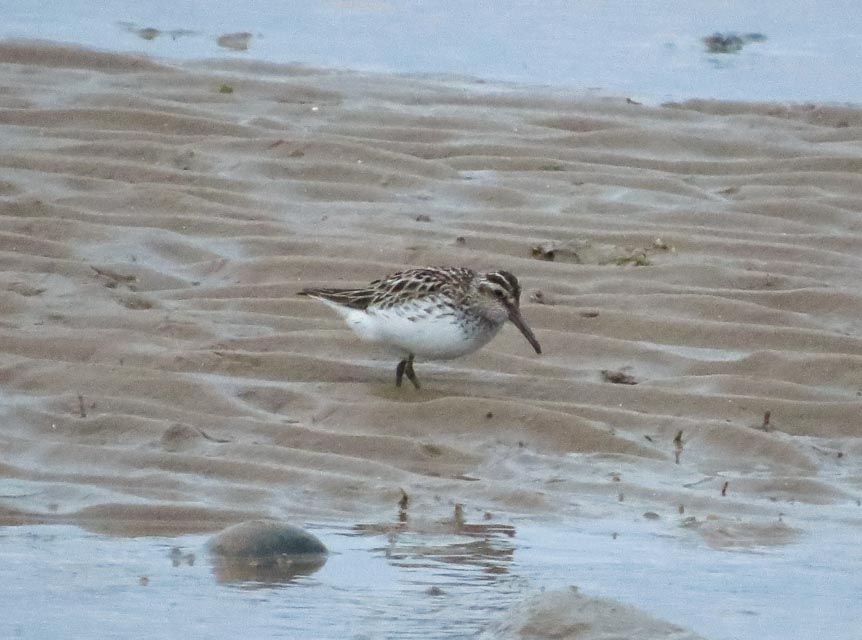 Broad-billed Sandpiper, Kinmel Bay, Conwy (Photo: Stephanie Leese)
Other bonus points scorers this month included two American Golden Plovers at Tacumshin and Kilnsea for Noel Keogh and Mick Turton respectively, a King Eider at Musselburgh for Chris Rodger and a White-billed Diver floating around off Brevig, Barra, for Bruce Taylor. Aside from the finds, the birds kept coming as Titchwell hosted the Great Knot and Paul Eele was able to connect — as was Irene Boston on her adjacent Brancaster patch. There were Gull-billed Terns in Scotland and Wales for Stephen Welch and David Carrington respectively, while Justin Zantboer gets a special mention for his haul of Little Bittern, Marsh Warbler, Montagu's Harrier, Whiskered Tern and Kentish Plover on his Suffolk patch!


Great Knot, Gore Point, Norfolk (Photo: John Richardson)
In the comparative mini-league Adam Nicholls continues to lead the way on 124 per cent despite no additions this month. It was equally quiet for David Franklin in second place. Amy Robjohns continues to outdo herself and is now in third place on 120 per cent, keeping it tight at the top thanks to her addition of Green Sandpiper and Great and Arctic Skuas.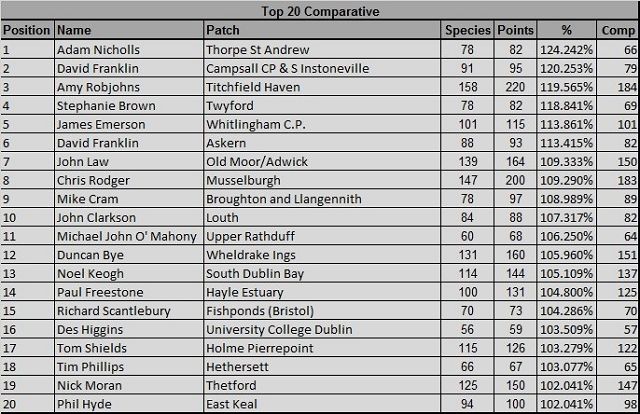 Top spot has a familiar feel to it in the points mini-league, with Mick Turton on 189 species (268 points) including this month's Red-footed Falcon, Night Heron, Golden Oriole and the aforementioned American Goldie. Tim Jones finally drops a score and goes straight into second spot and with a Spoonbill at Spurn in June he has already accrued 254 points. James Brown at North Lowestoft is hot on Tim's heels in third place as he breaks the 250-point barrier thanks to Marsh Warbler, Bluethroat and Blue-winged Teal this time out.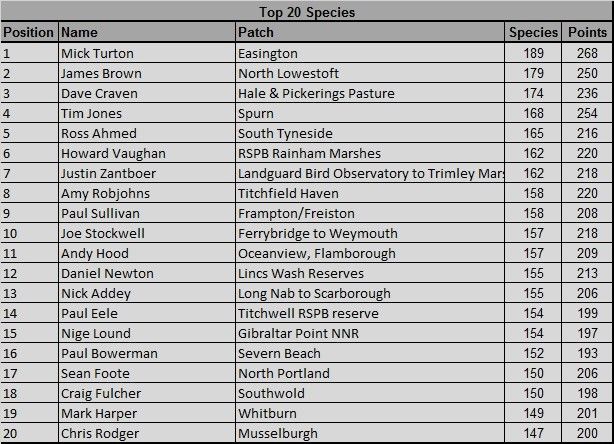 June is generally a quieter month away from the coasts but at the top of the table there are some enormous scores being compiled. Steve Nuttall is currently the leading inland patcher and a brace of points for Avocet sees him reach 181 points. The two-pronged attack from Rutland sees Rod Baker lie in second place and Erik Ansell in third with just a point separating them on 177 and 176 respectively. Rod added Little Tern this month with two at the reservoir; Erik drew a blank.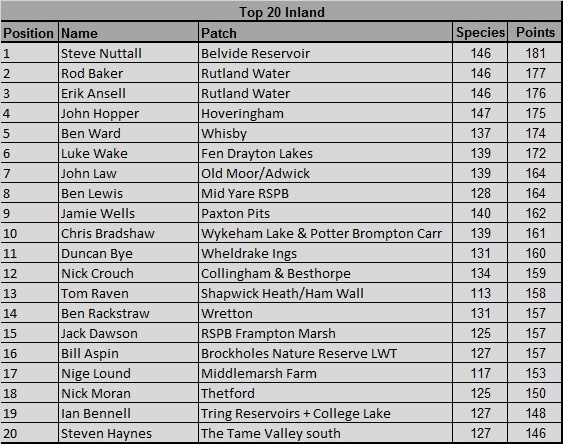 It has been a year of quality on Bardsey and Steve Stansfield's points-per-bird (PPB) score of 1.62 reflects this as he is well clear at the top of the PPB table — although June hasn't proved so profitable with nothing new added to his score. In second place is Steve Minton at Scatness on 1.56 but, again, he didn't add anything noteworthy in June. It was a rather better month on Barra as Bruce Taylor enters the top three thanks to finding both White-billed Diver and Long-tailed Skua.
Content continues after advertisements
While diversity doesn't necessarily equate to points you can't go far wrong if you tally 189 species — and that's exactly what Mick Turton has done at Easington. He leads James Brown by 10 species while Dave Craven at Hale and Pickering Pastures rounds off the top three on 174; Green-winged Teal was new for him this month.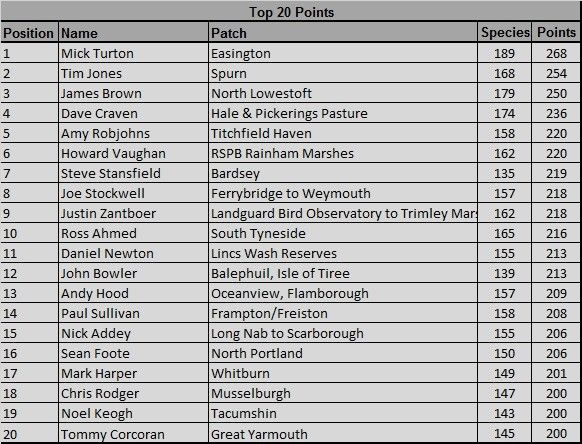 Tim Jones' first update sees him straight in at the top of the Under–25 league as he surpasses previous leaders Amy Robjohns and Joe Stockwell respectively. Tim is out in front on 254 points, 34 ahead of Amy, while Joe is a further two points back on 218.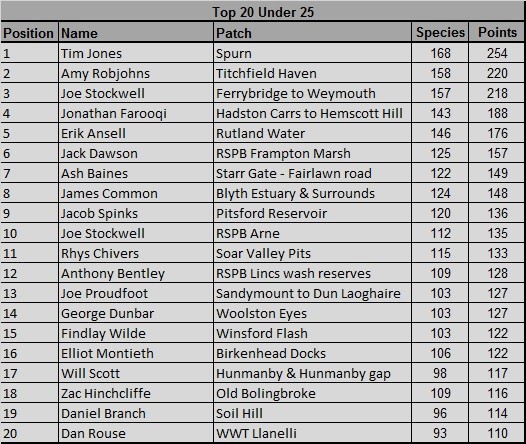 If foot and pedal power is your thing then the Green league is where it's at and this month sees Steve Stansfield remain top of the table at Bardsey on 219 points. Andy Hood, who patches Flamborough, is in second on 209 points with Mark Harper of Whitburn in third place on 201 points thanks to a Black Guillemot and patch-tick Willow Tit.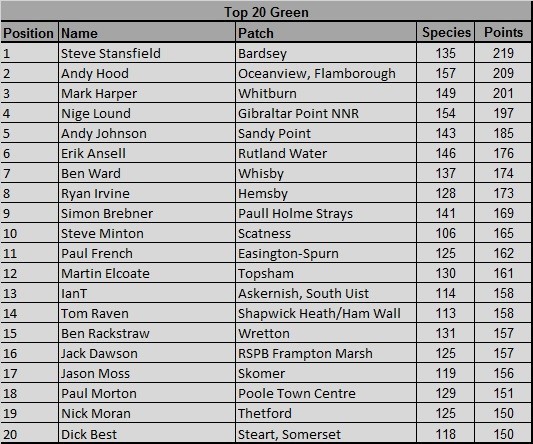 Ceri Jones is managing a staggering 110 BirdTrack complete lists per month at Cosmeston and leads the table by a country mile with 651 lists in total. All his efforts have been rewarded with half-a-dozen Common Scoters and his first patch Redshank for two years. Alastair Flannagan is in second place at Swansea Vale to Fendrod Lake (389 complete lists) with Gary Carter of Grimston and Shoby in third (332 lists).