As spring passage trails off and the height of the breeding season takes hold, the month of June can go either way in the world of patch birding. If you're lucky, a late migrant might result in an air-punching #patchgold moment but if you're not then it can instigate a long wait for autumn to roll around — as in the case of one hard-working patch birder whose best find of the month was "a pound in the car park"!
Hot and hazy summer days are prime for drift migrants, and often big or colourful ones at that. A Montagu's Harrier at Gibraltar Point and overhead Honey Buzzards at Wykeham and Mid-North Gipping Valley were typical in their occurrence, while a Black Kite over Wanstead was an excellent London find for Nick Croft. A Red-footed Falcon at Hemsby was the raptor highlight of the month for PWC's own Ryan Irvine, following on from his Rough-legged Buzzard in May. Reports of Hobby increased through the month, cropping up as year ticks on many patches. Following in the same vein as rare raptors, a Black Stork showed up on St Mary's, a Purple Heron at Kenfig, a Common Crane at Brantham and a Night Heron at Sutton Bingham Reservoir, the latter a first patch record for Tim Farr. Quail began to make themselves known, their song a resonating sound of the summer for many. Perhaps the one of most dramatic heralds of sunshine, European Bee-eater, undoubtedly brightened up days at both Easington and North Walsham/Trimingham.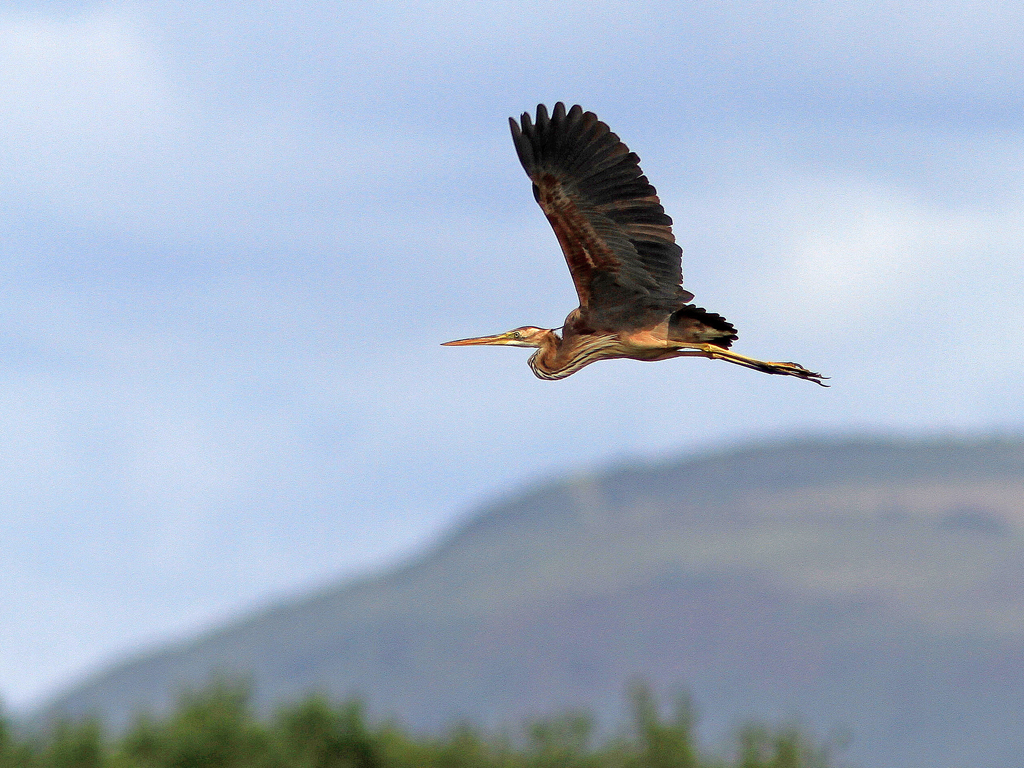 Purple Heron, Kenfig NNR, Glamorgan (Photo: Cliff Woodhead)
Wildfowl still get a shout in even at this stage of the year: a drake American Wigeon in Yorkshire ended up on the scoresheets at Hornsea and Spurn (a first at the latter site), while a drake Surf Scoter was seen in the company of Common Scoter heading north past Long Nab. For those getting their eye in for the upcoming seawatching season, Balearic Shearwater, European Storm-petrel, Roseate Tern and Pomarine Skua all made the effort worthwhile.
Rare waders continue to make headlines in the world of PWC, with a fantastic double bill of Hudsonian Whimbrel and Terek Sandpiper on show at Church Norton along with a very fine Pacific Golden Plover at Great Yarmouth and a Broad-billed Sandpiper at Frampton Marsh/Freiston Shore — all of this before autumn! Red-necked Phalarope proved popular, reported from a total of five patches, while Green Sandpipers started appearing along with some Wood Sandpipers and breeding-plumage Little Stints.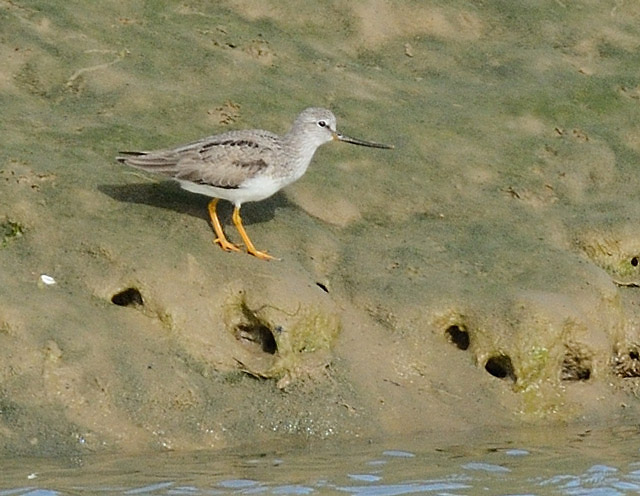 Terek Sandpiper, Pagham Harbour LNR, West Sussex (Photo: Ian Curran)
Wandering terns come to the fore from June onward, and Alastair Forsyth got in on the action with a great find of Gull-billed Tern at Birsay, Orkney. While nowhere near as rare on a national level, a Sandwich Tern was a most excellent patch tick for Dave Craven at Hale and Pickerings Pasture: the first record at that site for well over 20 years. Similarly, a Little Tern at Long Nab was a long-awaited addition to Chris Bradshaw's patch lifelist.
It seems that every month in the year has the ability to produce rare gulls on a patch and June delivered a couple of crackers: Spurn's first record of Laughing Gull, a great find by Mick Turton at Beacon Ponds, and a very fine adult Sabine's Gull at Balephuil, Tiree, for John Bowler. Elsewhere, the mid-summer arrival of Yellow-legged Gulls begun in earnest, with several patch birders reporting them.
The tail end of the spring migration period produced some passerine goodies, with reported highlights and best finds very much of the continental flavour, typical for the time of year. Baltasound was graced by a suite of Red-backed Shrike, Great Reed Warbler, Icterine Warbler and Marsh Warbler, Skomer hosted Greenish Warbler and Common Rosefinch, and a couple of rosefinches and a Nightingale were on the Isle of May. Further Common Rosefinches occurred at Whitburn and Burray. Post-breeding dispersal of Common Crossbills got underway and they were picked up by many patch birders, including Pete Antrobus at Neumann's Flashes, where the species was a patch tick for him.
Most patch birders kept chipping away in June, with small numbers of new species added but enough to keep the momentum. This is highlighted by the fact that all but one member of the comparative league top 20 are now sporting a score of 100% or more, a fantastic achievement by the end of halftime! A Cuckoo for Alison C at LlanfairTH was the first at that site for a number of years, consolidating her hold on first place by a fair margin. A well-deserved Honey Buzzard helps Ben Moyes take second, while seven new species added by Nick Tongue at Rodley allows him to jump from thirteenth to fourth place — the importance of comparative scoring at play here.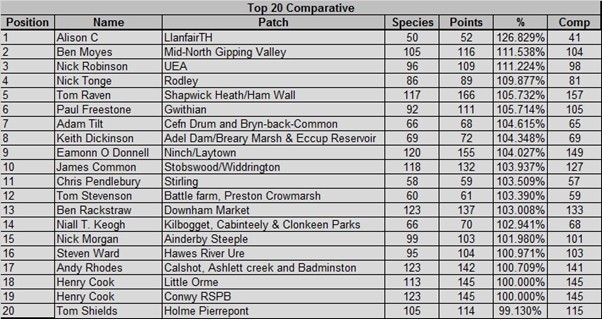 John Bowler had a productive month on Tiree, with several scarce migrants and Sabine's Gull adding some extra points (although the fourth island record of Treecreeper was perhaps a more significant patch bird). However, this wasn't enough to keep Mick Turton from charging ahead past 250 points and into first place in the points league table, thanks to an excellent finds double of Bee-eater and Laughing Gull at Easington. Similarly, the Broad-billed Sandpiper at Frampton/Freiston allowed Paul Sullivan to shoot up from seventh to third. But the rankings are by no means set; with autumn just around the corner, we're likely to see a lot more repositioning before the year is out.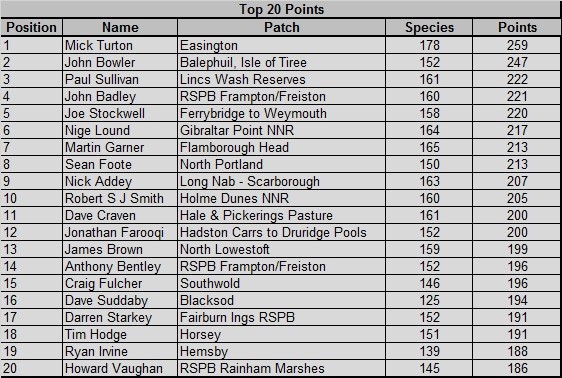 Content continues after advertisements
There were only slight increases in the totals for many in the species league top 20 come the end of June, with little in the way of dramatic change in the rankings. Mick Turton's fantastic run at Easington sees him clear ahead in first place with 178 species and, being positioned on the east coast, he has a good chance of breaking 200 species by the end of the year. A respectable total of sixteen contestants now stand at 150 species or more.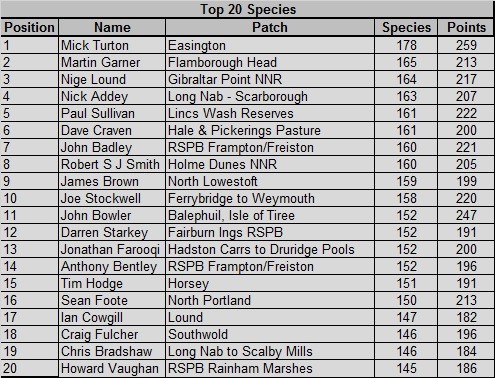 Points make prizes, but finding rare species make the points! The rankings in the points-per-bird league table can change dramatically from month to month depending on the good fortune of some patch birders. We see a few names crop up this month: Mike Pennington now in third thanks to a Red-backed Shrike and Marsh Warbler at Baltasound, Mick Turton now in sixth with his aforementioned Bee-eater and Laughing Gull, and Alastair Forsyth now in ninth at Birsay thanks to a Gull-billed Tern. Yet it is John Bowler on Tiree who consistently occupies first place, with a points-per-bird score now over 1.6!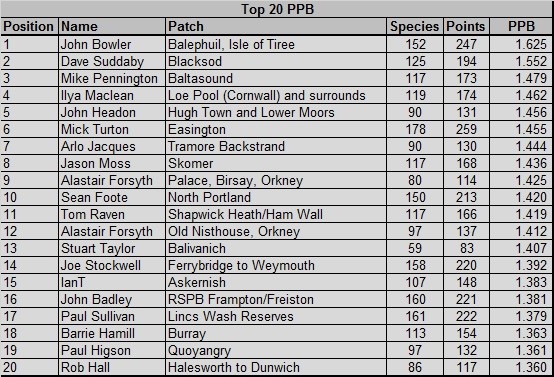 Mid-summer is perhaps not the most exciting time for inland patch birders yet a few good birds were still to be had, including a Red-necked Phalarope at Martin Mere WWT that allowed Andy Bunting to rise to third place from fifth. Darren Starkey at Fairburn Ings RSPB still remains in first, however, now over the 190-point mark. American Wigeon and Red Kite were good birds for Garry Taylor at Hornsea, where he jumped from thirteenth to eighth.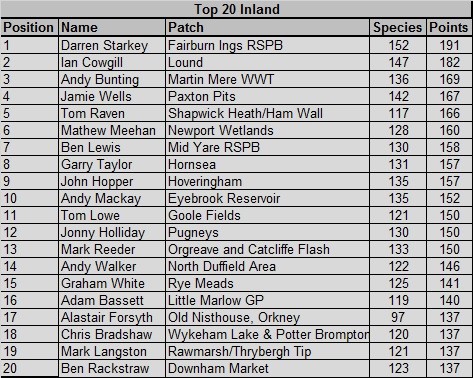 It was seemingly a very quiet month for the Next Generation Birders, with very little change on the league table at all save for Cathal Forkan who moves dramatically from fourteenth to eight at North Galway Bay, where some productive seawatching added Balearic Shearwater, European Storm-petrel, Little Tern and Little Gull to his patch list.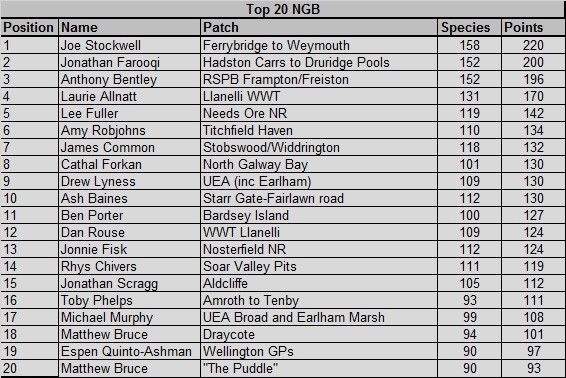 "The first 6 months of #PWC2015 have seen over 250k records and almost 8,100 complete lists entered into BirdTrack" —  perhaps one of the most significant tweets from the Patchwork Challenge account so far this year, reflecting a truly superb recording effort made by contestants to date. Top of the BirdTrack lists league is David Franklin at Norton Common with a mighty 266 complete lists entered by the end of June. More power to the patch BirdTrack recorders!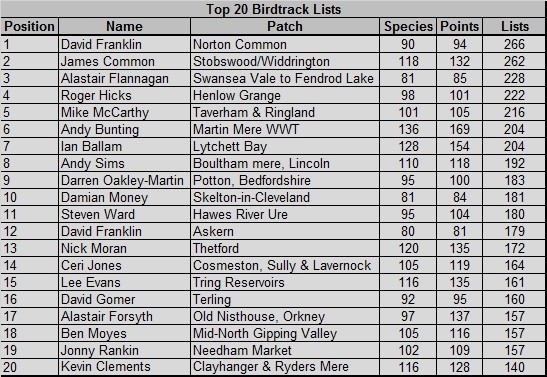 Our non-motorised patch birders continue to fly the green flag; Nige Lound at Gibraltar Point NNR continues to do very well, a Montagu's Harrier helping him to keep up the momentum and get well past 160 species and 215 points. Ian Pitts added a couple of superb waders to the overall green league list at Church Norton in June, where he connected with not only the well-twitched Hudsonian Whimbrel, but also the Terek Sandpiper as well!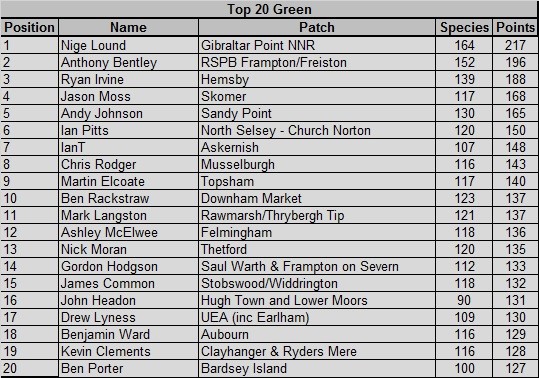 By the end of June most patch birders will now have a good handle on where they stand for the rest of the year, what their targets are and where effort is most needed. Returning waders from July onward, seawatching through August followed up by passerines on the brain up to the magic month of October and a last chance for winter specialities before the year is done. There's a long way yet to go!