The mid-summer doldrums can often be a difficult time for patch birders but thankfully there is light at the end of the tunnel as the first signs of autumn can be seen in July.
Some typical fare for the time of year, such as Great White Egret, Yellow-legged Gull, Hobby, Quail, Whinchat and Turtle Dove, featured as regularly reported highlights by PWC contestants through the month. Some lingering or wandering vagrants which spiced things up involved a King Eider at Donmouth, a Bonaparte's Gull just visible from the boundary of James Common's Blyth Estuary patch and the Dalmatian Pelican that continued its tour of West Cornwall and popped into Loe Pool.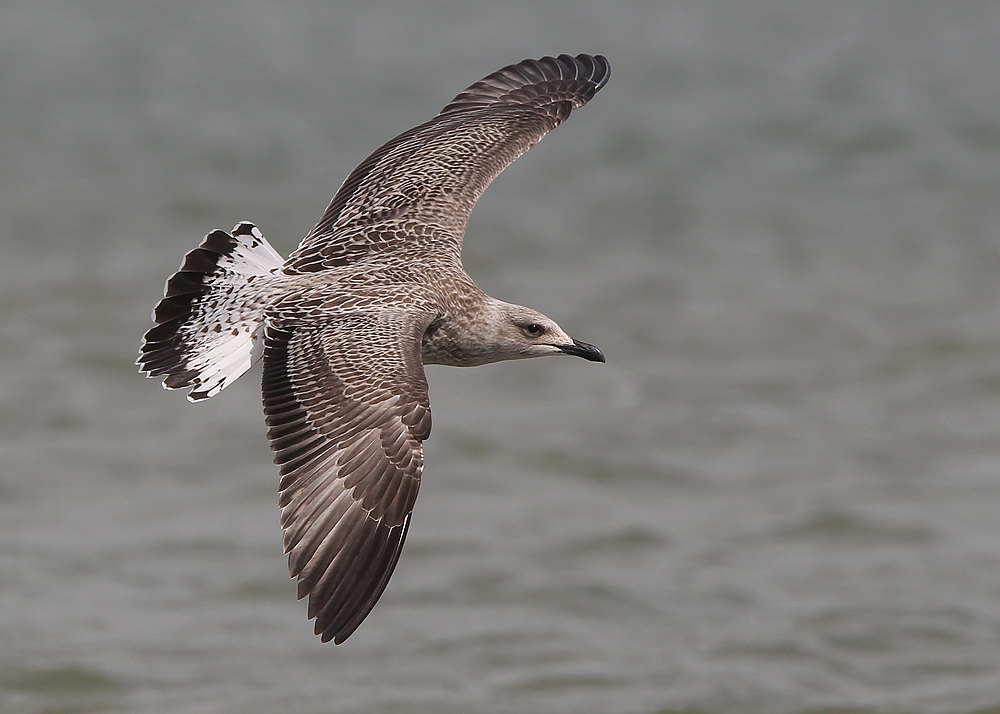 July is the best month for many PWC contestants to add Yellow-legged Gull to their lists (Photo: Richard Smith)
Terns and waders are perhaps the two groups that provide the best chance for additions to a patch list in July, with Roseate Tern, Green Sandpiper and Wood Sandpiper the most sought after or even expected species. Livening things up at Rother Valley North was a fine duo of rare terns found by Mark Reeder, namely White-winged Black and Caspian Terns.
One of the major talking points of the summer has been the phenomenal list of waders recorded at Tacumshin. Many of the species topping the bill here were one-day wonders or short stayers meaning it was impossible to catch up with them all. That being said, Noel Keogh still managed to add Western, White-rumped and Pectoral Sandpipers to his patch year list there in that time. Frampton Marsh also scored well, with Broad-billed and Pectoral Sandpipers plus a White-rumped Sandpiper that had also previously been seen at Beacon Ponds, where a Red-necked Phalarope also put in an appearance.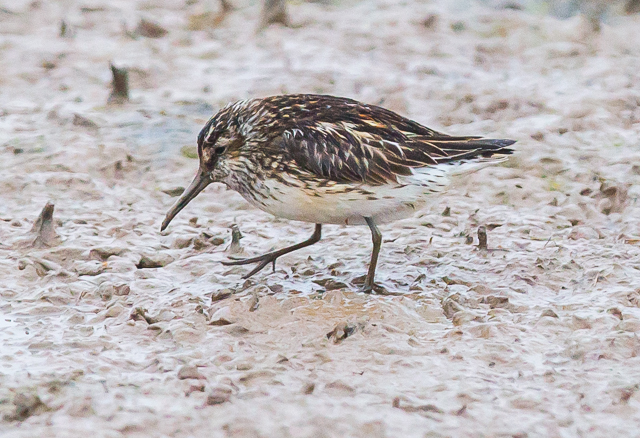 Frampton Marsh's Broad-billed Sandpiper was a highlight of July (Photo: Peter Garrity)
The #patchgold highlight of the month comes from the Isle of May, where Treecreeper was a very welcome addition to Mark Newell's patch year list. Not bad for an island with no trees!
The top 20 comparative mini-league table sees little change since June, with Adam Nicholls still leading the way from Thorpe St Andrew, now with a mighty 136 per cent thanks to three species additions including Little Egret. A total of seven patch birders have now surpassed the 110 percent mark.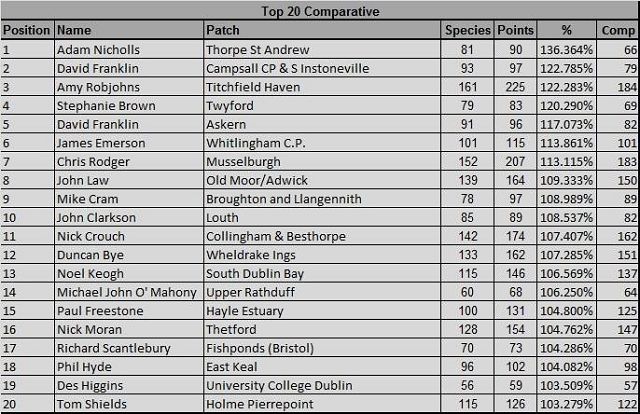 In the top 20 points mini-league, Mick Turton stays in first place with 194 species and 279 points by the end of July at Easington, with Red-necked Phalarope and White-rumped Sandpiper added. With autumn upon us, he is surely within striking distance of the 200 species and 300 points barriers. Mick currently has a comfortable lead but we see the next three contestants just a good bird or two away from changing things elsewhere in the top five. Dave Craven in particular is ticking along nicely at Hale & Pickerings Pasture.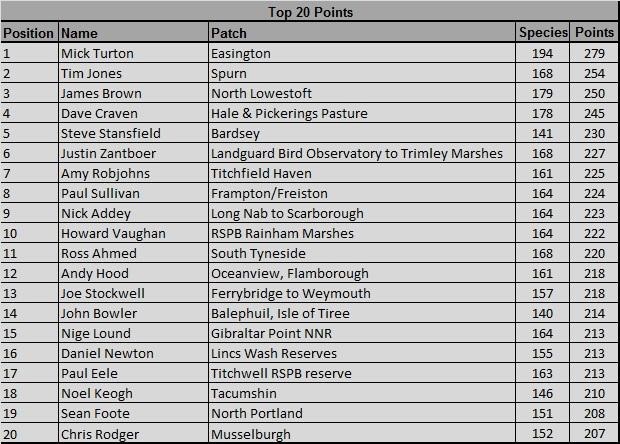 Content continues after advertisements
Islands feature well on the top 20 points per bird mini-league table. Steve Stansfield heads it up here again from Bardsey this month with the only score above 1.6 PPB, while John Bowler slips ahead of Bruce Taylor and into third place at Balephuil with a Little Grebe!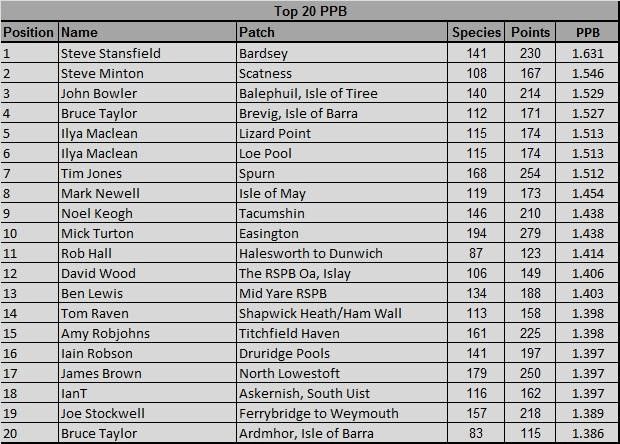 Rutland Water is back on form in the top 20 inland mini-league where Erik Ansell boasts a rather fine 154 species and 189 points with Roseate Tern, Marsh Harrier and Wood Sandpiper added in July. Ben Lewis is just a single point behind in second at Mid Yare RSPB, with 188 points and some fine sightings including European Bee-eater and Savi's Warbler in June and a flock of 11 Garganey in July. Rod Baker in third and Steve Nuttall in fourth are both poised to climb the ranks also. It's all ready to kick off here this autumn!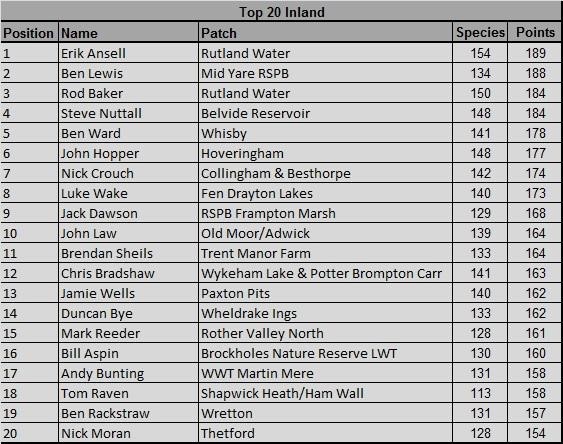 No updates from Tim Jones or Joe Stockwell but their high scores keep them in first and third place respectively for another month in the top 20 under 25s mini-league. Amy Robjohns also remains in second place at Titchfield Haven where she added #patchgold Nuthatch but also got in some bonus points for Great White Egret.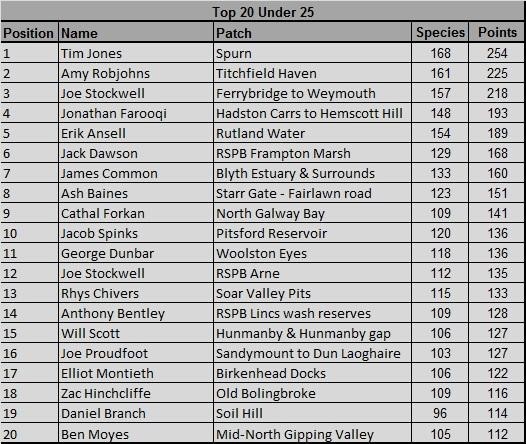 The 'green' PWC contestants have been busy adding to their scores and largely holding on to their allotted positions, yet we see some folks climbing a place or two such as Nige Lound now in third at Gibraltar Point NNR after moving well past 200 points with the highest species list on the table. Paul French jumps from eleventh to seventh place at Easington-Spurn and Andy Johnson comes straight into sixth place at Sandy Point with his first patch Coal Tit for four years during the month.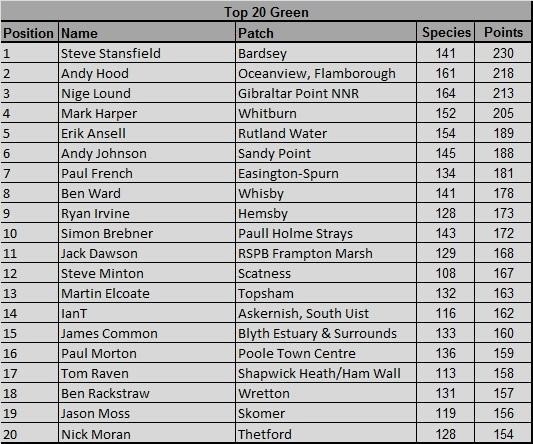 Ceri Jones has added no fewer than 226 BirdTrack lists since the last update, consolidating a first-place lead on the top 20 BirdTrack mini-league table with a mighty 877 lists (14,346 records). Ollie Thomas is knocked down a few places as we see James McCulloch, Andy Sims and Roger Hicks making ground and adding nicely to PWC's contribution to BirdTrack here.