While many birders fill the quieter summer months chasing dragonflies and moths, there are still points to be gained in July. It is a month to catch up on those summer migrants that have been missed, as well as the start of return migration as failed breeders start to move and wader numbers begin to increase. It is also a month to continue monitoring breeding birds on your patch and feeding this important information to the BTO via BirdTrack. One thing that this month's highlights tell us is to expect the unexpected and to not stop watching!
The good year for Bee-Eaters continues, with Rob Hall at Halesworth locating one of these multi-coloured gems over his garden. Phil Woollen also came across a couple of flyovers while shopping at his local retail park at Backford Cross. A fine inland record, and points while shopping show it is always worth looking up wherever you are!
The main duck of note in the month was the returning Lesser Scaup at Blagdon Lake, which was located by Nigel Milbourne. The number of patches scoring for Garganey this year continues to impress, and a Black-necked Grebe in all of its summary finery was certainly the month's highlight for Neil Burt at Conningbrook Lakes. An unseasonable Velvet Scoter gave Craig Fulcher a first-ever July record at Southwold.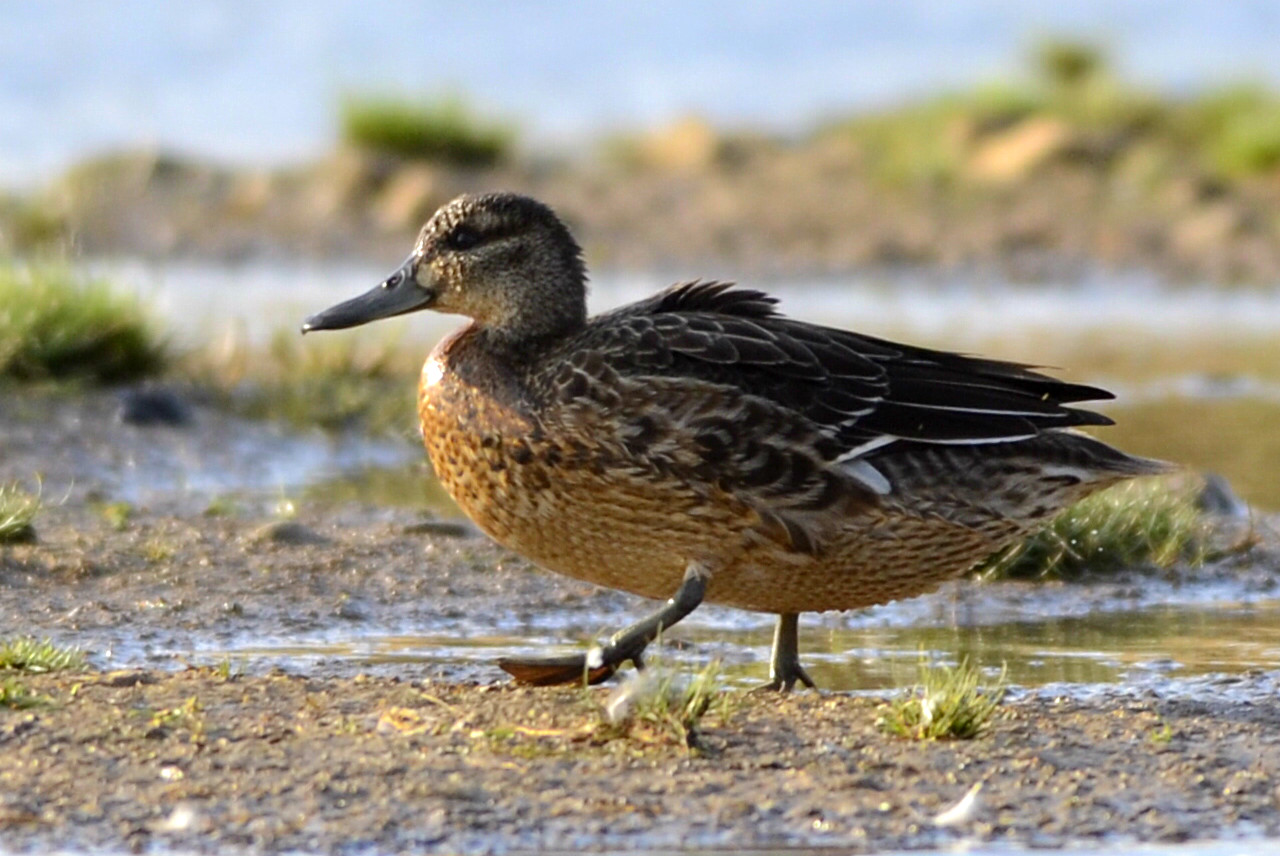 Garganey, Flamborough Head, East Yorkshire (Photo: Andy Hood)
One of the biggest changes that many patchers experience in July is the increase in gull numbers. It is a great time to try to locate the more unusual, and many added the more likely trio of Little, Mediterranean and Yellow-legged Gull this month. A Ring-billed was the rarest gull to put in an appearance, providing Jim Dickson with welcome bonus points for his Crinan Corridor patch, while gull guru Tom Lowe scored with Caspian Gull at Goole Fields. Mediterranean Gulls were not the only white-winged wonders to put in mid-summer appearances. An Iceland Gull on Orkney in the north of Scotland is perhaps a more likely record than the first-summer Glaucous Gull that certainly surprised Stewart Sexton at Howick mid-month.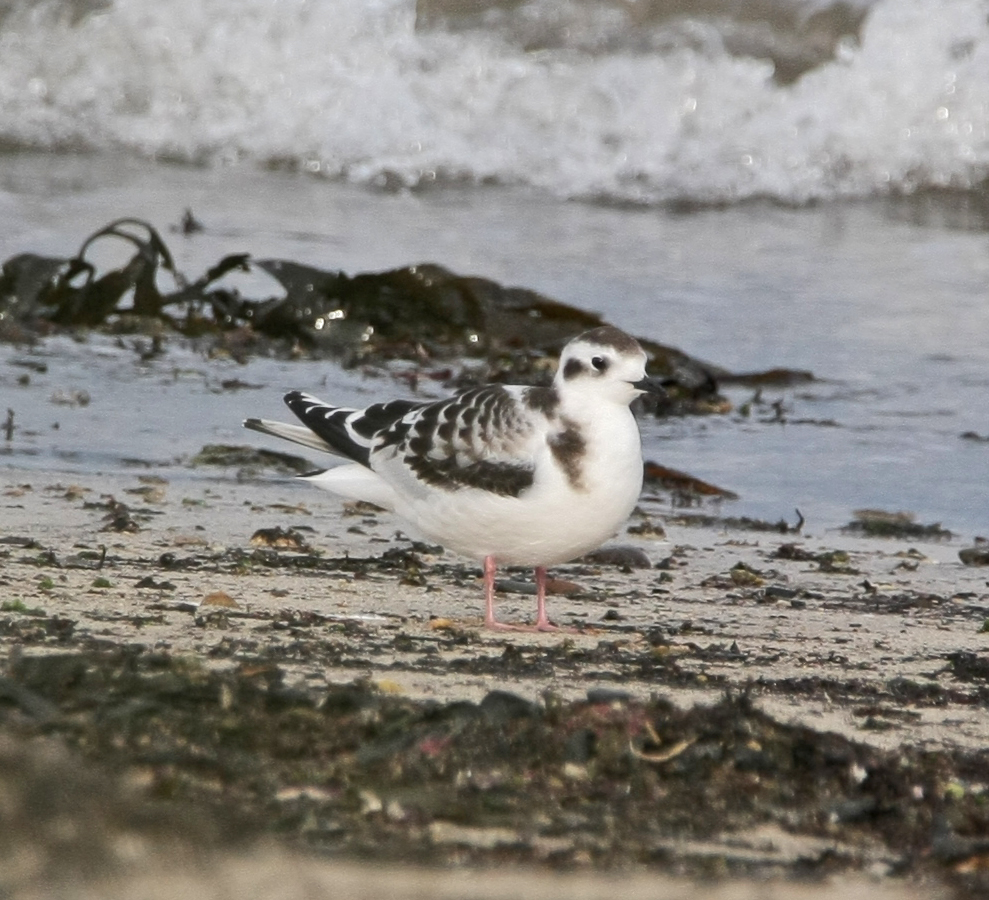 Little Gull, Skateraw, Lothian (Photo: Bruce Kerr)
The annual east-coast tern migration provided many birders with their highlights. There is no better time of year to pick up Black and Roseate Terns as well as the diminutive Little Tern, and for many they were duly ticked off. Indeed, Mick Turton's night duty at the Little Tern colony at Beacon Ponds paid off with a flyby Nightjar. A White-winged Black Tern caused some social-media excitement at Frampton Marsh: Paul Sullivan enjoyed watching this graceful stunner. It was not just terns that crossed the scopes of the dedicated seawatchers. Ilya Maclean at Loe Pool had a Cory's Shearwater, but perhaps Chris Bradshaw at Long Nab had the best month with Storm Petrel, Balearic Shearwater and a full adult streamers-and-all Long-tailed Skua, the latter enjoyed with fellow patchwork challenge competitor Nick Addey. A Sooty Shearwater at Druridge Pools for Iain Robson was an early record while a 'Pom monster Skua' was recorded at the unlikely location of Rainham Marshes, leaving Howard Vaughan ruing the fact that Poms 25 miles up the Thames don't get extra points.
Returning waders are a feature of July, and Common and Green Sandpipers are an easy add for many. Their more graceful cousin Wood Sandpiper was a highlight for a few patchers in July, preceding the influx in August. This included Tom Lowe who identified a flyover at night demonstrating great skills. Lee Evans and Ian Bennell at Tring Reservoirs both picked up points for a Pectoral Sandpiper on 25th, the only one recorded in PWC this month. Mick Turton hit the bonus points again, locating a White-rumped Sandpiper at Beacon Ponds that stayed around to be enjoyed by many appreciative observers. Meanwhile, Roger Musgrove decided to turn up late to the Red-necked Phalarope party with the only bird of the month at Wall Common, following the influx earlier in the year. The one that got away this month goes to Jamie Wells at Paxton Pits, whose Lesser Golden Plover was all too brief to clinch a certain identification, and goes down as a probable Pacific.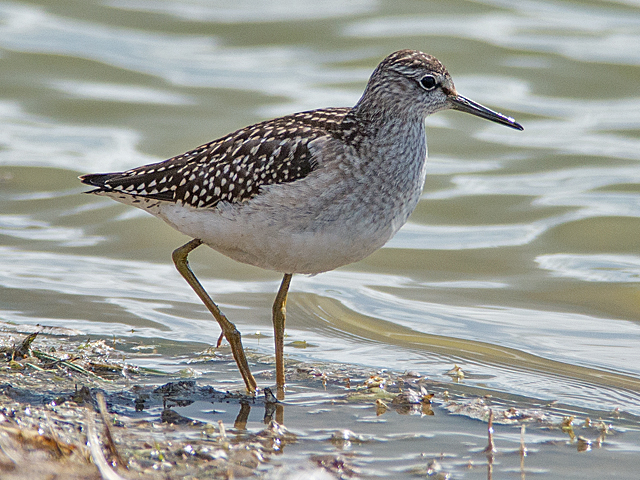 Wood Sandpiper, Frampton Marsh RSPB, Lincolnshire (Photo: Trevor Gunby)
Common Crane and Great White Egrets are becoming more regular. Chris Bradshaw at Potter Brompton Carr located two Cranes, constituting a second patch record, while Tom Cadwallender at Alnmouth had a bird fly over his head while clearing garden rubbish - quite a garden tick! Another three patchers were the latest to add Great White Egret, which is seemingly going the way of its smaller cousin in colonising the UK.
Typical of July, a small Crossbill eruption paid dividends for a few with flyover birds added at a number of locations. Two patchers added Quail, but just one recorded Red-backed Shrike, a male showing well for Mark Newell on the Isle of May at the end of the month. Marsh Warbler was the highlight for James Brown at Lowestoft and the final notable of the month was a Firecrest on Skomer, which provided an island tick for Jason Moss.
That just leaves our July #patchgold trio — birds that in a UK context would not warrant a mention, but the location of the patch makes it more than notable! In third place is a Marsh Harrier deep in the Yorkshire Dales at Hawes, a second patch record for dedicated patchworker Steven Ward. Second place goes to the Coot found on Skomer by Jason Moss. #Patchgold this month however goes to the Nuthatch found on Mull by Bryan Rains, all superb finds in their respective locations.
Comparative League
Despite no additions in the month, Alison C at the inland site of Llanfair TH retains the lead in the comparative league. Ben Moyes is the big mover in the month, with Osprey and Crossbill amongst others helping him to close the gap. Completing the top three is Nick Robinson at UEA, who added Sand Martin as he closes in on 100 species.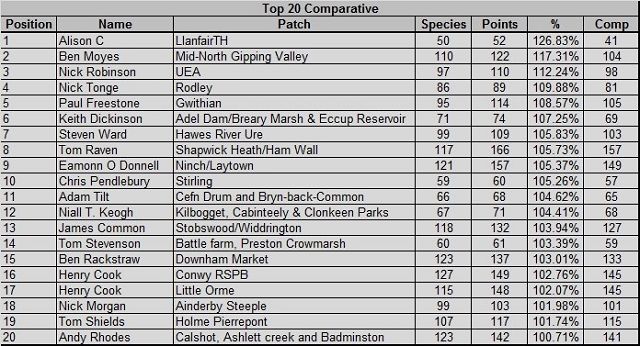 Top 20 Points
Mick Turton continues his run of finding great birds with a White-rumped Sandpiper and Nightjar this month. He opens a 23-point gap over John Bowler on Tiree, who only added Knot this month. Martin Garner keeps third place, but Nige Lound at Gibraltar Point is starting to close on the top 3 with a Quail and patch-tick Roseate Tern. The autumn months are almost upon us, and everything can change. With the podium places bunching up, it could be a very exciting finish. Every find counts!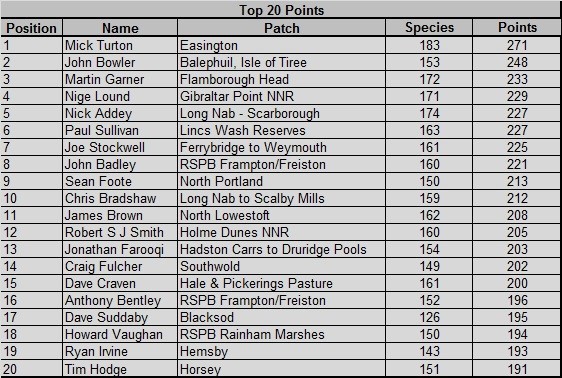 Top 20 Species
Mick Turton's excellent year continues and he now has a comfortable gap at the top. It is the podium places where the excitement lies, with just three species between 2nd and 4th. A superb full adult Long-tailed Skua helps Nick Addey take second, while the battle in the points league is recreated here with Martin Garner and Nige Lound battling it out for third.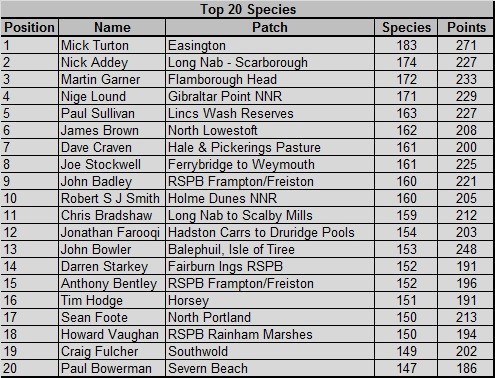 Points per Bird
Despite just adding a Knot in the month, John Bowler is still out in the lead with an impressive 1.621 points per bird. Dave Suddaby at Blacksod has turned up some wonderful birds this year, which have resulted in his second place. A Cory's Shearwater on Ilya Maclean's patch helps Loe Pool into third. This league is still wide open, with a full autumn of opportunities to add bonus pointers. All can change around with a self-found 5 pointer!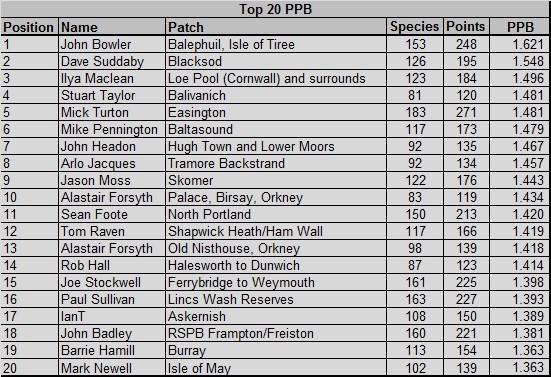 Inland
A trip to the Bird Fair in August revealed that Darren Starkey has advised his new assistant warden (who has substantial PWC experience!) that he is aiming for top spot in Patchwork Challenge, and so far he is doing a fine job indeed! There were few additions in the month in the top ten, with inland birding being tough going in mid-summer. Tom Lowe at Goole Fields breaks into the top ten, however, with Caspian Gull and Wood Sandpiper.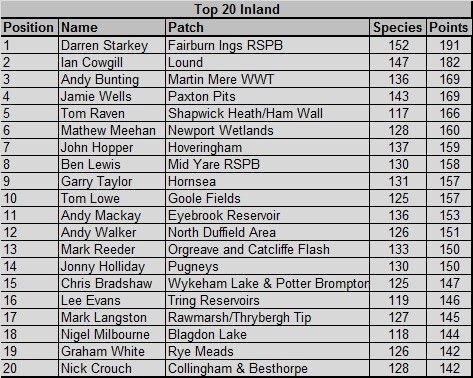 Green League
Nigel Lound continues to consolidate top spot in the Green League with Quail and Roseate and Black Terns in the month. Anthony Bentley retains second spot after an impressive start to the year, while Patchwork Challenge's own Ryan Irvine makes up the top three spots. Jason Moss scored with island-tick Firecrest as well as #patchgold Coot to retain fourth spot.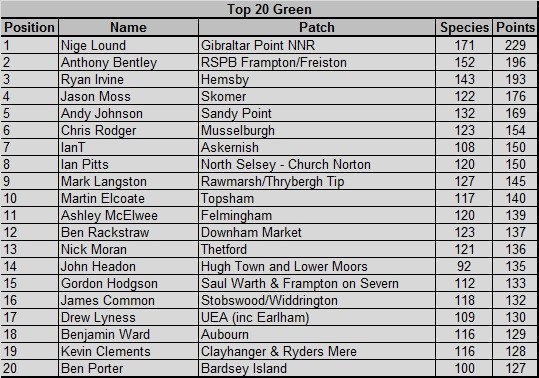 NGB League
Joe Stockwell's south-coast patch continues to lead the way, with Wood Sandpiper and Crossbill added in July. Meanwhile Jonathan Farooqi matches Joe in July, adding Roseate Tern and Whinchat on this Northumberland patch. With no additions from Frampton or Llanelli in the month, the top two extend their margin at the top. Joe will take some catching, but there are some quality patches in the NGB league that are more than capable of picking up some big autumn point scorers.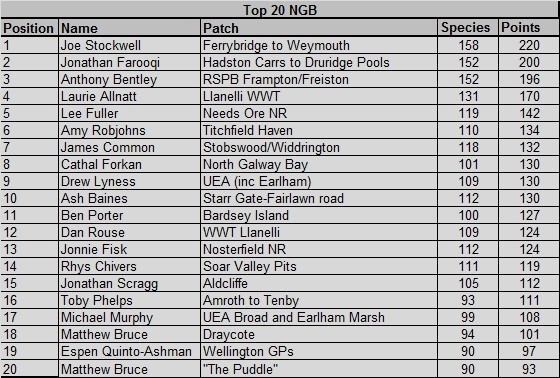 BirdTrack Lists
All of the top ten have now surpassed 200 lists after 7 months, a really impressive feat. BirdTrack can really add value to your birding and David Franklin leads the way on 266 lists. James Common is on an impressive 262 lists despite spending a lot of time recently in the Scottish highlands. It is tight at the top, however, with Alastair Flannagan making up the top three just a mere 8 lists behind. All of these patchers will be adding real value to their patch with the analysis that this level of detail will be able to provide. Honorary mention must go to Mr BirdTrack himself, Nick Moran. He is the first to pass 10,000 records on his Thetford patch, Andy Bunting at Martin Mere looks as though he will soon follow Nick into five figures.