July! Just the thought of the month can depress some birders, many seeking out other hobbies to fill what is regarded as one of the most mundane months of the birding year: moth traps are switched on, wild flowers books are dug out the bottom of the shelf, and so on.
However, this year in the Patchwork Challenge it seems that many people got into the spirit of patching and enjoyed the 'lesser' highlights that July can offer. The main theme of the highlights posted by patchers was the return of waders. Wood, Green, Curlew and Common Sandpipers were mentioned by many, as were Spotted Redshank, Greenshank, Ruff, Black-tailed Godwits, Little Ringed Plovers, Little Stint and Whimbrels. Not exactly high point scorers, but often very good patch birds for many. There were, however, several rarer waders to be found amongst the commoner fare, starting off with the rarest two of the bunch: a Great Knot at Breydon Water and Pacific Golden Plover on North Ronaldsay. Unfortunately for Tommy Corcoran and Peter Donnelly they were beaten to the find by others, but amazing birds to have on your patch nevertheless! Dave Suddaby continued his success on patch with an American Golden Plover and Toby Collett managed to find a Lesser Yellowlegs at Frampton Marsh. Definitely a month for waders.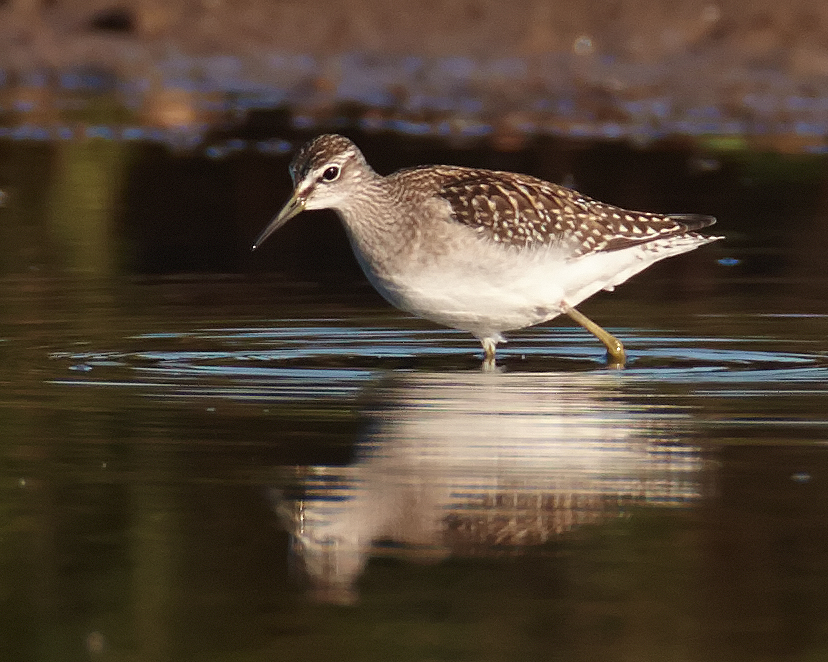 Wood Sandpiper, Pennington Marshes, Hampshire (Photo: Simon Johnson)
It was also a good month for some inland sites to bag some seaduck, with Common Scoter, Scaup and Long-tailed Duck all recorded on inland patches this month.
Gulls, skuas and terns were also well represented in the highlights, with multiple patches recording Roseate and Black Terns while the larophiles amongst us picked out several Yellow-legged, Caspian, Mediterranean and an unseasonable Glaucous Gull, and Martin Garner scored an apparent second calendar-year Baltic Gull. Will this make our final selection for the Bresser and Forest Optics best find competition?
Seawatching season has also begun on some patches and skuas were mentioned many times, the pick of the bunch probably the stunning adult Long-tailed Skua on Ted Phillips' Winterton patch that kindly rested on the beach for one evening! Storm-petrels were recorded on several patches, but the undoubted seabird of the month went to Joe Stockwell's Black-browed Albatross off Portland Bill. Joe was fortunate enough to be sitting right next to the observer who found it at the time.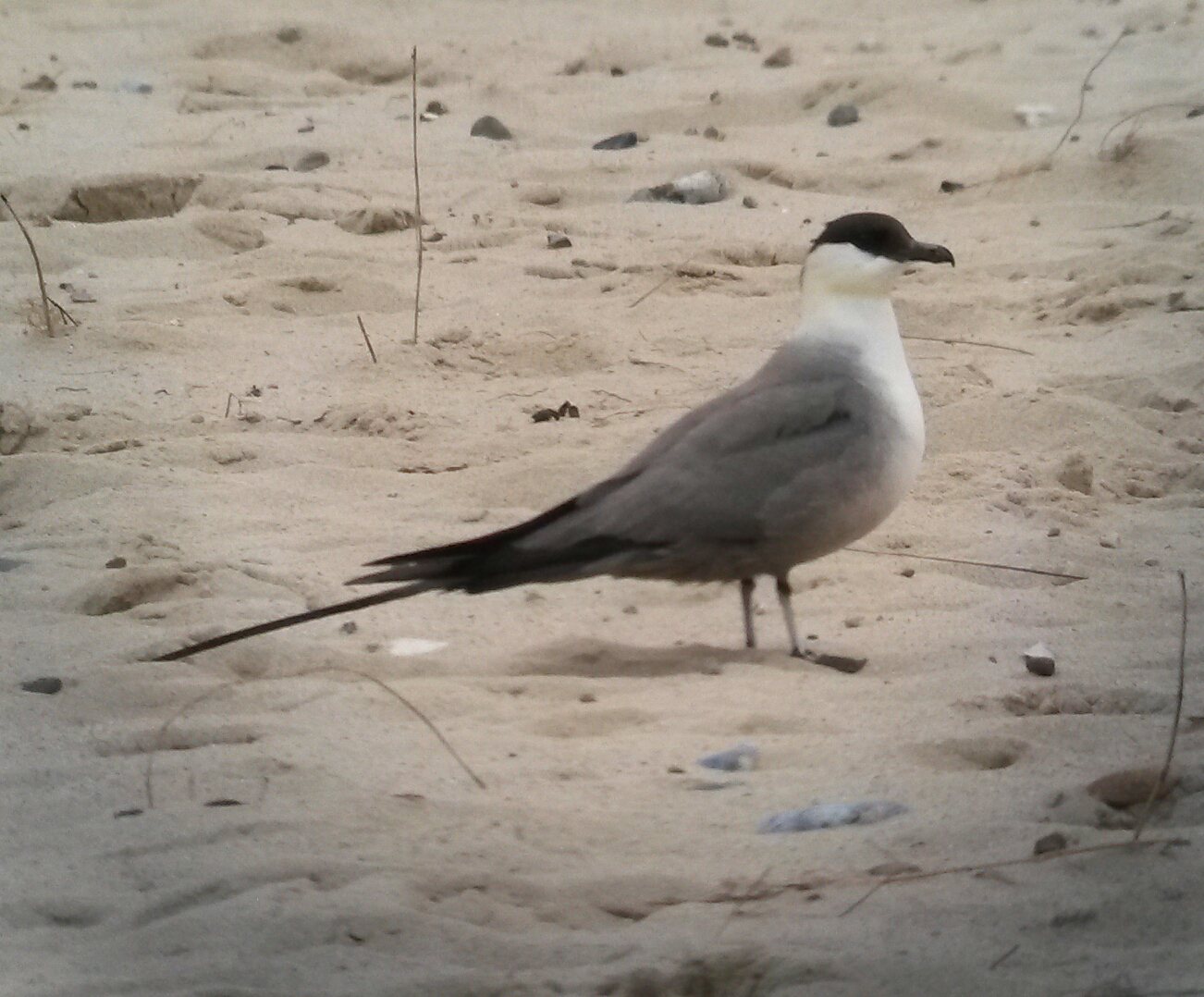 Long-tailed Skua, Winterton Dunes NNR, Norfolk (Photo: Mat shore)
The best of the rest mainly came in the form of raptors; a nice Red-footed Falcon was found on Orkney by Alastair Forsyth and Des Roberts added a Honey Buzzard to his patch list at Whitwell Quarry. Finally, I thought I had better mention at least one passerine, and the honour goes to the Aquatic Warbler found by Shaun Robson at Lytchett Bay while out ringing. Who said July was mundane!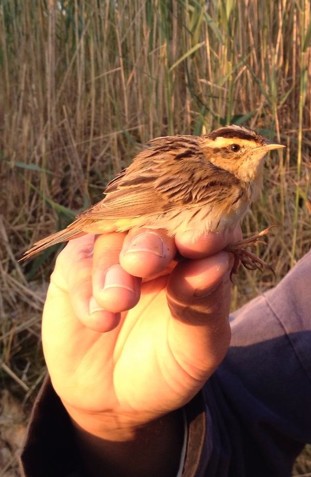 Aquatic Warbler, Lytchett Bay, Dorset (Photo: Paul Morton)
Now onto the league tables. Tim Hodge had a pretty quiet July but has still managed to maintain the lead, although only just as John Bowler is now 3 points behind. Peter Donnelly and Tim Jones are joint third, with Joe Stockwell and Martin Garner closing the gap just behind them. Only 18 points separate the top 6: it's all to play for as autumn swings into action.
The top 5 in the species table has not changed during July, with Tim Hodge still holding top spot from Tim Jones and James Brown. It's excellent to see many inland patches making the top 20 here, with Darren Starkey leading the way in 7th.
Three inland patches have now passed the 200 point barrier, with Wayne Gillatt splitting Darren Starkey's two patches in the top 3. Last year's victor, Jamie Wells at Paxton, isn't too far behind in 4th place.
Content continues after advertisements
Alison C is still out in front of the comparative scores league table but the chasing pack are closing in, with Alastair Forsyth now the closest challenger less than 10% away. The top 9 have all passed 100% now and the rest of the top 20 is not too far away from the milestone either.
The points per bird league has pretty much stagnated in July, with very little movement at the top. Only Martin Garner has made any real progress up the table. John Bowler still holds the lead but with autumn around the corner will anyone beat the 2 points per species score that Rob Fray was so close to achieving last year?
Unsurprisingly, Zac Hinchcliffe is still top of our BirdTrack leagues as he approaches 12,000 records for the year. An amazing effort by Zac. Andy Bunting remains second with an incredible 8900 records while Tim Hodge closes the gap to second as he passes the 8000 mark. Overall now PWC contestants have reached 170,000 records and well over 5000 complete lists for BirdTrack in 2014!
Island life certainly seems to suit the Green top 20, with Ben Porter on Bardsey and Steve Minton in Shetland leading the way and many other islands featured in the top 20. PWC admin are also well represented, with two in the top 5, mainly due to Ryan's unwillingness to leave his sofa...
And last, but certainly not least, the Next Generation Birders top 20. There has been a change at the top as Tim Jones overtakes Joe Stockwell, but with only one point in it I can see this changing at any time! Ben Porter and Jack Bucknall seem to have 3rd and 4th safely in the bag but from Zac in 5th all the way down to 20th all it will take is a good autumn, a few good finds and it can all change.
Well that's summer over and autumn is here: the first migrants are returning, seawatching is in full swing and before you know it Yellow-browed Warblers will be everywhere. If you are going to the BirdFair in Rutland on 16th or 17th please be sure to come see us on the Marchwood stand, Stand 36 Marque 5, whether you are participating this year or would like to know more for PWC2015.