And we're off, for the second year running!
While many of us will remember January 2014 for the floods, monster waves and an almost constant barrage of terrible weather, there were some who were lucky enough to get out and about on their patches and start the year as they meant to go on. However, before we summarize how January went for the lucky ones, let's just have a recap on this year's competition.
There's been a huge amount of support for PWC this year, resulting in almost 350 patches being submitted to the competition. And it's not too late either — if you want to join in, you've got until the end of February to sign up! The competition has expanded in scope a little too, with the addition of the BirdTrack bird race, the non-motorised league, an NGB minileague, and a brilliant selection of prizes. You could be eligible to win one (or more!) of the following:
We'd like to thank everyone who very kindly donated prizes for this year's competition — there's plenty to play for, I'm sure you'll agree!
So, back to January. The winter can be a strange time for the patch birder, as the enthusiasm of the first few days can often wane in the wake of several days on patch, seeing the same birds over and over again! Luckily, there have been plenty of good birds to report, although a couple of frustrated birders had to resort to 'alternative best finds'. Ali Shuttleworth reported 'nowt' as his best find at Inverkeithing, Ted P had his 'worst January ever' at Winterton, Graham Powell noted a dry spot to stand on, and James Spencer (who's he?) was delighted when he found his long lost stapler!
Persistence paid off for the most part and there was plenty of genuine wintery goodness on offer too of course. Among the highlights there were plenty of Iceland Gulls, and unseasonal numbers of Little Gulls along the east coast. Divers and grebes were much appreciated, and Jack Snipes brightened up plenty of inland patches — as did Mealy Redpolls, Water Pipits and Siberian Chiffchaffs (don't forget the two bonus points for the self found ones). There were also a couple of Kumlien's Gulls and a Black Brant that added a little extra to lucky patchers' scores. And by lucky, we mean hard working and vigilant, of course…!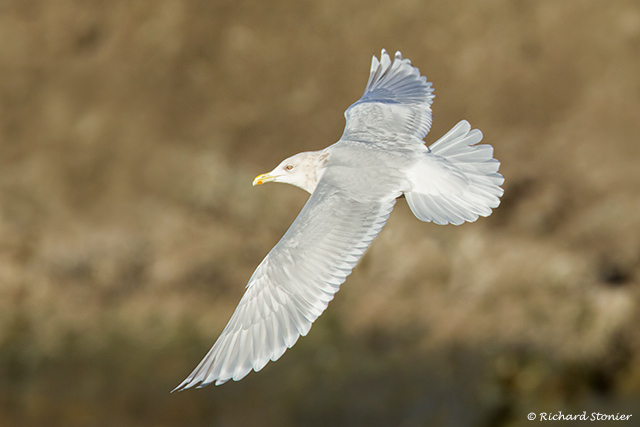 An influx of Kumlien's Gulls in January saw the taxon end up on several PWC contestants' lists (Photo: Richard Stonier)
There were several six pointers on offer too: Richard's Pipit, Rough-legged Buzzard and Ring-necked Duck all avoided initial detection by PWC contestants and therefore only scored three points for those who connected. Ring-billed and Caspian Gulls, Green-winged Teal, Crane, White-tailed Eagle and Great White Egret were all a little more obliging, though, each scoring the full six points for more than one patch!
Before we cover the proper rarities (and by saying that, we don't mean to belittle any of the finds listed above!), there are one or two nice little bits of 'patch gold' well worthy of a mention. Nick Croft celebrated a Yellowhammer at Rainham (a feeling Mark can relate to, having yelped with joy the other day when one flew over Girdle Ness!). David Norgate no doubt felt the same about his Moorhen at Woodgate Valley, but we dare say conducted himself with a little more decorum. David Wood celebrated a Black-headed Gull at the Oa, Islay, but if there were a prize for patch gold, Dan Brown's Kingfisher at Dunnet would be a shoe in for it, as it was only the third record for Caithness in twenty years!
As far as the real rarities go, there was a decent selection to chose from. Echoing last year's events, a Bonaparte's Gull was at Dawlish Warren, but wasn't a find for Kev Rylands. Also as in 2013, a White-billed Diver turned on South Ronaldsay for Paul Higson and other Orcadian patchers. Glossy Ibis proved particularly popular, being noted from five patches and listed as finds from three. Martin Garner's well appreciated Northern Treecreeper was adjudged to be worth the same number of points as all of the above. Just edging the best find for the month, however, was Alastair Forsyth's Blue-winged Teal at Old Nisthouse, Orkney. Not only a great bird but an addition to the PWC overall list, and a bird that will possibly be on the best find shortlist in 11 months' time.

Flamborough's Northern Treecreeper scored some early points for the finder (Photo: Martin Garner)
It wasn't the only addition the overall list either — due to new patches springing up, we've been able to add Short-toed Treecreeper from Guernsey (from Mark Lawlor), and only marginally less glamourously, Steve Westeberg's patch seems to be good for Black Grouse — perhaps the most glaring omission from last year's BUBO list.
We're very pleased to announce that we will again be able to make a donation similar to last year's donation to the BTO's Out of Africa appeal. Again, this comes from the sponsor of the best find competition, Bresser and Forest Optic, and referring to this year's BUBO list at the end of the month showed that between us we notched up an impressive 188 species — which of course translates as a cool £188, that this year will be going to the BTO's House Martin appeal.
The first results of the BirdTrack bird race came in with the January scores, and make interesting reading. A total of 577 complete lists, comprising 15,840 records, were submitted from PWC patches. While these may seem like big numbers, it's a little disappointing that only a quarter of the submissions we received detailed BirdTrack submissions — do only a quarter of Britain's active birders contribute to BirdTrack? That's not to detract from the Herculean efforts of some who did take part, though, with Nick Moran, a bit of a PWC hero, coming out on top for the month with a massive 1,356 records from his patch. This seems like a perfect opportunity to introduce a few league tables. Just behind Nick Moran (and it was very close!) was Andy Bunting with 1,333 records, and honourable mentions go to Tim Hodge and Andy Sims, who both topped the 1,000 mark — superb efforts all round!
Content continues after advertisements
Another of our new minileagues, that of the Next Generation Birders, has been popular. There are still a few patches to return scores, but for the time being, Jack Bucknall at St Mary's Island tops the tree, closely followed by Sami Sankey on South Ronaldsay and Harry Ramm at Climping in third. With some great prizes for these guys and girls, we expect this league to be pretty hotly contested.
As far as species and points go, Tim Hodge, at Horsey in Norfolk, has taken a convincing lead. Tim notched up a massive 118 species in January, worth 144 points — 18 points ahead of Kev Rylands at Dawlish, and the only patcher to record 100 or more species in the month. A look down both of the league tables shows many of the same names jostling for the top positions, which will make for a very exciting year!
It's great to see some of those in and around the top spots overall topping the inland league. The table already has an air of familiarity about it as Jamie Wells, last year's winner, finds himself at the top again. It's mighty close, though, with the top five places separated by only 10 points and 11 species — yet another league it's going to be great fun keeping an eye on!
But now we get to the 'business end' of proceedings. The comparative scores are what it's all about, and with a few tweaks to the comparative score rules, we think we've levelled the playing field for all. Alison C tops the pile — for now — but who knows how things will pan out through the rest of the year. There are some big names and big scores in the non-comparative table (and for that you can read 'new contestants'). Tim Hodge sits at the top for now, but there are 11 months to go …
We're well into February now, and weather wise, very little seems to be changing. Here's hoping you're all safe and sound, and that February provides as much quality as January did!