Over the past ten years, the birding fraternity has witnessed a notable shift in attitudes away from national year-listing and twitching towards rarity-finding and patch-working. As well as the contemporary benefits of cutting fuel costs and carbon emissions, great pleasure can be derived from learning a patch inside out: observing how the seasons change, appreciating commoner birds that wouldn't otherwise get a second glance and, of course, the potential for finding the occasional scarce or rarer species.
So, what could enhance the patchwatcher's enjoyment even further? Birders are a naturally competitive bunch — lists, numbers and finds all mean a great deal to us, whether personally or sharing with peers. Logic suggests that a friendly patch competition would be a great way to inspire us to work our local spots that little bit harder, as well as to interact with similarly minded individuals across the country.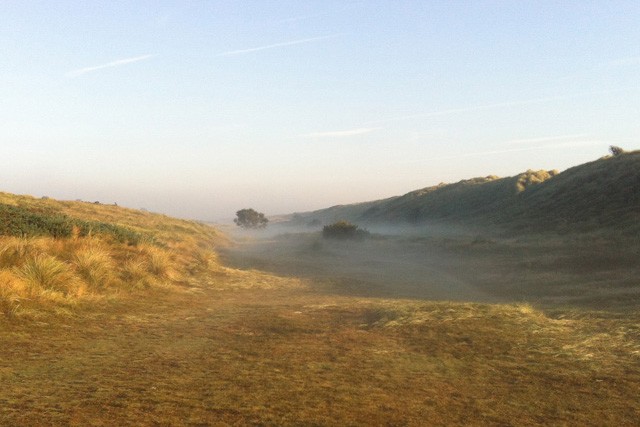 Early morning on Ryan's east Norfolk patch (Ryan Irvine).
There is one glaring problem with this — quite simply, how do you compare one patch with another? The birder who 'patches' at Minsmere is naturally going to record a lot more species than the birder who watches an inland woodland. Furthermore, how do you 'rate' the species seen? You can't compare a hard-earned Radde's Warbler to a humble Meadow Pipit, for example.
With so many variables to consider, coming up with an absolutely bulletproof scoring system for a patch-working competition is arguably impossible. However, a small band of like-minded patch-workers have worked together to innovate a scoring system that we believe is suitable and, in 2013, we invite you to join us for the 'Patchwork Challenge'! It must be stated that this is by no means an official project; it is more of a friendly competition aimed at engaging patch-workers and giving them the opportunity to share birding experiences from their respective localities across Britain and Ireland. Below is a brief outline of the rules; further information should be sought by contacting us.
The scoring system
Put simply, the score each species earns for a partaker's total is related to its rarity. We have used the BirdGuides rarity categories, which attribute each species on the BOU's British List a rarity value (Common, Local, Scarce, Rare and Mega). These categories will be scored 1–5 respectively. If self-found, those species categorized as Scarce will have their points doubled — for example, a twitched Radde's Warbler would score three points, but a self-found individual would score six. If species are categorized as Rare or Mega, points will be tripled for a find. A further 5 bonus points will be awarded for the finding of any regional or national first (e.g. the recent Lesser Spotted Woodpecker on Shetland).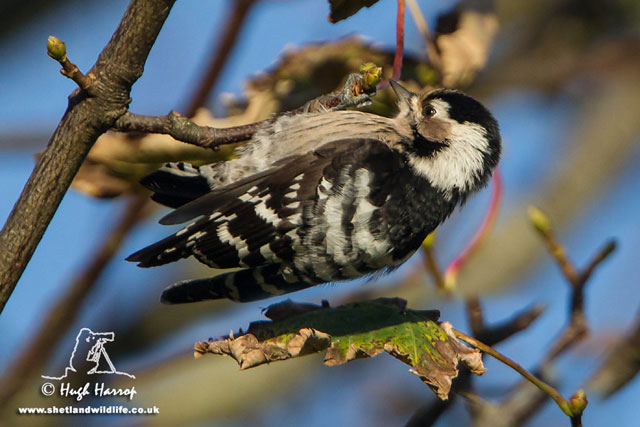 Lesser Spotted Woodpecker, Scalloway, Mainland, Shetland (Photo: Hugh Harrop)
However, the basic point system clearly still favours Minsmere over Manchester, and a patch-worker who happens to live on Fair Isle would no doubt score an awful lot of points! Therefore, to level the playing field and essentially to even out patch quality, we propose a scoring system that relates the 2013 score to tallies achieved over the previous two years. As a result, this makes your annual score representative of how productive your year has been on your patch. The 2013 score is therefore presented as a percentage of the average of score achieved in 2011 and 2012.
The reason for this complexity is to ensure that the competition is kept relative to individuals' patches. For example, a Kittiwake scoring two points for an inland patch will therefore be worth considerably more than on a coastal patch that accumulates considerably more species throughout the year. A team of several competitors, with a great variety of patches across Britain & Ireland, has trialled the scoring system during 2012 and it has been a general success.
Simple? Well, no...but it certainly goes a fair way towards levelling the playing field — after all, this is a competition between patchers and not patches. To make things simple, we will send each competitor an annotated spreadsheet that keeps a tally of their score as they add species to it.
Content continues after advertisements
The rules
The rules are reasonably simple. Your patch must constitute an area of 3km2 maximum. It doesn't have to be rectangular or comply with any OS grid lines — it can be any shape you want it to be.
The birds that contribute to your score must either be seen within the boundaries of the patch while you are outside it, or seen or heard while you are within the boundaries. Therefore, heard-only birds, distantly passing seabirds and flyovers all count.
As the challenge runs continuously throughout the year, we won't be able to wait for rarities committees to verify records of rare birds. As most rare birds attract some 'external verification' (e.g. other observers or photographs) during their stay, there will inevitably be some single-observer records. In this instance, we rely on the honesty of competitors.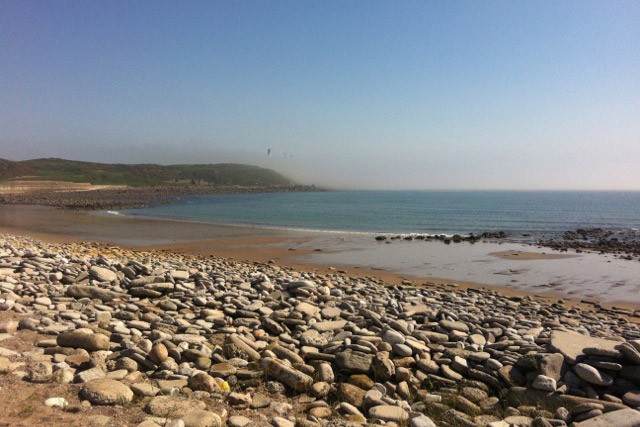 Mark's patch: Girdle Ness, Aberdeenshire (Mark Lewis).

... and a map illustrating the elected boundaries (Mark Lewis).
Getting involved/contact details
If you'd like to get involved with the Patchwork Challenge for 2013, or simply would like further information, please don't hesitate to contact us via email. The Excel spreadsheet is available on request.
Regular updates can be found at the Patchwork Challenge blog including rules, map tools to calculate patch areas and of course latest sightings and developments. Furthermore, a monthly article will be posted on the BirdGuides webzine detailing any updates throughout the year.
You can also follow Patchwork Challenge on Twitter. Here, you can find the latest details and updates and get involved in patch-related conversation!
Recording and reporting your birds
Whether or not you're a list-focussed patchwatcher, the single most powerful thing you can do with your day-to-day patch records is to add them to BirdTrack. There are two reasons for this bold statement:
Firstly, for the sake of all the species on your patch, logging and submitting sightings is vital because it ensures that there is a record for the future. Long after your notebooks have been 'archived' (or worse!) or your hard drive has suffered a meltdown, your patch records will be safely stored, and available for conservation and research. Today's least remarkable of species could easily be tomorrow's species of conservation concern and so the records from dedicated patchwatchers are potentially invaluable! Records added to BirdTrack are immediately available to the County Bird Recorders too (with submitter's permission), saving you the time-consuming annual job of manually extracting records from notebooks/spreadsheets, formatting them appropriately, then sending them to the relevant people.
Secondly, entering your records into BirdTrack unlocks a wealth of tools that you can use to produce those all-important 'patch stats'! Records per month and peak count per week are among the species-specific graphs you can output using the Explore My Records tool, while species accumulation and species per year are available for all the species you've logged over any given time period.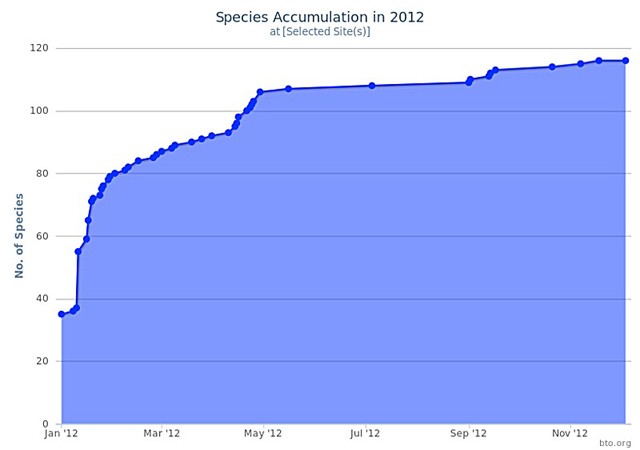 Nick Moran's species accumulation graph for Nunnery Lakes Reserve, Thetford in 2012 (BirdTrack).
If you get into the excellent habit of recording and entering complete lists for all your patch visits, you can start to discover your own 'reporting rates' for particular species. For example, Little Egret rocketed from appearing on just 3% of BirdTrack Organiser Nick Moran's complete lists for Thetford Nunnery Lakes (Norfolk) in 2010 to 12% in 2011 and finally 33% this year!
Naturally, we encourage anyone taking part in the Patchwork Challenge to submit news of publicly accessible rare, scarce or notable species to BirdGuides' bird information services. Furthermore, we invite you to share photos of your patch birds (particularly finds!) in the Iris galleries and also advertise personal blogs or websites.
Bird news can be telephoned through to BirdGuides on the hotline number 0333 5772473, or text 'BIRDS RPT' followed by your message to 07786 200505. Alternatively, you can use the online submission form, the BirdGuides app submission form or simply email the sightings team with your news.