The first month in a new patch birding year is often hit hard, with lots of effort ensuring as many expected common species as possible are all ticked off and notable hangers-on from December are secured for the year. With January behind them, patch birders then look to February with an already refined list of targets to get before the winter is out and the rush of spring migration begins.
This was certainly the case this year, with many patch birders reporting catching up with year ticks such as Merlin, Hen Harrier, Bittern, Black-throated Diver, Slavonian Grebe, Jack Snipe, Purple Sandpiper, Water Pipit and Brambling - all good winter fare. With lengthening daylight hours, a good sunny day in February can entice some early spring breeding behaviour and with that records of singing Firecrests and Woodlarks, displaying Goshawks, active Lesser Spotted Woodpeckers and vocal owls start coming through. Ryan McClarence caught up with Tawny Owl in February at his Askern/Campsall/Norton patch where the full suite of all five species is now in place for the year. While spring proper is a while away yet, several patch birders remarked on occurrences of Oystercatcher and Shelduck, early signs that things are about to change.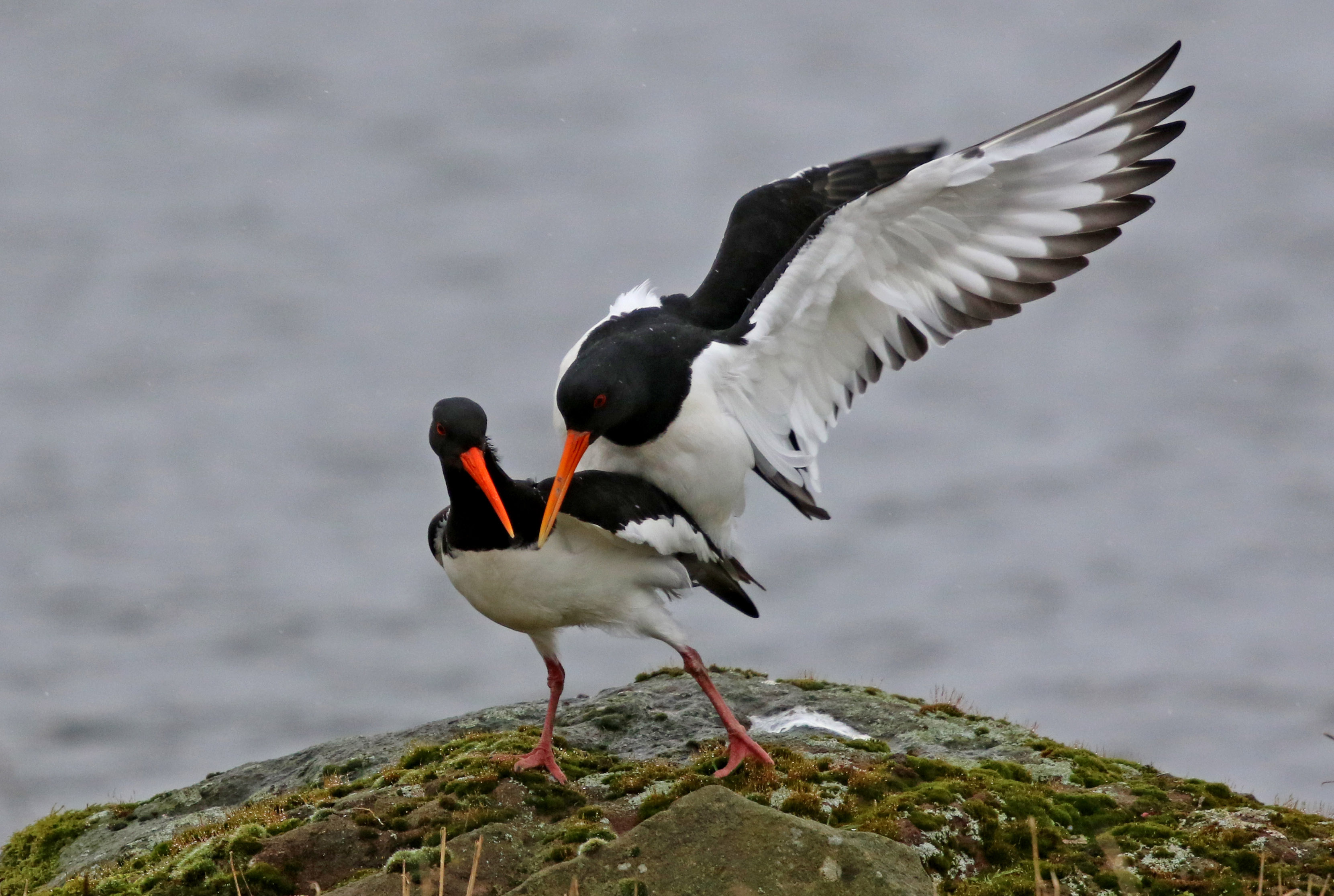 Oystercatcher, Ogston Reservoir, Derbyshire (Photo: Mary Wilde)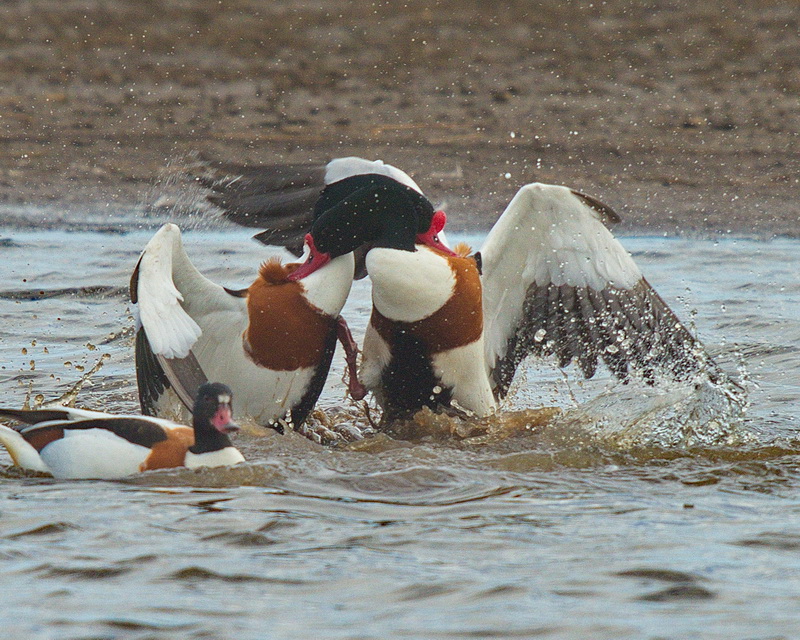 Shelduck, Lodmoor RSPB, Dorset (Photo: Dave Dowdeswell)
A Richardson's Cackling Goose at The Oa, Islay for David Wood was timely given the recent adoption of the Cackling Goose split by BOURC. Other top Nearctic wildfowl finds by PWC contestants during February included a Black Brant at RSPB Frampton Marsh, a Surf Scoter at Old Gunsite, a drake American Wigeon at Sanday, a drake Green-winged Teal at Balephuil, Tiree and a fine 12-pointer for Julian Wyllie in the form of a drake Black Duck at Baltimore is one of this year's first contenders for the Forest Optics best find. While Neil Burt may not have jumped on the yank quack bandwagon, his patch at Conningbrook Lakes CP did boast a pair of free flying Comb Ducks! A Tundra Bean Goose at Blacksod didn't quite make it into Dave Suddaby's rarity-laden garden but it did make it on to his office window list! Additional Black Brants were seen at Brancaster and Gibraltar Point NNR, while American Wigeons also showed up at WWT Steart Marshes and Hesketh Out Marsh.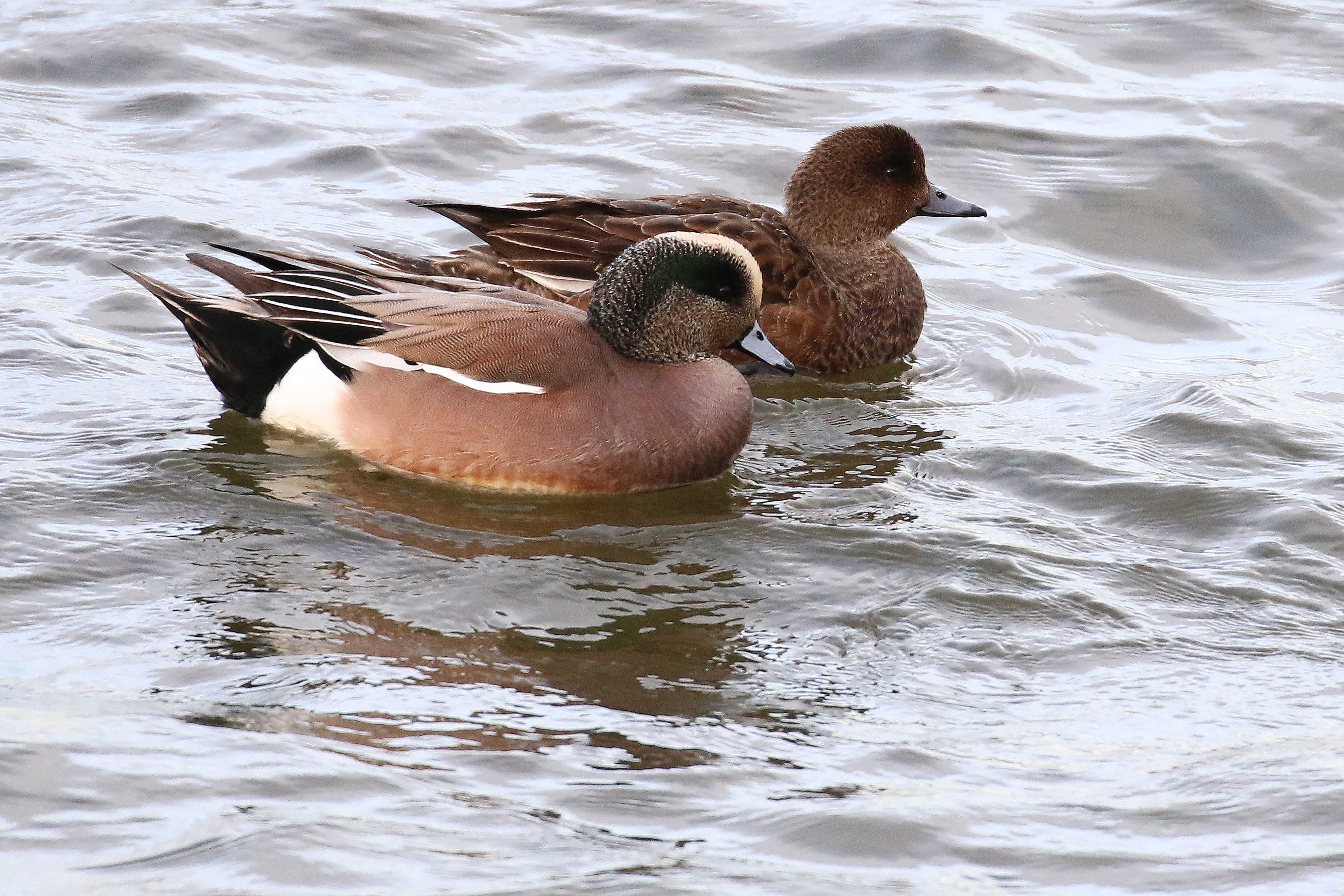 American Wigeon, Scalby Mills, North Yorkshire (Photo: Christopher Bell)
Great White Egrets were reported at Hale & Pickerings Pasture, WWT Llanelli, Southwold and RSPB Middleton Lakes, while a single Glossy Ibis was present at Tacumshin Lake and four Spoonbills were at Thorpeness. A Common Crane circling over Trent Valley was a most welcome sight for Marc Lansdowne as it was his first ever three-point species there for PWC.
Several contestants added six points in the form of White-tailed Eagle during February. More typical sighting locations for these superb raptors included Balephuil, Tiree, The Oa, Islay and Kilmory, Isle of Rum while in Ireland, wandering wild-born 2nd-calendar-year birds from the re-introduction project were seen at Tramore Backstrand and Carrick Mountain (where one made for an impressive garden tick for Alan Lauder!).
As predicted on the latest PWC podcast, Ring-billed Gulls started building during the month, with sightings from Sandymount Strand (two birds), Nimmo's Pier (up to five birds) and Larne Lough (a single adult). A cracking 12-point 1st-winter American Herring Gull was found by John Bowler at Balephuil, Tiree. While becoming more and more of a regular fixture at patches in Britain, Caspian Gull still remains a very rare species in Ireland (with just 13 accepted records up to end the of 2014) so an adult found at Baltimore by Julian Wyllie was no doubt cause for much celebration. White-wingers were widespread, with a total of eleven patches boasting Glaucous Gull and twelve patches with Iceland Gull.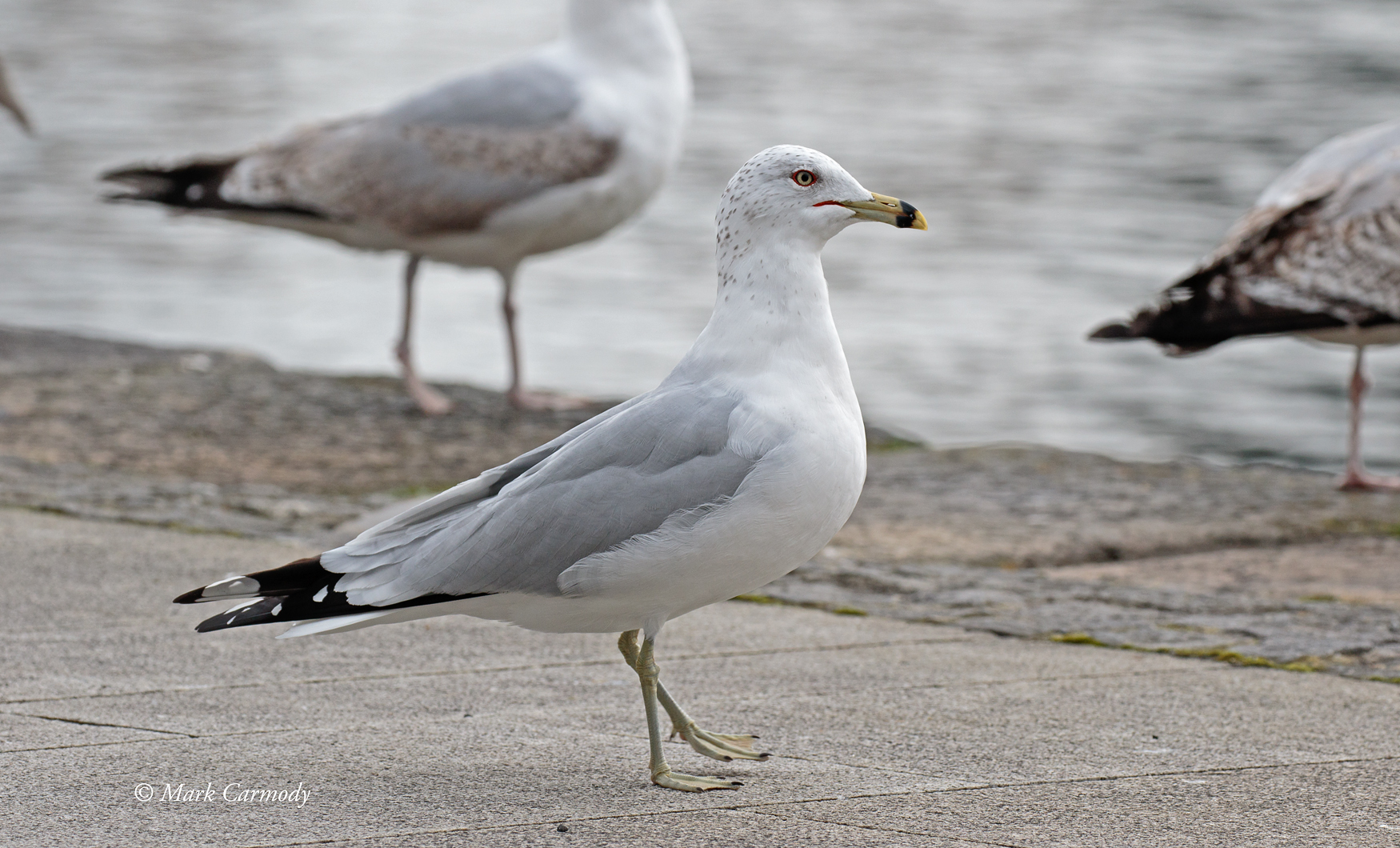 Ring-billed Gull, Dublin, Dublin (Photo: Mark Carmody)
Winter Great Skuas are always good to see, and records were received from Severn Beach, Slade and Blackpool as well as inland Wheldrake Ings where one did the honourable thing and hung around until the weekend, long enough for Duncan Bye to patch-tick it! Stormy weather during February brought in Little Gulls, Kittiwakes and Fulmars to many estuarine or coastal patches where they are considered a highlight. Top seabird find of the month was a Storm Petrel at Oldbury Power Station for Peter Hazelwood, the first site record since 1990.
The wader highlight of the month refers to single Long-billed Dowitchers seen at Rutland Water and Druridge Pools. Wintering Little Stints were good to get at Burry Inlet and RSPB Lincs Wash Reserves while Steven Lewis recorded a high count of 18 Jack Snipe at Welby. After six years of patching at Thetford, Nick Moran finally got his long-awaited Golden Plover!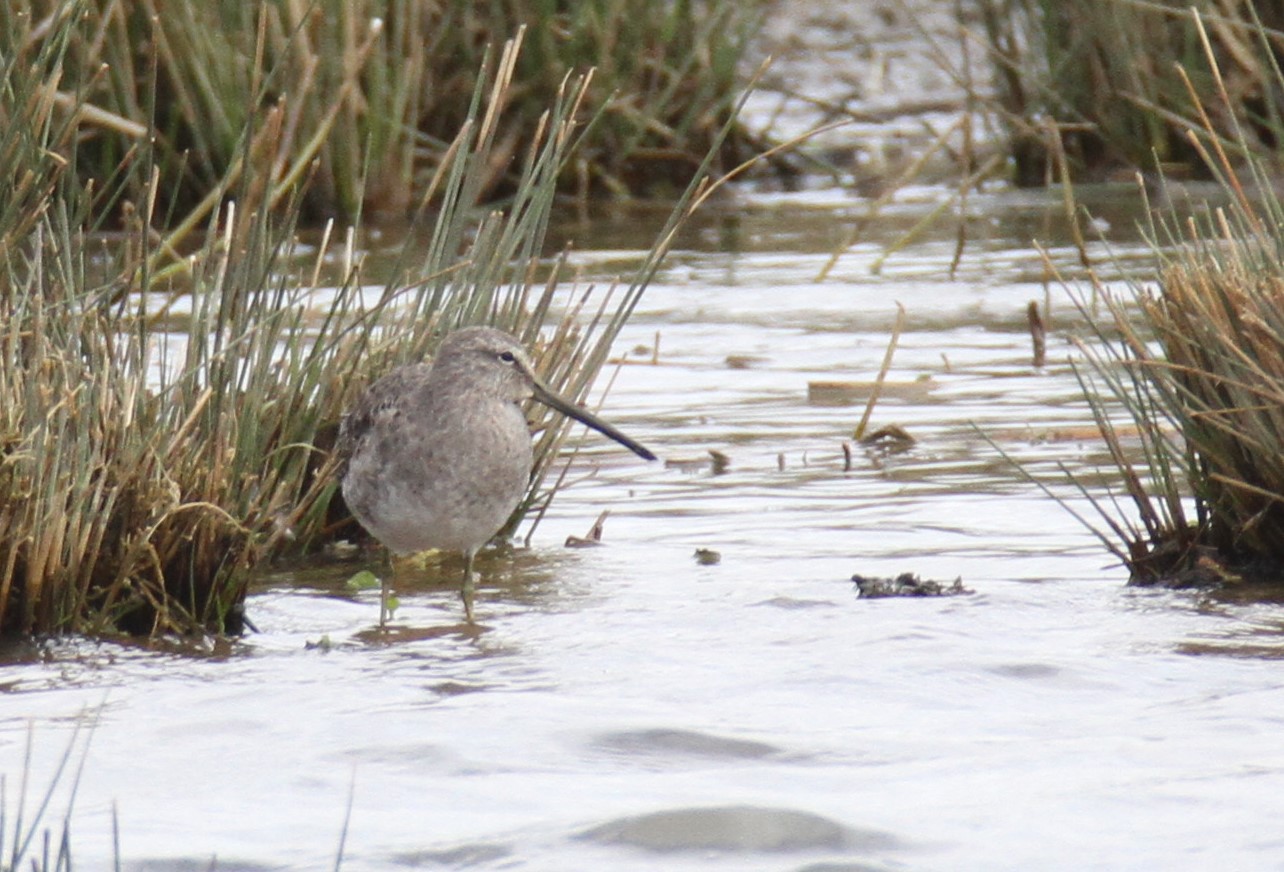 Long-billed Dowitcher, Rutland Water, Leicestershire and Rutland (Photo: Richard Gannon)
Not renowned for its passerine potential, February still produce a few gems. Siberian Chiffchaff looks like it might be 'doing a bit of a yellow-browed', becoming a somewhat reliable bonus pointer, with singles at Burry Inlet, Tame Valley, Topsham and Wellington GP. On the flip side, species which are undergoing a decrease in occurrence are more and more welcome when they do show up, such as a flyby Shore Lark at Whitburn for Mark Harper and the first Willow Tit at Swansea Vale for Alastair Flannagan since 2002. A flock of 600 Yellowhammers at Derek Gruar's RSPB Hope Farm patch must have made for an encouraging sight.
So with two full months of patching over and done with, it's time to see how the Top 20 tables stand.
David Franklin rockets ahead of the competition and straight into the 90% bracket with an impressive comparative score from Campsall CP and South Instoneville where he got Barn Owl and caught up with patch bogey Water Rail in February. The Keoghs are battling it out for second and third place, with just a percent between the two of them. Niall may be running out of potential year ticks already (save for a few spring migrants) at his local parks patch, while there seems no stopping Noel's great start to his second year of effort at South Dublin Bay. A total of eleven contestants now over 75%.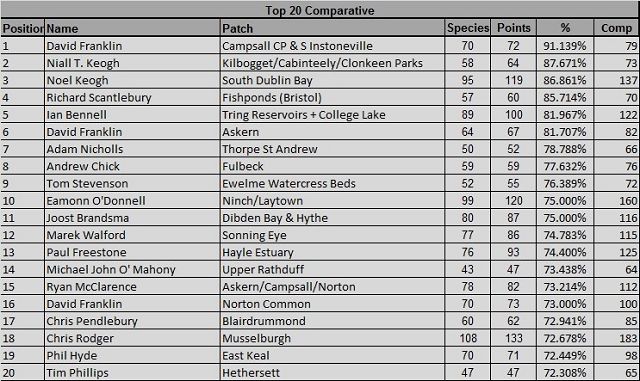 James Brown and Ross Ahmed are neck and neck at the top of the points table, with 154 apiece from North Lowestoft and South Tyneside respectively, although James is four species ahead. We see some familiar names coming up the ranks, with John Bowler gaining ground at Balephuil, Tiree with help from an American Herring Gull. Dave Craven keeps the effort going at Hale and Pickerings Pasture along with Craig Fulcher, completing the top five with points scores in the region of 140. Some new patches taking part for the first time in 2016 such as WWT Steart Marshes could shake things up: Joe Cockram is already on 130 points there.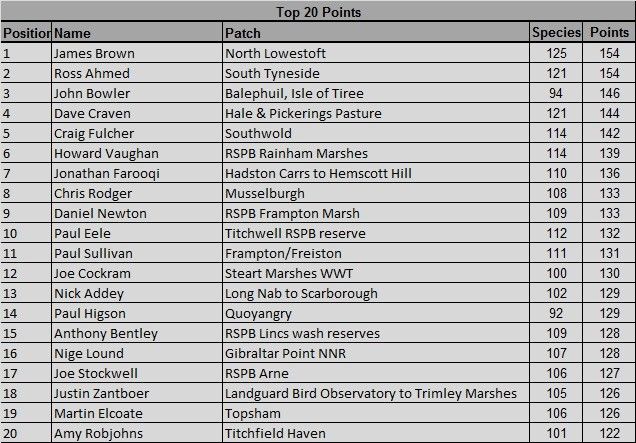 Rob Hall continues in first place on the points-per-bird table, while the usual list of heavy-hitters start making their way up the rankings. Only John Bowler is also on a PPB score of 1.5 while many others are doing well with 1.4 or high 1.3 in the race to get to the magic 2.0 if possible.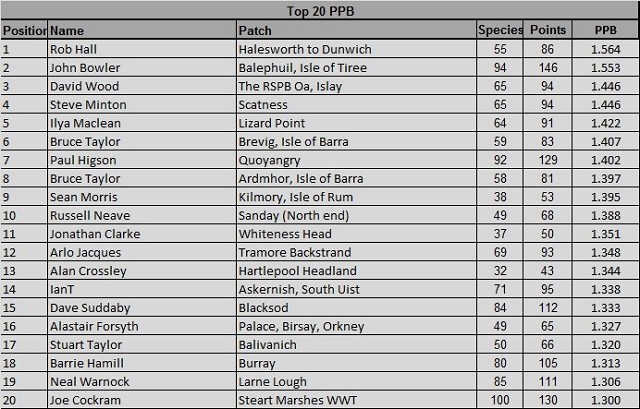 The top 20 species table matches the points table closely, with James Brown, Ross Ahmed, Dave Craven and Craig Fulcher all headlining along with Howard Vaughan at RSPB Rainham Marshes. Totals of 100 species or more are required to get onto this list at the moment.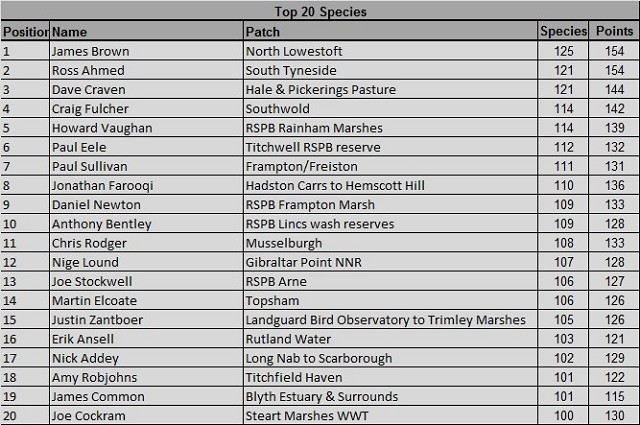 In the Inland league we see a Rutland Water double act taking first and second place as Erik Ansell and Rod Baker both connect with the Long-billed Dowitcher at this most excellent site. We're just short of having all contestants on the table at 100 points or more, no doubt soon to change in March.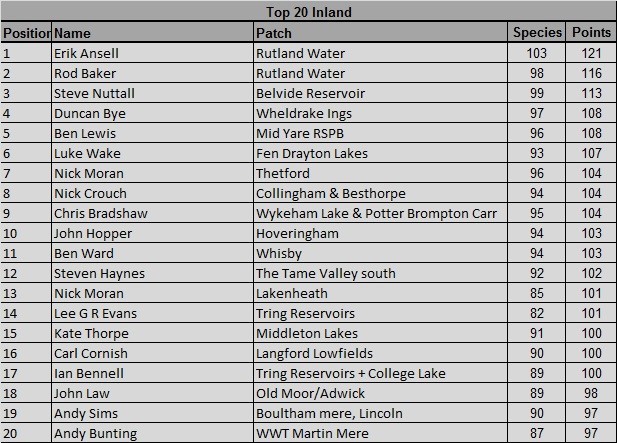 Jonathan Farooqi has the highest species list and points total in the Under 25's league from Hadston Carrs to Hemscott Hill, where we see some familiar names but new patches making their presence known (i.e Joe Stockwell's new RSPB Arne patch currently in third).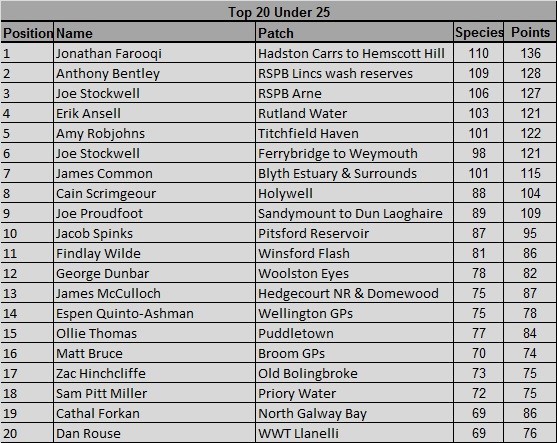 Living on or beside your patch is the ultimate goal, and the non-motorised Green birding league is brimming with top-quality birding sites so it's no wonder the species totals and points scores here are already so high. Chris Rodger leads the way at Musselburgh with 133 points.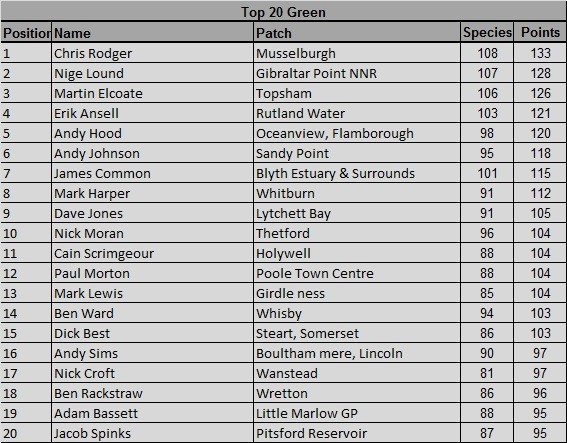 The contribution to BirdTrack made by PWC contestants has not abated, with the top recorders churning out some impressive tallies in just two months. Alastair Flannagan and Ceri Jones are vying for ultimate BirdTracker award at the moment. Alastair is one complete list ahead with 123 from Swansea Vale to Fendrod Lake, while Ceri is two records ahead on 2672 from Cosmeston, Sully and Lavernock.