February can be a funny old month. The short and cold days, enthusiasm for the new year and seemingly endless wait until March and the promise of migrants can sometimes lead to February being a more 'relaxing' month! Not so for Patchwork Challenge contestants, though, as this February has seen a record number of scores submitted, with a total of 184! With some folk not even getting on to patch this year, however, we are hopeful that this record will not last very long, especially with access improving to those patches that suffered at the hands of the floods.
It seems that the hard work has been rewarded, too. Many reported similar highlights to January, with Siberian Chiffchaff, Mealy Redpoll and Little Gull featuring particularly prominently on the scoresheet. Kumlien's Gull was also widely reported, with four out of 10 'Iceland' Gulls belonging to this taxon — mirroring the good winter it has proved for kumlieni nationwide. A lucky few were in the fortunate position to report on more spring-like highlights, with mentions of early Garganey and singing Chiffchaff!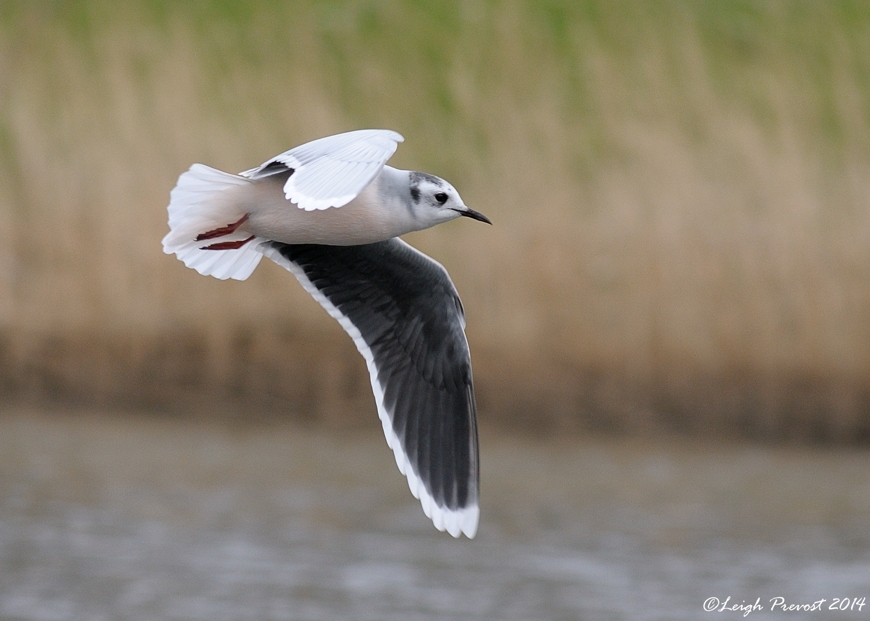 Little Gulls were again prominent on contestants' patches during February (Photo: Leigh Prevost)
It seems there was an awful lot of quality on offer during February. Dan Brown narrowly missed out on finds bonuses for both Bonaparte's Gull and Lesser Scaup on his Caithness patches, Glossy Ibis were reported from three sites, and Gary Bell missed out on scoring big points for a Snowy Owl! The bird came as close as two kilometres from his patch, but despite his best efforts he couldn't connect with it from within his patch boundary. One of the very best birds of the PWC year was also reported in February — Brian Rabbitts continued to note the Pied-billed Grebe from Balranald (along with a whole host of other goodies!); this bird has been present since early December 2013.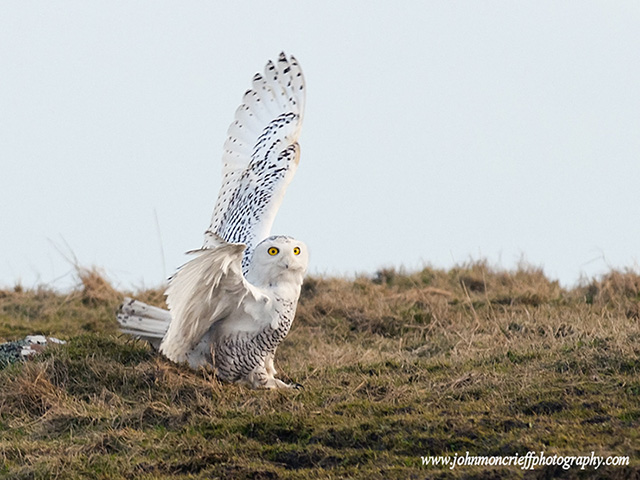 This spectacular Snowy Owl on Mainland Shetland came extremely close to Gary Bell's patch (Photo: John Moncrieff)
There were other good finds too, although perhaps nothing of the magnitude of the above. As well as the grebe, Brian Rabbits notched up a self-found Ring-necked Duck and, not a million miles away, Bryan Rains scored a very unseasonable Sabine's Gull on Mull. On the other side of the Irish Sea, Niall Keogh and Dave Suddaby both found patch Ring-billed Gulls, and James O'Neill delivered the goods with an American Wigeon on south Lough Neagh. Alongside these there was a smattering of the more usual winter bonus point scorers, with small numbers of Crane, Caspian Gull, and Green-winged Teal. After the weather we've had so far this year, it's hardly a surprise that there is a significant westerly bias to the majority of the best birds on offer.
It's not all about the rarities, though — Yellowhammer seems to be a very popular piece of Patch Gold this year, with it being reported as a highlight from three patches in February. Niall Keogh's new experimental industrial estate patch returned Coot and Reed Bunting, and there were also honourable mentions of Curlew and Mistle Thrush that got pulses racing for a lucky few. Perhaps the best nugget of patch gold was Ryan's Mute Swan off Hemsby — the joys of working a patch! Or for some, the joys of not working a patch — John Bowler's highlight of the month was a trip to La Gomera! We think it's nice that one of last year's high scorers decided to give the rest of us a chance to get ahead …
One of the most pleasing aspects of looking through this month's scoresheet was the very noticeable increase in patch birders submitting their observations to BirdTrack - and as such putting themselves in the running for a copy of the Bird Atlas 2007-11, as donated by the BTO. An extremely rough and ready analysis has shown that patchers contributing to BirdTrack increased from roughly a quarter in January, to a third in February — which has translated to cumulative totals of 1,112 complete lists being submitted and 33,928 records so far this year. It looks like we'll fall well short of our target of over one million records, but that doesn't matter — if we keep seeing an increase in the proportion of patchers submitting records we'll be very happy!
We've also had the first non-motorised scores in, and are delighted at the number (40) so far! We're looking forward to seeing how this develops over the rest of the year (don't forget, there's a copy of The Sound Approach's Catching the Bug on offer here) but one disappointing aspect of February was the low number of NGB scores submitted — only 12! Come on Next Generation Birders — you guys and girls have got a lot to play for with a British Birds and a week on Bardsey up for grabs — pull your fingers out!
February saw the cumulative PWC list for the year edge up to 192 species — see our list on Bubo, and please add to it if you can! Each species we see translates into £1 that will be kindly donated by Bresser and Forest Optic to the BTO, to support their study on House Martins.
Anyway, enough of the waffling, it's over to the top twenties! Tim Hodge retains his place on top of both the species seen league and the overall points league, with Kev Rylands and James Brown jostling for second and third in each of them. With Tim being 13 species and 15 points ahead, it's already looking a bit ominous for those he's leaving in his wake!
Tim also heads up the non-comparative league table, with Mark Nowers leading the way in the comparative league ...
Content continues after advertisements
Jamie Wells heads things inland, being one of five inland patchers to break the 100-species mark already. Marcus Lawson deserves special mention for being second in terms of points but sixth in terms of species — some high scoring birds there, but Darren Starkey's efforts possibly deserve highest praise — two patches, over 100 species at each and fifth and sixth in the leader board.
The points per bird league had a decidedly northern feel to it. Only one out of the top seven patches in this league is not on a Scottish island — but luckily for Dave Suddaby his Blacksod patch is in top spot with a massive 1.6 ppb. Will the Northern Isles patches be able to overhaul his lead over the spring? Keep a look out for Joe Stockwell through March and April too ...
Andy Bunting may well have the BirdTrack leagues sown up already! His 111 lists is not too far from double the score achieved by Andy Sims in second place, and in terms of records he is almost 800 clear! Is Nick Moran going to lose his reputation as the BirdTrack king?
The 'green' non-motorised league is headed up by Andy Johnson at Sandy Point, who is just 1 point ahead (but interestingly four species behind) Gary White at North Walsham. Gary looks set to be the first 'greener' to pass the 100 species mark, but there are some heavyweight patches waiting in the wings in this league. Who would rule out Steve Minton at Scatness shooting up the table throughout the spring?
And last but not least, the NGB league! With so much to play for Tim Jones must be pleased to be on top spot, but watch out for Jack Bucknall at St Mary's Island in second, and James O'Neill and Ben Porter in third and fourth over the coming months. All three are in patches that might benefit from a good spring — but will any of them do better than Spurn?
With the first migrants now widespread across southern parts of the country now, lists and scores will be receiving a welcome shot in the arm after the winter (although at the time of writing, they haven't made it to all points north yet). Warmer temperatures, longer days and the feeling that the rush of April migrants is not too far away now - it really feels like game on!