After hitting the ground running in January with all of the enthusiasm and the good finds, the mood at the end of February seemed a little different: there was definitely an air of going through the motions, at least on one Northeast Scotland patch! I think, like me, most people worked hard to mop up all of the wintry goodness in January leaving a pretty stagnant local population of birds to pick through over and over again in February. A good cold snap might have helped liven things up but alas, that didn't really happen, and so we plodded on through February and waited for March and all that comes with it.
Although we covered it in the January review, the biggest Patchwork Challenge news of February was the announcement of the very generous sponsorship of a prize for the best find in the competition. The Meopta and Forest Optic best find competition now has its own page on our blog, where we will list the finds we consider to be contenders through the year. Don't expect to see many February finds listed there though...
We also changed the rules a little, in response to some very well-made points regarding scoring points for rare subspecies. Patchers were going out finding things like Siberian Chiffchaffs and Black Brants, or enjoying a Black-bellied Dipper, but weren't being rewarded for it. A list of subspecies that can be accepted, and the points that they score, can be found here, but note that this is not considered to be complete, so if you have any suggestions to improve it please drop us a line.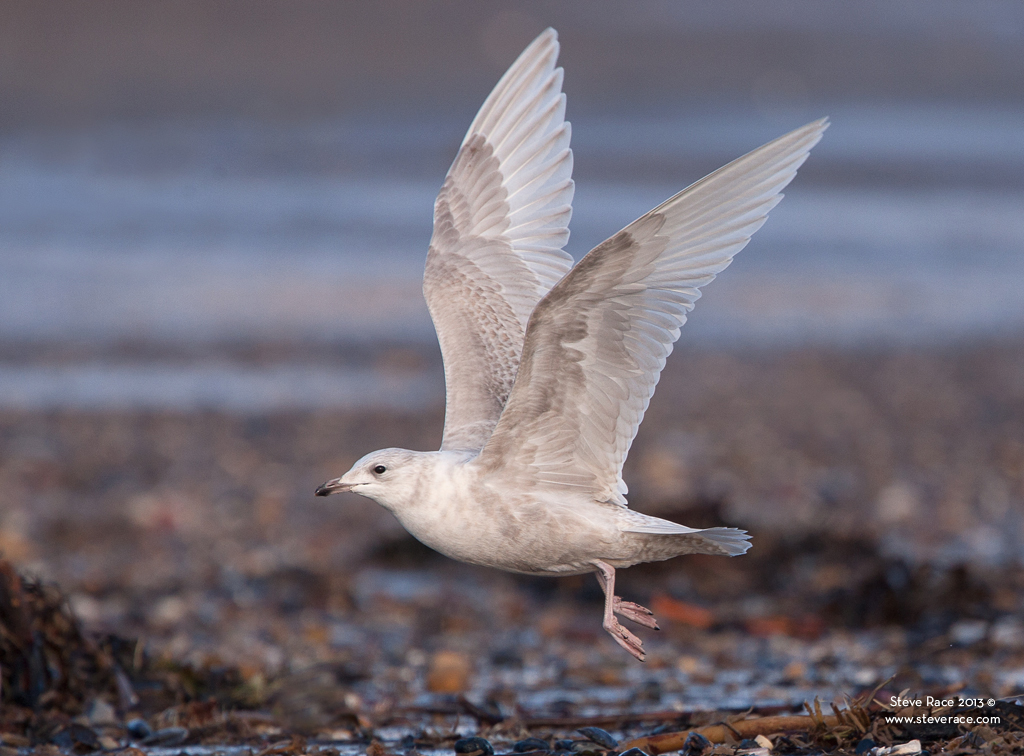 Iceland Gull, Barmston, East Yorkshire (Photo: Steve Race)
Having said that February had been slow, there have been some patch birders who have done better than others. The aforementioned subspecies all put in appearances, and there were interesting finds such as Temminck's Stint, Great White Egret and Richard's Pipit. Goodies such as Kumlien's and Ring-billed Gulls remained from January for some lucky birders; gulls, as well as wildfowl, featured highly among the highlights listed by people when they entered their scores: several Caspian, Yellow-legged, Iceland and Mediterranean Gulls were deemed worthy of special mention, as were Bewick's Swans and Tundra Bean Geese.
So, what does all of this mean to the league tables?
Content continues after advertisements
Top of the league for those with comparative scores is Graham Powell. Congratulations Graham — the challenge is now to stay there! Perhaps this offers some compensation for not finding the
Bonaparte's Gull
back in January Graham? Alison Allen, Jason R and Alan Kydd remain in places three to five, although slightly shuffled since January, and, in a top ten that has not seen too many changes, Chris Pendlebury props up the bottom of the table.

Top of the league for those without comparative scores goes to Rob W. Rob moves up from 4th in January, but is a good 12 points clear of second place so will be difficult to topple in March. All it would take, though, would be one good find for Richard Stace or Gavin Haig and it could be all change at the top.

Congratulations to all who feature in the top tens, and a massive thanks to everyone who has submitted a score.
Finally, we have another way of looking at things. Perhaps a slightly skewed way of looking at things as of the top ten in the points per bird table (simply the number of points divided by the number of species): nine out of ten are coastal and nine out of ten are northern/western. Perhaps what this league table emphasizes most is the effect a good find can have on your score, as first and second places are occupied by the finders of January's Gyr Falcon and White-billed Divers respectively!

Now we are halfway through March, thoughts of spring will be at the forefront of most birders' minds. I know where I'll be looking out for my first Northern Wheatear and Sandwich Tern, and I know where I expect to hear my first Common Chiffchaff. As, I'm sure, do you. Good patching!