August is unambiguously autumn around our coasts and the influx of waders to waterbodies makes this an exciting month to work a patch. A breath of easterly wind sees coastal patchers gear up for the first Wrynecks and Barred Warblers but the biggest feature of this August has been a massive Curlew Sandpiper influx, with Frampton Marsh managing 250 of these elegant Siberian Calidrids. There were a multitude of bonus points scored this summer and the highlights included an Aquatic Warbler in Lytchett Bay discovered by Ian Ballam — this has become a much harder bird to find over the past decade. A spotty Spotted Sandpiper delighted Tim Farr at Sutton Bingham Reservoir and a Pacific Golden Plover was found on Tiree by John Bowler. Also on the wader front was a brazen White-rumped Sandpiper at Girdle Ness, which delighted Mark Lewis. Gardens don't often host vagrant warblers unless you live on the islands, and Steve Minton's garden list was increased by a rather smart Arctic Warbler this month up at Scatness.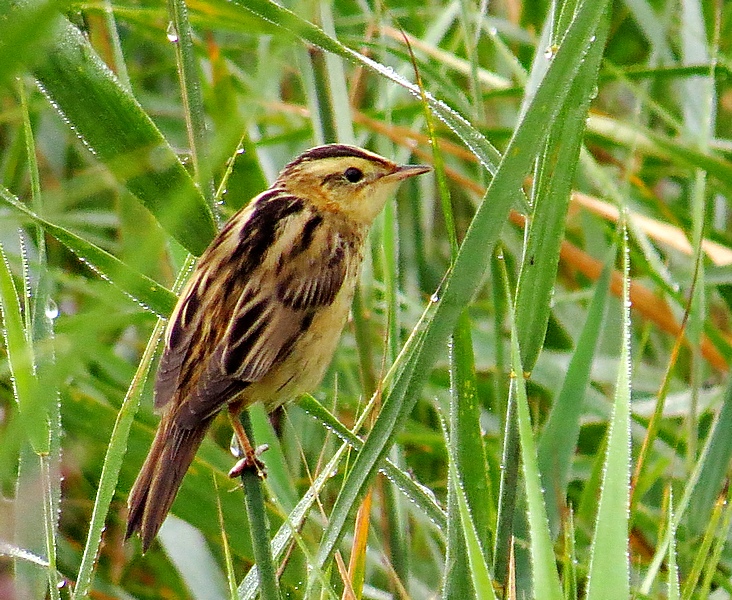 Aquatic Warbler, Lytchett Bay, Dorset (Photo: Ian Ballam)
The sheer number of scarce birds turning up on Bardsey Island so early in the autumn was impressive, with Steve Stansfield finding multiple Icterine and Melodious Warblers including four individual 'Hippos' in the observatory garden at one point! With Citrine Wagtail, Ortolan Bunting and Western Bonelli's Warbler it was a monster month for the Welsh island.
It was a good month for Ortolans in the south, and both Paul Morton and Joe Stockwell managed to connect with nocturnal flyovers in Dorset. Other bonus point-scoring species recorded include a scattering of Cory's and Great Shearwaters, Long-tailed Skuas, Wrynecks, Glossy Ibis, Great White Egrets, Honey Buzzards, Temminck's Stint and Red-backed Shrikes. There was a Barred Warbler for Paul French at Spurn and a Ring-necked Duck on Orkney for Alistair Forsyth.
Adam Nicholls, on 136 per cent, maintains top spot in the comparative mini-league despite no further additions this month. This has allowed Amy Robjohns to close the gap to just six per cent as she added Honey Buzzard and Pied Flycatcher at Titchfield Haven. David Franklin was in second place in July but no further additions sees him slip to third on 122 per cent with the pack bearing down.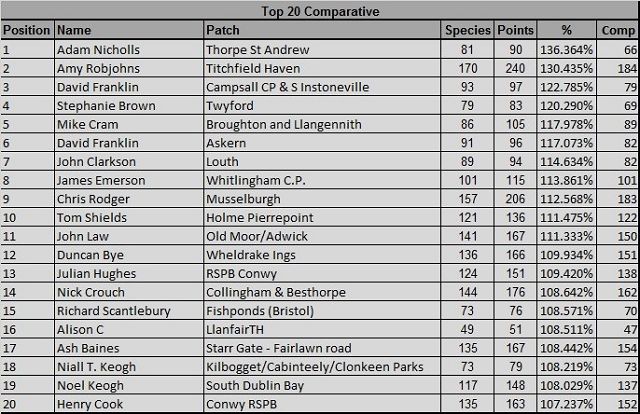 Steve Stansfield's fine month saw him move up from fifth to first place as he crests 300 points. Mick Turton has led for several months but a quieter month, with only eight points gained, sees him drop to second place, with a badger apparently this month's best sighting! James Brown is in third place at North Lowestoft on 267 points having added Wryneck, Sooty Shearwater and Curlew Sandpiper.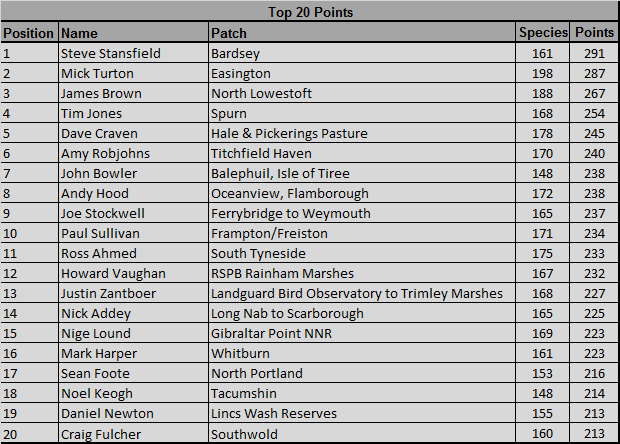 Erik Ansell remains top of the inland top 20, with Long-tailed Duck, Little Stint and Curlew Sandpiper the additions at Rutland. Steve Nuttall is in second at Belvide Reservoir adding Gannet for a slice of #patchgold, as well as Black-necked Grebe and Tree Pipit. Rod Baker of Rutland remains third.
Content continues after advertisements
Steve Stansfield remains top of the points-per-bird mini-league as his fine selection of drift migrants bumps him up from 1.6 to 1.8 points per species. Steve Minton's Arctic Warbler aids his cause similarly as he climbs from 1.54 to 1.65 PPB. John Bowler is often top of this league but has to contend with third spot as he adds a trio of tubenoses as well as his Pacific Golden Plover.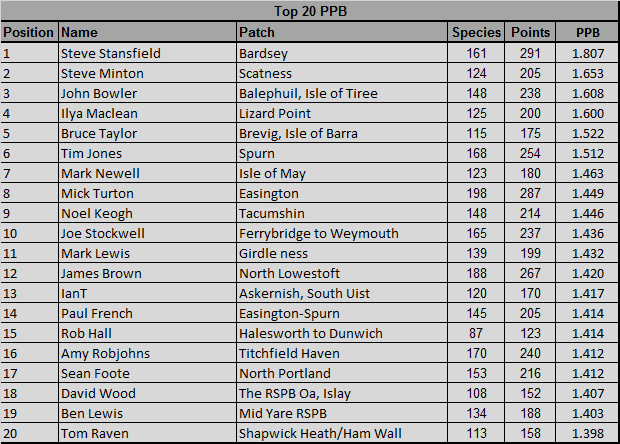 As Steve Stansfield watches a small island he does so on foot and has reaped the rewards to top the green mini-league. At Flamborough, Andy Hood is on 238 points after adding Greenish Warbler and Caspian Gull. Mark Harper displaces Nige Lound to claim third place with Long-tailed Skua and, er, Ring-necked Parakeet the highlights.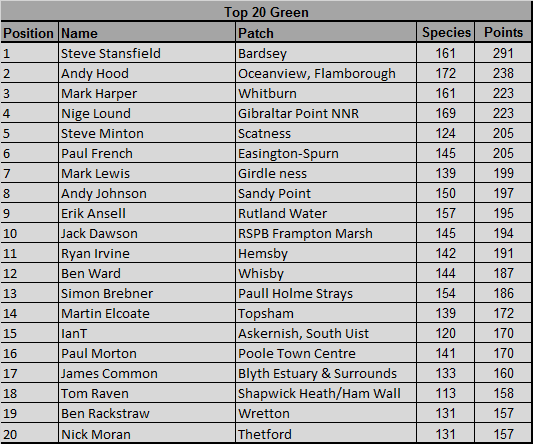 Tim Jones continues to dominate the NGB and AFON under-25 mini-league despite no further updates. Amy Robjohns closes him down as she continues to find new additions at Titchfield Haven. Joe Stockwell keeps third place after his nocturnal sound-recording session yielded an Ortolan. Sadly he was asleep by the time the Avocets overflew his house to prevent further points being added!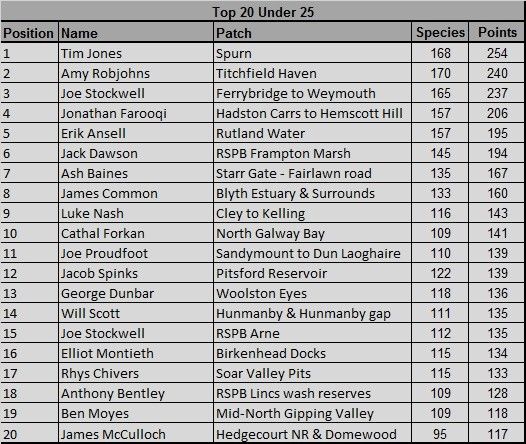 Ceri Jones at Cosmeston has amassed over 1,000 Birdtrack Lists with a third of the year remaining — an outstanding effort to top the Top 20 BirdTrack Complete lists mini-league by over 400 submissions. Alastair Flannagan of Swansea Vale to Fendrod Lake is in second place with 664 lists, keeping the top two an entirely Welsh affair. Julian Wyllie at Baltimore brings a Celtic flavour to the top three having compiled 584 lists, well clear of fourth.